Posts may contain affiliate links. Please see Disclaimer and Disclosure page for more details.


Tips and tricks for getting your toddler to eat meat, plus toddler meal ideas that include toddler-friendly meat options.
Are you wondering: Is it normal for toddlers to not eat meat? Do toddlers need to eat meat? How can I get my toddler to eat meat?
I'm a mom of a toddler and I too wondered the same things! My toddler didn't eat much meat at all until he was about 18 months old, and even now meat can still be hit or miss. I'm sharing how I get my 2-year-old toddler to eat more meat and some of his favorite toddler meal ideas including meat.
It can help your toddler eat meat by serving ground or shredded meat, add sauce, seasoning or dip, mix it into their favorite foods, or make it fun. Below i'm sharing exactly how I do these things and tips to get your toddler eating more meat.
You might also like these related posts:
Is it normal for toddlers to not eat meat?
Yes! From a mom of a toddler with plenty of toddler friends and relatives, I can confidently say that most of them have hated meat for some time in their life and its completely normal.
Meat can be fairly bland, dry, tough, and even chewy. It can be difficult for toddlers to bite and chew, and often isn't as flavorful as fruits, carbs, or even veggies. Meat can also be a little foreign to toddlers who probably started off with baby cereal, fruit and veggie purees as babies. Even if your little one did baby-led weaning, their first foods were likely fruits or veggies.
Do Toddlers Need Meat?
No! While meat can offer an easy and convenient source of protein, vitamin B-12, and iron, toddlers can also get these important nutrients from other food sources. Fortified cereals, bread, dairy products, beans, and lentils are good substitutes that provide these necessary nutrients.
Always talk to your doctor before making significant changes to your toddler's diet. While its okay that your toddler goes through phases of not eating meat, you will want to discuss with your doctor if your toddler has long periods of not eating meat.
How to Get Your Toddler to Eat Meat
If your toddler is like mine, meat is not their favorite food group. My toddler tried bits and pieces of meat when he was younger, but it wasn't until 18-24 months when he actually decided that he liked meat (most of the time). Here are some tips that we used to get my toddler to eat meat.
Ground Meat
Certain cuts of meat like chicken breast, well-done beef, and pork chops can be tough and chewy. Imagine being a toddler who doesn't have all of their teeth, or recently got them and isn't a fan of chewing with their molars yet.
Try serving ground meat to your toddler. There are lots of healthy options like ground turkey and chicken, or if you choose ground beef try grass-fed beef with the fat drained after cooking.
Shredded Meat
Another way to make meat more tender and less tough is to serve shredded meat.
Try making shredded chicken, beef, or pork in the crock pot or on the barbecue and then shredding with an electric mixer to shred it finely. Our favorite is making "crack chicken" in the instant pot. If you search for crack chicken there are tons of different recipes, most involving shredded chicken with a flavorful cream sauce.
Add Sauce
Bland meat is no fun for anyone to eat. Adding a marinade, sauce, or dip can help make meat more flavorful and enjoyable for your toddler to eat.
Try adding a yummy sauce before or after cooking, but remember to stay away from too much salt and no honey for babies under one year old. Some of our favorite sauces are bbq sauce and salsa cooked with chicken. My toddler also loves ketchup and ranch dressing for dipping.
Mix it In
Meat can be a little intimidating if your toddler isn't used to eating it.
Try mixing it in your toddler's favorite foods, like mac 'n cheese, scrambled eggs, quesadilla, pasta sauce, or add it into a casserole. I don't like to "hide" meat in my toddler's meals, but mixing it in to their favorite foods can help them see meat in a more familiar way and be more willing to try it.
Make it Fun
Finally, try to make it fun. I'm always a fan of making meal time more fun and meat doesn't have to be an exception. Try these fun tools:
Kitchen Helper Stool – Let your toddler help prepare the meal. Toddlers can help gather the ingredients, measure and pour ingredients into the bowl or pan, stir, and can help set the table. We love our kitchen helper stool so that our toddler can easily help in the kitchen.
Kid Food Cutters – Cut meat like hot dogs, lunch meat, or some thin cut meat into fun shapes using food cutters. These can also be used for sandwiches, fruits, veggies, and cheese. These cute food cutters are always a hit in our house!
Toddler Food Picks – toothpicks and fun toddler food picks can be a great way to get your toddler excited about picking up and eating their food and are great to use for meat.
Meat Toddler Meal Ideas
Below are toddler meal ideas using meat based on what my 2-year-old toddler actually eats.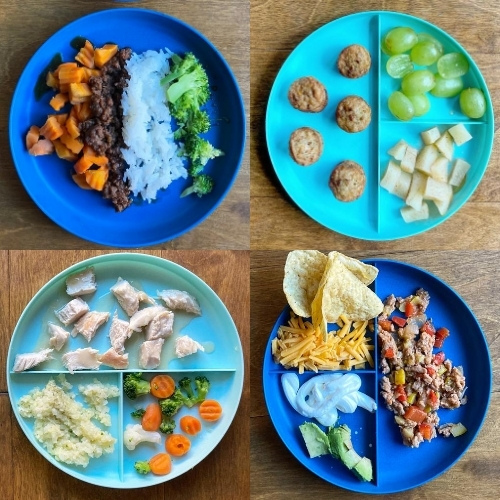 Sweet Korean Beef – ground beef cooked with sweet Korean bulgogi sauce. Served with cooked carrots, jasmine rice, and broccoli. This also is great to serve in a bowl with everything piled on top or stirred in.
Chicken Veggie Meatballs – my toddler loves KidFresh Chicken Veggie Meatballs in the freezer section. They are made with chicken and veggies and are a soft texture that toddlers love. Side of steamed apples and grapes.
Chicken with Cream Sauce – adding a gravy or cream sauce can help your toddler eat meat. We had chicken cooked with cream of potato soup and served on top as gravy. Side of cauliflower rice and mixed veggies.
Turkey Tao Skillet – one of our favorite recipes from the The Defined Dish Cookbook. Ground turkey and veggies in a tomato sauce, served with sides for tacos; avocado, sour cream, cheese, and tortilla chips.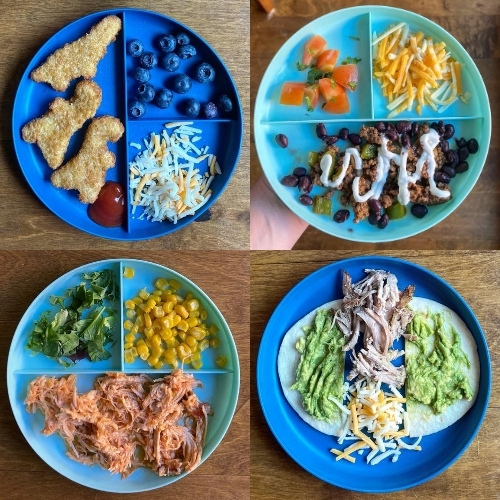 Chicken Nuggets – chicken nuggets can be a part of a balanced toddler diet! We love the Perdue Chicken Plus Veggie Nuggets since they have veggies baked right into the crust. I love cooking these up in the airy fryer; they only take about 7 minutes. Nuggets can make meal time fun if they come in fun shapes and also add some crunch. Side of blueberries and shredded cheese.
Ground Pork Taco Plate – if your toddler likes beans and/or sour cream, try serving them ground meat with those toppings stirred in. We had ground pork, black beans, and green pepper topped with sour cream. Sides of shredded cheese and tomatoes.
Salsa Pulled Chicken – to make chicken extra tender I like to cook in the instant pot with sauce (like salsa) and then shred with the electric mixer. A crock pot or slow cooker would also work great to make shredded chicken. After shredding I always add the chicken back to the cooking pot so it can soak up all the salsa. Sides of arugula salad and corn.
Pork Carnitas – crispy pork carnitas can appeal to toddlers because its tender, shredded, and a little crispy. After shredding I broiled in the oven to add a little extra crunch. We had shredded pork, soft tacos with avocado, and shredded cheese so my toddler could make his own tacos.
Chicken Mashed Potato Bowl – baked chicken with gravy, served on top of mashed potatoes and topped with more veggies. You can serve this all separately, or if your toddler is a fan try loading it all into a bowl to make a mashed potato bowl.
Beef Lasagna – I don't like to "hide" meat, but if your toddler loves lasagna or any type of pasta, add ground turkey or beef to red sauce and they will likely gobble it down. I also love to add veggies into pasta sauces so extra nutrients.
Avocado Chicken Salad – a shredded and flavorful option to add in some chicken. To make this I use shredded canned chicken stirred with avocado and peas to make chicken salad. This would also be great on a sandwich! Side of mandarin oranges.
Hamburger – it can go a long way to serve your toddler an "adult" food. We used to cut up my toddler's hamburger and sometimes he would refuse to eat it. We tried leaving it whole and often times serve it on a bun so that he can eat exactly what we are eating and he loves it! Sides of corn on the cob and avocado.
Thanks for stopping by! You might also like these related posts: