Posts may contain affiliate links. Please see Disclaimer and Disclosure page for more details.


Are you stuck in a rut with feeding your toddler?
Toddler meals can be quick & east to make and fun for your toddler to eat! I'm sharing 37 toddler meal ideas based on what my 21 month old ate this month.
I am a mom of two little boys and (like most moms) am super busy, so I totally get you don't have time to stand in the kitchen all day. Most of my toddler meal ideas can be made in 5 minutes or less (except some family dinners).
Toddler Feeding Supplies
If you are looking for some awesome feeding supplies to help your toddler be interested in eating, these are some of our favorites:
Ingenuity SmartClean Toddler Booster Seat – we love this so my toddler can sit with us at the table. Its the perfect height and so easy to clean!
Munchkin 6 Piece Fork & Spoon Set – we own two sets because these get used at every single meal time. They hold up so well and are a great size for little hands.
Munchkin 360 cup – a great training cup to practice for an open cup!
Pillowfort Plates – we love these plates and have so many! They hold up great in the microwave and dishwasher.
Breakfast Ideas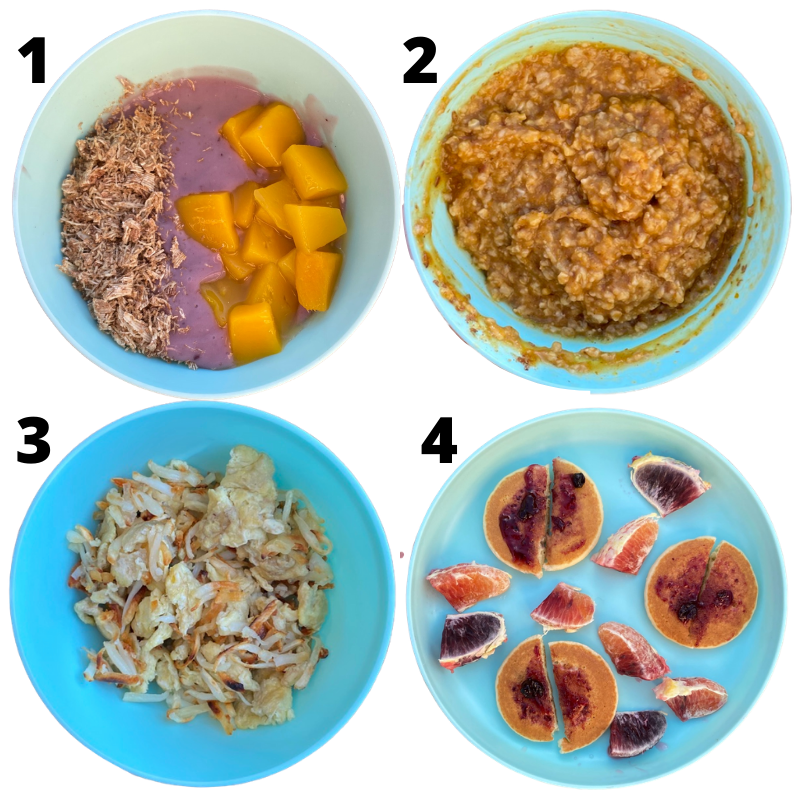 Peach Smoothie Bowl – my toddler doesn't eat much dairy so we use oatmilk yogurt. Topped with diced peaches and shredded oat cereal (we like Kashi Cinnamon Shredded Wheat cereal).
Carrot Cake Oatmeal – oatmeal is one of my toddler's favorites and i'm always want to pack in extra veggies and nutrients. To make this I combine 1/4 c oats (+ water and cooked), 1 small shredded carrot, 1 Tbsp ground flax seeds, 1 Tbsp maple syrup, and a sprinkle of cinnamon. You can also add raisins to make it more fun.
Egg + Hashbrown bowl – this is a weekend favorite when the rest of the family gets fried eggs. If I have some I also normally like to mix in a little spinach or other veggies. Try to limit the salt for babies or younger toddlers.
Silver Dollar Pancakes – mini pancakes topped with bluberry jam and a side of blood oranges. I just found blood oranges in the store for the first time in a while and my toddler loved them! Its fun to mix up "normal" foods with different colored ones.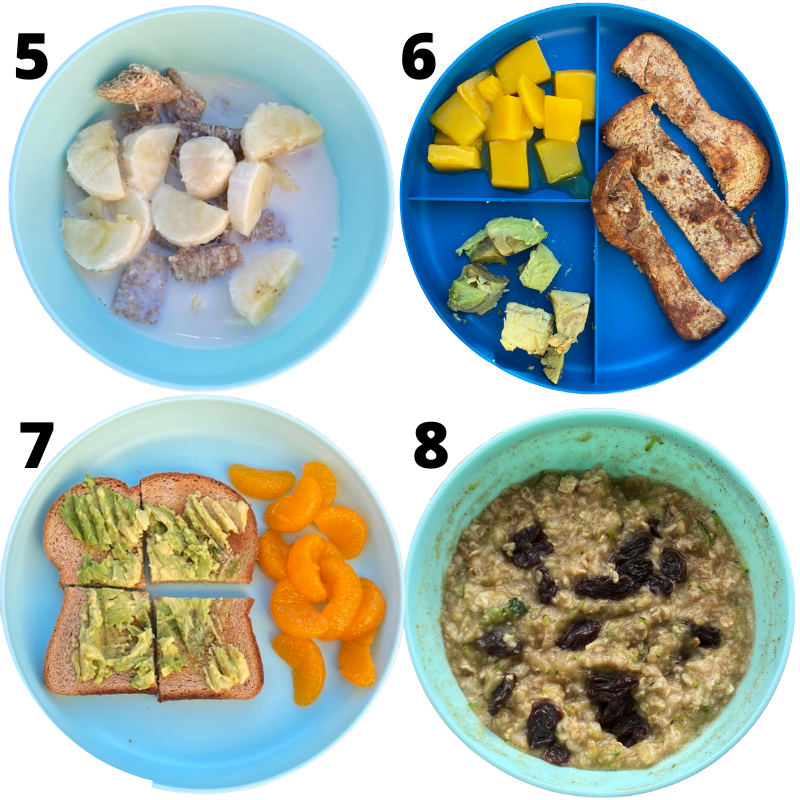 Cereal + Milk – Kashi Cinnamon Shredded Wheat cereal paired with Ripple milk and topped with bananas. Adding bananas or other fruit can be a fun way to dress up the normal bowl of cereal and add some extra nutrients.
Banana French Toast – like normal french toast, but with a ripe banana smooshed into the egg batter before frying. Served with a side of peaches and avocado. This french toast is so sweet and flavorful you won't need any maple syrup!
Avocado Toast – avocado is a great way to add a healthy fat into breakfast. You can make the toast less crunchy for younger eaters. Served with a side of mandarin oranges.
Zucchini Bread Oatmeal – I love adding veggies into breakfast when I can. To make this I combine 1/4 c oats (+ water and cooked), 1/2 small zucchini shredded, 1 Tbsp ground flax seeds, 1 Tbsp maple syrup, a sprinkle of cinnamon, and raisins.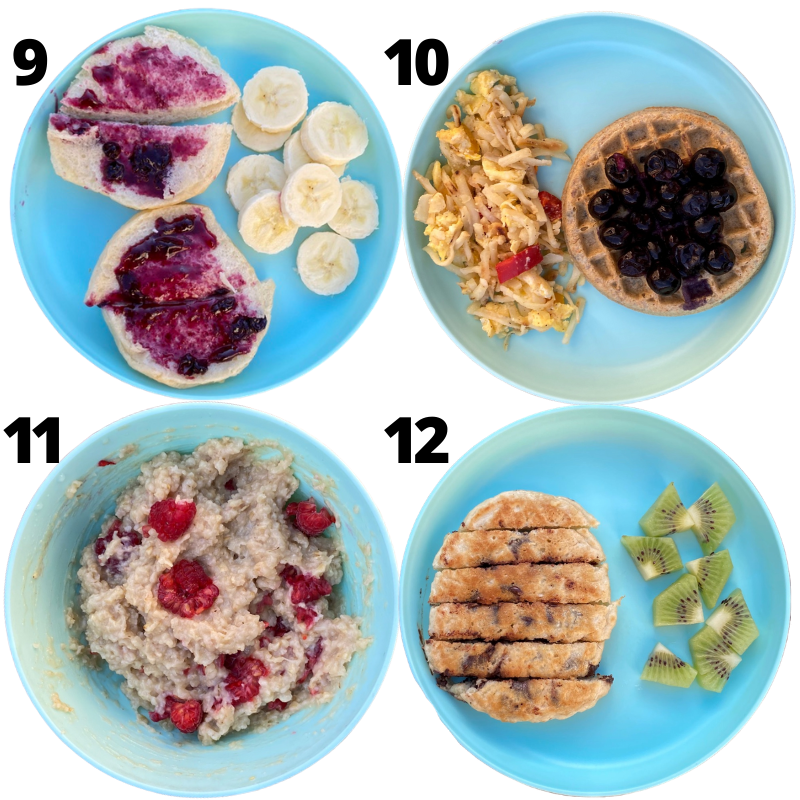 Biscuit with Jelly – another weekend favorite at our house is flaky biscuits! For my toddler I topped with blueberry jelly and added a side of banana. Sometimes I will top the bananas with peanut butter for extra protein.
Waffle + Scrambled Eggs – a whole wheat waffle topped with thawed frozen blueberries (instead of jelly or syrup!). I also added a side of scrambled eggs, hashbrowns, and peppers.
Oatmeal with Raspberries – summer means its finally berry season! To make this I combine 1/4 c oats (+ water and cooked), 1 Tbsp honey (no honey under 1 year old), 1-2 tsp peanut butter and a handful of raspberries.
Homemade Pancakes – I made homemade chocolate chip pancakes for the family and couldn't leave the toddler out (its all about balance, right?!). I also added a side of kiwi and he loved it!
Lunch Ideas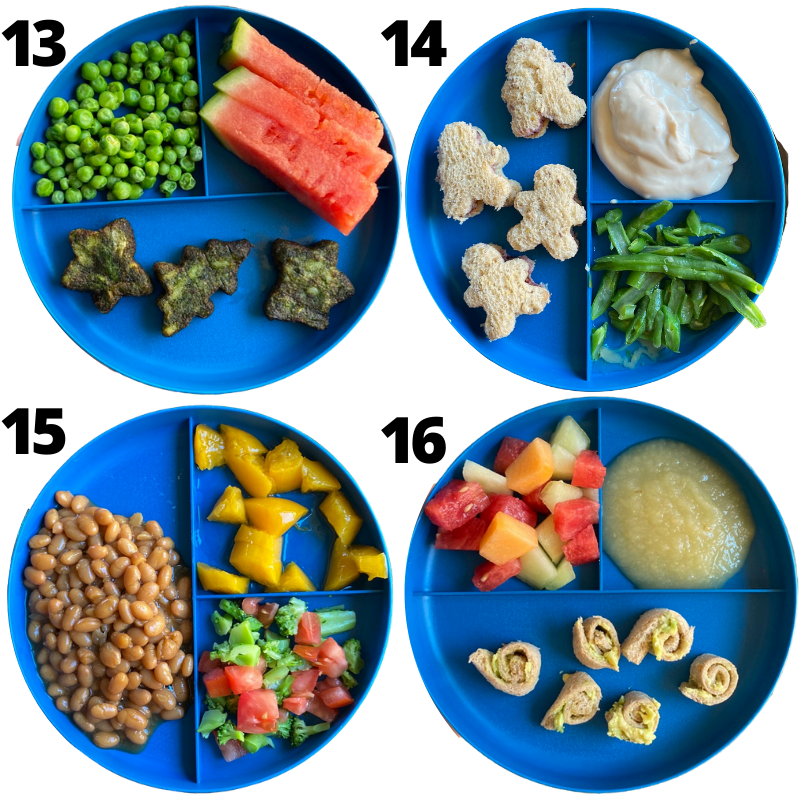 Dr. Praeger's Spinach Littles – these are one of my favorite go-to freezer lunches. They head up in just a few minutes in the microwave. Sides of peas and watermelon (my toddler's absolute favorite fruit).
PB & J – peanut butter and jelly on whole wheat and cut into fun shapes. My toddler isn't always a huge fan of pb&j for some reason, but cookie cutters help! Side of almondmilk yogurt and green beans.
Baked Beans – a pantry staple that can be a good source of protein and be something new and fun to add to lunches. I try to watch sugar and choose one with less sugar. Side of peaches and broccoli + tomatoes.
Avocado Pinwheels – to make this I rolled a piece of bread flat with a rolling pin and cut off the crust. Then spread with a thin layer of avocado, roll up, and cut into little pinwheels. Side of melon and applesauce.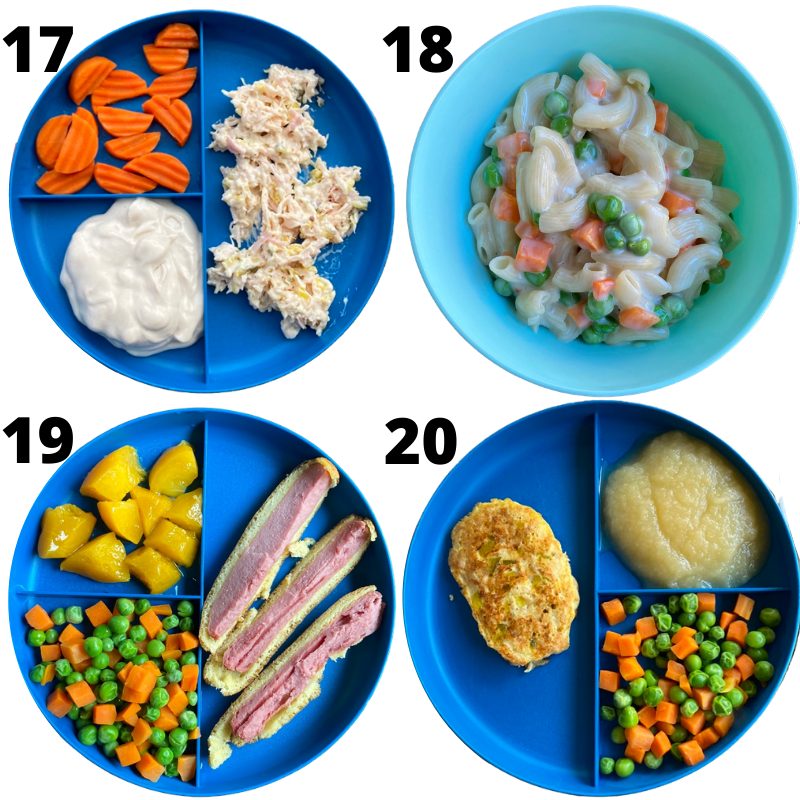 Chicken Salad – I made this with canned chicken breast, olive oil mayo & a little relish. Sides of cooked carrots & almondmilk yogurt. You could also try using this to make a mini chicken salad sandwich.
Mac & Cheese – always a favorite! I normally add some peas or peas + carrots to make it a little heartier meal and more nutritious. My toddler doesn't mind at all.
Chicken Corn Dog – another toddler favorite! I like to cut them into long slices so he can still pick them up with his hands. Side of veggies and peaches. We also sometimes add some natural ketchup for dipping.
Salmon Cake – to make this I mixed together some canned wild salmon, 1 egg, and a tbsp of relish and then cooked on the stove top until firm. Side of veggies and applesauce. You can also try different canned fish like tuna.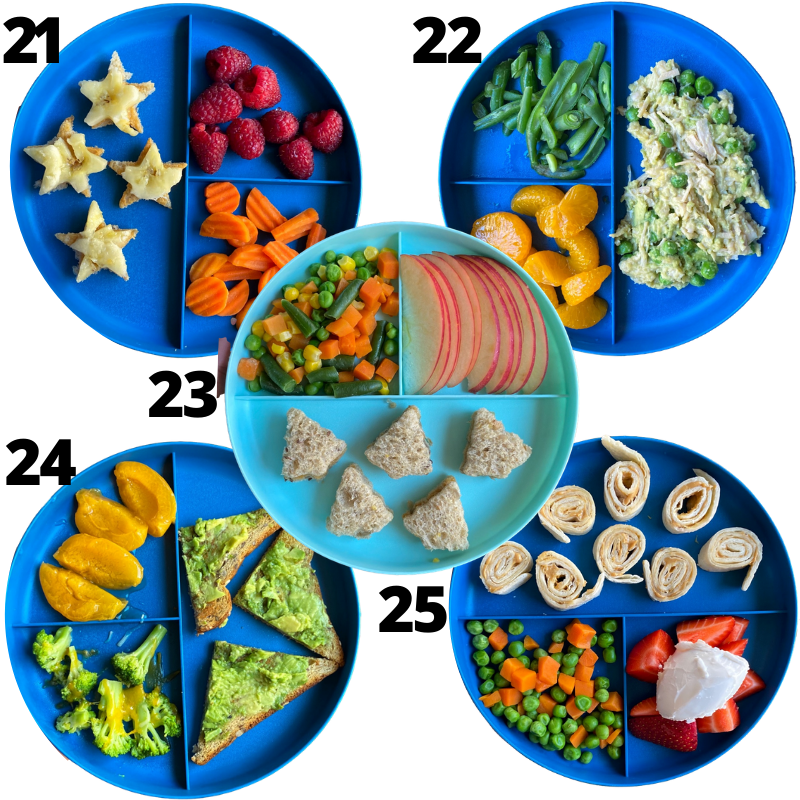 Peanut Butter + Banana Bread – if you want to mix up the normal pb&j sandwich try adding banana and serving it open faced. My toddler love these cut into stars. Side of raspberries and cooked carrots.
Avocado Chicken Salad – to make this I stirred together canned chicken breast, avocado, and peas. It was a hit! Side of green beans and mandarin oranges.
Almond Butter Sandwich – another variation of pb&j made using a different nut butter. We tried almond butter and my toddler liked it. You could also try cashew butter or sun nut butter. Side of thinly sliced apples and mixed veggies.
Avocado Toast – toasted whole wheat bread with smooshed avocado. For younger babies you can make the bread less "toasty" so it isn't as hard and crunchy. Side of broccoli with cheddar cheese and apricots.
Peanut Butter Pinwheels – to make these, take a tortilla and spread with a thin layer of peanut butter. Roll up and cut into 1/2 inch pieces. Side of strawberries with coconut cream and mixed veggies.
Dinner Ideas
For nearly all dinners, my toddler eats what the family eats (or a modified version)!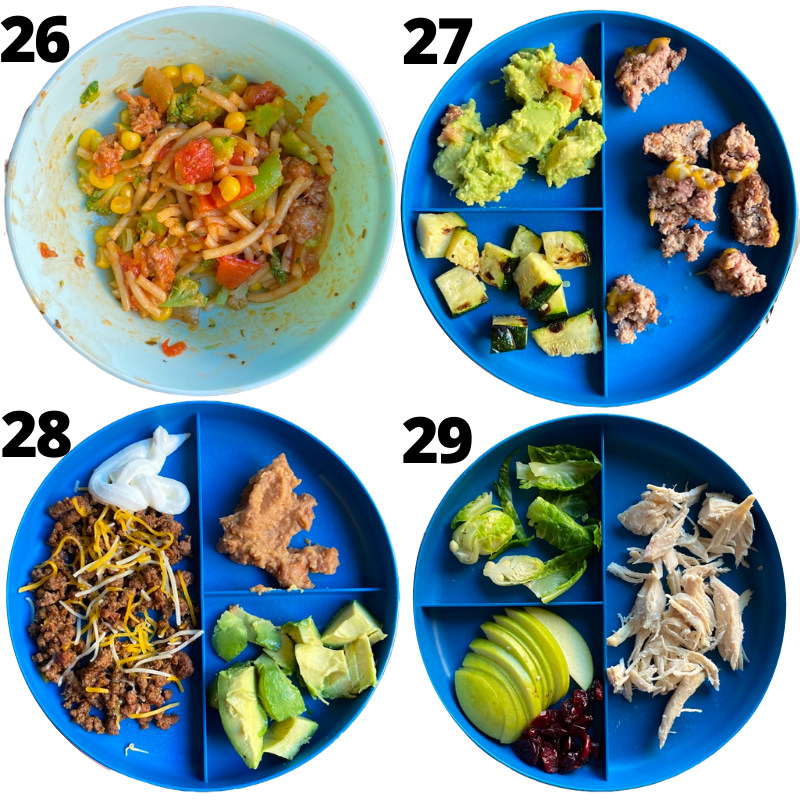 Spaghetti with Veggies – I love adding veggies to "normal meals"! Spaghetti noodles with pork sausage plus diced tomatoes, broccoli, and corn.
Deconstructed Guac Burger – cut up cheeseburger with sides of chunky guacamole and grilled zucchini. Our first grilling dinner of the season!
Taco Plate – we are all for Taco Tuesday in this house! Ground beef taco meat topped with shredded cheese. Sides of sour cream (a favorite), avocado, and refried beans (something new).
Deconstructed Chicken Salad – the rest of the family had a summery chicken salad. Roasted chicken, Brussel sprouts, thinly sliced green apple and dried cranberries.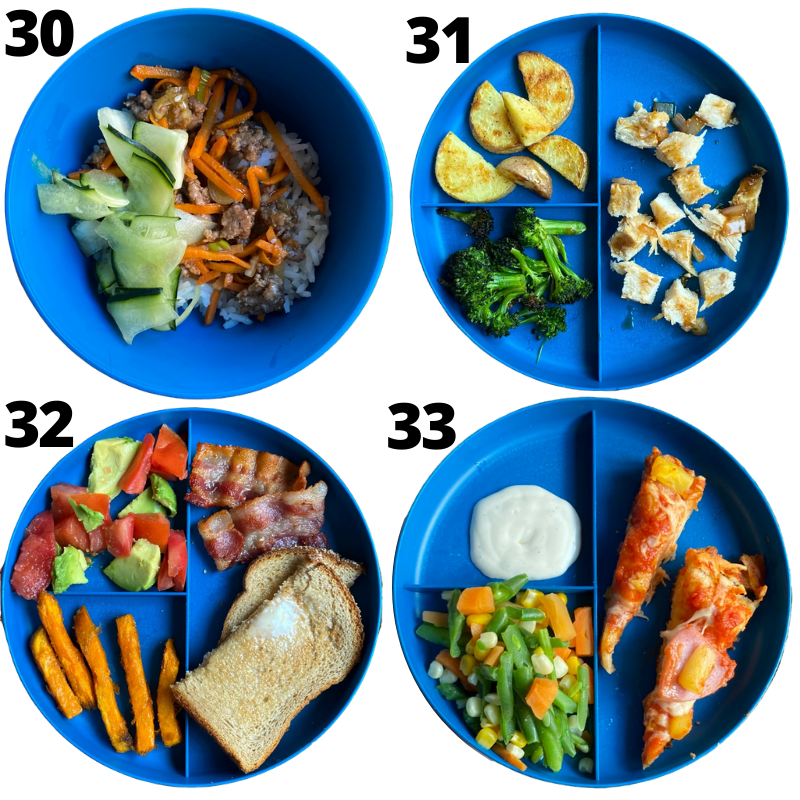 Korean Beef Bowl – jasmine rice, bulgogi seasoned ground beef, shredded carrots, and cucumber. This is becoming one of my favorite dinners and my toddler las loved it as well.
Baked Chicken and Veggies – sheet pan roasted chicken, golden potatoes and broccoli. Who doesn't love a one-pan dinner!?When the broccoli is cooked just right my toddler chows it down!
Deconstructed BLTA – toasted whole wheat bread, bacon, tomato, avocado, and air fryer sweet potato fries. This was one of my toddler's first experiences with bacon and he is hooked!
Pizza – I always like to add a side of fruit or veggies when we have pizza night. My toddler is also newly obsessed with ranch for dipping. I also try to mix up the type of pizza we have and get him comfortable with eating toppings other than plain cheese pizza.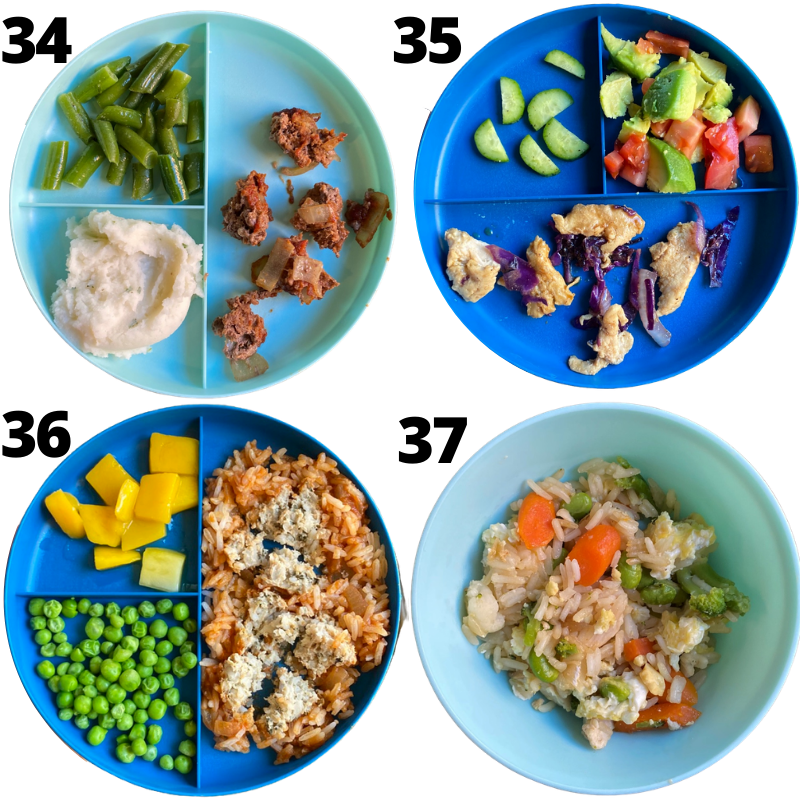 Meatloaf – my toddler loves these super yummy paleo meatloaf meatballs by The Defined Dish (its from her cookbook). Side of green beans and mashed potatoes.
Bulgogi Chicken – sweet Korean bbq chicken + purple cabbage, avocado and tomato, and english cucumber.
Turkey Meatballs + Rice – turkey porcupine meatballs with rice and tomato sauce. This is one of grandma's recipes and anything with rice and /or tomato sauce is a hit with my toddler. Side of peas and peaches.
Chicken Fried Rice – fried rice with chicken, eggs, and lots of veggies. We have been using coconut aminos instead of soy sauce so that it is toddler friendly (less salt).
Thanks for stopping by!