Posts may contain affiliate links. Please see Disclaimer and Disclosure page for more details.


A list of 10 no-cook toddler meals for those super busy days. Pantry & fridge staples that make healthy meals, no kitchen required.
As moms, we are busy! Its part of the job description. It can be hard to find time to cook meals or slave away in the kitchen.
That's why i'm sharing 10 ideas for no-cook toddler meals that are healthy, simple, easy, and are quick to make. No stove, oven, toaster, or even microwave is required.
Most of these meals also include staple foods like bread, tortillas, peanut butter, and avocado which you may already have in your kitchen already.
Make these meals for breakfast, lunch, dinner, or even incorporate them into snack-time. They would also be good to pack in your toddler's lunch for school or daycare since they don't require any cooking.
These are meals that my two-year-old eats regularly and most toddlers are sure to love.
You might also like these related posts:
Favorite Toddler Feeding Supplies
P.S. these are some of our favorite feeding supplies to make meal time with your toddler just a little bit easier!
Sandwich & Veggie Cutters: you will see these pictured below. They are awesome to use to make meal time more fun and get your toddler to try new foods (or just make their normal favorites more fun!). We like to use them on sandwiches, fruit, veggies, and even eggs.
Ingenuity Booster Seat: This is our favorite booster seat (we actually have the baby seat too for my baby). Its so easy to clean, comes in neutral colors that look great with our table and kitchen decor, and is comfortable for my toddler to sit at! It fits great at our counter top table and I also know others who use this at a regular-heigh table.
Pillowfort Plates: these are our go-to plates for just about every meal. They are extremely durable and have held up in the microwave and dishwasher for more than a year so-far. They come in divided and non-divided plates as well as bowls.
Okay, now onto the food!
Easy No-Cook Sides
Before we get to the main courses, I wanted to share some of our favorite no-cook sides. Mix and match these easy sides to make your toddler's meal more well-rounded and keep meal time interesteing.
Avocado (we use this one A-LOT)
Whole Milk String Cheese
Whole Milk or Alternative Yogurt
Raisins
Hummus
Frozen blueberries (I like wild blueberries because they are smaller)
Frozen peas
Raw Veggies; cucumber, bell pepper, halved grape tomatoes, baby carrots (slice long ways for toddlers under 3 or so)
Fresh Fruit; banana, halved grapes, pears, kiwi, melon, watermelon, nectarines, berries, thinly sliced apples
Canned Fruit (buy fruit in 100% juice); mandarin oranges, peaches, pears, pineapple
Ideas for No-Cook Toddler Meals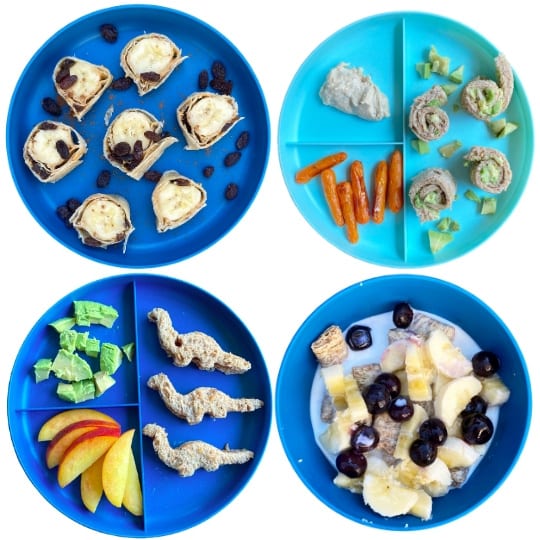 Banana Sushi – how fun is this?! A toddler version of this date-night favorite is great for breakfast, lunch, or snack! Lay out a tortilla, spread with peanut butter or other nut butter, lay a banana on top, roll up tightly, and cut into slices. Sprinkle with raisins.
Avocado bread pinwheels – pinwheels are great because they are both fun and bite-sized. Lay out a slice of bread and cut off the crust (we like Dave's Killer Bread). Spread thinly with avocado, roll up, and cut into slices. Sprinkle with more avocado. Side of baby carrots and hummus.
PB&J cookie cutter sandwich – who says you can't play with your food? A toddler favorite made even better with sandwich cutters! the first time we used this dinosaur sandwich cutter my toddler was OBSESSED. You can also try other nut butters like almond or cashew butter if you frequent pb&j. Side of avocado and nectarines.
Cereal and milk – we really like Kashi Cinnamon Harvest cereal and use grass-fed whole milk or unsweetened Ripple (pea protein) milk as an alternative. Make cereal fun by topping with sliced banana and blueberries. I also sometimes use frozen blueberries on top.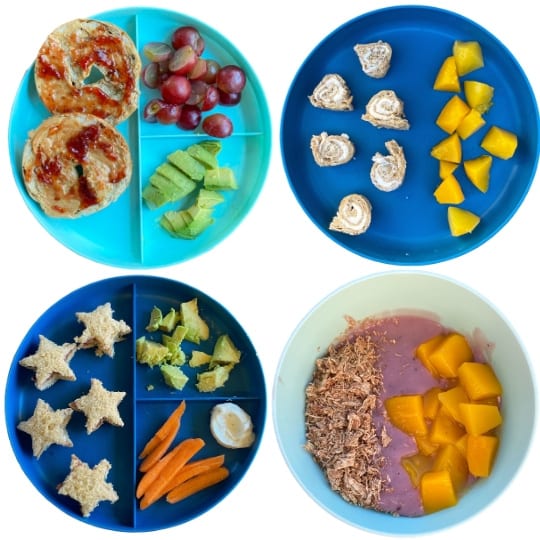 Mini Bagel – mini bagels are so fun because they are toddler-sized! Here we had a cinnamon raisin mini bagel with pb&j on top. Cream cheese or grass-fed butter would also be a good alternative. Side of avocado and halved grapes.
Cream cheese bread pinwheels – lay out a slice of bread and cut off the crust (we like Dave's Killer Bread). Spread thinly with cream cheese (or peanut butter), roll up, and cut into slices. Side of peaches. Pinwheels also work well with tortillas!
Peanut butter & banana sandwich bites – take two slices of bread and put peanut butter one side and banana slices on the other to make a sandwich. Cut into small squares or use a small cookie cutter like the stars shown above. Side of Avocado and baby carrots with ranch.
Yogurt Parfait – we like whole milk yogurt or almondmilk or coconutmilk yogurt as an alternative. Top yogurt with shredded cereal or granola and fruit like peaches or blueberries. I find that its okay to use canned fruit sometimes! Get canned fruit in 100% juice to avoid artificial sweeteners and also drain and rise before serving.
Avocado chicken salad – A recent favorite of my toddler! Combine 1 can of canned chicken breast and 1/2 to 1 avocado. Smash and stir until well-mixed. Serve as a sandwich or just by itself to eat with a fork. Sometimes I will also stir in frozen or thawed peas. A great meal of protein and healthy fat!
Homemade 'lunchable' – plate some cheese, crackers, and low-sodium lunch meat for a homemade 'lunchable' like we had when we were kids! A super fun DIY option for lunch or snack time. Let your toddler decide if they want to eat it all separate, stack, or make little cracker sandwiches.
Thanks for stopping by! You might also like these related posts: