Posts may contain affiliate links. Please see Disclaimer and Disclosure page for more details.


Are you wondering: What should I feed my toddler for dinner? What are easy toddler dinners my toddler will eat? Well, you've come to the right place!
I'm sharing a list of 40 healthy, fun, and easy toddler dinners for 1-2 year olds. Descriptions of my toddler's meals and photos for inspiration.
I'm a mom of two boys and totally understand that as parents we are all super busy! Working moms, stay at home moms, and everything in between. Moms are busy and don't have a lot of time to slave over dinner every night.
Most of my toddler's dinners are things that we actually eat as a family or modified version of those meals. Its easier for everyone if you don't have to cook two meals every night.
Below is a list of 40 easy toddler dinners based on what my 1 year old actually eats.
Follow along with us on Instagram for more meal ideas!
Looking for more toddler meal ideas? You might like these related posts:
Favorite Feeding Supplies
I wanted to share some toddler feeding essentials that we use every day! These supplies are affordable and can help mealtime go smoothly.
Munchkin 6 Piece Fork & Spoon Set: we have two of these sets! They are just perfect for little hands and have held up amazingly well for the year we have had them. We particularly like that the fork is more of a spork for easy scooping.
Ingenuity Booster Seat: we love this booster seat and have been using it since about 18 months. It fits my young toddler well and is super easy to clean. We use it at our counter height table and it works well.
Pillowfort Divided Plates: these are my favorite divider plates. They come in cute colors and are very durable!
Sandwich & Veggie Cutters: we just got these and they have been so much fun! I love that this particular set is all stainless-steel. They can make mealtime fun and can help your toddler try new foods when they see them in fun shapes!
Visit our Amazon Shop to see all of our favorite baby & toddler feeding products (updated regularly!)
Side Dishes
Before we get to the main courses, I want to share some of our frequently used side dishes.
I try to serve veggies with almost every dinner and sometimes incorporate a fruit as well. I often buy frozen veggies and sometimes used canned fruit when I need a side in a hurry. Here are some ideas for dinner sides that are toddler approved:
Peas & carrots
Broccoli & cheese
Cucumber slices
Diced tomatoes
Sweet potato slices or fries
Green beans
Avocado
Carrot fries
Baked beans
Potatoes
Grilled zucchini
Carrots & ranch
Corn
Mixed veggies
Bananas
Mandarin oranges
Melon
Grapes
Peaches
Pineapple
Apricots
Kiwi
Dinner Ideas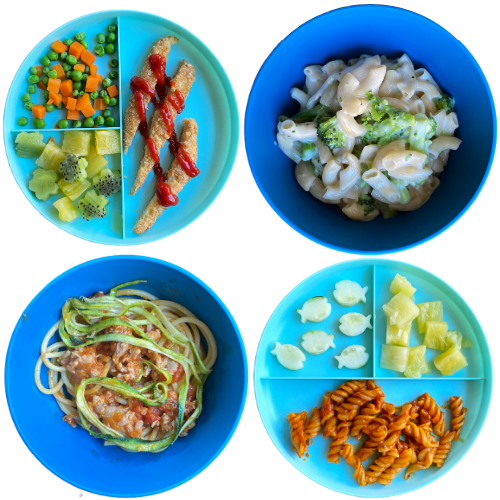 Veggie Chicken Nuggets – we have been loving these veggie chicken nuggets by Purdue Farms. I cook these in the air fryer and they have been fun for the whole family. Side of mixed veggies, pineapple and kiwi.
White Cheddar Mac & Cheese – I like to add veggies to mac 'n cheese for a little extra color and nutrition. This time I tried adding broccoli and it was a hit. Kind of like broccoli and cheese.
Spaghetti with Zoodles – a yummy classic –– spaghetti with pork meat sauce –– but with extra zoodles (spiralized zucchini noodles) on top.
Lentil pasta with Red Sauce – this pasta sounds fancy and is made with veggies, but its actually Birds Eye brand from the freezer section and ready in minutes! Side of pineapple and cucumber. I loved testing out our new veggie shape cutters!
Related recipe: Homemade Toddler Mac & Cheese with Peas
Follow along with us on Instagram for more meal ideas!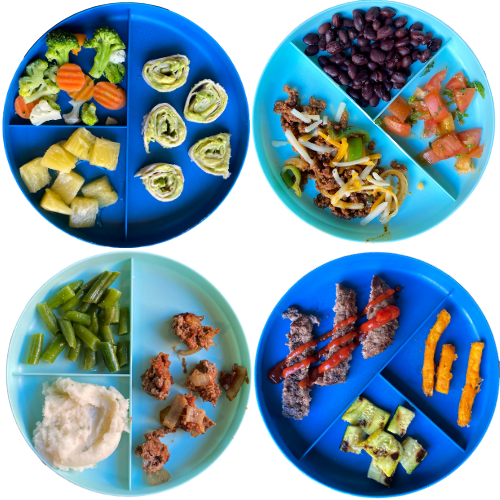 Avocado Pinwheels – thinly spread avocado on a tortilla, roll up tight and then cut into pinwheels. We have avocado toast quite frequently so this is a fun way to mix it up. Served with sides of mixed veggies and pineapple.
Ground Beef Taco Plate – when the family has tacos for dinner my toddler often gets a deconstructed taco plate. Ground beef with peppers and shredded cheese, side of tomatoes and black beans.
Meatloaf Meatballs – we love this recipe from The Defined Dish cookbook. They are so yummy and easy to make (and can be made Paleo). Side of mashed potatoes and green beans.
Deconstructed Hamburger – its summertime here and we have been grilling at least weekly! My toddler normally has his hamburger deconstructed so its easier for him to eat. Side of grilled zucchini and air fryer sweet potato fries.
Related Recipe: Egg Salad Recipe for Toddlers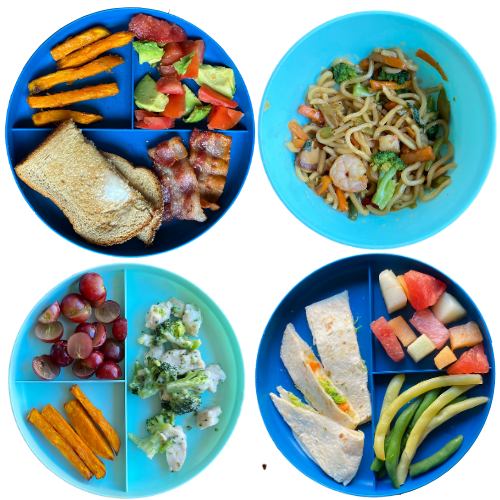 Deconstructed BLTA – this was one of my toddler's first experiences with bacon and he is hooked! Whole wheat toast, bacon, avocado, tomato and air fryer sweet potato fries.
Shrimp LoMein – shrimp with LoMein noodles and extra mixed veggies.
Chicken & Broccoli Alfredo – roasted chicken and broccoli in Alfredo sauce. Side of homemade sweet potato fries and halved grapes.
Veggie Quesadilla – cheese quesadilla with broccoli and carrots inside and cut into slices. Side of green beans and mixed melon.
Related recipe: Toddler Breakfast Burrito with Veggies
Don't forget! You can shop my toddler mealtime favorites anytime on my Amazon Shop!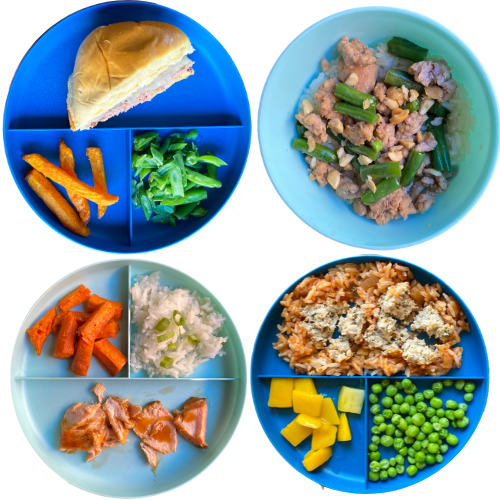 Grilled Hamburger – instead of the deconstructed version we also sometimes give my toddler the real thing. Side of green beans and air fryer sweet potatoes.
Pork Stir Fry – Jasmine rice with ground pork, green beans and chopped peanuts on top for a little crunch.
Roasted Chicken – oven roasted chicken with fig glaze, oven carrots and jasmine rice.
Turkey Meatballs – This is one of grandma's favorite recipes. Turkey & rice meatballs with tomato sauce over rice. Side of peaches and peas.
Affordable toddler plates we use: Pillowfort Divided Plates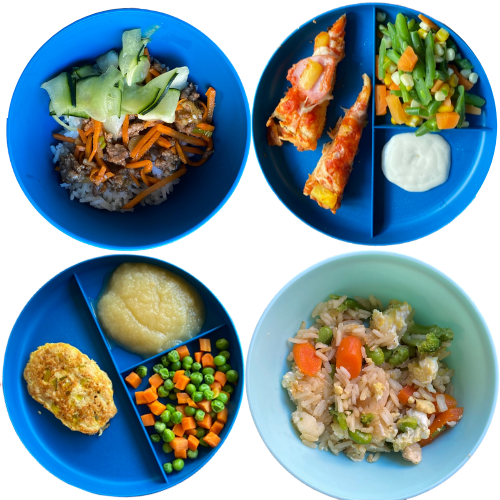 Beef Bulgogi Bowl – Ground beef with bulgogi sauce over rice, with cucumber and cooked carrots.
Pizza – pizza night is always a favorite in our house. We like to mix up the pizza toppings and always serve with a side of veggies to make it a little more wholesome meal. Also a side of ranch for dipping.
Salmon Cake – homemade salmon cake pan fried with salmon, egg, and relish. Side of apple sauce and mixed veggies.
Chicken Stir Fry – diced chicken, rice, egg, and lots of veggies. These days my toddler loves anything that comes in abowl and this is one of htis favorites!
Related recipe: Kid-Friendly Mini Pizza Bagels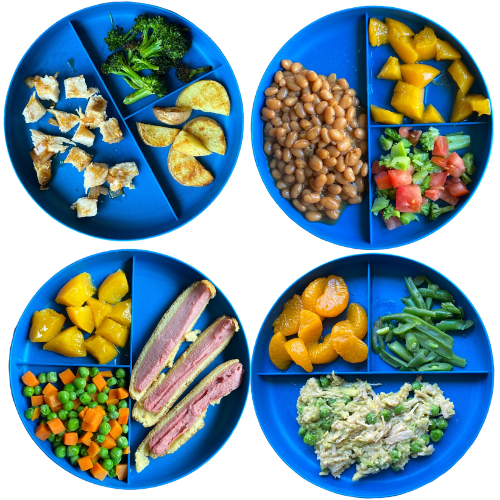 Roasted Chicken & Gravy – chicken baked in the oven and topped with gravy. Side of oven potatoes and roasted broccoli.
Baked Beans – I recently learned that my toddler loves baked beans and it can be part of a healthy meal when we are short on time! Side of broccoli, tomatoes, and peaches.
Veggie Corndog – we really like the veggie corndogs by MorningStar Farms. I like to mix it up and will sometimes cut his corndog into strips and sometimes into bite sized pieces. Side of peas, carrots, and peaches.
Avocado Chicken Salad – canned shredded chicken breast tired together with avocado and peas. Also great on a sandwich! Side of mandarin oranges and green beans.
Our favorite silicone toddler plates & bowls: EZPZ Fun (EZPZ25L for 25% off $75+)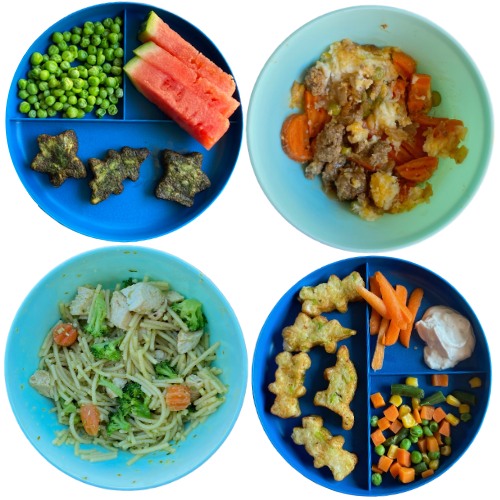 Spinach Littles – we love Dr. Praeger's Spinach Littles and keep them in the freezer for quick and easy meals. Side of watermelon since its summertime and peas.
Shepherd's Pie – homemade shepherd's pie is always a treat! My toddler especially loves it. Ground beef and veggies topped with mashed potatoes.
Spaghetti with Chicken & Veggies – spaghetti in a white butter sauce with diced chicken, broccoli, cauliflower, and carrots.
Broccoli Littles – these are my toddler's favorite item from Dr. Praeger's. They are so easy to make and have loads of veggies and good ingredients. Side of thinly sliced raw carrots with ranch for dipping and mixed veggies.
Related recipe: Toddler Naan Bread Pizza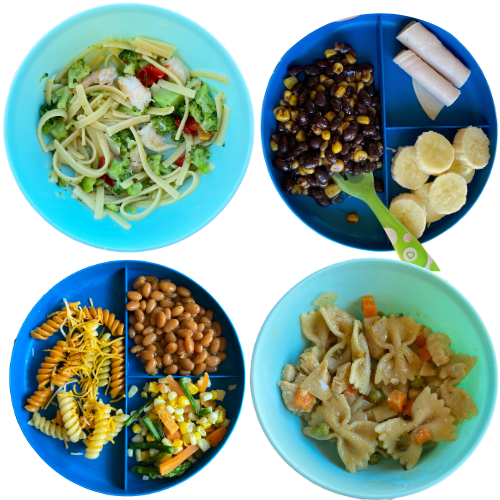 Shrimp Linguini with Veggies – Linguini noodles in a white butter sauce with shrimp, broccoli and red peppers.
Black Beans + Corn – left overs from taco night can also make a great dinner. Black beans and corn with sides of turkey roll ups and bananas.
Veggie Pasta – vegetable noodles with butter and shredded cheddar. Side of baked beans and mixed veggies.
Chicken Pot Pie Pasta – this is another one of my toddler's favorites from The Defined Dish cookbook. Whole wheat bowtie pasta, diced chicken and veggies in a creamy sauce.
Our favorite silicone toddler plates & bowls: EZPZ Fun (EZPZ25L for 25% off $75+)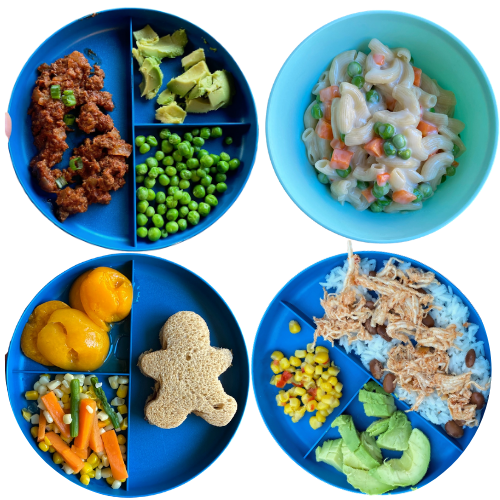 Chili – Paleo beef chili from The Defined Dish cookbook topped with green onion. Side of avocado and peas.
Mac and Cheese with Veggies – white cheddar mac n' cheese with added peas and carrots.
PB & J – when all else fails, you have permission to serve your toddler PB&J for dinner; a serving of protein and whole wheat. Side of apricots and mixed veggies to make it a more wholesome meal.
Pulled Chicken Taco Plate – pulled salsa chicken made in the instant pot (chicken breast and salsa cooked for 10 minutes) with black beans and jasmine rice. Side of corn and avocado.
Affordable toddler plates we use: Pillowfort Divided Plates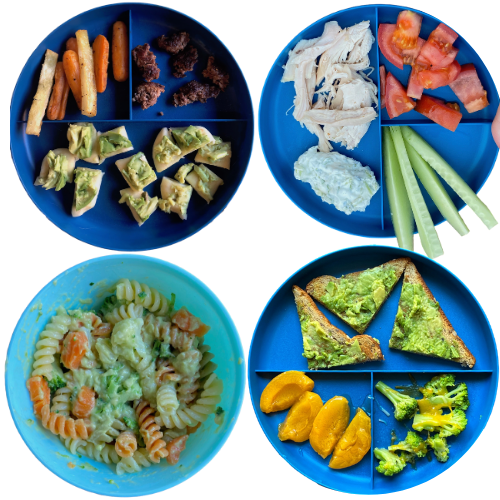 Avocado on Naan Bread – Naan bread topped with smooshed avocado. Side of oven potato and carrot fries and ground beef.
Greek Plate – also known as a deconstructed Chicken Gyro. Rotisserie chicken with Tzatziki for dipping and sides of tomatoes and cucumber.
Pasta with Avocado Sauce – veggie noodles with avocado sauce (avocado, olive oil, and seasonings blended in a blender) and mixed veggies.
Avocado Toast – another super quick and easy meal is avocado toast; a great way to add a whole wheat and healthy fat. Side of apricots and broccoli topped with cheddar.
Thanks for stopping by!
Looking for more toddler meal ideas? You might like these recent related posts: