Posts may contain affiliate links. Please see Disclaimer and Disclosure page for more details.


16 toddler dinner ideas that the whole family will love. No need to make your toddler a separate dinner, try these family-friendly toddler dinner ideas.
Are you wondering: What can I make my 2 year old for dinner? What are toddler dinner ideas for the whole family? I'm here to help!
Hi! I'm a mom of two boys, one who is currently a toddler and the other is right on his heels. Like many parents out there, I don't have time to cook multiple dinners for my family or stand in the kitchen all afternoon and evening.
That's why i'm sharing 16 toddler dinner ideas that are great for the whole family. My toddler actually eats and loves all of these meals! Some of them he eats exactly like we do, and others are slightly modified versions of the adult meals, but doesn't involve any more cooking or prep.
You might also like these related posts:
Favorite Toddler Feeding Essentials
Before we get to the food, lets chat about some of our favorite toddler feeding essentials that can make dinner-time a little easier.
Dinneractive Utensil Set – this utensil set is so fun and is our go-to when my toddler isn't eating well at dinner. I swear they can make him take a few extra bites (or more). We normally use this Munchkin Silverware Set, but these are a cute alternative that can make eating fun.
Ingenuity Booster Seat – we love this booster seat! It was a great upgrade from using the high chair (we transitioned to a booster seat at 18 months) and it is super easy to wipe down and clean. It fits well at our counter-height table but would also work great for a normal table as well.
Pillowfort Plate – pictured below you will see these Pillowfort Plates. We use them at every single meal! They have held up great through more than a year going through the dishwasher and you can't beat the price. They also come in cute colors.
Toddler Dinner Ideas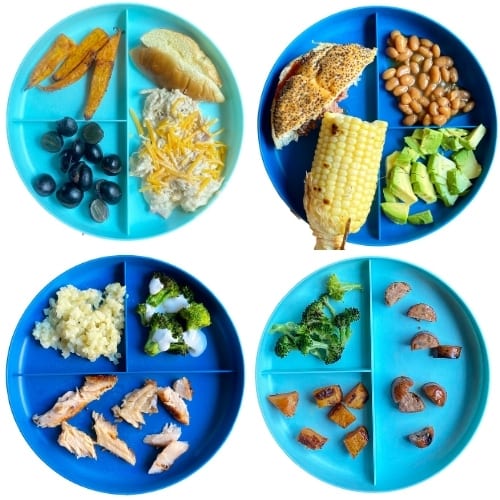 Pulled Chicken – we love "crack chicken" in the instant pot. Cheesy, creamy goodness that is super easy to make and uses a few simple ingredients. For adults we like to serve this chicken on buns as a sandwich, and can be served like that for toddlers as well or separate. Side of a bun or roll, sweet potato slices in the airy fryer, and grapes halved. Recipe: Instant Pot Crack Chicken
Hamburger – summertime means grilling! Or you could easily make burgers on the stove top in the winter; hello cast iron skillet! We sometimes serve it to my toddler deconstructed, but recently he has been loving to have a real burger with the bun. Side of baked beans, avocado, and corn on the cob.
Salmon – both of my kiddos love fish. I believe that introducing it when they are young has been key! Since its flaky it basically melts in their mouth and is easy for young eaters to eat. We love salmon grilled on a plank and paired with sides of cauliflower rice and broccoli with cream sauce.
Chicken Sausage – chicken sausage can be a great family-friendly meal that toddlers love. We have been loving this recipe for sheet pan chicken sausage, broccoli, and sweet potato; extremely easy and quick for weeknight dinners. Recipe: Roasted Sweet Potato, Sausage, and Broccoli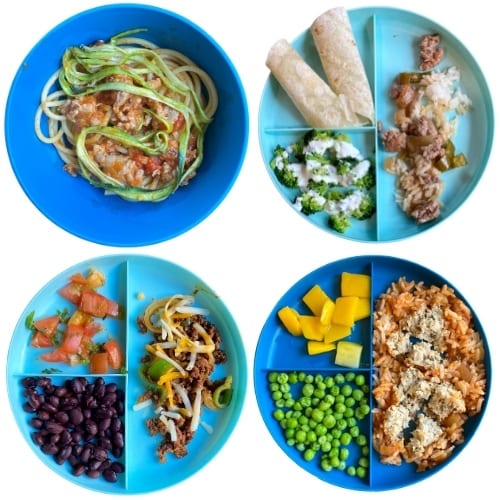 Spaghetti – I love making spaghetti sauce with added veggies. Try adding diced zucchini, peppers, onion, muchroom, or tomato to your normal tomato sauce recipe. Another option is to use zoodles (zucchini noodles) either as a replacement for pasta noodles or in addition to them.
Korean Pork – ground pork (or beef/chicken) cooked in sweet Korean Bulgogi sauce with green pepper and served on top of rice. Side of broccoli with sour cream and tortilla.
Taco Plate – taco night is a frequent dinner at our house. If your toddler can't quite eat a whole taco or burrito yet, try serving a deconstructed taco plate. Here we had ground beef cooked with green pepper and topped with shredded cheese. Side of tomatoes with cilantro and black beans.
Meatballs with Rice – turkey meatballs served over rice with tomato sauce. You can also use ground beef to make these meatballs. Side of peas and peaches.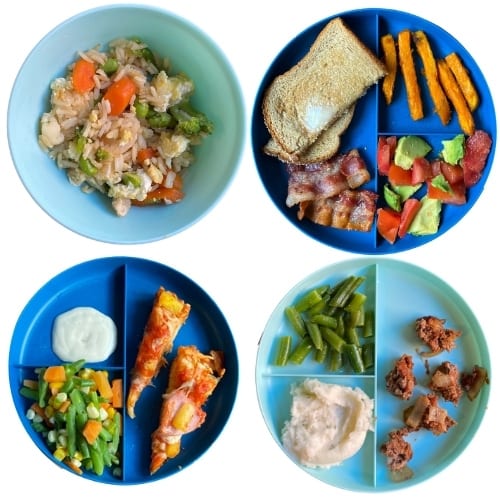 Chicken Fried Rice – fried rice with diced chicken, egg, carrots, broccoli, edamame, and water chestnuts. If your toddler is like mine and loves things served in a bowl check out my related post: 13 Toddler Meals in a Bowl
Deconstructed BLTA – BLTs can be a quick and easy dinner idea and can be made a little more nutritious by adding avocado (BLTA). To make this toddler-friendly, I serve his deconstructed. Toasted bread, bacon, tomato, and avocado with a side of sweet potatoes in the air fryer.
Pizza – life is all about balance; everything in moderation. We do have pizza once in a while! I like to rotate different toppings and serve with a side of veggies to make it a little more well-rounded meal.
Meatloaf Meatballs – we love this recipe from The Defined Dish Cookbook . A cross between meatloaf and meatballs, they are savory with a little bit of sweet. I found these similar meatballs from her website if you aren't able to get the book: Whole30 Baked Meatballs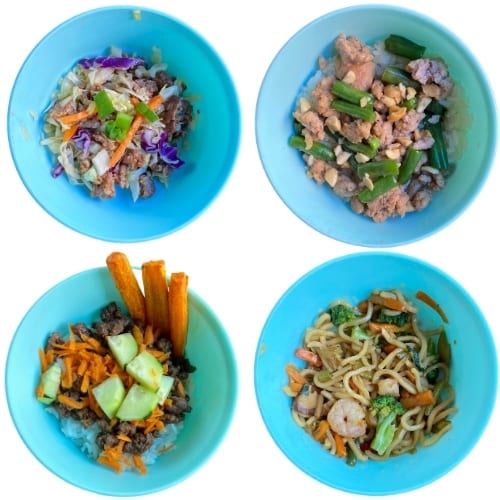 Egg Roll in a Bowl – this recipe is extremely easy and quick and only uses a few ingredients. My toddler loved it and it is parent-approved as well! Recipe: Egg Roll in a Bowl
Pork Green Bean Stir Fry – ground pork cooked with coconut aminos and green beans. Serve over jasmine rice and top with chopped peanuts. My toddler loves the peanuts (be sure to chop because they can be a chocking hazard).
Beef Bulgogi Bowl – ground beef cooked with Korean Bulgogi sauce. Serve over jasmine rice and top with shredded carrots and chopped cucumbers.
Shrimp Chow Mein – chow mein noodles cooked with shrimp and coconut aminos. Also stir in mixed veggies like broccoli, carrots, edamame, and water chestnuts.
Thanks for stopping by! You might also like these related posts: