Posts may contain affiliate links. Please see Disclaimer and Disclosure page for more details.


A list of 13 easy, healthy, and quick ideas for toddler meals in a bowl. If your toddler loves bowls or eats better out of a bowl these ideas are for you.
Are you wondering: What can I make for my toddler in a bowl? What are ideas and recipes for toddler meals in a bowl? I'm here to help!
Hi there, i'm a mom of two boys within 16 months. My oldest son went through a phase where he loved eating out of a bowl and would eat better out of a bowl than off of a plate (toddlers are weird and particular sometimes!).
I'm sharing 13 of our favorite meals that can be eaten out of a bowl. Because i'm a busy mom all of these meals are fairly quick and easy to make, and are healthy options for toddlers (toddler and mom approved). Our list includes ideas for breakfast, lunch, dinner, and snack time!
You might also like these related posts:
Favorite Feeding Supplies
P.S. these are some of our favorite feeding supplies to make meal time with your toddler just a little bit easier!
Pillowfort Bowls: these are our favorite bowls! They are so cheap and durable and have held up great in the dishwasher after more than a year of use. You will see these pictured below as they are our go-to's for almost every meal. They come in such cute colors!
Dinneractive Utensil Set: this is my toddler's new obsession. He asks for these at every meal instead of normal utensils. They are so cute and also great to bring out if he is being particularly picky and not wanting to eat. Its definitely okay to play with your food!
Munchkin 360 Cup: these cups are the best! Sippy cups can be bad for oral development, but the Muchkin 360 cup doesn't have a spout. Its a great trainer cup for an open cup and they don't leak at all!
Ideas for Toddler Meals in a Bowl
Smoothie Bowl: take your favorite smoothie recipe and blend it up a little thicker to serve in a bowl. Top with fresh or frozen fruit, granola, or shredded cereal. Our favorite recipe is 1/2 cup frozen blueberries, 1/2 cup whole milk yogurt, 2 Tbsp oats, 1 Tbsp peanut butter, 1 Tbsp honey. For more smoothie ideas check out my post: 18 Fun Toddler Snack Ideas
Pork & Green Bean Stir Fry: rice bowl with ground pork, green beans, and diced peanuts. Serve over Jasmine rice. Stir fry's are some of my toddler's favorite bowl meals. Rice can be an inhalation/choking hazard for babies, so be sure your toddler is good at chewing.
Carrot Cake Oatmeal: oatmeal made with shredded carrots, maple syrup, ground fax seeds, and raisins. For more fun oatmeal recipes check out my post: 8 Easy Toddler Oatmeal Recipes
Broccoli Mac 'N Cheese: white cheddar mac and cheese with broccoli stirred in. I almost always add veggies to mac 'n cheese to make it a little more wholesome and nutritious. I don't think my toddler realized that mac 'n cheese can come without veggies!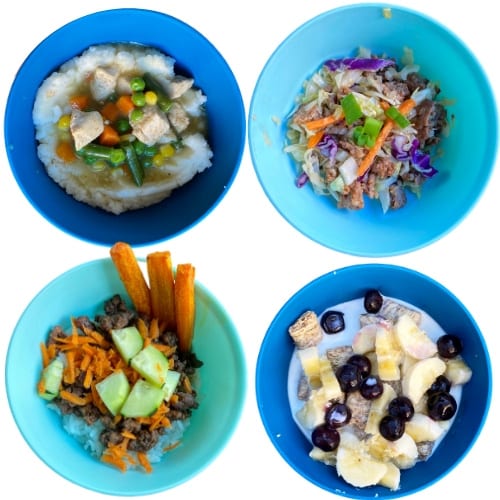 Mashed Potato Bowl: mashed potatoes topped with diced chicken, mixed veggies (carrots, peas, green beans, and corn), and homemade gravy. Shepherd's pie is another fun similar option that my toddler loves!
Egg Roll Bowl: like an egg roll, but without the wrapper. Ground sausage (or ground chicken or pork), cabbage coleslaw mix, and coconut aminos. We really like this recipe by Stylish Cravings!
Korean Beef Rice Bowl: ground beef cooked in Bulgogi sauce and served over jasmine rice. Topped with shredded carrots and diced cucumber.
Cereal, Milk, and Fruit: We really like Kashi Cinnamon Harvest cereal and use either whole milk or Ripple (pea protein) milk. To make cereal a little more fun I like to top with fruit like blueberries, bananas, strawberries or raspberries.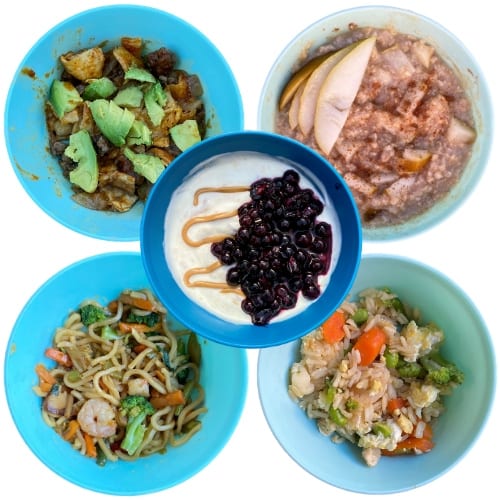 Enchilada Casserole: instead of making normal rolled enchiladas, try making a casserole by layering the tortillas, sauce, and filling in a casserole dish. Topped with sliced avocado.
Cinnamon Pear Oatmeal: oatmeal made with pears, honey, and cinnamon. For more fun oatmeal recipes check out my post: 8 Easy Toddler Oatmeal Recipes
PB&J Yogurt Parfait: vanilla whole milk yogurt with peanut butter swirled in and thawed frozen blueberries on top. Like PB&J in a bowl and a great serving of healthy fats!
Shrimp Noodle Bowl: Shrimp with chow mein noodles, coconut aminos, and mixed veggies (carrots, broccoli, and mushrooms). Most toddlers love noodles and its mom approved because its packed with extra veggies.
Chicken Fried Rice: Fried rice with diced chicken, egg, and mixed veggies (carrots, broccoli, water chestnuts).
Thanks for stopping by!
You might also like these related posts: