Posts may contain affiliate links. Please see Disclaimer and Disclosure page for more details.


A list of 8 ideas for toddler meals using tortillas! Simple, quick, and easy tortilla toddler meal ideas for breakfast lunch or dinner.
Hi there! I'm Jessica, a mom of two boys 16 months apart. I need to make quick and easy meals and i've learned that a tortilla is a simple way to make a quick, well-rounded meal for your toddler.
I'm sharing 8 of my toddler's favorite toddler meals using tortillas! These can work for breakfast, lunch, dinner, or even snack time.
We like to use authentic (or as close to authentic as you can get in the grocery store) Mexican tortillas, but of course you can use any tortilla or wrap of your choosing.
Looking for more toddler meal ideas? You may like these related posts:
Favorite Feeding Supplies
P.S. these are some of our favorite feeding supplies to make meal time with your toddler just a little bit easier!
Munchkin Silverware: we love this little fork and spoon set! The fork is closer to a "spork" and is very easy for young toddlers to maneuver. They also have held up very well in the dishwasher.
Pillowfort Plates:  these are our go-to plates for everyday use. They are so durable and come in cute colors!
Ingenuity Booster Seat: this has been the perfect booster seat for my toddler starting at about 18 months! It fits well at our counter-height table and is super easy to clean.
Toddler Meals with Tortillas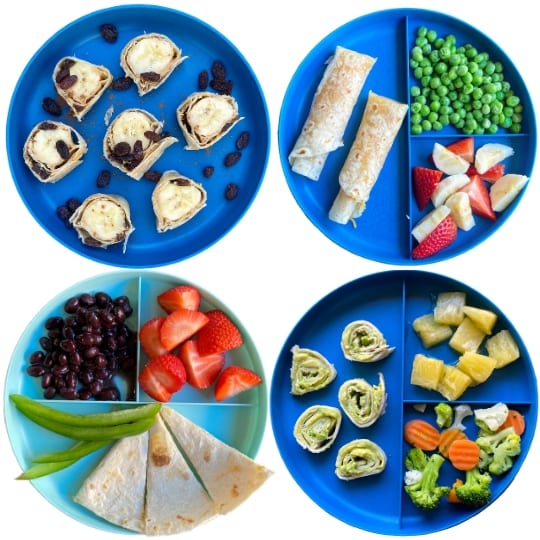 Banana Sushi – banana and peanut butter rolled in a tortilla and cut into slices. To make this lay out a tortilla, spread with peanut butter, and lay a banana on top. Tightly roll up and then cut into slices. You can also sprinkle raisins inside for a fun treat.
Tortilla roll up – like a mini burrito! Try cheese roll ups, cheese and avocado roll up, bean and cheese mini burrito, or mini breakfast burrito. I have found that for young toddlers its best to limit ingredients so the roll up doesn't get too thick. Side of peas, strawberries, and banana.
Quesadilla – quick and easy for lunch time. We like to fill our with cheese or avocado for a non-dairy option. Heat on the stove top for a crispy crust. Side of green bell pepper, black beans, and strawberries.
Avocado Pinwheels – lay out a tortilla and spread thinly with avocado. Tightly roll up and then cut into slices. Hummus is another fun option! Side of pineapple and mixed veggies.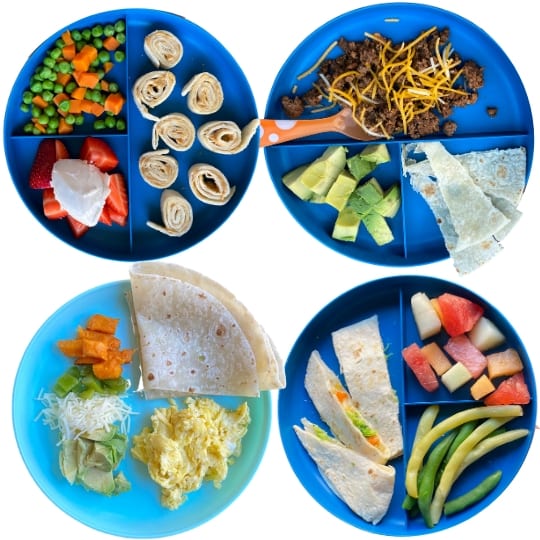 Peanut butter pinwheels – try a more savory pinwheel using peanut butter, other nut butter, or peanut butter and jelly. Lay the tortilla flat and spread with spreads, tightly roll up, and cut into slices. Side of peas, carrots, and strawberries with coconut cream.
"On the Side" – tortillas can also make a great side dish for some meals. We had deconstructed tacos with ground beef, cheese, and avocado and served tortilla strips on the side. This is an especially good option if you toddler doesn't like tortillas, to get them more familiar.
DIY Breakfast Burrito – make meal time fun! Instead of pre-making your toddler's breakfast burrito (or burrito with other fillings) let them do it themselves. We had scrambled eggs, sweet potato, green bell pepper, shredded cheese, and avocado. I cut the tortillas in half to make them a little more manageable for toddlers to fill and roll.
Veggie Quesadilla – one of my personal mantras is adding veggies to everything! Here we had a cheese quesadilla with mixed veggies inside and fried on the pan until crispy. Side of green beans and melon.
Thanks for stopping by!
Looking for more toddler meal ideas? You may like these related posts: