Posts may contain affiliate links. Please see Disclaimer and Disclosure page for more details.


A list of dairy-free toddler breakfasts that are mom and toddler approved. Real, easy, quick, and healthy dairy-free toddler breakfasts ideas.
Are you wondering: What do you feed a dairy-free toddler for breakfast? What can I feed my toddler with a milk allergy?
I can help! I'm a mom of two boys under two and both eat mostly dairy-free. We don't have any dairy allergies or sensitivities, but I do notice that can cause eczema flare ups in my boys.
Even if you toddler isn't dairy-free, these are great healthy breakfast ideas that they are sure to love!
Looking for more toddler meal ideas? You might like these related posts:
Read Your Labels
Always be sure to read your labels to be sure that the particular brands you serve your toddler are dairy-free.
I do my best to point out foods and brands that we use and love, but ingredients can be different in different countries and they are always changing. So my best tip for you is to check the ingredients label every time.
Favorite Feeding Supplies
P.S. these are some of our favorite feeding supplies to make meal time with your toddler just a little bit easier!
Pillowfort Plates:  these plates are so cute! They hold up great in the dishwasher and microwave and are the perfect size for toddler portions.
Munchkin 360 Cup: this is our favorite cup at the moment for both my baby and my toddler. This is a great trainer cup for an open cup; its better for oral development than sippy cups and is much easier to clean than straw cups.
Munchkin Silverware: this fork and spoon set is our favorite! They are very durable and are great for tiny hands and beginner eaters.
Dairy-Free Toddler Breakfast Ideas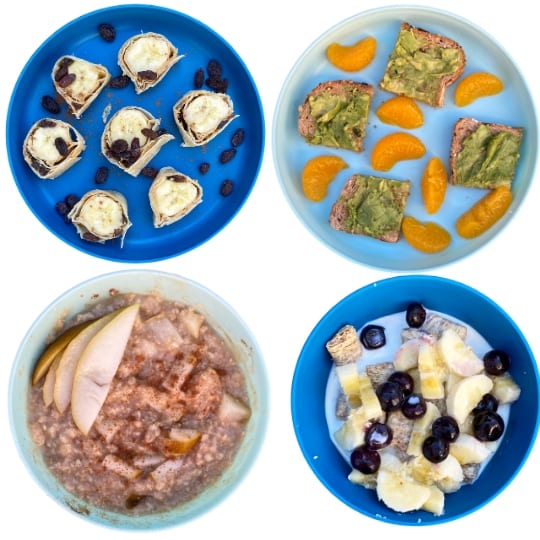 Banana roll ups – aka Banana sushi. This is a fun breakfast idea that is also dairy-free. Lay out a tortilla and spread with peanut butter (or other nut butter), sprinkle with ground flax seeds, cinnamon, and raisins. Add a banana, roll up, and cut into slices. I added extra raisins on top.
Avocado toast – avocado toast is huge in our house! Its quick, easy, and great to add in some extra healthy fat. We really like avocado toast on Dave's Killer Bread. Served with a side of mandarin oranges.
Pear oatmeal – ditch those oatmeal packets and make your own healthy versions! Here I used quick oats, diced pear, peanut butter, honey, and cinnamon. Check out more of our favorite oatmeal recipes in this post: 8 Easy Toddler Oatmeal Recipes
Cereal with non-dairy milk – we really love Kashi Cinnamon Harvest cereal. To make this classic non-dairy simply serve with non-dairy milk; we like unsweetened Ripple Milk. I like to make it a little more fun by topping with bananas and/or blueberries.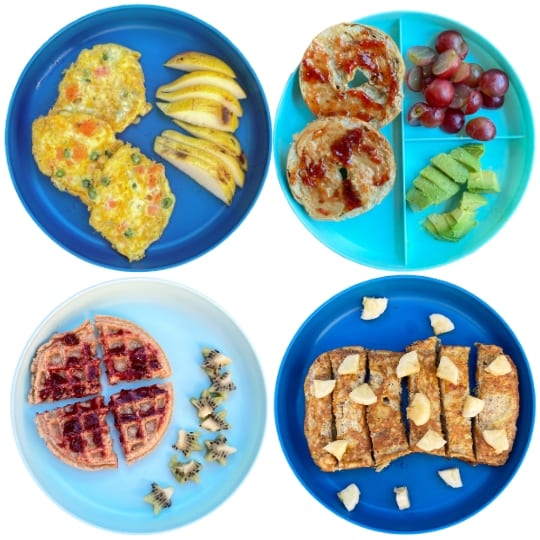 Veggie Egg Fritters – I love adding veggies to normal foods to make them packed with nutrients. Here I took 1 egg and added peas and carrots. Add a spoonful to a greased pan (coconut or olive oil are good choices for toddlers) and cook until set, flip, and cook until cooked through. Side of sliced pears.
Peanut butter & jelly mini bagel – mini bagels are great because they are toddler-sized. Double check the ingredients of your particular bagels to make sure they don't contain dairy. Side of halved grapes and avocado.
Waffle with jelly – waffles are one of or go-to foods when we need to be out the door quickly in the morning. Van's is one of our favorites for dairy-free waffles (many other waffle brands contain whey). Side of kiwi.
Banana French toast – a fun way to spice up your normal French toast recipe; add banana to the egg batter. Remember to double check your bread for dairy. You can find the full recipe here at Pinecones & Pacifiers.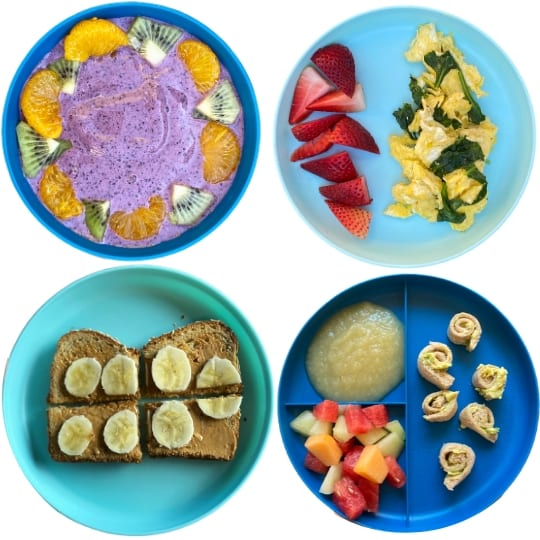 Smoothie Bowl – our favorite basic smoothie recipe is frozen blueberries, 1 banana, dairy-free yogurt, honey and Ripple milk. Take your favorite smoothie recipe and blend it up a little thicker. Top with fruit like kiwi and mandarin oranges.
Scrambled eggs – I like to add veggies to our scrambled eggs when I can. Spinach, broccoli, or red peppers are good options for breakfast. Side of strawberries.
Peanut butter & banana toast – peanut butter and banana is such a great combo that I decided to add it to toast! My toddler loves pb& banana toast because its fun to eat. Make sure to double check your bread for dairy.
Avocado pinwheels – I love making pinwheels with either rolled out bread or tortilla. Pictured above is one slice of bread rolled out with a rolling pin and crust removed, spread with avocado, roll up tightly, and then cut into pinwheels. Side of melon and unsweetened apple sauce.
Thanks for stopping by!
Looking for more toddler meal ideas? You might like these related posts: