Posts may contain affiliate links. Please see Disclaimer and Disclosure page for more details.


A list of 20 fun toddler lunch ideas. To make your toddler's lunch fun try these tips: add a stick, cut it differently, add a sauce, present it pretty, serve a snack tray, or change location!
Are you struggling to get your toddler to eat lunch? Are you struggling to get them to try new foods? Is your toddler refusing foods they once loved? Try making lunch fun!
I'm sharing tips and tricks to make your toddler's lunch fun plus 20 fun toddler lunch ideas based on what my 2-year-old actually eats for lunch every day. These ideas are simple and easy and don't require too much extra effort on your part. Make these small changes to help make your toddler's lunch more fun and get them excited about eating again.
You might also like these related posts:
How to Make Lunch Fun
Add a Stick
Think about how fun fair food is; a stick can make almost any food taste better! If your toddler likes hot dogs, try a corn dog or veggie corn dog. Try putting chicken nuggets, meatballs, avocado, or a sandwich on a popsicle stick.
Toddler Food Picks – Another fun tip is to use toddler food picks. You can see these pictured in some of our photos below. My toddler loves using these and gets excited when he sees them on his plate.
Cut it Differently
Triangles or squares? Toddlers can be notorious for wanting their sandwich cut a certain way, but it can also act in our favor. Lots of food can be cut in different shapes, mixing it up and making it more fun for your toddler to eat. Try cutting hot dogs or corn dogs into long strips instead of pieces, peel string cheese into an octopus shape, or create pinwheels instead of a sandwich or quesadilla.
Sandwich & Food Cutters – food cutters can be another way to easily cut food into different shapes. They are great for sandwiches, toast, fruit, veggies, and cheese.
Crinkle Cutter – a crinkle cutter can also allow you to cut food in new and fun ways. We've used this on avocado, sweet potato fries, and apples to make them more interesting to eat!
Add a Sauce
Serving a dipping sauce can be a great way to combat picky eating and get your toddler to try new foods. By serving different sauces it can also make familiar foods fun and different. Try adding ketchup, ranch dressing, sour cream, greek yogurt, nut butter, or coconut cream to your toddler's meal rotation!
Present it Pretty
Presentation can be everything, especially for toddlers! Luckily they aren't too hard to please. Try serving a wide variety of colors on each plate, put the food neatly in rows, or use a divided plate.
Serve a Snack Tray
Most toddlers love snacks! Take all of their favorites and arrange them on a cute toddler snack tray or mini charcuterie board. They might be some of the same foods you would serve for lunch anyways, but putting them with all of their other favorite healthy snacks can make it a little more appealing. If you need ideas for your toddler snack tray check out my post: 50 Toddler Snack Tray Ideas
Eat Somewhere Else
Sometimes a simple change of scenery can make your toddler's lunch more fun. Take lunch outside and have a picnic, eat at the park, have lunch in their play fort, or move lunch to the living room just for a day.
Fun Toddler Lunch Ideas
Okay, now onto the fun part––meal ideas!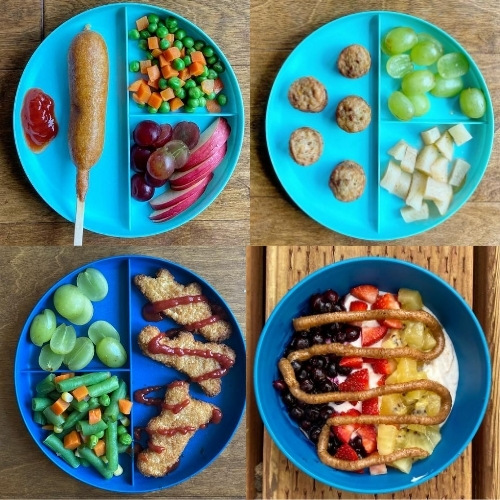 Veggie Corn Dog – we love MorningStar Farms Veggie Corndogs for a non-meat lunch option (they are also soy free). When my toddler was younger I would cut these up for him, but since he turned two he has been loving to eat them off the stick! He gets so excited when he sees this on his plate. Side of peas, carrots, apples, and grapes.
Chicken Veggie Meatballs – your toddler probably isn't used to eating meatballs for lunch so this can be a fun and easy lunch idea. We love KidFresh Chicken Veggie Meatballs in the freezer section and they heat up in just a minute in the microwave. Side of grapes and steamed cinnamon pears.
Dino Chicken Nuggets – anything dinosaur shaped is a win with my toddler! These Perdue Chicken Plus Nuggets are made with veggies in the breading so they are mom and toddler approved. I heat them up in the air fryer in just a few minutes. Side of mixed veggies and grapes.
Yogurt Bowl – colorful and packed with nutrients! One of my toddler's favorite fun meals is a yogurt or smoothie bowl with lots of colorful toppings. Here we had whole milk greek yogurt topped with blueberries, strawberries, golden kiwi, and almond butter. Other topping ideas include: mandarin oranges, peaches, granola, crushed cereal, flax or chia seeds, or other nut butters.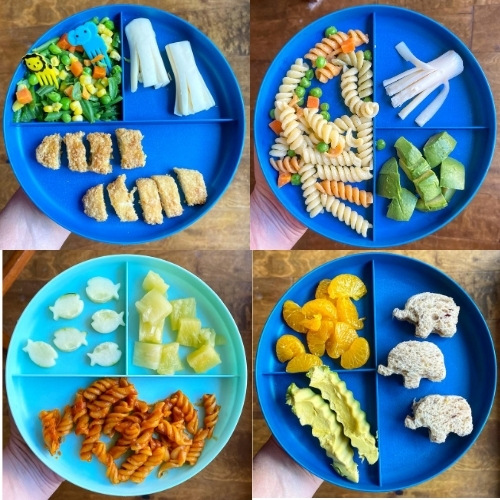 Chicken Tender with Veggies and Food Picks – the real star of this show are the cute food picks! We had Perdue Chicken Plus Tenders with sides of string cheese and mixed veggies. Food picks are great for picking up fruit, veggies, and cheese!
Pasta with Octopus Cheese -Veggie flavored pasta noodles with butter, peas and carrots. Side of avocado and whole milk string cheese pulled apart to look like octopus legs. Sometimes its okay to play with your food!
Rotini Marinara with Cucumber Fish – I loving adding in extra veggies anywhere I can! We love SteamFresh Veggie Rotini with Marinara made with zucchini and lentils. Side of pineapple and cucumber slices cut into fish shapes with our food cutters.
Mini Elephant PB&J with Crinkle Cut Avocado – peanut butter & jelly made fun by using food cutters to make mini elephants. Side of mandarin oranges and avocado slices made using a crinkle cutter knife.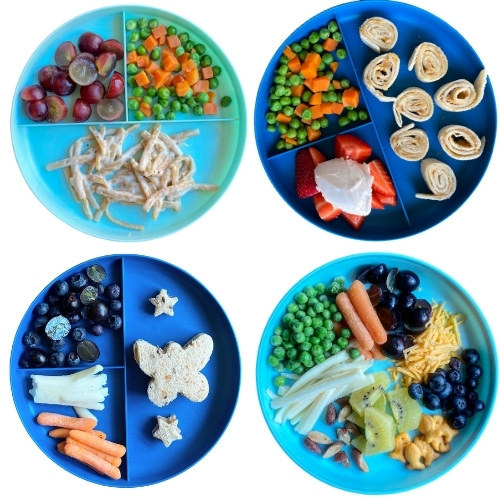 Veggie Fettuccine Alfredo – pasta for lunch! We love SteamFresh Veggie Fettuccini Alfredo with pasta made from zucchini and lentils. Sides of grapes, peas, and carrots to make this a colorful lunch plate.
Pinwheels with Strawberries and Coconut Cream – instead of a sandwich, try making pinwheels with bread or a tortilla. Here we had peanut butter tortilla pinwheels. My toddler also gets pretty excited when I bring out the "whipped cream" for lunch! This is canned coconut cream that is loaded with tons of healthy fats, served on top of strawberries.
Butterfly PB&J Sandwich – another win for sandwich cutters! We have multiple different sizes and shapes that I like to mix and match. Side of grapes, blueberries, cooked carrots, and whole milk string cheese.
Snack Plate – snack plates have become a hit in our household. Easy for mom and awesome for toddlers! Try mixing up 6-9 of your toddler's favorite healthy snacks onto one plate. We had peas, carrots, grapes, shredded cheddar, blueberries, goldfish, golden kiwi, chopped almonds, and whole milk string cheese. For more snack tray ideas check out this related post: 50 Toddler Snack Tray Ideas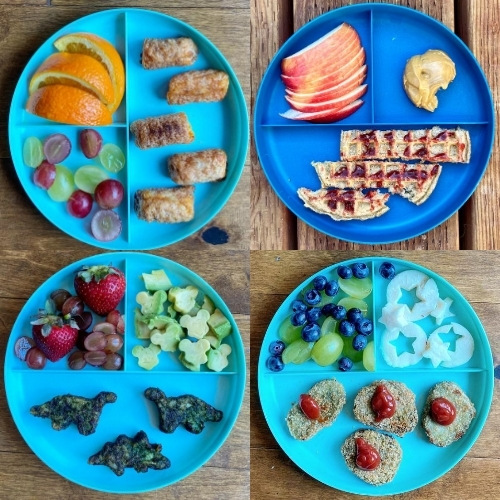 Sweet Potato Tots – we love Green Giant Sweet Potato Tots made with cauliflower and sweet potato instead of potatoes. Sweet potato tots can be a great fun alternative to fries and potato tots. Side of grapes and orange slices.
Waffle Strips with Apples and Peanut Butter – waffles cut into strips instead of bites can be a fun way to mix up breakfast or lunch! I also let my toddler have sides and sauces for dipping sometimes; apples with peanut butter is one of his favorites!
Spinach Potato Cakes with Avocado Mickey Mouses – we love Dr. Praeger's Spinach Littles and they come in cute dinosaur shapes. Side of avocado cut into mickey mouse shapes, strawberries, and grapes.
Veggie Nuggets with Cheese Stars – these nuggets are my toddler's current obsession! We love Dr. Praeger's Super Greens Veggie Nuggets and instead of dip on the side, sometimes I put a squirt of ketchup on top. Side of baby-bell cheese stars, grapes, and blueberries.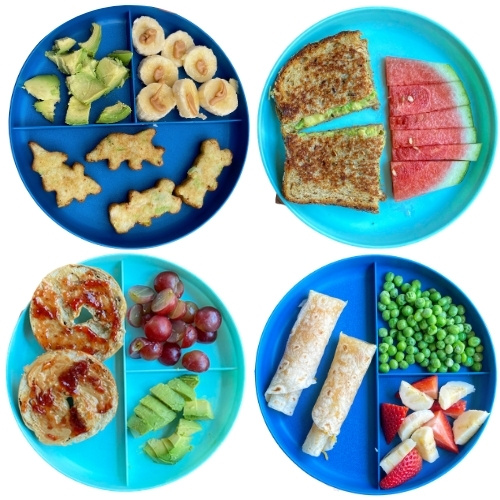 Broccoli Potato Cakes with Bananas and PB- another favorite by Dr. Praeger's Brand – Dr. Praeger's Broccoli Littles. They come in fun shapes and are made with broccoli as the first ingredient. Side of banana slices with peanut butter swirled on top and avocado.
Grilled Avocado and Cheese – like normal grilled cheese, but with avocado also cooked inside. A fun and colorful twist on a toddler favorite. Side of sliced watermelon.
Mini Bagel with PB&J – mini bagels are truly "toddler-sized"! My toddler loved this tiny version of a normal bagel. To make it a little more fun I served it open faced with pb&j on both sides. Side of avocado and grapes.
Cheese Roll Up – mix up the normal quesadilla or grilled cheese and try serving a roll up with cheese, avocado, or pb&j. Side of strawberries, banana, and peas.
Thanks for stopping by! You might also like these related posts: