Posts may contain affiliate links. Please see Disclaimer and Disclosure page for more details.


A list of 50 simple and fun toddler snacks. A toddler snack tray is a great way to mix up your normal snack routine and make snacks fun.
Are you looking for a fun way to get out of a snack rut? We tried a toddler snack try by simply putting my toddler's normal snacks into a 12-cup muffin tin and he thought it was the coolest thing ever!
I've found that finger foods work best for toddler snack trays, but if you are in the mood for it foods that require utensils like yogurt could work great, too. Dips could also be a fun addition to your toddler snack tray.
Below i'll be sharing 50 ideas for toddler snack trays based on what my 2-year-old toddler normally eats for a snack. You might also like these related posts:
How to Build A Snack Tray
Muffin Tin. I like to use a 12-cup muffin tin (like this one on Amazon) but two smaller 6-cup muffin tin would also work. I have found that 12 seems to be a good amount of snack options for my 2-year-old.
Small Portions. Remember to keep your snack portions fairly small. I normally offer the tray for about 30-60 minutes and then take it away and use one additional time for a snack later in the day.
Snack Tray Ideas
First, i'll be sharing 12 ideas based on what I have pictured in my toddler snack tray. I'll also list additional snack ideas that we also use sometimes. But, really anything goes, mix and match your toddler's favorites!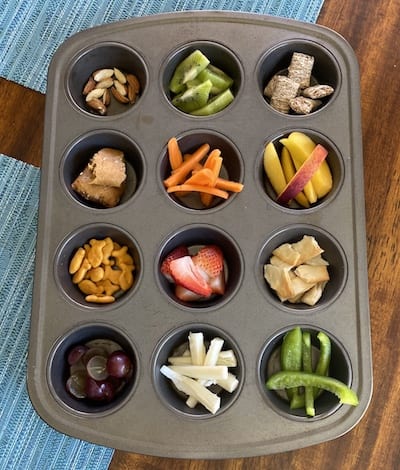 Halved Almonds – almonds can be a choking hazard, so make sure your toddler is comfortable chewing. Also, get no salt added.
Kiwi – I like to cut slices and then cut those in half so they are moon shaped. You can also leave full rounds or quarter.
Shredded cereal – we really like the Kashi Cinnamon Harvest cereal made with whole wheat.
Cereal bar – pictured is a store brand cereal bar, but we also like Nature's Bakery Fig bars when I can find them on-sale.
Baby carrots – raw carrots can be a choking hazard, so make sure your toddler is comfortable chewing. You can slice them thiner like pictured or steam or roast them until tender.
Nectarine – I like to leave the skin on so they are easier to hold. Slice thin for young toddlers.
Goldfish – a crowd pleaser!
Strawberries – one of my toddler's favorite fruits. I like to quarter them length wise so they are bite-sized.
Pita chips – a healthier option to add some crunch instead of potato chips.
Grapes – leave whole for older toddlers, half for younger toddlers, and quarter for babies (or toddlers who are not comfortable chewing).
String cheese – we like to buy whole milk string cheese for added healthy fats.
Green peppers – crunchy and flavorful. My toddler doesn't really like green peppers but I like to offer exposure often.
Blueberries – blueberries are fun in snack trays because they are naturally toddler-sized. Be sure to half or squish if you toddler or baby isn't comfortable chewing.
Banana – offer bananas halved or cut into strips or slices.
Cubed cheese – if you don't have string cheese on hand, try cubed, shredded, or sliced cheese.
Avocado – avocado slices or cubes is a great way to add extra healthy fats. You can leave the skin on slices to make them easier to hold.
Mandarin oranges – we keep canned mandarin oranges on had for snacks and sides. Choose canned fruit with 100% juice, then drain and rinse to avoid artificial sweeteners.
Cucumber – I like to remove the skin because it can be hard for little ones to eat. Cut strips, rounds, or dice into pieces.
Waffle strips – if you have frozen waffles on hand, heat one up and cut into strip or pieces to make them finger foods.
Apples – its okay to leave the skin on, slice fairly thin for young toddlers.
Hard boiled egg – hard boil eggs and halve or slice for a great source of toddler protein.
Peas – if your toddler is like mine and loves peas, they could be a good addition to the snack tray. Consider keeping them frozen if your toddler like them that way for a cool treat!
Black beans – another great way to add a healthy source of protein.
Melon – try cantaloupe, honeydew, or watermelon if you are okay with a little mess.
Graham crackers – make sure to choose ones without honey for babies under 1 year old.
Raspberries or blackberries – yummy servings of vitamin C and antioxidants.
Fruit snacks – a toddler favorite!
Saline Crackers – you can get the normal square or oyster shape to add some crunch to the snack tray.
Cherry tomatoes – cut in half or quarter for young toddlers or babies.
Cheerios – any cereal with limited sugar will work great!
Pears – sometimes pears are the forgotten fruit, but I tend to like them better for my toddler since they are softer than apples. Its okay to leave the skin on, slice thinly for younger toddlers or babies.
Granola bar – crunchy or chewy granola oat bar.
Raisins – my toddler has been loving raisins and they are a fun addition to our snack tray.
Larabars – made with just a few simple ingredients. These bars can be pretty chewy so I like to dice them up small for my toddler.
Applesauce pouch– I like to choose no sugar added applesauce.
Pretzels – a (slightly) healthier crunch than chips.
Pineapple – fresh or canned pineapple; if choosing canned me sure to pick pineapple in 100% juice and then drain and rinse to avoid artificial sweeteners.
Olives – choose sliced olives, or half or quarter whole olives for young toddlers and babies.
Veggie straws – fun straw shaped chips made with veggies.
Mini muffins – we really like the spinach blender muffins by Inspiralized.
Mango – sliced into thin strips or small chunks.
Wheat thin – or similar wheat cracker would be a great addition.
Lunch meat roll ups – turkey, chicken, or ham lunch meat rolled up or cut into small pieces is a great way to add protein.
Yogurt tube – I like to choose whole milk yogurt when I can and try to find low sugar options.
Orange slices – mandarin oranges are easy to peel or you can leave the skin on regular oranges to mix things up.
Celery with peanut butter – plain celery sticks with peanut butter or add raisins to make 'ants on a log'.
Mini Bagel – toasted mini bagel plain or topped with peanut butter for added protein.
Dried apricot – these can be fairly chewy so I like to halve for young toddlers.
Edamame – this can be a fun veggie to eat and an extra source of protein.
Rice cakes – choose plain or pay attention to ones with low sugar.
Dark chocolate chips – as a treat we sometimes like to add dark chocolate chips. Yum!
Thanks for stopping by!
You might also like these related posts: