Posts may contain affiliate links. Please see Disclaimer and Disclosure page for more details.


This is not your grandma's oatmeal!
Its also not pre-packaged oatmeal that can be loaded with tons of extra sugar. Although they are yummy, extra sugar is something you want to avoid for young toddlers.
My toddler has been obsessed with oatmeal for a few months now. I'm sharing our 8 favorite easy toddler oatmeal recipes packed with fruits and veggies. These recipes are so easy to make and I promise you can get them on the table in 5 minutes or less.
Looking for more toddler meal ideas? You might like these related posts:
Added Sweetener
Tons of added sugar is not recommended for young toddlers (or really anyone for that matter). However, I find that my toddler does prefer his oatmeal slightly sweetened.
If your baby or toddler will eat oatmeal unsweetened or less sweetened than my recipes below then feel free to omit or reduce the sweetener.
For added sweetness I tend to use 100% maple syrup or honey (no honey under 1 year old). I prefer to use plain oats and add my own sweetener so that I can control exactly how much and what type of sweetener he is getting.
Types of Oats
There are three main types of oats: steel-cut oats, traditional rolled oats, and quick cooking oats.
Steel-cut oats are oats that are cut up into a rice shape. They are the least processed and because they are so thick they take the longest to cook and have a the chewiest texture.
Rolled oats are slightly more processed because they are rolled flat. They generally take less time to cook and have a smoother texture than steel-cut oats.
Quick cooking oats are rolled oats that are rolled or sliced even thinner for faster cooking times.
All this different processing leads to different oat textures and cooking times. However, their nutritional value is actually very similar. There are slight differences, but one must weigh the slight nutritional benefits vs convenience.
Therefore for the recipes below, I use quick oats. Time is of the essence in the morning with a toddler and baby!
Extra Protein
I'm always into adding extra nutrients to "normal" meals. This normally means adding fruits, veggies, or protein! To add some extra protein to my toddler's oatmeal I normally add one of the following:
1 Tbsp ground flax
1 Tbsp peanut butter
1/2 egg scrambled
Splash of milk
For the most part he doesn't even know this added protein is in there so he is happy, and mom is happy because of the extra nutrients!
Other options for additional protein could be chia seeds or another type of nut butter.
Favorite Feeding Supplies
Before we get to food, I wanted to share some toddler feeding essentials that we use every day!
Ingenuity Booster Seat: Its the perfect height for a young toddler to sit at our counter height table. We have used it since about 18 months old. The best part is that it is very easy to wipe down and clean after each meal since there is no fabric or too many hidden crevices.
Pillowfort bowls: these are our go-to bowls for breakfast, lunch, and dinner. They come is so many cute colors!
Munchkin 6 Piece Fork & Spoon Set: We love this toddler fork and spoon set! They are very durable and the fork is a little like a spork so its easy for young toddlers to use. They have held up through daily use for more than a year.
Munchkin 360 Cup: These are such awesome trainer cups! The munchkin 360 cups are an open face trainer cup and don't have a straw or sippy spout to clean. They also don't spill at all which makes them mom approved.
How I Make My Toddler's Oatmeal
Here is a quick run down on how I make all of the recipes below:
Start with adding 1/4 cup of quick cooking oats to the bowl.
Add enough water to cover the oats; this would be about 1/4–1/3 cup depending on how thick or runny your toddler likes their oatmeal. My toddler likes his fairly thick. I like to use water instead of milk because I feel like it cooks the oats better, but you can also use milk instead of water.
For oatmeal with veggies (carrot or zucchini) add this before cooking.
Microwave for 1 minute, or following instructions on your oatmeal container.
After cooking stir in any sweetener, protein, or fruit.
Sprinkle with cinnamon if desired.
Let cool a few minutes before serving.
Toddler Oatmeal Recipes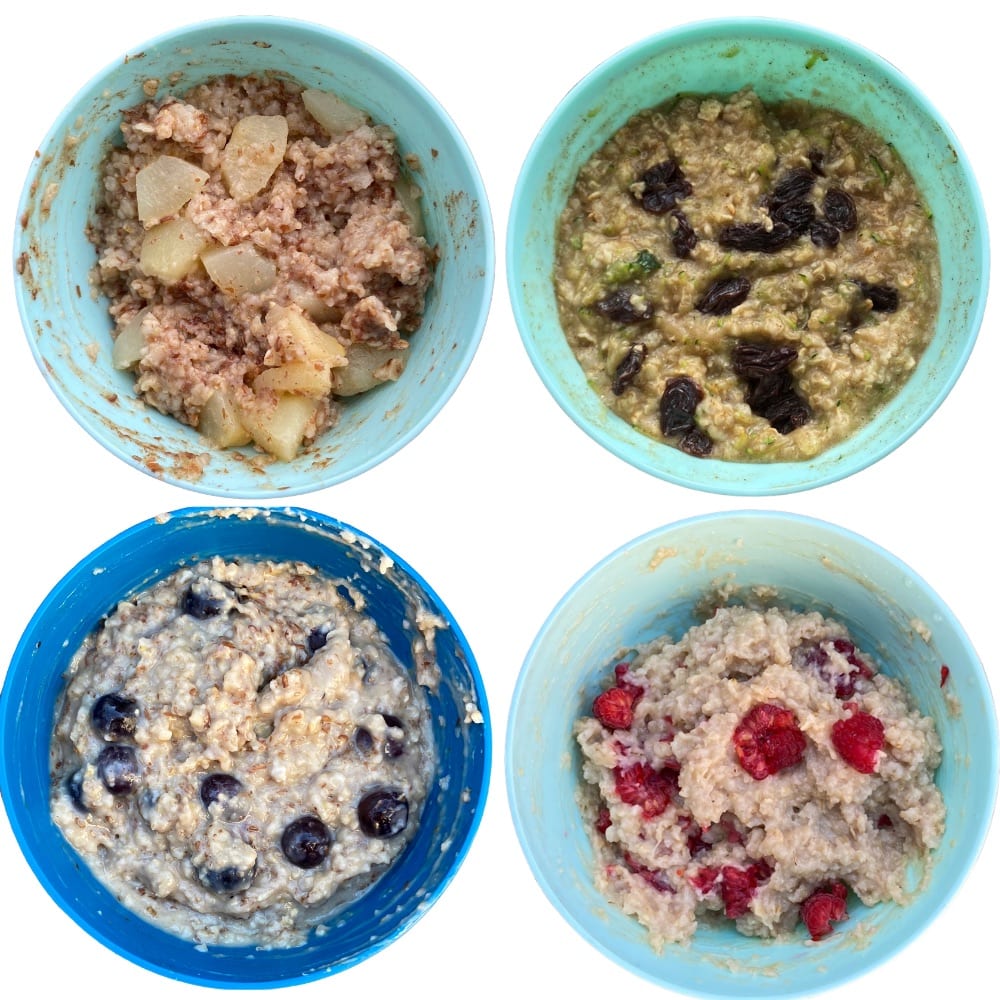 Cinnamon Pear Oatmeal: about 1/3 cup of canned dice pears or 1/2 of a fresh ripe pear, 1 Tbsp maple syrup, 1 Tbsp ground flax seeds, sprinkle of cinnamon.
Zucchini Bread Oatmeal: before cooking add 1/2 of a small zucchini shredded or grated. After cooking add 1 Tbsp maple syrup, 1 Tbsp raisins, and cinnamon.
Peanut Butter & Blueberry Oatmeal: kind of like pb&j in oatmeal form. A handful of blueberries, 1 Tbsp peanut butter, 1 Tbsp honey and 1 Tbsp ground flax.
Peanut Butter & Raspberry Oatmeal: another take on pb&j. A handful or raspberries, 1 Tbsp peanut butter, 1 Tbsp maple syrup.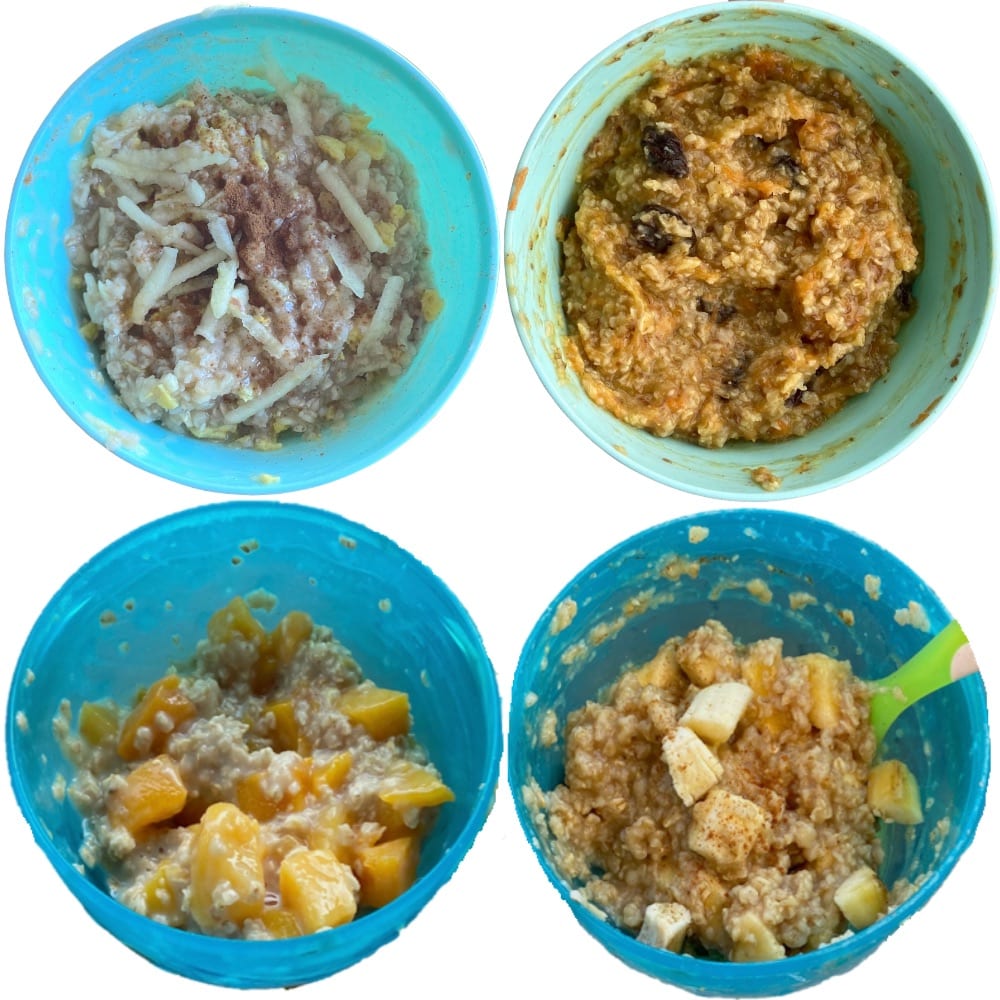 Apple Cinnamon Oatmeal: after cooking add 1/2 of an apple peeled & shredded, 1/2 of a scrambled egg (already cooked), 1 Tbsp maple syrup, and sprinkle with cinnamon.
Carrot Cake Oatmeal: before cooking add 1 small carrot shredded or grated. After cooking add 1 Tbsp maple syrup, 1 Tbsp raisins, 1 Tbsp ground flax, and cinnamon.
Peaches & Cream Oatmeal: about 1/3 cup of canned dice peaches or 1/2 of a fresh ripe peach, 1 Tbsp maple syrup and a splash of milk or dollop of yogurt.
Cinnamon Banana Oatmeal: add 1/2 of a banana, 1 Tbsp honey, 1 Tbsp ground flax, and cinnamon.
Thanks for stopping by! Looking for more toddler meal ideas? You might like these related posts: