Posts may contain affiliate links. Please see Disclaimer and Disclosure page for more details.


I'm sharing all of our favorite fun toddler breakfast ideas for 1-2 year olds. This is what my toddler eats for breakfast at about 18 months old.
Wondering what is a good breakfast meal for a toddler? What can I make my 2 year old for breakfast? What can I give my picky toddler for breakfast? This post can help!
Breakfast doesn't have to be boring! My favorite thing to do is take a classic breakfast item like toast, waffles, or oatmeal and serve them in a variety of ways to keep it interesting. Because of this, breakfast is my toddler's favorite meal of the day.
I'm a mom of three sharing my toddler's favorite toddler breakfast ideas. Easy, fun, and healthy toddler breakfast ideas to help with breakfast inspiration.
You might also like these related posts:
Ways to Make Toddler Breakfast Fun
Here are some ways to spice up common toddler breakfasts:
Alternate toppings or spreads: butter, peanut butter, other nut butter, jelly, smashed fruit, yogurt, coconut cream, applesauce, cream cheese.
Rotate different sides: fruit (banana, oranges, berries, melon, ect.), avocado, yogurt, sweet veggies like squash, applesauce, eggs.
Cut or present them in different ways: cut into quarters, strips, bite size, use cookie cutters, serve the side on the side, on top, or as a dip.
Get creative: swirl pb on banana slices, make a mini yogurt parfait or smoothie bowl, let your toddler pour the milk on their cereal, make bread pinwheels instead of toast, and the list goes on and on!
Spicing up breakfast and making it fun doesn't have to take a lot of time, either. I normally spend about 5-10 minutes or less on my toddler's breakfast. Lots of his food is no cooking required or cooks in the microwave or toaster.
Below i'm sharing 32 fun toddler breakfast ideas that are also super quick and easy to make.
Toddler Feeding Supplies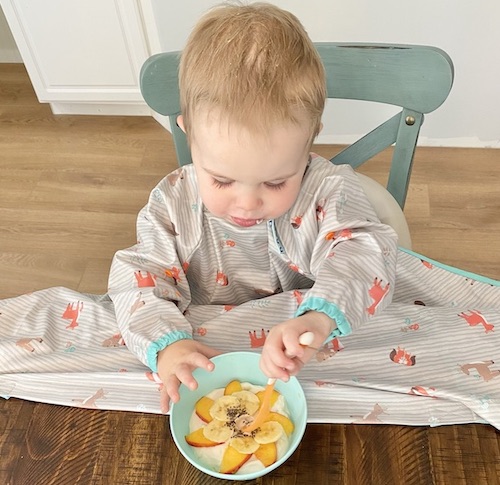 Before we get to food, I wanted to share some toddler feeding essentials that we use every day! Bib shown above is the Bibado Coverall
Pillowfort Divided Plates & bowls: a super affordable toddler plate (that you see pictured below). We love these plates and have used them for years!
Ingenuity Booster Seat: My son has used this since about 18 months old and we love it! Its the perfect height for him to sit at our counter height table. The best part is that it is very easy to wipe down and clean after each meal since there is no fabric or too many hidden crevices.
Munchkin 6 Piece Fork & Spoon Set: We love this toddler fork and spoon set! They are very durable and the fork is a little like a spork so its easy for young toddlers to use. They have held up through daily use for more than a year.
Easy Toddler Breakfast Ideas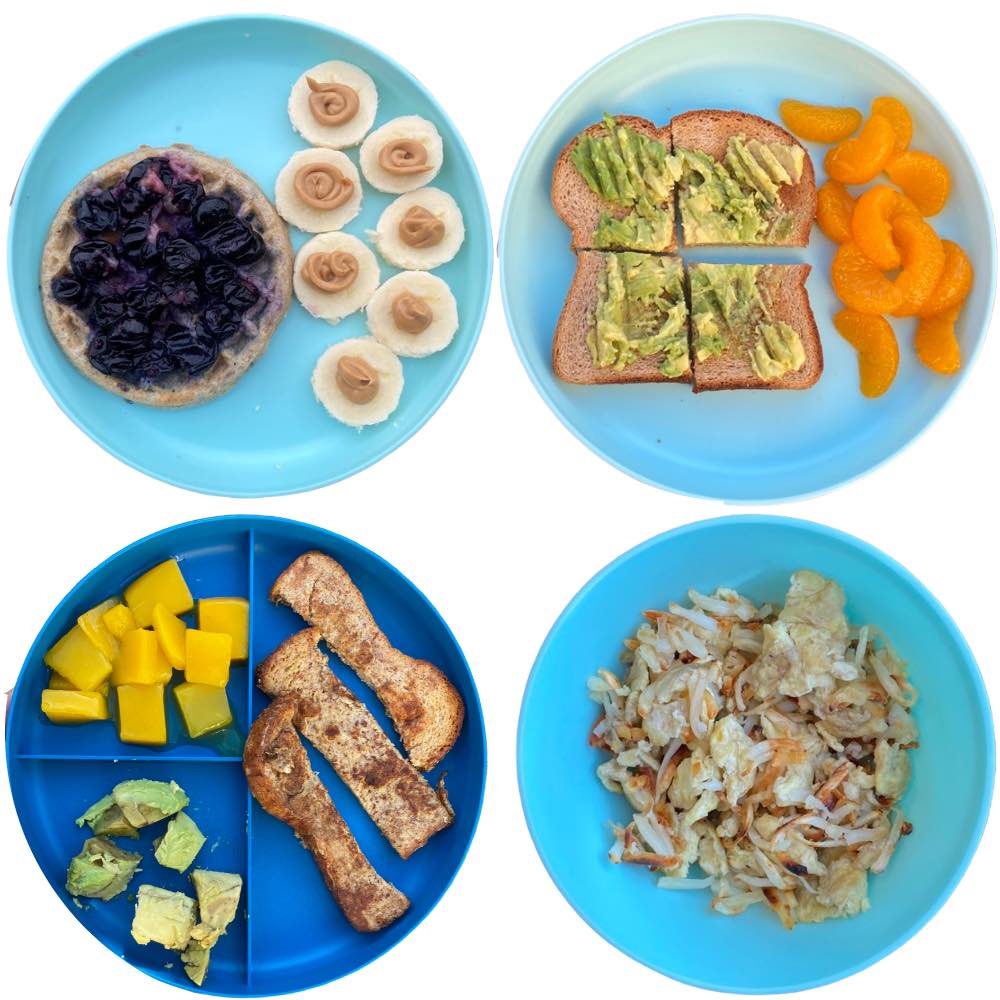 Waffle topped with blueberries: frozen waffles are quick and easy or you could make your own. Side of sliced banana topped with peanut butter for added protein. My toddler loves when I swirl it on top like this!
Avocado toast: lightly toasted whole wheat bread topped with smooshed avocado. Side of mandarin oranges.
French toast: homemade french toast is so quick and easy to make and is a favorite of my toddler (and my 6 month old too!). Side of peaches and avocado. I don't use syrup for my toddler since he hasn't discovered french toast needs it yet!
Egg & hashbrown scramble: scrambled eggs with hashbrown potatoes stirred in. Be sure to limit salt for toddlers and babies. Normally I like to stir in some baby spinach if I have any!
Related post: Toddler Breakfast Burrito with Veggies
Biscuit with jelly: a simple flaky canned biscuit or you can make your own. Topped with sugar-free blueberry jelly and a side of bananas. Peanut butter, butter, or avocado would also make a good topping.
Cereal with milk: we love Kashi cinnamon whole wheat cereal and use non-dairy ripple milk. My toddler loved when I mixed it up and topped with sliced bananas.
Oatmeal with raspberries: Oatmeal is a staple breakfast in our house, but I like to serve it differently almost every time. I use a tub of plain quick oats instead of pre-made packets. To make this oatmeal I used plain oats, peanut butter, honey, and raspberries.
Yogurt Parfait: we use dairy-free yogurt, but whole milk or greek yogurt can be used as well. Topped with shredded cereal and peaches. It looks pretty and my toddler is always excited to see this for breakfast.
Affordable toddler plates we use: Pillowfort Divided Plates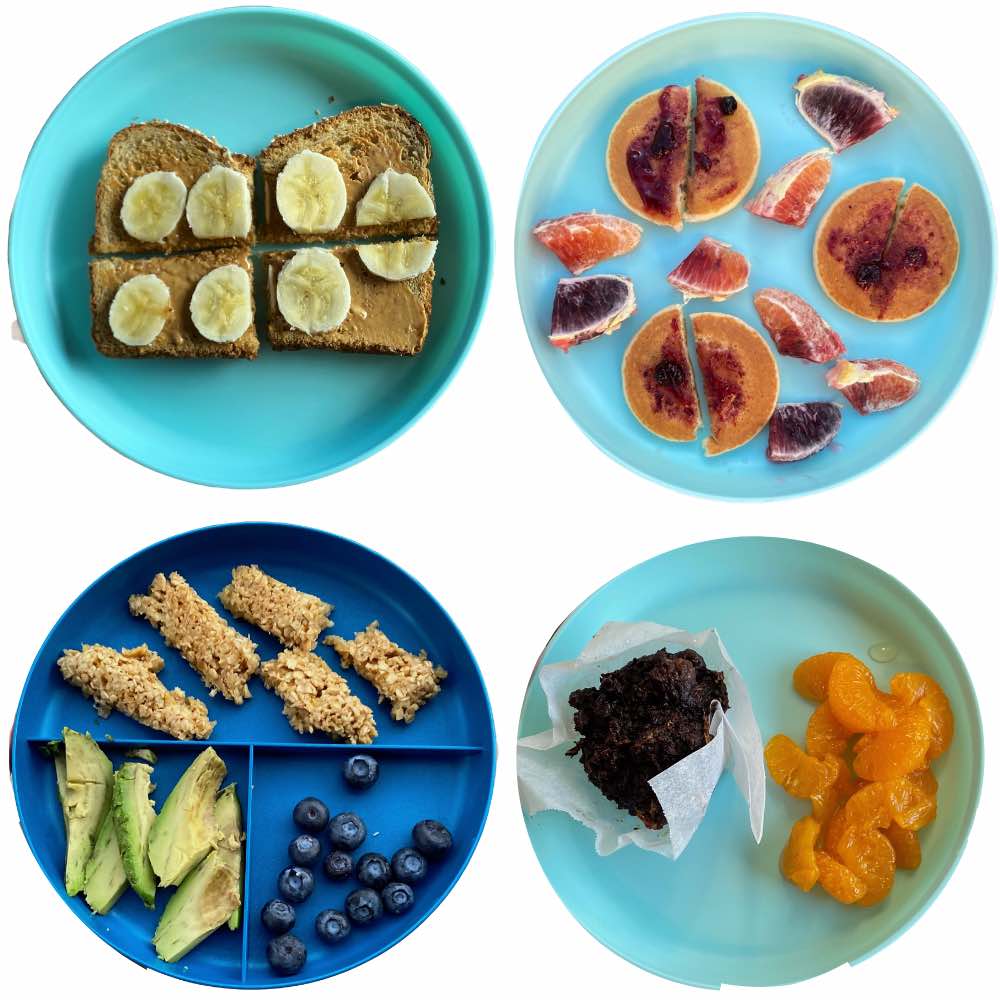 Peanut butter toast with banana: whole wheat toast with peanut butter and sliced banana. Instead of serving banana on the side, try adding thin slices to the top to make this meal a little more fun.
Mini pancakes with jelly: jelly is the preferred topping for my toddler so I spread a little jelly when we tried this new food (mini pancakes). Try to pick up a fun fruit or side from the store, I came across these blood oranges one day and my toddler loved them because they were different!
Oatmeal bars: take your normal oatmeal and microwave it for an extra 5 or so minutes until it is firm and chewy and then cut into a slices. To make this I combined plain oats, water, peanut butter, and cinnamon. Side of avocado and blueberries.
Chocolate zucchini muffin: we love this healthy double chocolate zucchini muffin recipe by Two Peas and Their Pod. My toddler loved them and so did the whole family. Side of mandarin oranges (something I almost always have on-hand).
Our favorite silicone toddler plates & bowls: EZPZ Fun (EZPZ25L for 25% off $75+)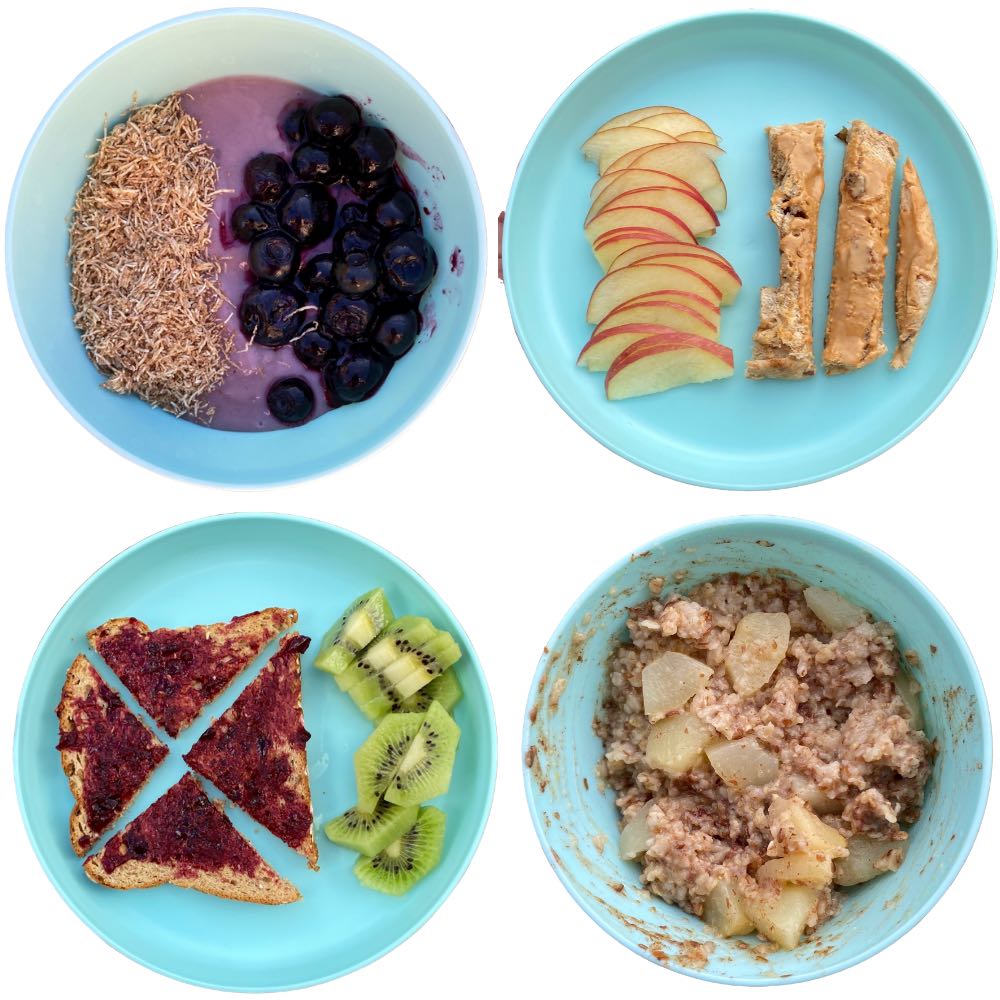 Smoothie bowl: take your toddler's favorite smoothie and blend it up fairly thick to make a smoothie bowl that they eat with a spoon. I topped this smoothie bowl with shredded cereal and thawed frozen blueberries.
Bagel with peanut butter: bagels can be a little chewy and thick for some toddlers so I made sure to cut this into thin strips. Top with pb, nut butter, butter, jelly, or cream cheese. Side of thinly sliced apples.
Toast with jelly: whole wheat or whole grain toast with sugar-free jelly on top. I like to cut toast into different shapes to mix things up (quartered squares, quartered triangles, or strips). Side of halved kiwi slices.
Cinnamon pear oatmeal: for this oatmeal I used plain oats, diced canned pears, cinnamon, maple syrup, and some ground flax seeds for extra protein. Shredded apples, sliced bananas, or diced peaches are other fruits I sometimes stir in.
Related recipe: Easy Strawberry Banana French Toast Sticks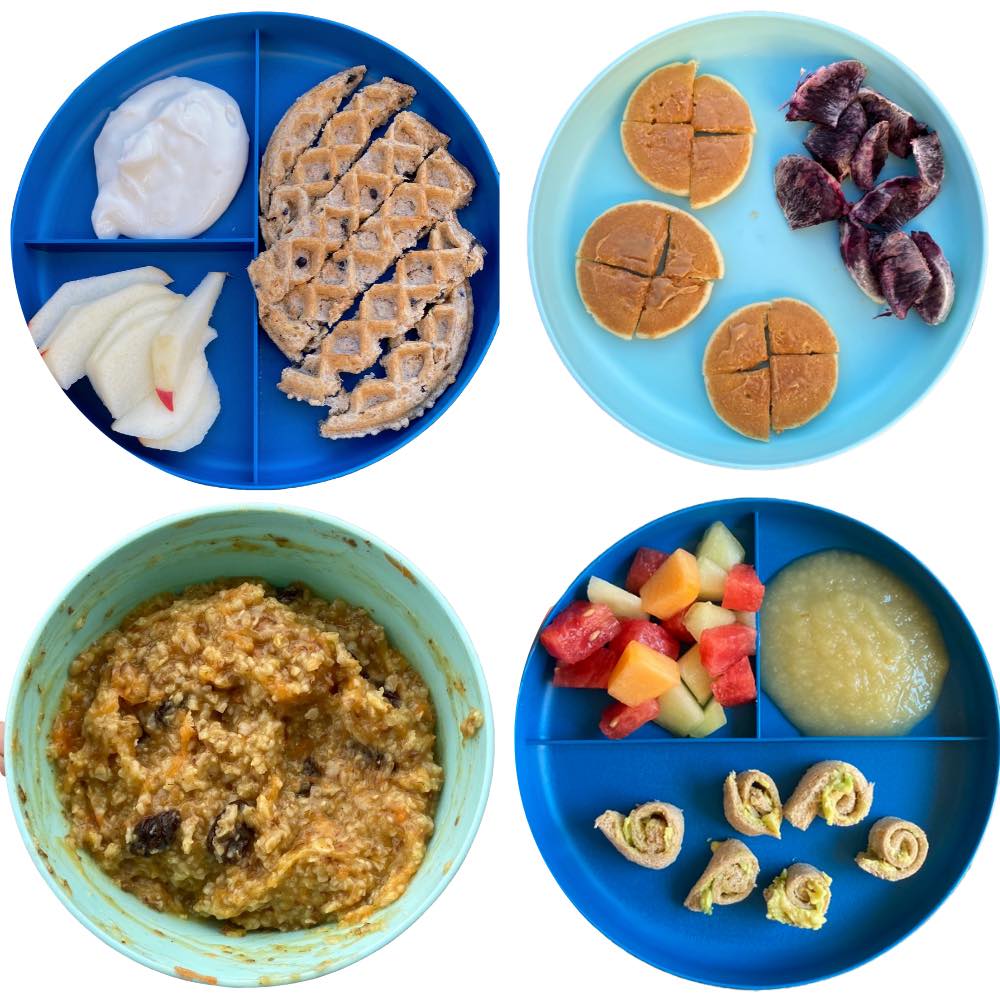 Waffle with yogurt dip: one of my favorite ways to mix up any meal is to serve it with a dip. For this breakfast I used vanilla almondmilk as a dip for waffle strips. Side of sliced apples.
Mini pancakes with pb: frozen silver dollar pancakes topped with peanut butter for protein. My toddler doesn't love peanut butter, but I keep trying to expose him. Side of blood orange.
Carrot cake oatmeal: to make this oatmeal I used quick oats, shredded carrots, maple syrup, ground flax seeds, and raisins. I sometimes stir in some scrambeled eggs for extra protein.
Avocado bread pinwheels: Instead of avocado toast, roll out un-toasted bread, spread with avocado, roll up, and cut into pinwheels. My toddler loves avocado toast and loved these as well! Side of melon and applesauce.
Related post: 15 Toddler Breakfasts with Eggs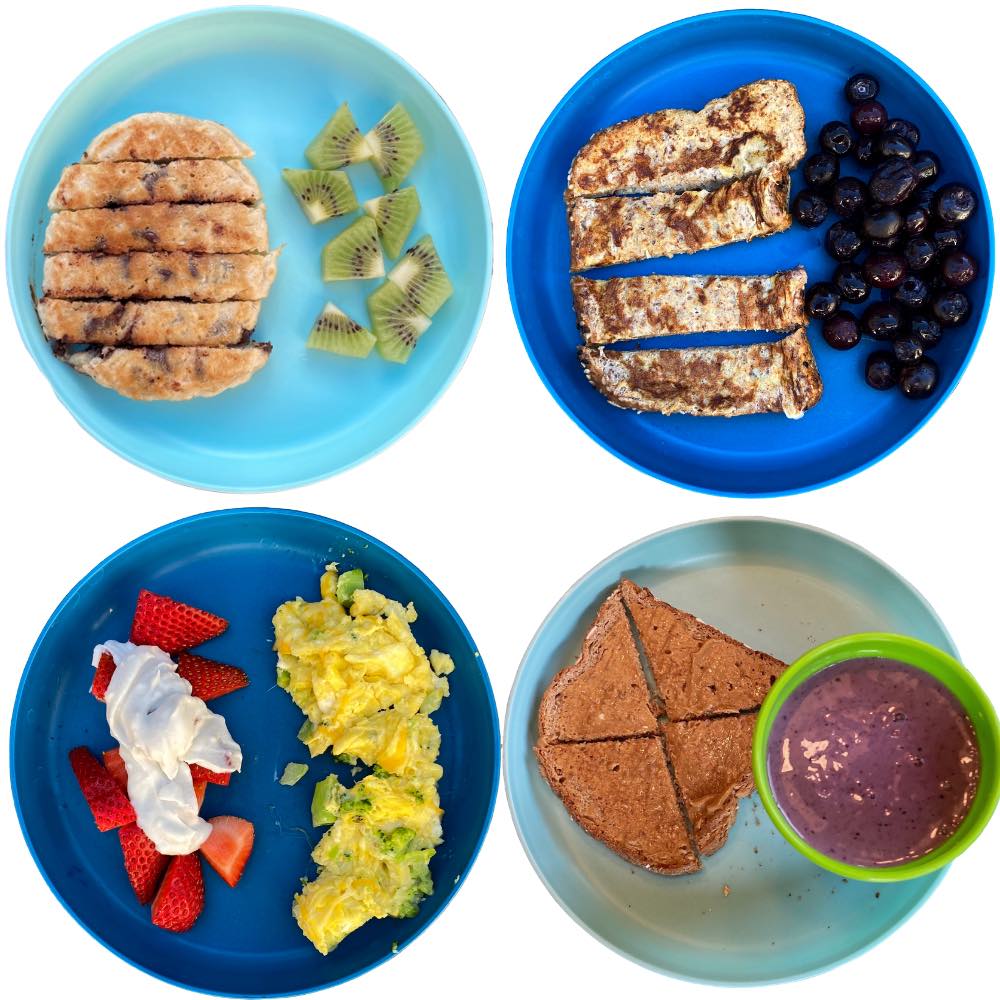 Chocolate Chip Pancake: homemade pancakes can be such a treat! If you aren't feeling like giving your toddler chocolate for breakfast, try banana or blueberry pancakes instead. Side of kiwi.
Banana French Toast: like normal french toast, but with ripe banana mixed into the batter before cooking on the stove top. No syrup required because they are so flavorful! Side of blueberries.
Broccoli & Cheese Eggs: scrambled eggs made with broccoli and shredded cheddar cheese. A fun way to mix up normal scrambled eggs. Side of strawberries and coconut cream.
Peanut Butter Toast: whole wheat or whole grain toast topped with peanut butter or other nut butter. A berry smoothie on the side!
Related recipe: Egg Salad Recipe for Toddlers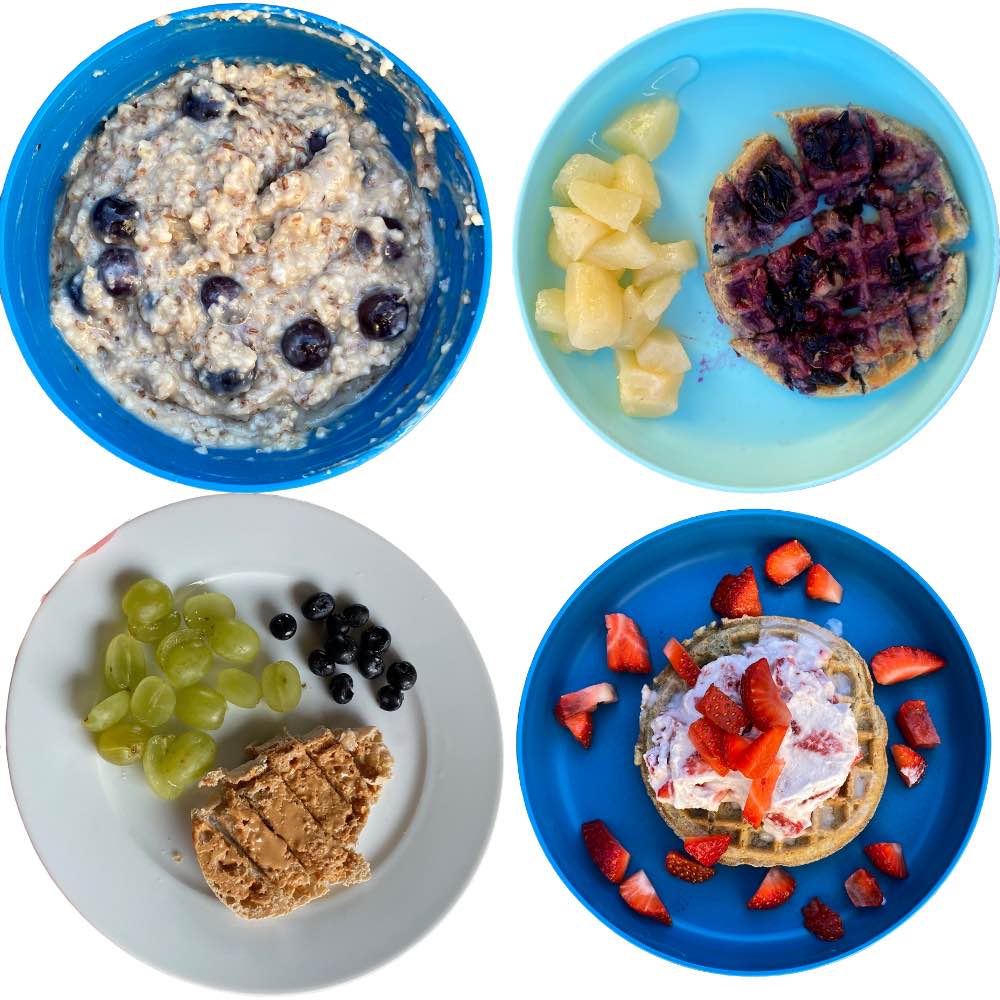 Blueberry Oatmeal: to make this oatmeal I combine plain oats, blueberries, honey, and ground flax seeds.
Waffle with Jelly: frozen waffle topped with jelly. Peanut butter or nut butter is another great topping idea or plain flavored waffles. Side of canned pears.
English Muffin: english muffin topped with peanut butter, butter, jelly, or cream cheese. English muffins can be a little thick for some toddlers so I cut them into thin strips. Side of grapes and blueberries.
Strawberry Shortcake Waffle – this was a fun way to mix up a standard waffle. I used whipped coconut cream instead of whipped cream; coconut cream has zero sugar and is high in healthy fat. Topped with diced strawberries.
Affordable toddler plates we use: Pillowfort Divided Plates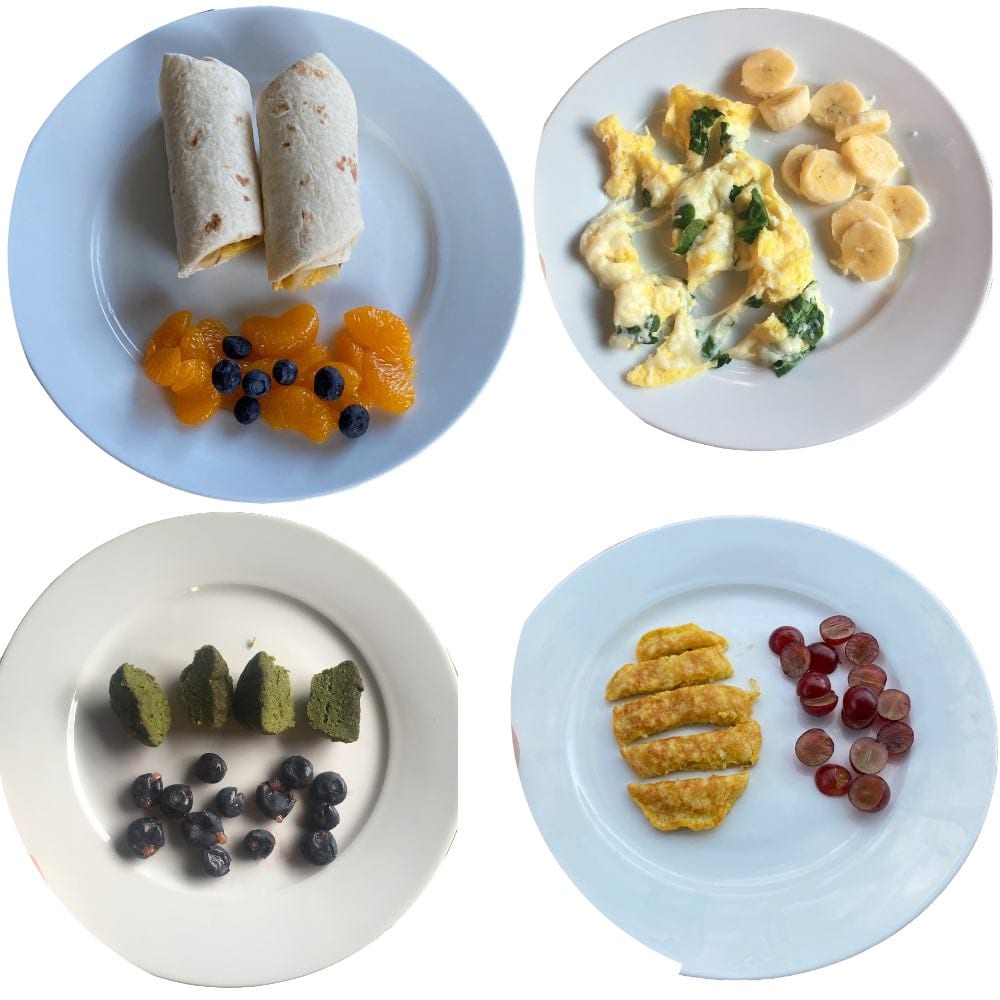 Mini Breakfast Burrito: eggs, hashbrowns, and red pepper wrapped up in a mini breakfast burrito. The family had breakfast burritos one morning and I was surprised when my toddler insisted on one so I whipped this together. Side of mandarin oranges and blueberries.
Scrambled Eggs & Spinach: I love throwing in spinach anywhere I can to add a little extra nutrients. My toddler went through an egg phase and wanted eggs almost daily. Side of bananas.
Spinach & Oat Muffins: we love these spinach, banana, and oat blender muffins by Inspiralized. Very great no sugar option for kids and super easy to make! Side of blueberries.
Eggy Banana Pancakes: simple 3 ingredient pancakes for babies and toddlers, we love this recipe by Pinecones & Pacifiers blog. Side of grapes.
Thanks for stopping by!
You might also like these recent related posts: