Posts may contain affiliate links. Please see Disclaimer and Disclosure page for more details.


Are you wondering: How can I increase my toddlers's calorie intake? What are high-calorie toddler meal ideas I can serve my toddler? What can I feed my toddler to gain weight? I'm here to help!
I'm sharing a list of high-calorie toddler meal ideas to help your low-weight toddler. Ideas for adding calories, types of high-calorie foods, and ideas for breakfast, lunch, and dinner.
My own toddler has been a slow weight gainer for most of his life. This has lead me to do a lot of research on healthy, nutrient-dense, high-calorie meal ideas that I can feed him to help keep him 'growing on his curve'.
Not every toddler or child who is small necessarily needs to gain weight or needs a high-calorie diet. However, I have noticed that if I don't intentionally try to serve high calorie foods to my toddler, he has trouble gaining weight. Additionally, since these are healthy, nutrient-dense foods that we all should eat anyways, there isn't any harm in trying to increase these high-calorie foods in his diet.
Disclaimer: please consult your child's pediatrician for advice on your child's weight or any additional questions or concerns you may have. I am not a doctor, dietician, or nutritionist, but I am a mom of two who has a low-weight toddler and these are the meal ideas I personally use to help him gain weight.
You might also like these related posts:
Types of High-Calorie Toddler Foods
High-calorie foods for toddler include healthy fats, whole-milk dairy, proteins, whole grains, and high-calorie fruits.
I try to serve at least one high-calorie food to my toddler at every meal. Its a bonus if I can incorporate a few high-calorie foods! Below are some ideas based on what I feed my toddler.
Healthy Fats
Avocado
Nut butter (peanut butter, almond butter, ect)
Coconut cream
Olive oil
Coconut oil
Hummus
Whole-Milk Dairy
Grass-fed whole milk
Whole-milk yogurt
Whole-milk string cheese
Grass-fed butter
Cream cheese
Protein
Whole Grains
High-Calorie Fruit
High-Calorie Additives
Another strategy to increase the amount of calories in your toddler's diet is to add high-calorie foods to their normal foods or meals.
If I can't serve my toddler a high-calorie food for a certain meal–for example, if I made dinner for the whole family or if we are eating out–I add an high-calorie additive to the meal he is eating. Here are some examples:
Add cheese to veggies or meat
Add butter to roasted, grilled, or air fried veggies
Add a high calorie dipping sauce or spread like hummus, nut butter, smushed avocado, or coconut cream
Add extra oil or butter when cooking
Add scrambled eggs to oatmeal
Add nut butter, coconut cream, or whole-milk yogurt to smoothies
Meal & Snack Schedule
Besides adding high-calorie foods to my toddler's diet, another thing that I focus on is sticking to a rough meal and snack schedule throughout the day. If your toddler snacks all day they won't be hungry at meal-time and also may actually eat less throughout the day than toddlers with set meal and snack times.
We have 2 schedule snacks and 3 scheduled meals throughout the day. We have had this rough feeding schedule since he was about 1 year old, so he is used to it and his body has adapted to be hungry during these times because it expects that a meal or snack is coming. Here is our schedule:
7:00 am – Wake
8:00 am – BREAKFAST
10:00 am – Snack #1
12:30 pm – LUNCH
1:30 pm – Nap (if needed)
3:30 pm – Snack #2
5:30 pm – DINNER
7:30 pm – Optional Snack #3
8:00 pm – Bed time
To read more details about our feeding schedule, check out my post Toddler Meal and Snack Schedule
Favorite Feeding Supplies
P.S. these are some of our favorite feeding supplies to make meal time with your toddler just a little bit easier!
Pillowfort Plates: these are our go-to plates that you will see in all our photos. We use them for every meal, every day! They have held up very well in the dishwasher and come in cute colors.
Ingenuity Booster Seat: we have loved using this booster seat since about 18 months. This one is extremely easy to clean and is perfect for our counter-height table.
Munchkin 360 Cup: these are currently our favorite cups, we use them for both milk and water. They are better for oral development than sippy cups and are a great transition to an open cup. They dont leak at all!
High-Calorie Toddler Meal Ideas
Below are some examples of how to combine high-calorie foods and high calorie additives into well-rounded and healthy meals for your toddler.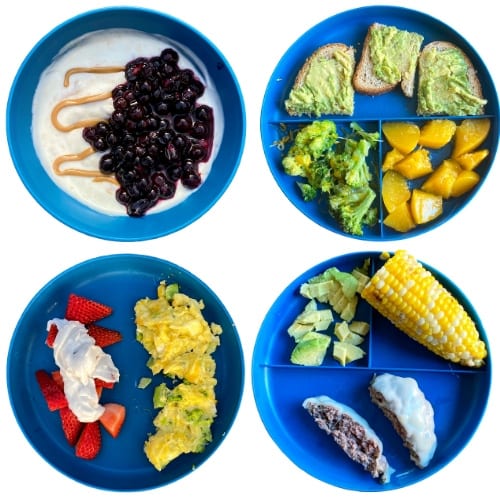 Yogurt Parfait with Peanut Butter – yogurt parfaits are some of my toddler's favorite for breakfast or snack time. We like to choose grass-fed whole milk yogurt when we can. I topped with peanut butter and thawed frozen blueberries.
Avocado Toast with Veggies and Cheese – we use avocado quite a bit to add an extra source of healthy fat and calories. Instead of jelly on toast, try smooshed avocado. I also added cheese to his side of broccoli. The other side is peaches.
Broccoli Cheese Eggs and Strawberries with Coconut Cream – eggs are a great source of protein and fat, be sure to leave in the yolk. I stirred in broccoli and cheese for a yummy twist. Side of strawberries topped with coconut cream, which is also high in calories and fat.
Cheeseburger and avocado – ground beef burger topped with sliced cheese and sides of avocado and corn on the cob (spread with butter). I love when I can take family meals and easily adapt them to be toddler-friendly.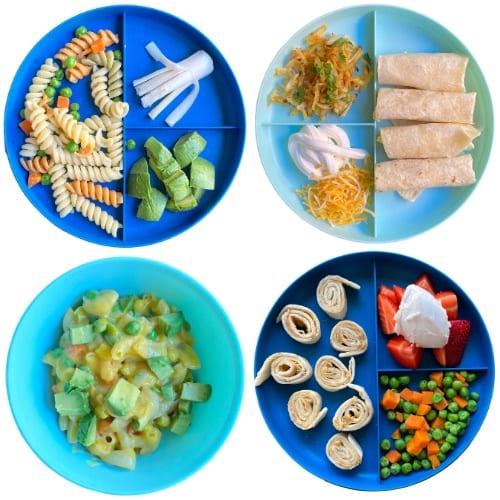 Pasta with Butter – veggie flavored pasta topped with melted butter and veggies. We also added a side of whole-milk string cheese and diced avocado.
Mini Breakfast Burritos – quarter a tortilla, fill with eggs, and roll up to make mini breakfast burritos. We served with sides of full-fat sour cream, shredded cheese, and hashbrowns with green peppers.
Macaroni and Cheese with Avocado – a toddler favorite, mac 'n cheese, with peas, carrots, and diced avocado stirred in for extra healthy fat.
Peanut Butter Tortilla Pinwheels – lay out a tortilla, spread thinly with peanut butter, wrap up tightly, and cut into pinwheels. I find that this is a little more fun and easier to eat than a plain roll up or wrap. Side of strawberries with coconut cream and mixed veggies.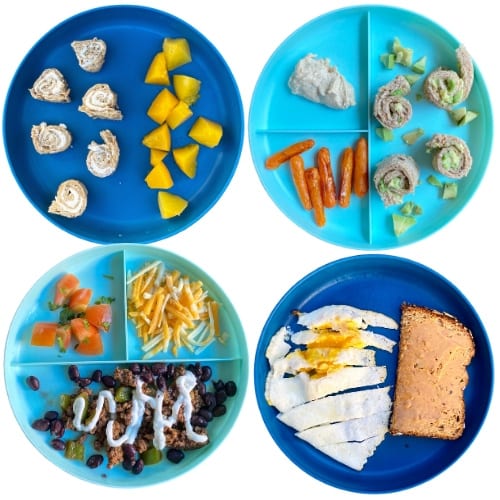 Cream Cheese Pinwheels – as an alternative to a tortilla, sometimes we make pinwheels with bread (we like Dave's Killer Bread). Roll out a piece of bread with a rolling pin or glass cup, cut off the crust, spread thinly with cream cheese, roll up and cut into pinwheels. Make sure to use full-fat cream cheese. Side of peaches.
Avocado Pinwheels with Carrots and Hummus- also done with bread instead of a tortilla and topped with extra avocado. Side of baby carrots and hummus to dip.
Ground Beef Taco Plate – Ground beef, green peppers, and black beans topped with full-fat sour cream. Side of shredded cheese and tomatoes. Avocado is another good side for taco plates!
Fried Egg and Peanut Butter Toast – egg fried in grass-fed butter and cut into strips. Side of peanut butter toast on Dave's Killer Bread.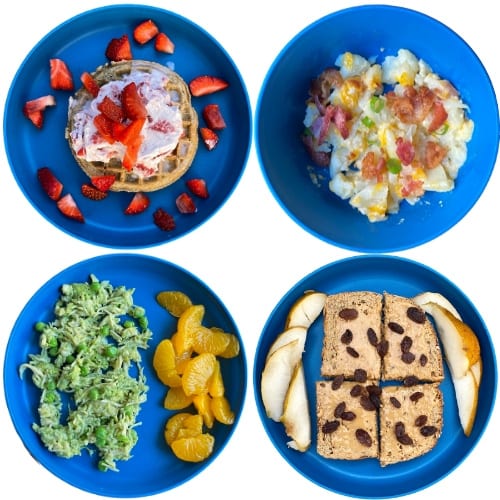 Waffle with Strawberry Coconut Cream – coconut cream comes in a can and is a quick and easy way to make meals fun and add some extra calories and healthy fat. I stirred in diced strawberries to make strawberry coconut cream. Topped on a whole-wheat waffle and added extra strawberries.
Loaded Cauliflower – finely diced cauliflower with full-fat sour cream and cream cheese stirred in and topped with cheese, bacon, and green onions.
Avocado Chicken Salad – canned chicken breast stirred together with avocado and peas. A 'healthier' version of chicken salad. Side of mandarin oranges.
Peanut Butter Raisin Toast – whole wheat toast topped with peanut butter (or other nut butter) and raisins. Side of sliced pears.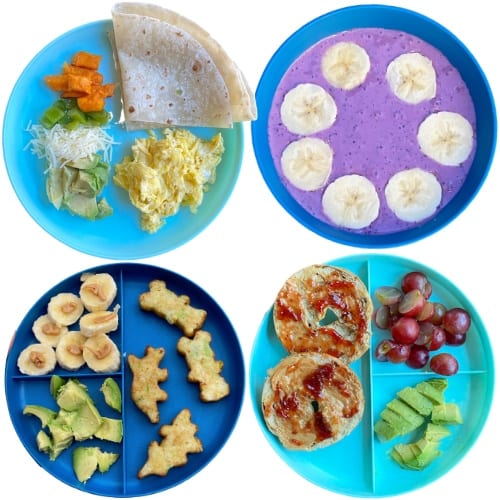 DIY Breakfast Burrito – a fun way to serve breakfast burritos and is also full of healthy fats. Tortilla, scrambled eggs cooked in butter, sweet potato, green pepper, shredded cheese and avocado.
Smoothie Bowl – smoothies can be a great way to add in extra calories and fat. I try to give my toddler a smoothie almost every day and sometimes we do it in a smoothie bowl. We use whole milk yogurt, nut butter, banana, whole milk yogurt, and frozen blueberries.
Broccoli Littles with Avocado and PB Bananas – we love Dr. Praeger's Broccoli littles! We pair with high-calorie sides like bananas with peanut butter and avocado.
PB&J Mini Bagels – mini bagels are fun because they are toddler-sized! Bagels are fairly high in calories, top with nut butter, cream cheese, butter, or pb&j. Side of grapes and avocado.
Thanks for stopping by! You might also like these related posts: