Posts may contain affiliate links. Please see Disclaimer and Disclosure page for more details.


Are you asking: What snacks should I give my toddler? What snacks can a 1 year old eat? What is a good snack for a 2 year old?
I'm hoping to give you some inspiration to revamp your toddler's snacks! I'm sharing a list of fun and easy toddler snack ideas. 18 simple snack ideas based on what my toddler actually eats for snacks during the week.
I've been getting creative with my toddler's snacks in hopes he will eat a little bit more and it has been working! Fun snacks can be a little more appealing since they are different and new.
I'm a ex-working mom and now a stay-at-home mom so I totally get both lifestyles. Either way, all mamas are busy and don't have time to stand in the kitchen for hours preparing all meals and snacks. That's why these toddler snack ideas are all super easy and quick to make.
Looking for more toddler feeding ideas? You might like these related posts:
Snack Time
We follow a pretty consistent daily schedule for my toddler that consists of two snacks. We stick to set snacks and don't allow snacking all day so that he is hungry at meal time and more likely to eat full meals.
Breakfast is around 8:00 am.
Snack 1: is normally around 10:30 am.
Lunch is around 12:30 pm.
Snack 2: is normally when he wakes up from his nap around 3:30pm
Dinner is around 5:30 pm.
I do try to make sure our toddler snacks are somewhat nutritious and filling. If we are on the go, sometimes we do something very simple like an apple sauce pouch or granola bar. But, if we are at home I like to serve him a fun snack to get him accustom to eating different varieties of foods.
Toddler Feeding Supplies
Having the right feeding supplies can make snack and meal time just a little bit easier! Below are some of my tried and true favorites.
Pillowfort Plates: these are our go-to plates for every meal! They come in such cute colors and have held up very well in the dishwasher.
Ingenuity Booster Seat: this is my favorite booster seat for the table. My toddler has been using this since about 18 months (he's also a smaller guy). He fits perfectly and it works great at our counter-height table. Its also extremely easy to wipe down and clean. Highly recommend!
Munchkin 360 Cup: the 360 cups are our new favorite cups! They don't have any straw to clean and are better for oral development than sippy cups. Now that my toddler has the hang of these we love them. There are only a few pieces to clean and they don't leak.
Okay, now onto the fun part, the food!
Toddler Smoothies
Toddler Smoothies // this has been our go-to snack recently. Since its summertime we are often on the go or outside playing during snack time. Here is my basic smoothie recipe that is toddler friendly:
Frozen Fruit – all smoothies need something cold to make them, well, a smoothie! I always start with about 1/3 cup of frozen mixed berries, blueberries, or mango.
Protein/Fat – toddler need healthy fats for brain development and a smoothie is a great way too sneak in an extra serving. I normally add 1/4 cup of whole milk yogurt, 1-2 Tbsp of peanut butter.
Base – to thicken up my toddler's smoothie I normally add either 1 banana or if I already used yogurt as protein I could consider that my base as well.
Veggies – another one of my secrets is to put veggies into smoothies for my toddler! If you happen to have any veggie purees laying around like I do (because I also have a 6 month old), try adding one of those to the smoothie. Greens like spinach or kale are also awesome additions.
Milk – We use grass-fed whole milk or Ripple (pea protein) milk.
Sweetener – limit or emit if your toddler will allow! I like to add 1/4 cup of apple sauce, a splash of OJ, or a squeeze of honey (only over 1 year old).
Extras – for added nutrients you can also blend in 1/4 cup of oats or 1 Tbsp of ground flax or chia seeds.
Favorite Smoothie Recipes
Berry Oat Smoothie – 1/3 cup of frozen berries, 1/4 cup whole milk yogurt, 1/4 cup oats, 1 Tbsp honey, milk.
PB & J Smoothie – 1/3 cup frozen blueberries, 1/4 cup whole milk yogurt, 1-2 Tbsp peanut butter, 1/4 cup oats, 1 Tbsp honey, milk.
Orange Berry Smoothie – 1/3 cup of frozen berries, 1/4 cup whole milk yogurt, 1/4 cup of orange veggie puree (sweet potatoes or carrots), splash of OJ, milk.
Tropical Green Smoothie – 1/3 cup of frozen mango or peaches, 1 banana, 1/2 cup baby spinach, 1 Tbsp honey, 1 Tbsp ground flax seeds, milk.
Peaches & Cream Smoothie – 1/3 cup of canned peaches, 1/3 cup ice, 1/4 cup whole milk yogurt, 1/4 cup oats, 1 Tbsp honey, milk.
Toddler Toast
Another quick, easy, and fun toddler snack idea is to make toddler toast! I like to cut toast into different shapes to mix things up; try square quarters, triangle quarters, strips, bite sized pieces, or fun shapes using cookie cutters.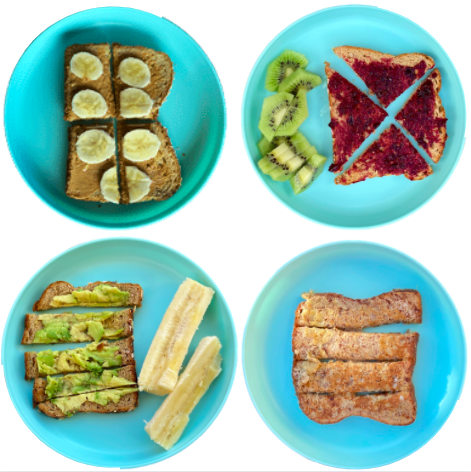 Peanut butter and banana toast – a fan favorite, peanut butter and banana, but on toast. My toddler loved when I served the banana on top of his toast instead of on the side. Try slicing the banana fairly thin so that it is easier for little mouths to eat on toast.
Jelly toast – we always choose low sugar jelly and also try to mix it up with fun fruits like blueberry or cherry. Another healthy option could be to add smushed plain fruit on top of toast for a fresh taste. Jelly is my toddler's favorite toast topping!
Avocado toast – avocado toast isn't just for mom, my toddler loves avocado toast and its a great way to incorporate a healthy fat into snack time. Use less avocado for younger babies and toddlers and add more avocado as they become better at eating (this is mostly just for less mess).
Banana French toast – like normal French toast, but with banana in the egg batter. This takes a little bit of prep time, but the results are worth it. Combine one egg and a very ripe banana, dip your bread in and fry on a stove top. This is so flavorful, your toddler won't need syrup and it can be eaten on the go.
Toddler Parfaits & Smoothie Bowls
Toddler yogurt parfaits and smoothie bowls can be another fun way to mix up your standard snacks. Here are our smoothie bowl basics:
Yogurt // for toddlers I try and choose a low sugar option. Whole milk greek yogurt (plain or one with low sugar), almondmilk yogurt or oatmilk yogurt.
Fruit // frozen thawed fruit, fresh fruit, or even canned fruit that is drained and rinsed.
Crunch // granola or shredded cereal.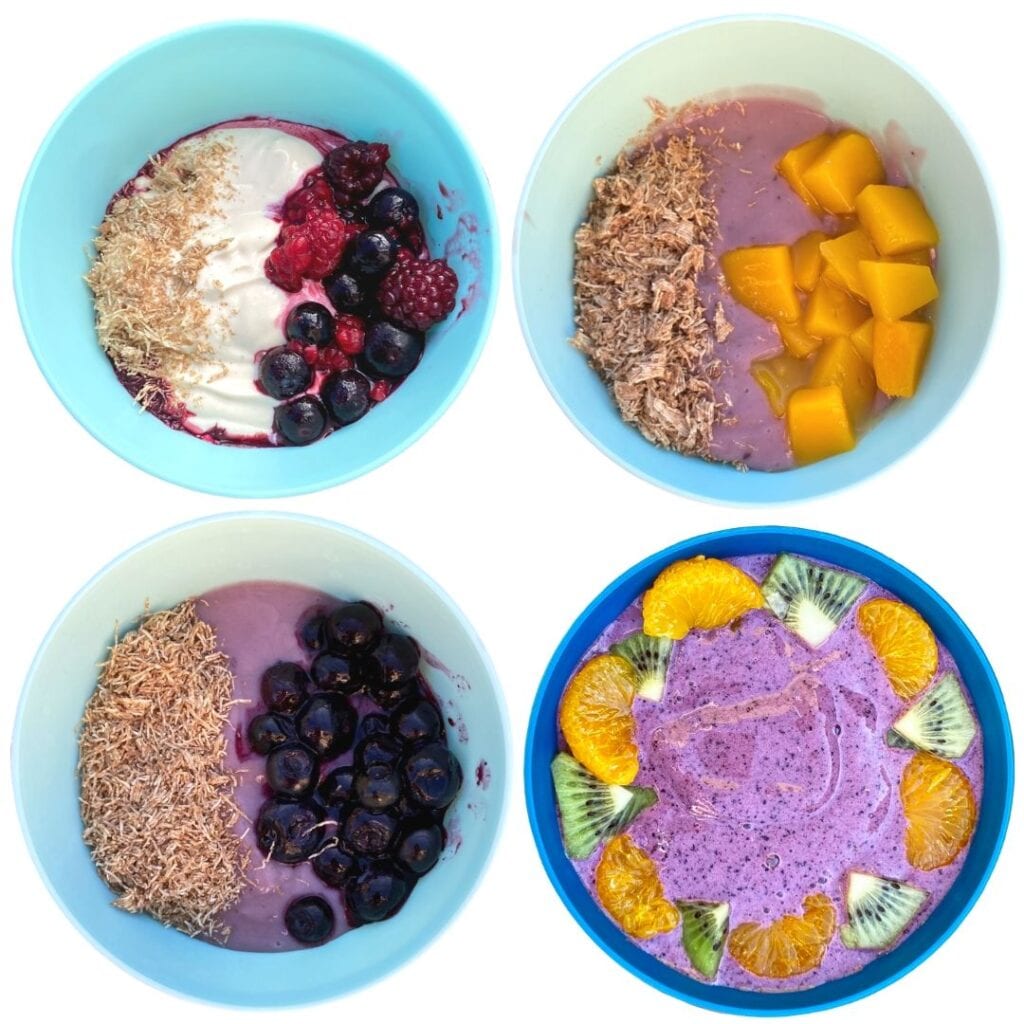 Berry Toddler Parfait – vanilla almondmilk yogurt topped with thawed frozen mixed berries and shredded cereal. If your toddler is a little older and great at chewing you could leave the berries frozen.
Peach Toddler Parfait – berry oatmilk yogurt topped with canned diced peaches and granola. If you have fresh peaches go ahead and use those, but if not canned peaches work just fine.
Blueberry Toddler Parfait – berry oatmilk yogurt topped with fresh blueberries and shredded cereal. Frozen thawed blueberries would work too.
Smoothie Bowl – thick blended smoothie with whole milk yogurt, frozen blueberries, oats, honey, and milk. Topped with mandarin oranges and kiwi. Really, any smoothie can be made into a smoothie bowl!
More Toddler Snack Ideas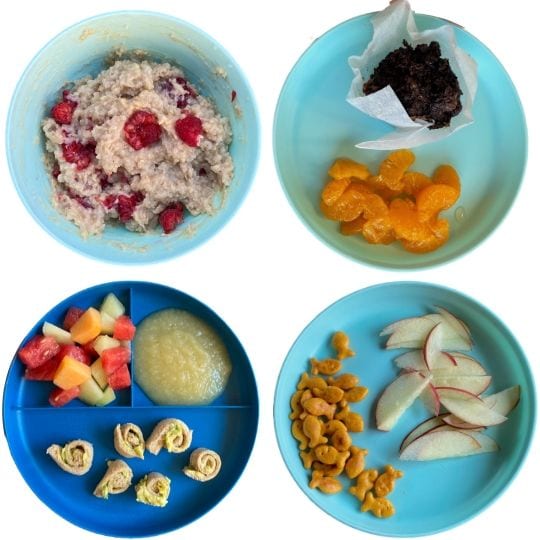 Oatmeal with toppings – adding toppings like fruit or raisins can help make oatmeal fun and exciting. Raspberries and peanut butter are some of my toddler's favorites for oatmeal. For more recipes check out my posts: 8 Easy Toddler Oatmeal Recipes
Toddler Muffins – I like to choose a lower sugar muffin recipe for toddlers or one with added fruits or veggies. We love this chocolate zucchini bread recipe by Two Peas in Their Pod and turn it into muffins so its a little easier to eat.
Pinwheels – pinwheels can be made with bread or tortillas. If using bread, roll out whole wheat bread until flat, spread with avocado, peanut butter, or hummus, roll up tightly and then cut into pinwheels. Great for little hands and mouths.
Toddler "Fish & Chips" – toddler version of fish & chips use goldfish and thinly sliced apples or pears. Your toddler might not understand the reference but its a fun way to serve two toddler favorites.
Homemade Lunchable – like those store-bought lunchables we had as kids! Let your toddler build their own snack by putting out cheese, crackers, and lunch meat pre-cut into squares (or circles if you are feeling really motivated).
Thanks for stopping by!
Looking for more toddler feeding ideas? You might like these related posts: