Posts may contain affiliate links. Please see Disclaimer and Disclosure page for more details.


A list of dairy-free toddler lunch ideas based on what my toddler actually eats. These meals are quick, easy and both toddler and mom approved.
Have you ever wondered: What do you feed a dairy free toddler? What can I feed my toddler with a milk allergy? What can I feed my toddler for lunch?
I'm here to help! I'm a mom of two boys and both eat mostly dairy-free. Besides the obvious dairy allergy, some kids can be sensitive to the lactose in milk or it can trigger eczema flare ups (like in my kids!).
Even if you toddler is not dairy-free, these lunch ideas are quick, easy, and can be a break from the normal dairy filled lunches like mac 'n cheese and quesadillas.
Looking for more toddler meal ideas? You might like these related posts:
Read Your Lables
A quick note on making sure your toddler's food is actually dairy-free.
Be sure to read the labels on the food that you buy and serve to your toddler to make sure there isn't any dairy, especially if your toddler has an actual allergy.
I've pointed out some foods and brands that we use that are currently dairy free, but the industry is constantly changing the recipes of their foods. Additionally, some brands of foods like bread and tortillas may contain milk so its always good to double check the actual food table.
Favorite Feeding Supplies
P.S. these are some of my favorite toddler feeding supplies to help meal time go more smoothly!
Sandwich & Veggie Cutters: We just got these in the mail last week and they have been so fun to use! You will see them in a few photos below. My toddler has been so excited every time he sees a new shape on his plate and it can be super helpful in helping him try new foods (like cucumber!).
Munchkin 360 Cup: These are our number one favorite cups at the moment. The munchkin 360 cups are an awesome trainer cup for an open cup. They don't spill and are better for oral development than sippy cups. My 6 month old also loves this cup!
Pillowfort Plates: these are my favorite divider plates. They come in cute colors and are very durable. They are microwave and dishwasher safe which makes them super convient.
Dairy Free Toddler Lunch Ideas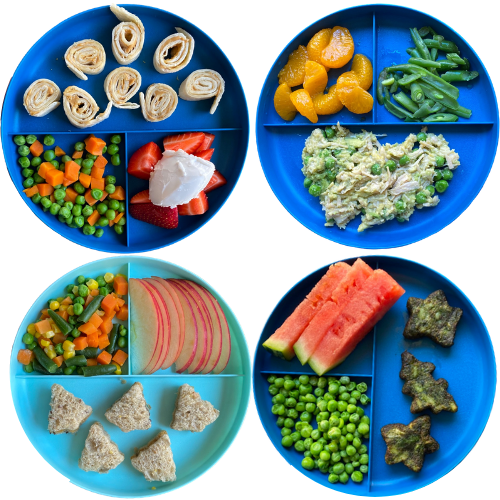 PB&J Pinwheels – to make this I spread peanut butter and jelly thinly on a tortilla, then roll up tightly, cut into 1/2 inch segments for pinwheels. Side of mixed veggies, and strawberries with whipped coconut cream.
Avocado Chicken Salad – to make this I mix together 1 tin of canned chicken breast, 1 avocado, and 1/3 cup peas. This could also be fun on a sandwich! Side of green beans and mandarin oranges.
PB&J – mix up this classic by using cookie cutters to cut the sandwhich into fun shapes. You could also use different flavors of jelly like blueberry or apricot. Side of thinly sliced apples and mixed veggies.
Dr. Praeger's Spinach Littles – my toddler loves Dr. Praeger's Spinach littles and they are one of my go-to freezer foods for lunch or dinner. They heat up in the microwave in just minute and have awesome ingredients. Side of watermelon and peas.
Dr. Praeger's Broccoli Littles – another variation from the Dr. Praeger's brand are Broccoli Littles. These are my toddler's favorite from this line! They are super convenient and both mom and toddler approved. Side of avocado for some good healthy fat and diced kiwi.
Salmon Cake – this homemade salmon cake is so easy to make! I combined I tin of canned salmon, 1 egg, and a spoonful of relish, then cooked on the stovetop until set. A great way to get a healthy serving for fish in at lunch time. Side of peas and carrots and unsweetened applesauce.
PB & Honey – another way to mix up the classic PB & J is to use something besides jelly. This time we used honey and my toddler loved it (remember no honey before 1 year old). Another way to mix up this sandwich is to use a different nut butter like almondbutter or sun nut butter. Side of apricots and mixed veggies.
Veggie Corn Dog – we love the veggie corndogs by MorningStar Farms. These don't contain any meat, soy, or dairy and my toddler couldn't care less; he loves them! I like to cut his corndog in different ways (slices, strips, whole) so he can practice eating different sized foods. Side of mixed veggies and peaches.
Avocado Pinwheels – Often pinwheels are made with a tortilla, but this time I used whole wheat bread. Cut off the crust and roll the bread out flat with a rolling pin or heavy glass, spread thinly with avocado, roll tight, and cut into pinwheels. Side of pineapple and mixed veggies.
Lentil Pasta with Red Sauce – most toddlers love pasta! I often choose pasta made with veggies or lentils to add some extra nutrients to a classic favorite. You can serve pasta with non-dairy butter spread or red sauce for a dairy free option. Side of cucumber and pineapple.
Veggie Chicken – we have been loving these Veggie Chicken Strips by Perdue Chicken. My favorite way to cook these is in the air fryer, it takes just 7 minutes! Topped with ketchup and sides of kiwi, pineapple, peas, and carrots.
Baked Beans – I recently discovered that my toddler loves baked beans. They can be a fun way to mix up lunch and add some extra protein. Double check your label to make sure there is no added dairy. Side of broccoli with tomato and peaches.
Thanks for stopping by!
Looking for more toddler meal ideas? You might like these related posts: