Posts may contain affiliate links. Please see Disclaimer and Disclosure page for more details.


50 breakfast, lunch, and dinner Toddler Meal Ideas for 18-24 months. A list of simple, quick, easy, and healthy toddler meal ideas for young toddlers.
My son is a new 2-year-old and i'm sharing 50 ideas for toddler meal ideas based on what he ate from 18-24 months old.
We started with a combination of purees and baby-led weaning (BLW) and he has always been a pretty good eater!
You may be thinking 'how to I get my toddler to try some of these meals'? And my advice would be to just keep exposing them to the new foods!
With many toddlers, meal time can quickly become a power struggle if they are forced to try a food they don't want to eat.
Follow along with us on Instagram for more meal ideas!
Here's some tips on how I get my toddler to try new foods:
Always serve the new food in a small amount, and serve it along with a food they love
No pressure; don't bribe or force them to try the new food
Tell them 'it's okay if you don't eat it'
Keep exposing and don't give up, small victories like playing with the food are good steps forward!
By using these tips i've been able to help my son become a fairly adventurous eater. You may also like these related posts:
Favorite Toddler Feeding Supplies
P.S. below are some of our favorite toddler feeding supplies that make toddler meal time just a little easier.
Pillowfort Plates: these plates are the best! They are our go-to plates and we use them for just about every single meal. They have held up up great after more than a year of use and going through the dishwasher.
Sandwich & Veggie Cutters: we got these a few months ago and they are so cute! I love to use these to make fun shapes when making sandwiches and also love the smaller veggie cutters for fruits and veggies.
Ingenuity Booster Seat: this is a great booster seat! We moved to a booster seat at the table at 18 months old. This booster seat is great because it is super easy to clean and fits well at our counter height table.
Visit our Amazon Shop to see all of our favorite baby & toddler feeding products (updated regularly!)
Okay, now onto the food!
Toddler Food Staples
There are a few staple foods that I try to keep in the house 24/7 to help make our quick and easy meals. I like to plan ahead some what and buy certain foods at the grocery store each week to make my toddler's meals, but I also buy some staple foods and make up some meals as I go. Here are some of our toddler food staples:
Main
Tortillas
Dave's Killer Bread (we like Powerseed)
Eggs
Peanut Butter
Avocados
Sides
Mandarin Oranges
Bananas
Grapes
Frozen Veggies
String Cheese
Toddler Meal Ideas for 18-24 months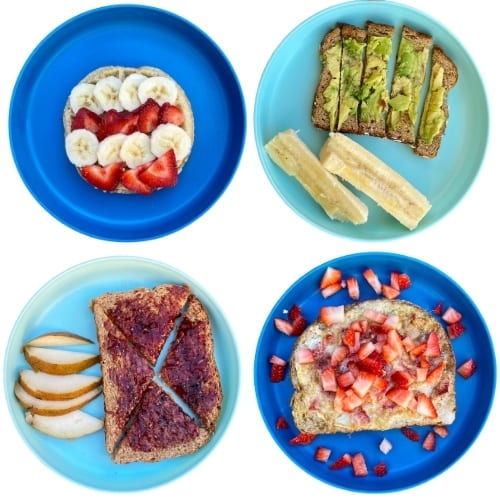 Waffle – whole wheat Nutri Grain Waffle topped with strawberries and bananas. Some other fun toppings for your toddler's waffle could be smushed banana, apple sauce, peanut butter, almond butter, smushed blueberries, or jelly.
Avocado Toast – avocado is a great healthy fat for toddlers. We try to add avocado wherever we can and avocado toast is a great way to do it. Side of sliced banana.
Jelly Toast – jelly toast is another one of my toddler's favorites. We like to mix up the types of jelly and try to buy natural jelly with no corn syrup. Side of sliced pears.
Strawberry French Toast – a different variation of one of our favorite breakfasts––Banana French Toast. Beat an egg and add chopped strawberries to the egg mixture. Dunk in bread and fry on a pan until set on both sides. So tasty and sweet no syrup is required!
Follow along with us on Instagram for more meal ideas!
Fried Egg – if you are tired of scrambled eggs for breakfast try giving your toddler a fried egg. I like to cook it a little longer so the yolk is almost set just so it isn't quite as messy with a runny yolk. We like to cook our eggs in grass-fed butter for healthy fat. Side of peanut butter toast.
Silver Dollar Pancakes – mini pancakes topped with blueberry butter and blueberries. To make blueberry butter I simply mix butter and blueberries for a fun and yummy spread.
Oatmeal – instead of buying pre-made packets which can have extra sugar, my toddler loves when I make homemade oatmeal with fun toppings. This recipe was quick oats, water, diced pears, honey, and cinnamon. For more oatmeal recipes, check out my post: 8 Easy Toddler Oatmeal Recipes
Cereal with Milk – to make cereal a little more fun and nutrition I like to add fruit like banana and blueberries for my toddler. We normally serve him Cheerios or we also like Kashi Cinnamon Harvest.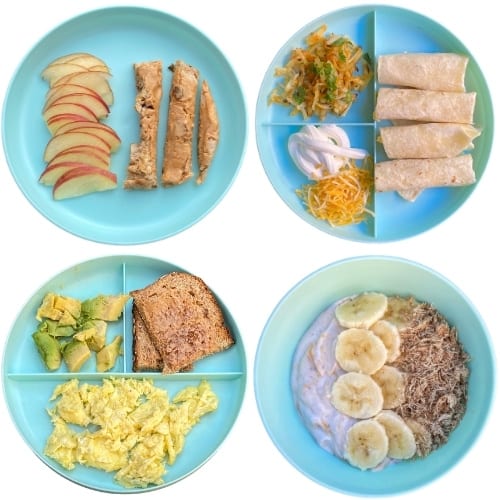 English Muffin – as an alternative to toast, try an english muffin! My toddler loves cinnamon raisin English muffins with pb on top. Side of thinly sliced apples.
Mini Breakfast Burritos – how fun is this? Instead of a normal breakfast burrito, which could seem overwhelming to tiny hands, try cutting a tortilla in quarters to make four mini breakfast burritos. We like to fill ours with eggs, cheese, and red bell pepper, but anything goes! Side of hashbrowns with peppers, cheese, and sour cream.
Scrambled Eggs – it took my toddler a while to like eggs (approximately 18 months), but now they are one of his favorite breakfast meals. Avocado and peanut butter toast make great sides for scrambled eggs.
Yogurt Bowl – a super easy no-cook breakfast! Whole milk yogurt with peanut butter swirled in and topped with bananas and shredded cereal. Other fun toppings for yogurt bowls are: berries, kiwi, raisins, chopped nuts, peanut butter, and granola.
Visit our Amazon Shop to see all of our favorite baby & toddler feeding products (updated regularly!)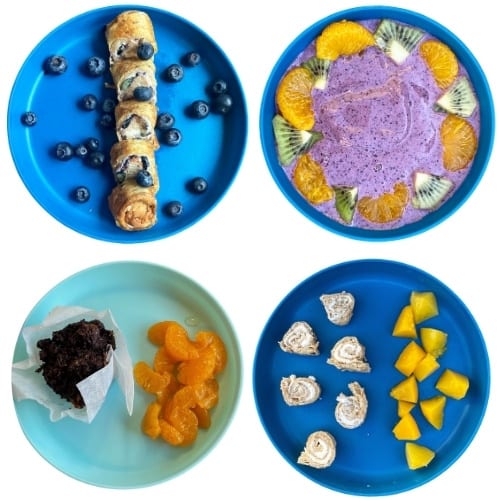 Stuffed French Toast Roll – a quick and easy way to make stuffed French toast. Roll out a piece of bread, spread with cream cheese and fruit, roll up tightly, dunk in egg, and fry in coconut oil on a stove top. We recently made blueberry stuffed French toast and added extra blueberries on top.
Smoothie Bowl – make your favorite smoothie recipe and blend it up a little thicker than normal, then top with fruit. Our go-to smoothie recipe is 1 banana, 1/3 cup frozen blueberries, 1/2 cup whole milk, 2 Tbsp oats, and a squeeze of honey. We topped this bowl with mandarin oranges and kiwi.
Veggie Muffin – we love these chocolate zucchini muffins by Two Peas & Their Pod. I normally make two batches and freeze at least half for quick and easy weekday breakfasts. Side of mandarin oranges.
Cream Cheese Pinwheels – A fun alternative to toast! Roll out bread with a rolling pin or a glass cup, spread with cream cheese, tightly roll up and cut into pinwheels. Side of peaches.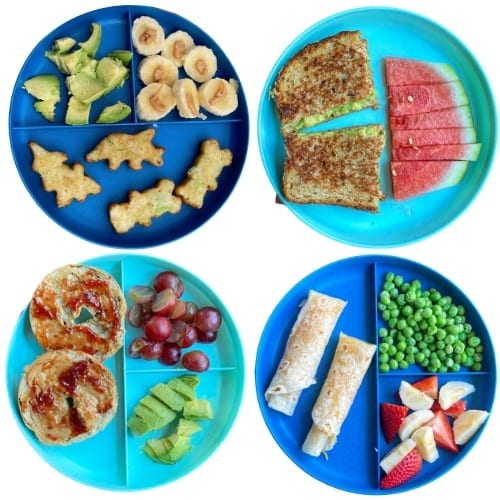 Broccoli Littles – we love these quick and easy lunch options from Dr. Praeger's brand (in the freezer section). They heat up in just a few minutes in the microwave. Side of bananas topped with peanut butter and avocado.
Avocado Grilled Cheese – like normal grilled cheese, but with added avocado inside! A great way to add an extra healthy fat for lunch. Side of sliced watermelon.
PB&J Bagels: mini bagels are a perfect toddler meal idea because they are toddler-sized. I spread both halves with peanut butter and jelly and serve open faced. Side of avocado and halved grapes.
Cheese Roll Up: lay out a tortilla and spread with cheese, heat in the microwave or on the stove top (don't let it get too crispy) and then roll up tightly. Side of strawberries and bananas, and peas.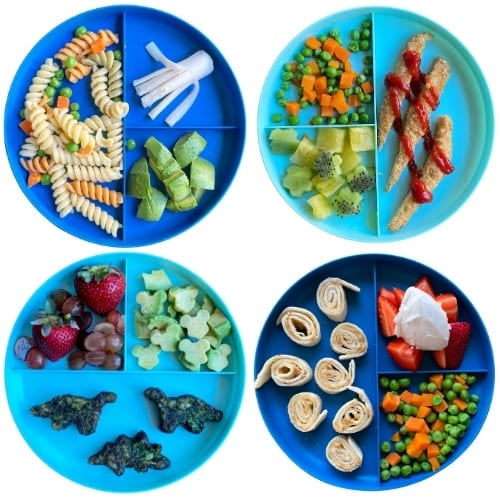 Pasta – we like to use veggie flavored pasta or pasta made of veggies when possible. Toss with some grass-fed butter and mixed veggies. Side of string cheese and avocado.
Veggie Chicken Tenders – we love these Veggie Chicken Tenders by Perdue Chicken and they are so quick and easy to make for lunch in the air fryer. Drizzled with ketchup (to keep my toddler from eating it with a spoon) and sides of mixed veggies, pineapple, and kiwi.
Spinach Littles – another favorite by Dr. Praeger's brand. My toddler also loves these because they are dino-shaped. Side of avocado, strawberries, and grapes.
Peanut Butter Tortilla Pinwheels – lay out a tortilla and spread with peanut butter, roll up tightly and cut into pinwheels. A fun alternative to a PB&J sandwich. You can also fill with any combination of nut butter, jelly, honey, or hummus or avocado. Side of strawberries with whipped coconut cream for extra healthy fat and mixed veggies.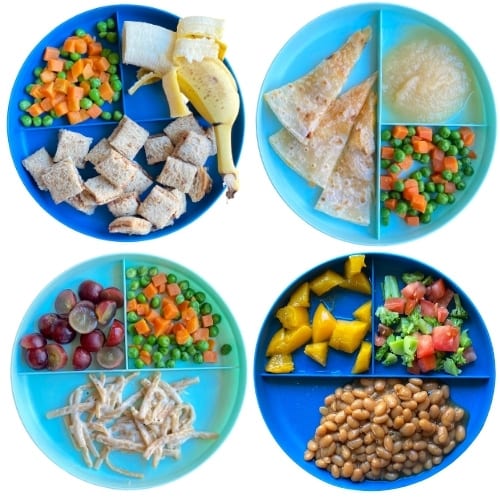 PB&J Bites – peanut butter (or nut butter) and jelly sandwich cut up into squares. Side of banana and peas and carrots.
Cheese Quesadilla: cheese quesadillas are a quick and easy lunch idea; sometimes we also add avocado or mixed veggies to the quesadilla. Side of mixed veggies and applesauce.
Alfredo with Veggie Noodles: we love this frozen lunch entree by Birds Eye. Noodles made with veggies in Alfredo pasta sauce. Side of mixed veggies and grapes.
Baked Beans: beans can be a good source of protein as an alternative to meat. Side of broccoli and tomatoes and peaches.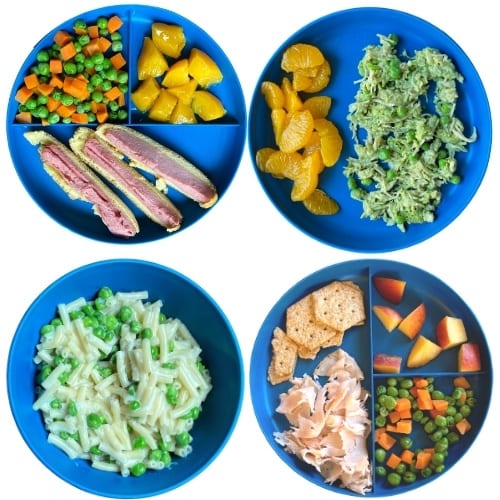 Veggie Corn Dog: we love these veggie corn dogs by MorningStar Farms. Instead of slicing into pieces, sometimes I like to cut into strips so they are easier to dip. Side of peaches and mixed veggies.
Avocado Chicken Salad: canned chicken breast shredded and stirred together with avocado, and peas. This is also great on a sandwich or over a bed of spinach for adults! Side of mandarin oranges.
Mac 'N Cheese: I don't think that my toddler knows that mac 'n cheese can come without veggies! I always stir veggies into his mac 'n cheese to make it a little bit more well-rounded meal. Try peas, carrots, spinach or chopped broccoli.
Lunch Meat & Crackers: low-sodium deli meat, wheat crackers, peach, peas, and carrots for a quick and easy lunch idea your toddler will love.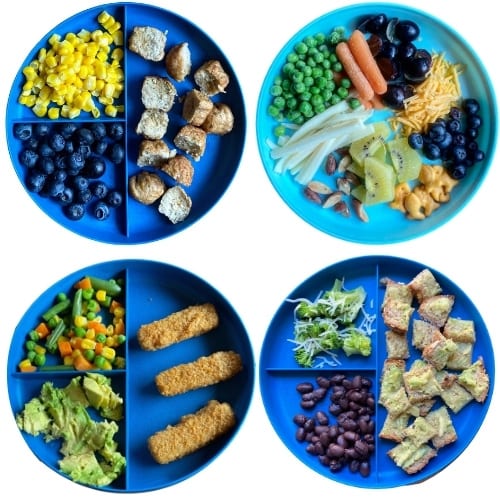 Chicken Meatballs – we really like these chicken and veggie meatballs by KidFresh brand. They come in the freezer section and are really quick and easy to heat up. Side of corn and blueberries.
Toddler Snack Plate – my toddler LOVES when lunch is a snack plate. All his favorite healthy snacks together on one plate. Here we did peas, string cheese, halved almonds, kiwi, goldfish, blueberries, shredded cheese, halved grapes, and cooked carrots. For more snack tray ideas check out my post: 50 Toddler Snack Tray Ideas
Fish Sticks – this brings me back to my childhood, but there are even healthier options these days. We love the KidFresh brand fish sticks made with veggies. Side of avocado and mixed veggies.
Avocado Toast Bites – i've realized you can take a meal that your toddler is getting bored with and make it fun by cutting it differently! Try avocado toast cut in half, quarters, squares, triangles, strips, cookie cutters, or bite-sized. Side of broccoli with cheese and black beans.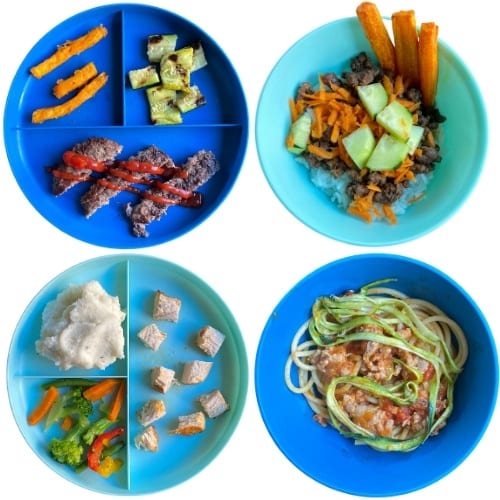 Hamburger – whenever we have hamburgers as a family I try to serve my toddler the same or a modified version. We started with just the meat, and now sometimes do include the bun too. Side of sweet potato fries in the air fryer and grilled zucchini.
Korean Beef Bowl – ground beef cooked in sweet Bulgogi sauce. Served over jasmine rice with shredded carrots and cucumber.
Roasted Chicken – oven roasted herb chicken cut into bite-sized pieces. Side of mashed potatoes (or mashed cauliflower) and mixed steamed veggies.
Zoodles with meat sauce – if you are getting tired of normal spaghetti, try zoodles (zucchini noodles). You can buy them in the store or easily make them at home if you have a spiralizer. Sometimes we do all zoodles and other times we do a mix with pasta noodles.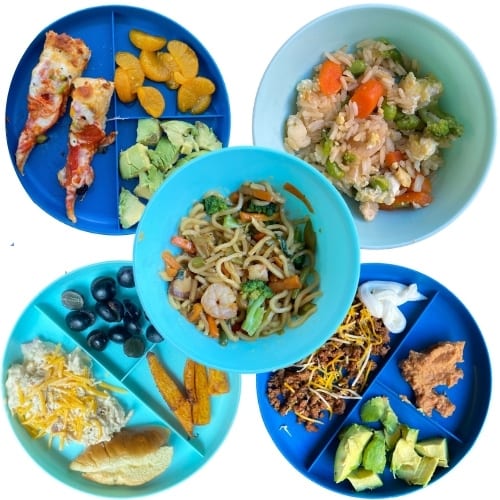 Pizza – life is all about balance and so is feeding your toddler. We have pizza sometimes! I like to pear it with some healthy sides to make it a more well-rounded meal. Here we had sides of avocado and mandarin oranges.
Chicken Fried Rice – fried rice with egg, diced chicken, and mixed veggies. For veggies we like to use broccoli, carrots, edamame, and water chestnuts, but really anything goes!
Shrimp ChowMein – chow mein noodles with shrimp and veggies; broccoli and carrots. This is a good way to exposure your toddler to shimp if its not their favorite food.
Pulled Chicken – we love "crack" pulled chicken. In your instant pot add 4 chicken breasts, 2 blocks of cream cheese, 1 packet of ranch seasoning, and 1/2 cup of chicken broth. Cook for 12 minutes and then stir in shredded cheese or bacon. We like to serve on buns as sandwiches. Side of sweet potatoes in the air fryer and grapes.
Taco Plate – for young toddlers, sometimes its best to serve tacos as a deconstructed taco plate. We normally have ground beef, cheese, sour cream, avocado and refried beans. Tomatoes, grilled peppers and onions are also a good topping or side!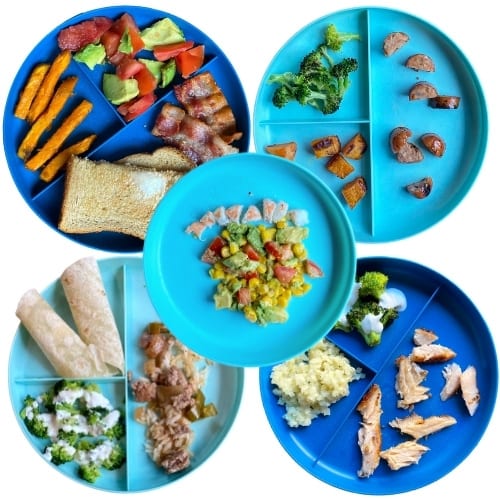 Deconstructed BLTA – when the family has BLTA (bacon, lettuce, tomato, avocado) sandwiches, we give my toddler a deconstructed version. Toasted bread with butter, bacon, tomato and avocado with a side of sweet potato fries.
Chicken Sausage – we have been loving this recipe for sheet pan chicken sausage and veggies. An easy one-pan recipe with chicken sausage, diced sweet potato, and roasted broccoli.
Shrimp and Avocado Salad – cooked shrimp with a side of avocado salad; diced avocado, roasted corn, tomato, and lime juice. This is such a quick and easy summertime meal.
Ground Pork and Rice: ground pork with sweet Bulgogi sauce served over rice. Side of roasted broccoli with sour cream sauce and a tortilla.
Grilled Salmon – we love plank-grilled salmon and my toddler does too! Its a great food for early eaters because it just melts in your mouth. Side of riced cauliflower and broccoli with sour cream sauce.
Thanks for stopping by! You may also like these related posts: