Posts may contain affiliate links. Please see Disclaimer and Disclosure page for more details.


Super easy and savory zucchini fritters made with four simple and hearty ingredients perfect for babies and toddlers.
My kids have loved eggs as babies and fritters are a great way to get in some more veggies into their diet. It also keeps me from making the same scrambled eggs day after day; adding some variety to your kid's meals can help combat picky eating!
I'm sharing one of our family favorite recipes for zucchini fritters. These are great for babies, toddlers, or the whole family. Plus they are super easy to make with just a few simple ingredients and easy to customize based on what you have in the fridge.
Prep Tools for Zucchini Fritters
These are a couple of prep tools I recommend to make this recipe easier:
Grater – I like to use a medium/coarse grater for this recipe. If you grate zucchini too fine it tends to get really mushy. I also love the Boon Solid Starter Set, which has multiple tools including a grater.
Frying Pan – you will need a small-medium frying pan for this recipe. I love the GreenPan Chatham skillet because it's non-toxic and well as non-stick.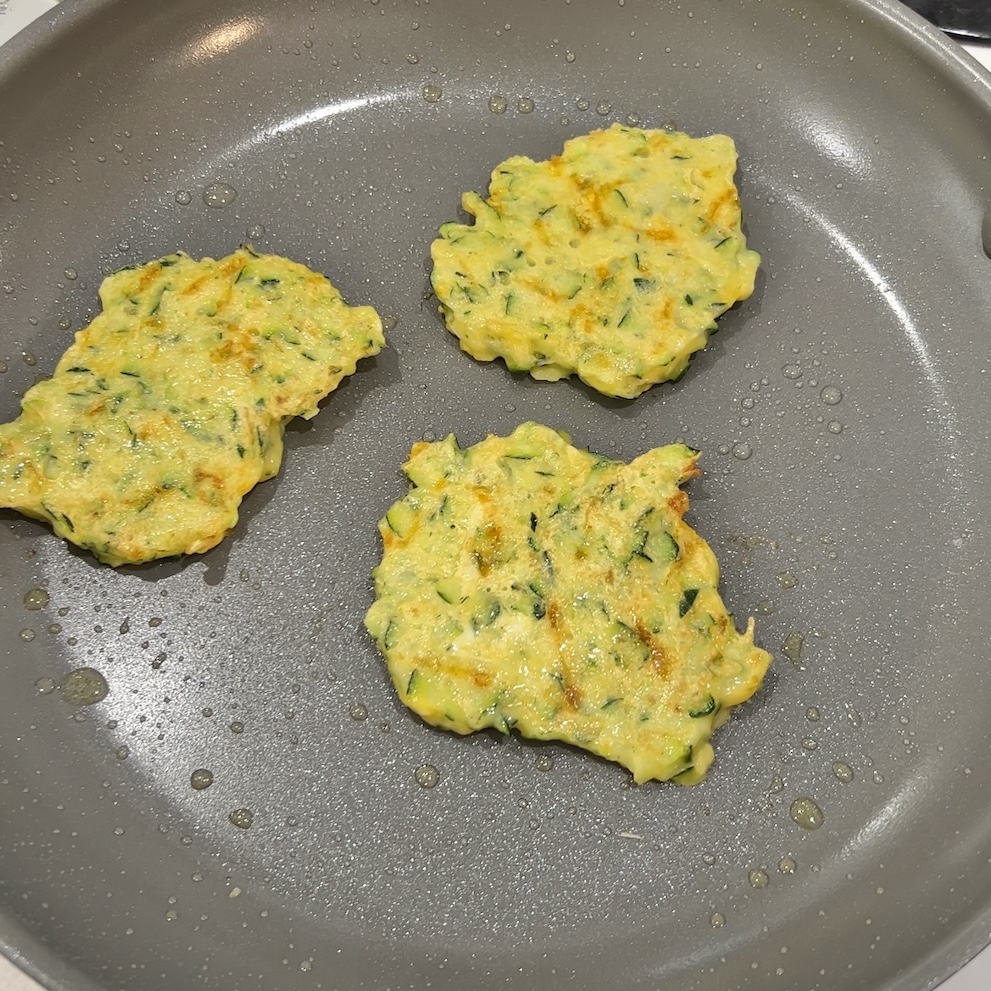 Ingredients for Zucchini Fritters
I love this recipe because it uses just four simple ingredients! Zucchini fritters are so easy to whip up for breakfast and are a savory option for lunch and dinner, too. The ingredients you will need are:
Zucchini – 1 large or 2 small zucchini work well for this recipe, but you can adjust to taste. Grate the zucchini and make sure to squeeze out all the liquid. Broccoli would also work well for this recipe.
Eggs – you will need 2 eggs for this recipe.
Flour – I always uses all-purpose flour, however i'm sure that gluten free flour would work well too, you might have to adjust as needed to make sure the batter isn't too thick.
Cheese – cheese is optional, however I think it makes these fritters absolutely delicious! We use shredded medium or sharp cheddar cheese, but most any cheese should work. Feta would be a delicious option and a great flavor introduction for your baby or toddler.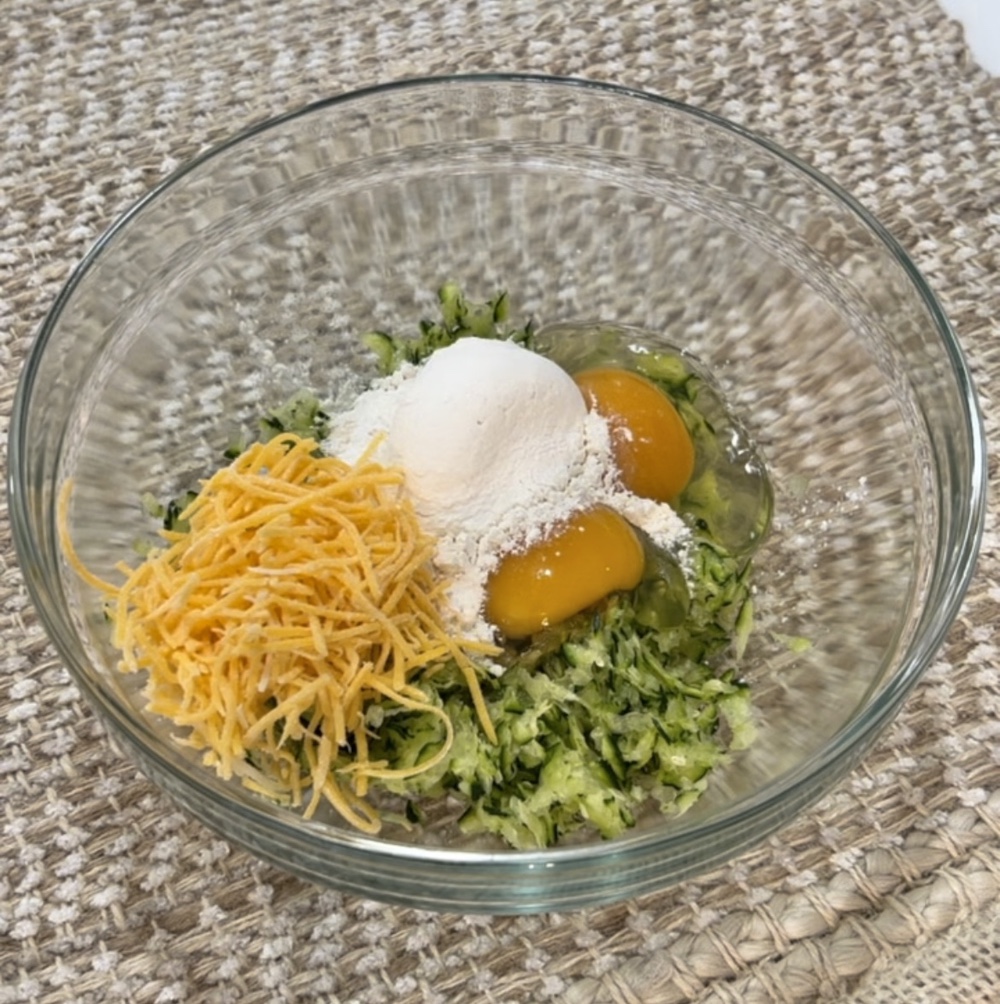 Zucchini Fritters Recipe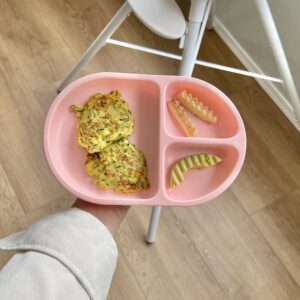 Zucchini Fritters
Super easy and savory baby zucchini fritters made with four simple and hearty ingredients.
Ingredients
1

zucchini

(1 large or 2 small)

2

eggs

1/4

cup

all purpose flour

1/4

cup

shredded cheddar cheese
Instructions
Grate zucchini with a medium or coarse grater. Transfer to a tea towel and squeeze out all the liquid.

Heat a griddle or skillet over medium-low heat. Once warm spray with cooking spray if desired to prevent sticking.

Combine zucchini, eggs, flour, and cheddar cheese in a medium bowl.

Drop spoonfuls of egg mixture onto skillet and cook until underside is slightly crispy. Flip and cook until egg is set and cooked through.
How to Serve Baby Zucchini Fritters
Zucchini fritters are a great baby-led weaning or self-feeding food for babies 6+ months, toddlers, and the whole family.
For babies: cut into strips for beginner eaters 6+ months, for older babies you can serve whole or cut into bite-sized pieces.
For toddlers: leave whole for a finger food option or cut into bite-sized pieces.
Dip options: my kids love these zucchini fritters by themselves but they would also be great with greek yogurt as a dip or ketchup.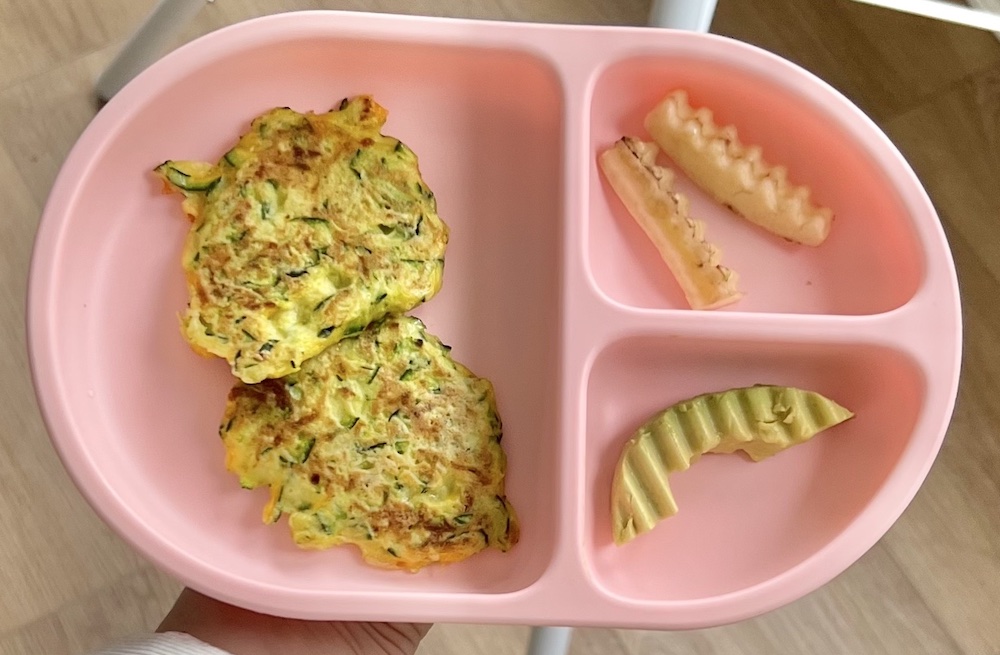 Two great side options for babies and toddlers are avocado and banana (I used this crinkle cutter, which can be super helpful for slippery foods). Pictured above on the Boon CHOW silicone plate.
You might also like these recent related posts: