Posts may contain affiliate links. Please see Disclaimer and Disclosure page for more details.


11 easy toddler meal prep ideas that will help save your time and sanity!
Feeding a toddler can be a whirlwind of chaos and pickiness! With busy schedules and the constant demands of parenting, it's essential to have a plan in place to ensure that your little one gets nutritious and well-balanced meals.
That's where toddler meal prep (and this post) comes to the rescue!
Hi, I'm Jessica, a busy mom of three, and here to share my easy toddler meal ideas and feeding tips with you! For more meal ideas follow along on Instagram 🙂
In this blog post, we'll explore time-saving tips and strategies for busy parents to make toddler meal prep a breeze. By implementing these ideas, you can save both time and your sanity while ensuring that your child enjoys healthy and delicious meals.
Don't forget! You can shop my toddler mealtime favorites anytime on my Amazon Shop!
Toddler Meal Prep Tips
Here are 11 easy toddler meal prep tips to help get you through the busy week.
Create a Weekly Meal Plan: Start your toddler meal prep by creating a weekly meal plan. I like to do this on Sunday night and then do grocery pick-up first thing Monday Morning. Decide on a variety of breakfast, lunch, dinner, and snack options. Having a plan in place will save you from last-minute meal scrambles and ensure a balanced diet for your child.
Read more: 48 Favorite Toddler Meal Ideas or 5-Minute Toddler Lunch Ideas (Quick & Easy Lunches)
Invest in Storage Containers: Invest in a collection of high-quality storage containers in various sizes. These containers are your best friends when it comes to storing prepped meals, snacks, and ingredients. We use a set like this on Amazon!
Batch Cooking: Batch cooking can save you a ton of time during the week. Cook larger quantities of toddler-friendly dishes like pasta, rice, and proteins. You can do this all in one day or just make extra portions whenever you prep meals. You can portion them into containers and refrigerate or freeze them for later use.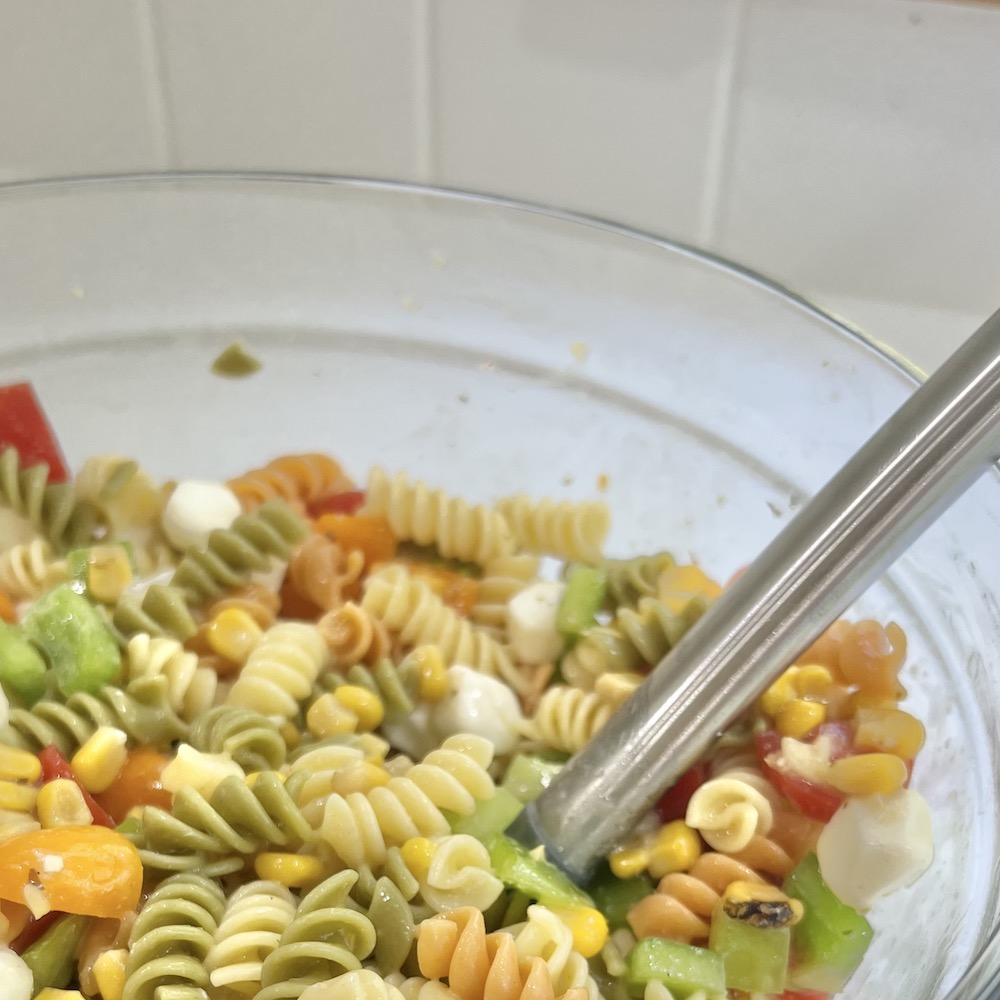 Recipe: Kid-Friendly Pasta Salad
Pre-cut and Prep Ingredients: Spend some time each week pre-cutting and prepping ingredients like fruits, vegetables, and proteins. I like to start by washing and chopping all our fruits and veggies on Monday when I get back from grocery pick-up. You can also pour out snacks into individual serving size bags for grab-and-go options.
Freeze Toddler-Approved Portions: Freeze toddler-sized portions of meals and snacks. This is especially useful for homemade baby food or toddler-friendly soups, pasta's or protein. Just thaw and reheat when needed, saving you cooking time.
Make Lunches ahead of Time: One of my biggest time savers (and sanity savers) is to make lunches ahead of time. Make lunch while you are making breakfast, or while your kids are busy eating breakfast. Or if you need to pack lunch boxes, do this the night before! Mom tip: you can prepare your kids lunchboxes even if you are a stay-at-home-mom!
Shop my favorite lunchbox finds here: Lunchbox Favs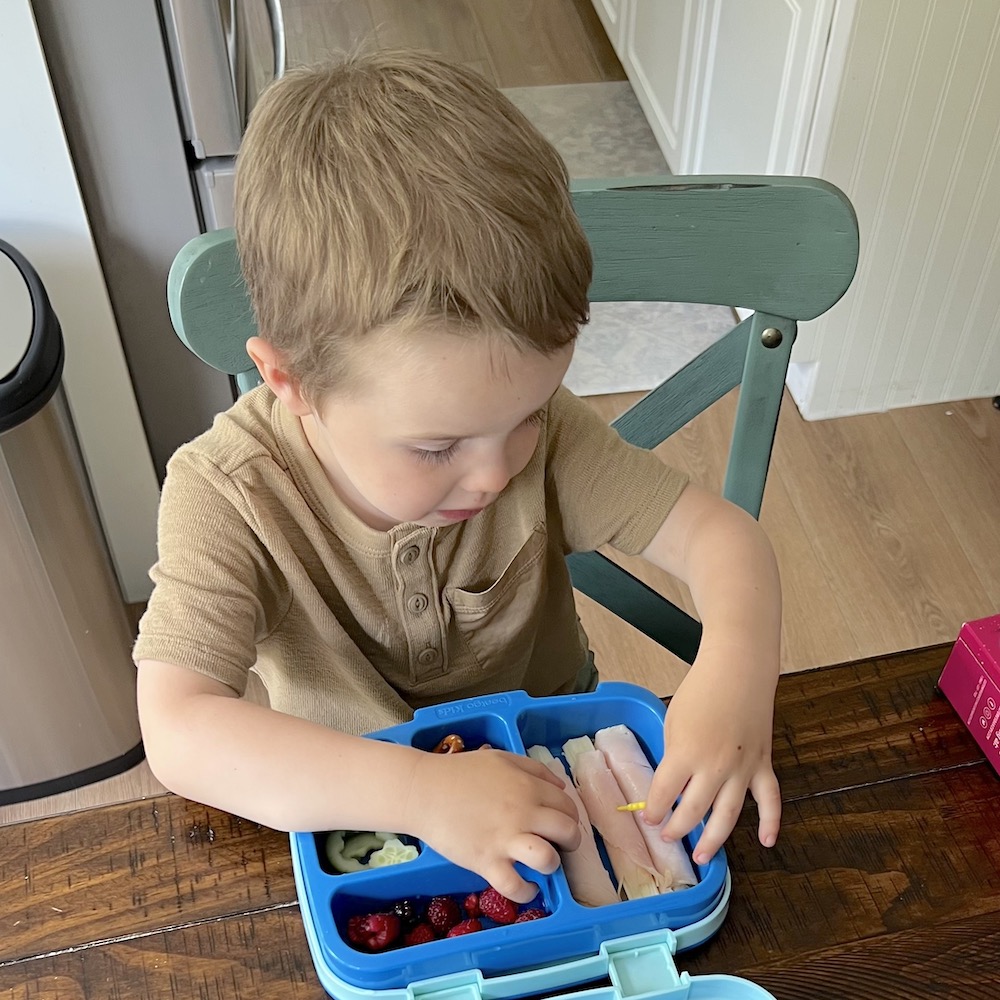 Read More: Fun School Lunch Idea: Bento Box Pizza , 18 Lunch Ideas for Preschoolers & Little Kids
Use the Slow Cooker or Instant Pot: These kitchen appliances can be a lifesaver for busy parents. You can prepare nutritious soups, pastas, and one-pot meals quickly and easily! Set it and forget it until mealtime!
Opt for Make-Ahead Snacks: Prepare a batch of toddler-approved snacks like energy bites, muffins, or homemade granola bars. Store them in the pantry for quick and healthy snack options. We highly recommend this pouch filling station (shown below) to make grab and go yogurt, smoothie, or puree pouches!
Read more: 50 Toddler Snack Tray Ideas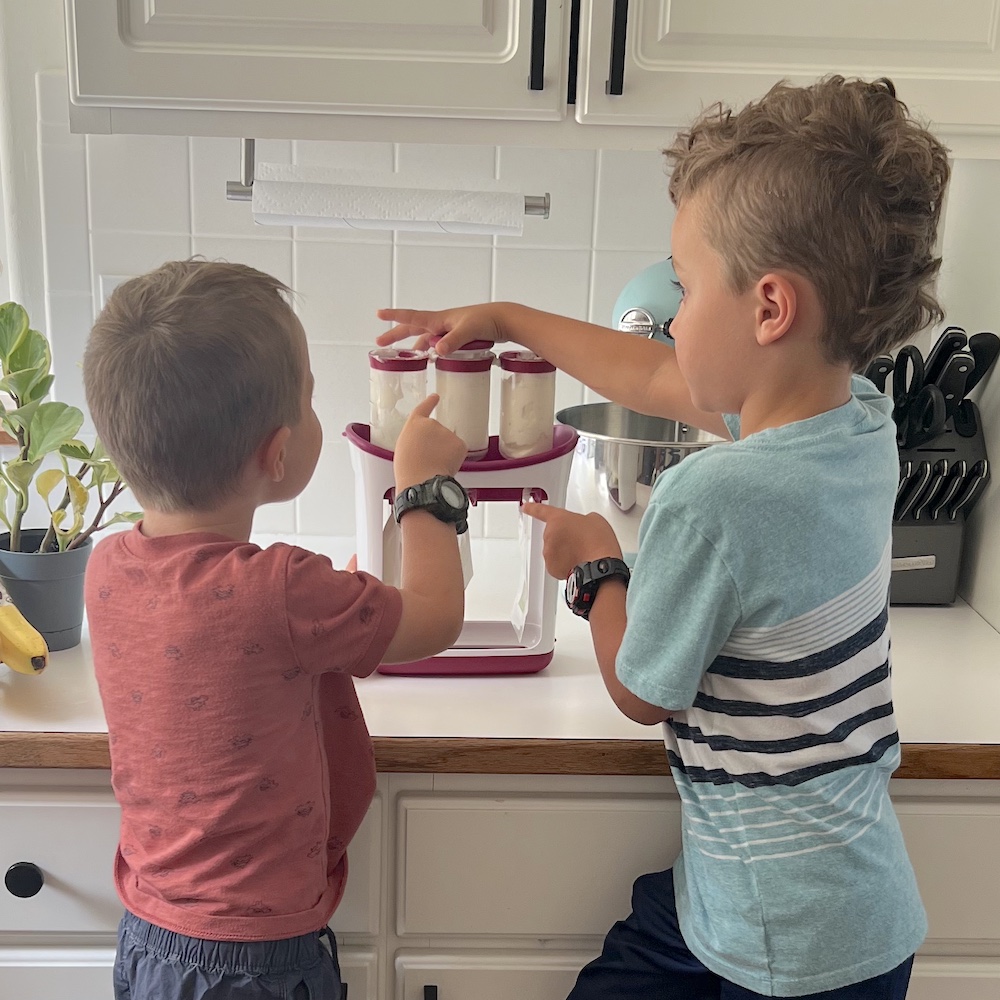 Involve Your Toddler: If your child is old enough, involve them in the meal prep process. Simple tasks like washing vegetables or stirring ingredients can be a fun and educational experience for them.
Organize Your Kitchen: Keep your kitchen well-organized. Arrange your pantry and fridge so that toddler-friendly foods and ingredients are easily accessible. This will save you time and reduce mealtime stress.
Set Realistic Expectations: Understand that not every meal has to be a gourmet masterpiece. Toddlers can be picky eaters, so don't stress if they don't finish every bite. Focus on providing a variety of healthy options.
Toddler meal prep doesn't have to be a daunting task for busy parents!
With a little planning and some time-saving strategies, you can ensure that your child gets nutritious meals without sacrificing your sanity.
By creating a meal plan, investing in the right tools, and involving your toddler, you'll be well on your way to stress-free mealtimes and happier, healthier kids.
Remember, a well-prepared meal is not just about saving time but also about creating precious moments with your little one. Happy meal prepping!
Don't forget to follow along with us on Instagram for even more meal ideas!
You might also like these recent related posts: