Posts may contain affiliate links. Please see Disclaimer and Disclosure page for more details.


Here you will find a list of 48 easy and healthy toddler meal ideas based on my toddlers' favorite toddler meals! Favorite toddler meal ideas like turkey and cheese pinwheels, cucumber sandwiches, and kid-friendly pasta salad.
Wondering what to make your toddler for dinner? Looking for easy toddler breakfast, lunch , or dinner ideas? This post can help!
I'm a real mom of three sharing my toddlers' favorite meal ideas over the years. Toddler meals don't have to be difficult! It can be intimidating, but for the most part I tend to make my toddlers modified versions of what we have. Bookmark this ultimate list of toddler meal ideas and use it as inspiration for your own toddler meal ideas.
You might also like these related posts:
Favorite Toddler Plates
Here are some of our favorite toddler plates for making meal time just a little bit easier and more fun!
Toddler Bento Lunch Box – great for toddlers who go to daycare, preschool, lunch on-the-go or just a fun way to serve lunch at home (this is what we normally do!).
WeeSprout Silicone Plates – our favorite go-to round silicone plate! I love that silicone plates hold up so much better than plastic and they are non-toxic.
EZPZ Divided Plate – a super fun divided plate that makes meal time so much more fun! This is one of my kid's favorite. We have 3 of them and they have held up so great over the years! Use EZPZ25LOVE for 25% off $75+
Easy Toddler Meal Ideas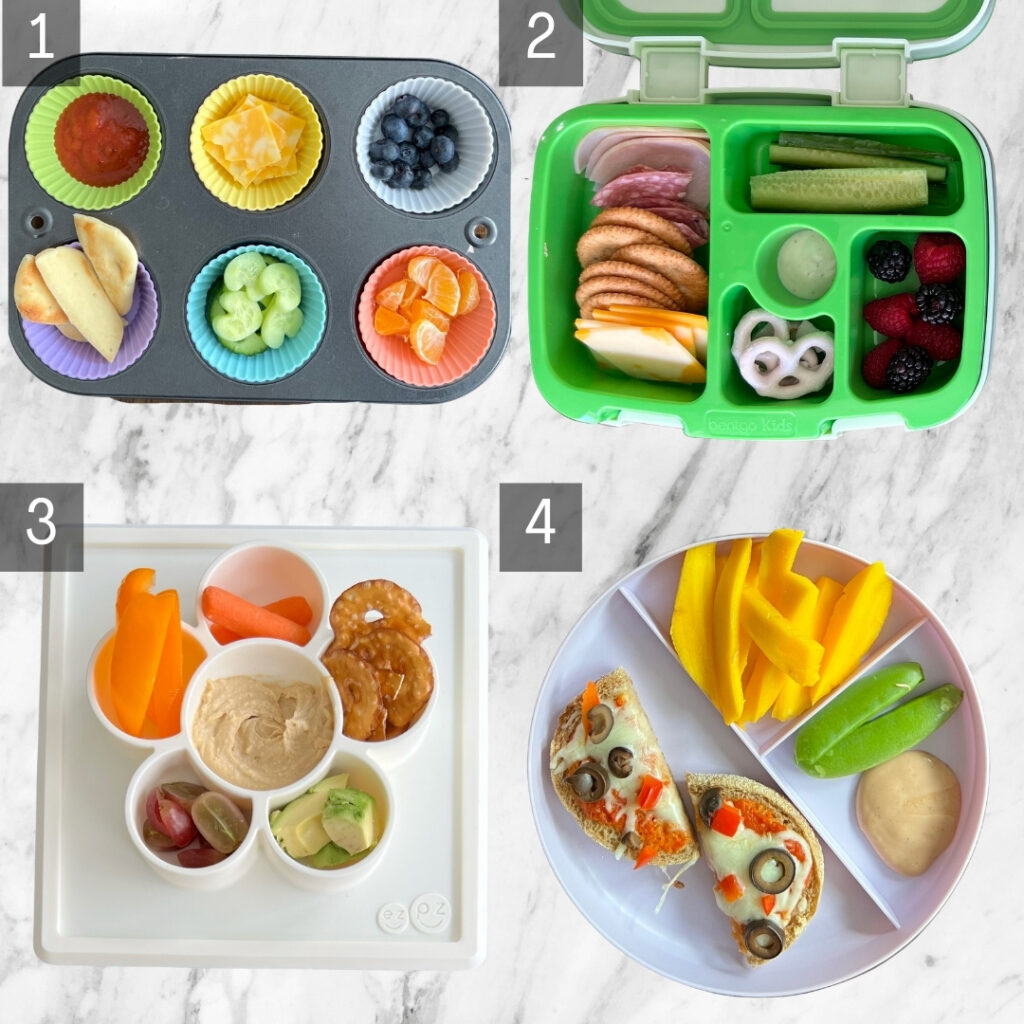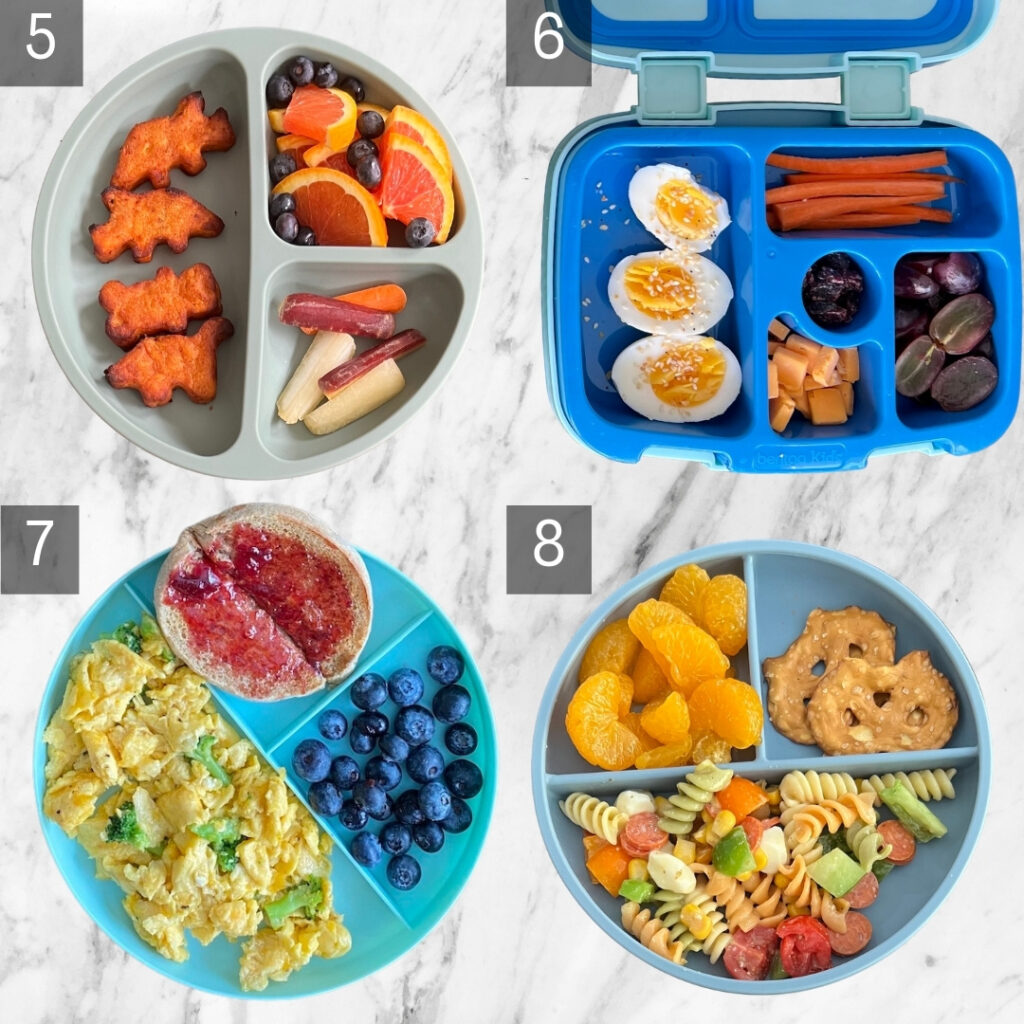 Dr. Praeger's Sweet Potato Littles – sweet potato littles with sides of oranges, blueberries, and rainbow carrots.
Hard Boiled Eggs – hard boiled eggs with everything seasoning (or leave them plain), carrot sticks, grapes, cheddar cheese, and mini fruit snacks in a fun bento lunch box.
Broccoli and Cheese Scrambled Eggs – scrambled eggs made with broccoli for a little extra veggies, whole wheat English muffin with jelly, and blueberries.
Veggie Pasta Salad – I added mini pepperonis to my favorite kid-friendly recipe. Sides of pretzel crips and mandarin oranges.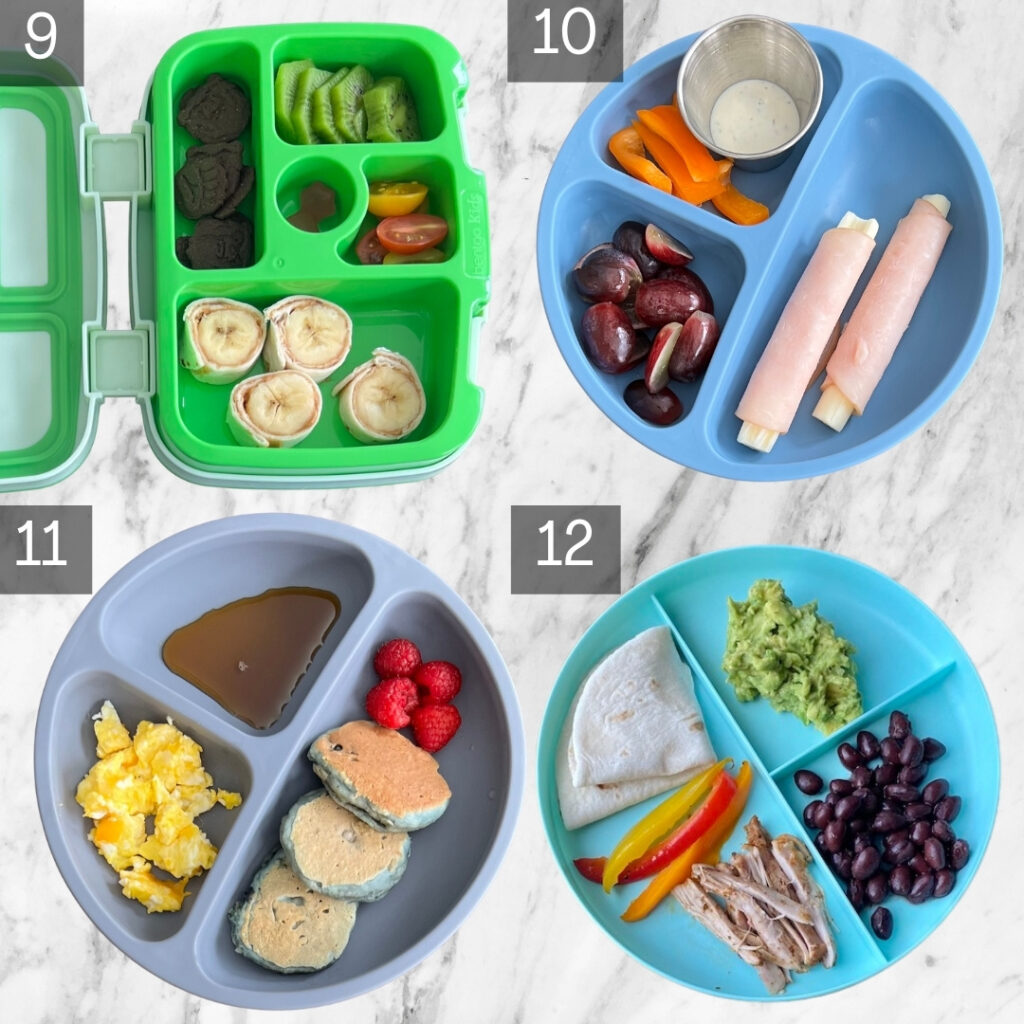 Banana Peanut Butter Sushi – spread peanut butter on a tortilla, lay a banana, roll up tightly, and then cut into slices of "sushi". Sides of kiwi, cherry tomatoes, chocolate bear cookies, and gummy vitamins in a fun bento lunch box.
Turkey Cheese Roll Ups – whole milk string cheese rolled up in sliced turkey, grapes, and bell peppers with ranch.
Blueberry Pancakes – this is our favorite sourdough recipe, but mostly any pancakes will do! Sides of maple syrup for dipping, raspberries, and scrambled eggs with cheese.
Deconstructed Chicken Fajitas – pulled seasoned chicken thighs, bell pepper, tortilla, black beans and avocado – encourage your toddler to build their own taco or let them eat it all deconstructed.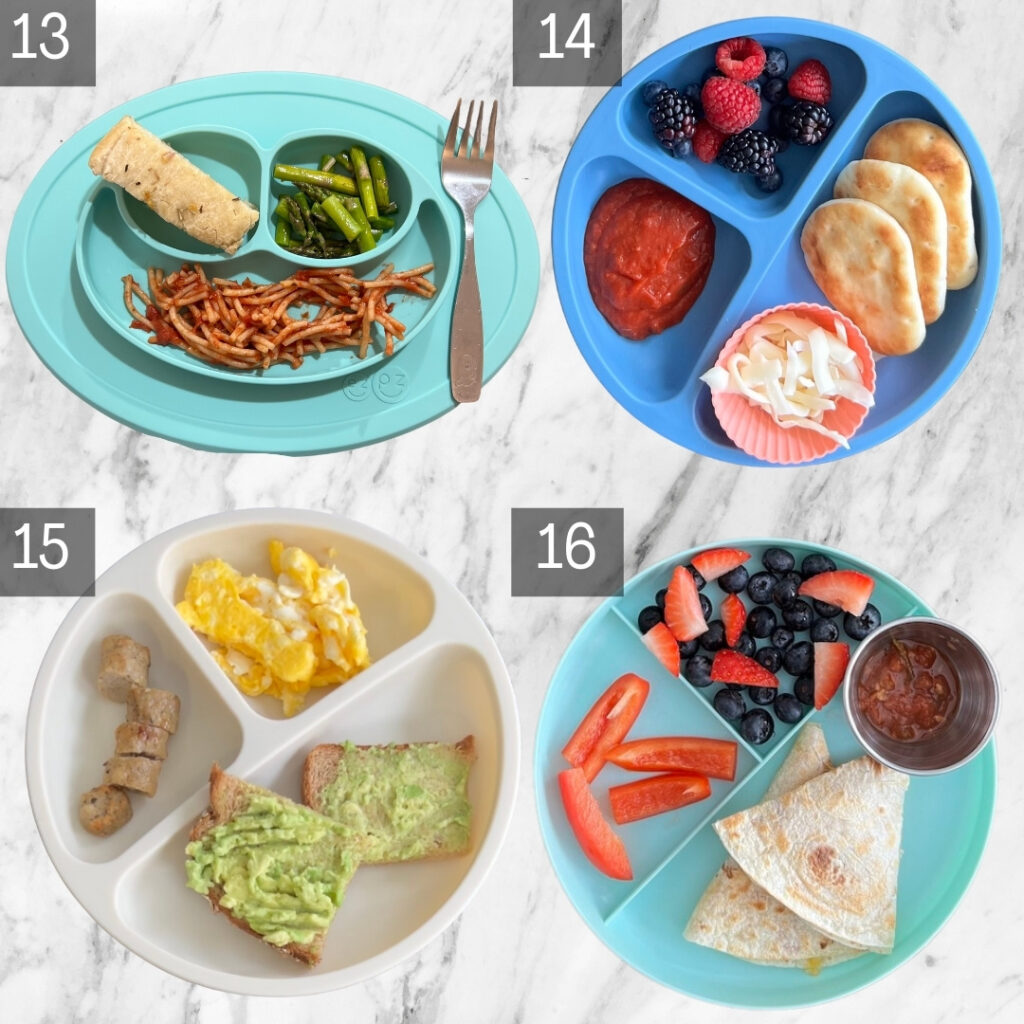 Spaghetti with Marinara – don't overlook this family favorite! Spaghetti with red sauce, asparagus, and focaccia.
DIY Mini Pizza – this is one of my toddlers' fun favorites! Mini naan as the base with red sauce, cheese (you can definitely add additional toppings too) and berries.
Avocado Toast – whole wheat toast with mashed avocado, scrambled eggs, and chicken breakfast sausage.
Cheese and Spinach Quesadilla – make a quesadilla but add some spinach for some added nutrients, side of salsa, bell pepper, blueberries, and strawberries.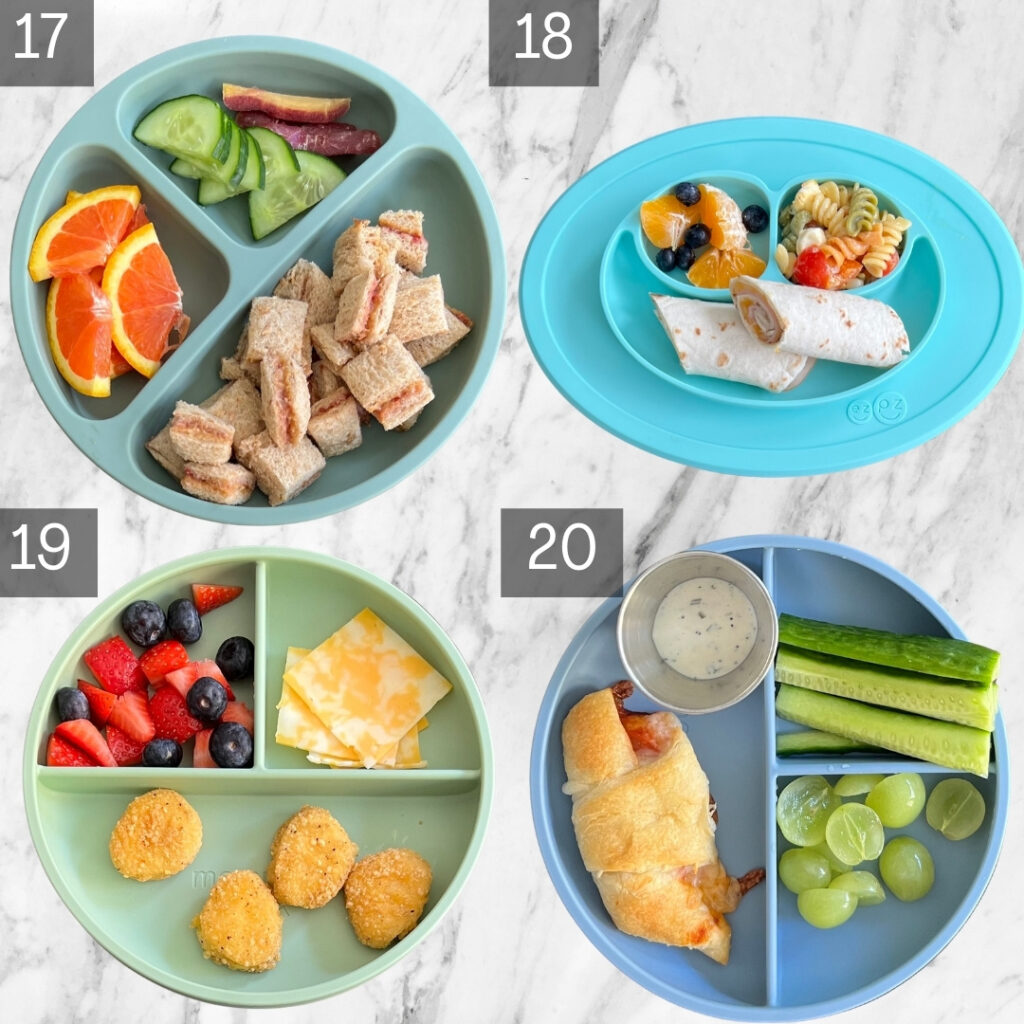 PB&J Bites – this is one of my favorite hacks for toddler pb&j; it can help make it easier to eat for young toddlers or toddlers who don't like sandwiches, and can also be a different form to serve it in if your toddler is picky and you are working on varying foods. Side of oranges, cucumber, and rainbow carrots.
Mini Turkey and Cheese Wrap – a small tortilla filled with melted cheese and turkey, sides of oranges, blueberries, and kid-friendly pasta salad.
Chicken Nuggets – most toddler's favorites and a great addition to your meal time rotation. These are our favorite, with sides of cheese, strawberries, and blueberries.
Pizza Crescent Roll – roll out a crescent roll and fill with pizza sauce and mozarella cheese, roll up and bake as directed until cooked through. Side of grapes, and cucumber with ranch.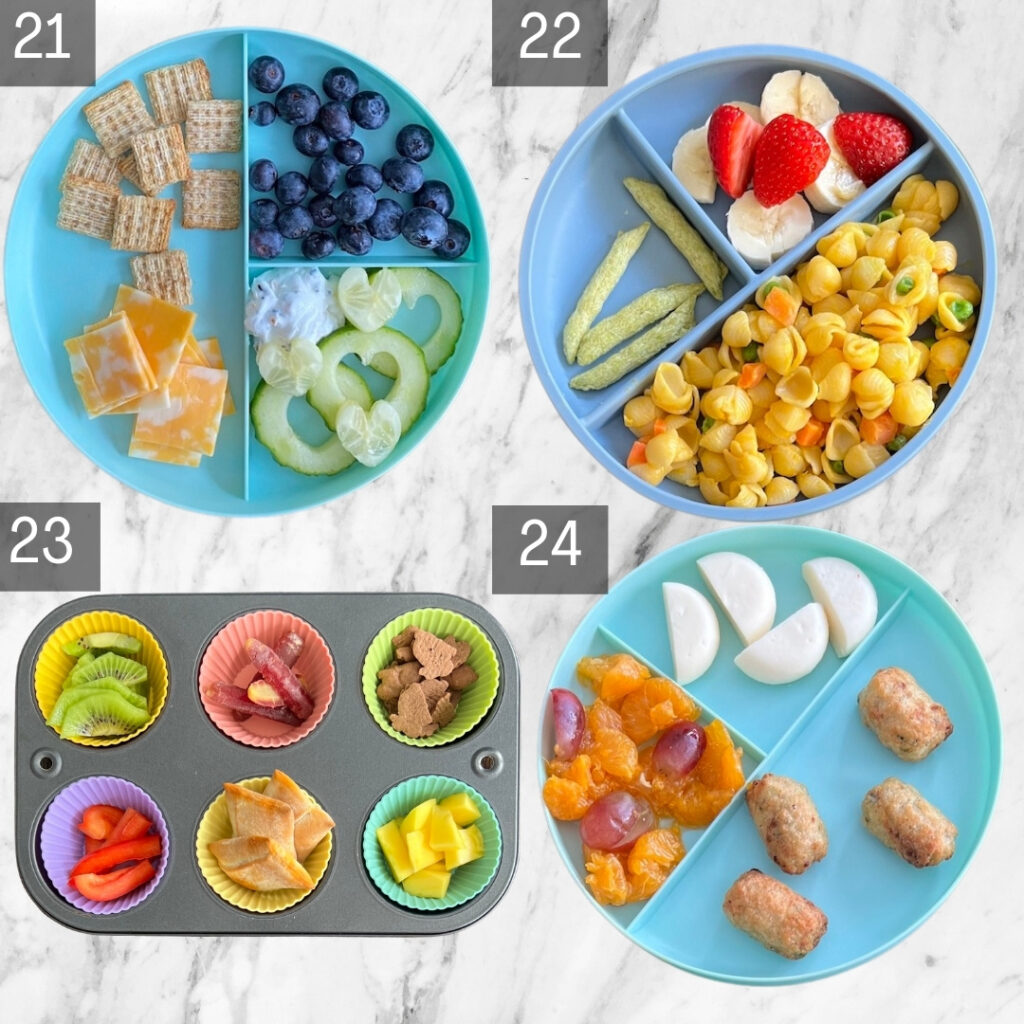 Mini Crackers and Cheese – mini crackers like these mini Triscuits, and cheese. Side of cucumbers with greek yogurt + everything seasoning, and blueberries.
Mac and Peas – I almost always make my kids' mac and cheese with added veggies, so we lovingly refer to it as "mac and peas". Side of strawberries, bananas, and dried snap peas.
Pita Chip Muffin Tin – muffin tins are a great way to make snack lunches for your toddlers (we love these fun silicone liners!). Pita chips, mango, chocolate bunnies, purple carrots, kiwi, and bell pepper.
Cauliflower tots – make your own (or we love these pre-made ones from Green Giant), side of mandarin oranges, grapes, and cheese.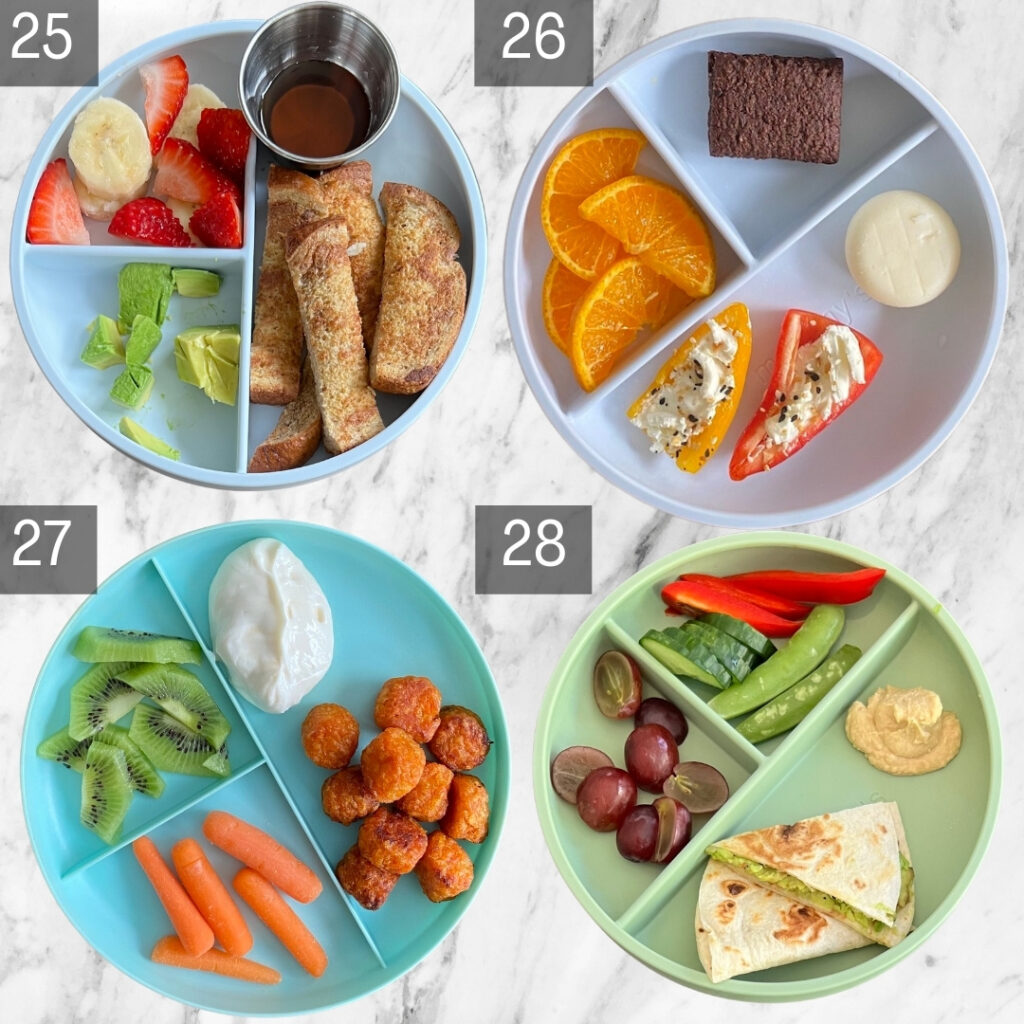 French Toast Sticks – French toast cut into strips so they are toddler-friendly and great for dipping! Side of maple syrup for dipping, strawberries, bananas, and avocado.
Stuffed Sweet Peppers – mini sweet peppers stuffed with cream cheese and topped with everything seasoning, sides of cheese, oranges, and a chocolate fig bar.
Sweet Potato Tots – another freezer favorites are these sweet potato puffs. Side of whole milk yogurt with honey for dipping, baby carrots, and kiwi.
Avocado Quesadilla – a crispy tortilla with avocado inside instead of cheese (great for dairy free kids or just to mix up the normal quesadilla). Sides of veggies and hummus for dipping and grapes.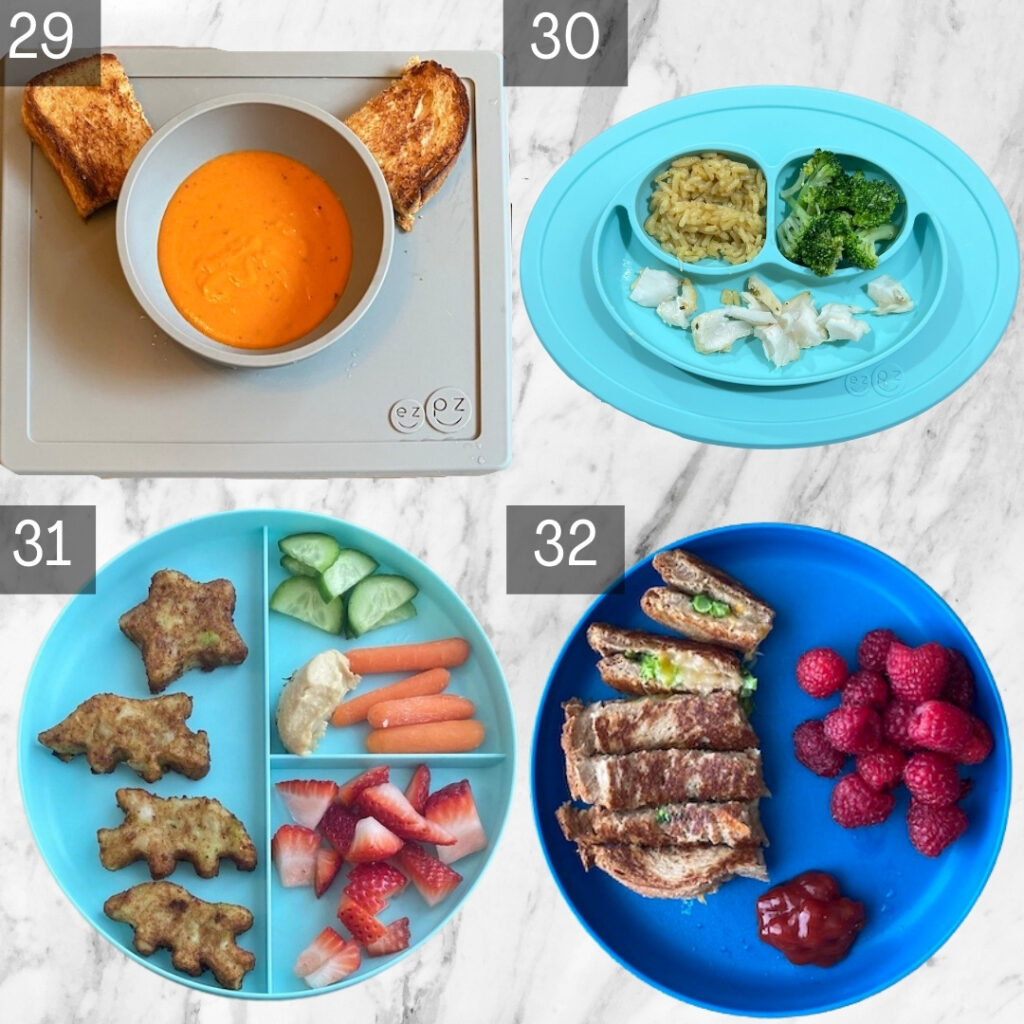 Tomato Soup with Grilled Cheese – a kid favorite! Creamy tomato soup with grilled cheese for dipping (a great use of the Happy Bowl).
White Fish – fish is a great option for toddlers because its tender, easy to eat, and a great source of omega-3s. Side of rice and broccoli.
Dr. Praeger's Broccoli Littles – another freezer favorite and great for a quick meal idea. Sides of strawberries, carrots and cucumbers with hummus.
Broccoli Grilled Cheese – grilled cheese stuffed with cheese and diced broccoli. Sides of ketchup for dipping, and raspberries.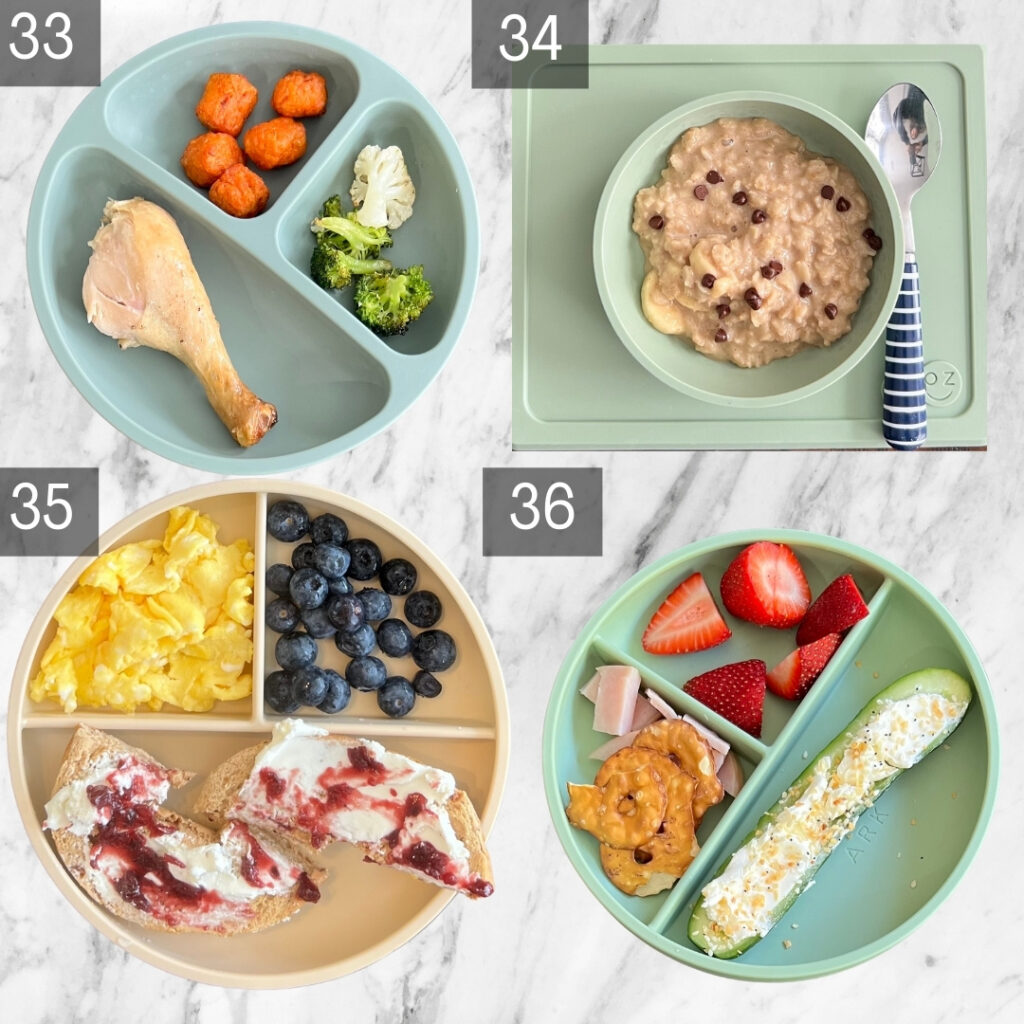 Drumstick – drumsticks are a great way for toddlers to eat meat because they are so tender. Side of sweet potato tots and broccoli.
PB Banana Oatmeal – one of my kids' favorite oatmeal recipes! Make plain oats and then stir in milk, peanut butter, banana, and honey (optional: top with a few mini chocolate chips).
Bagel with Cream Cheese & Jelly – a bagel lightly toasted and then topped with cream cheese and jelly (mini bagels are also a great option for toddlers). Side of eggs and blueberries.
Mini Cucumber Cream Cheese Boat – mini cucumber with the seeds scooped out and filled with cream cheese and everything seasoning. Side of pretzel crisps, turkey, and strawberries.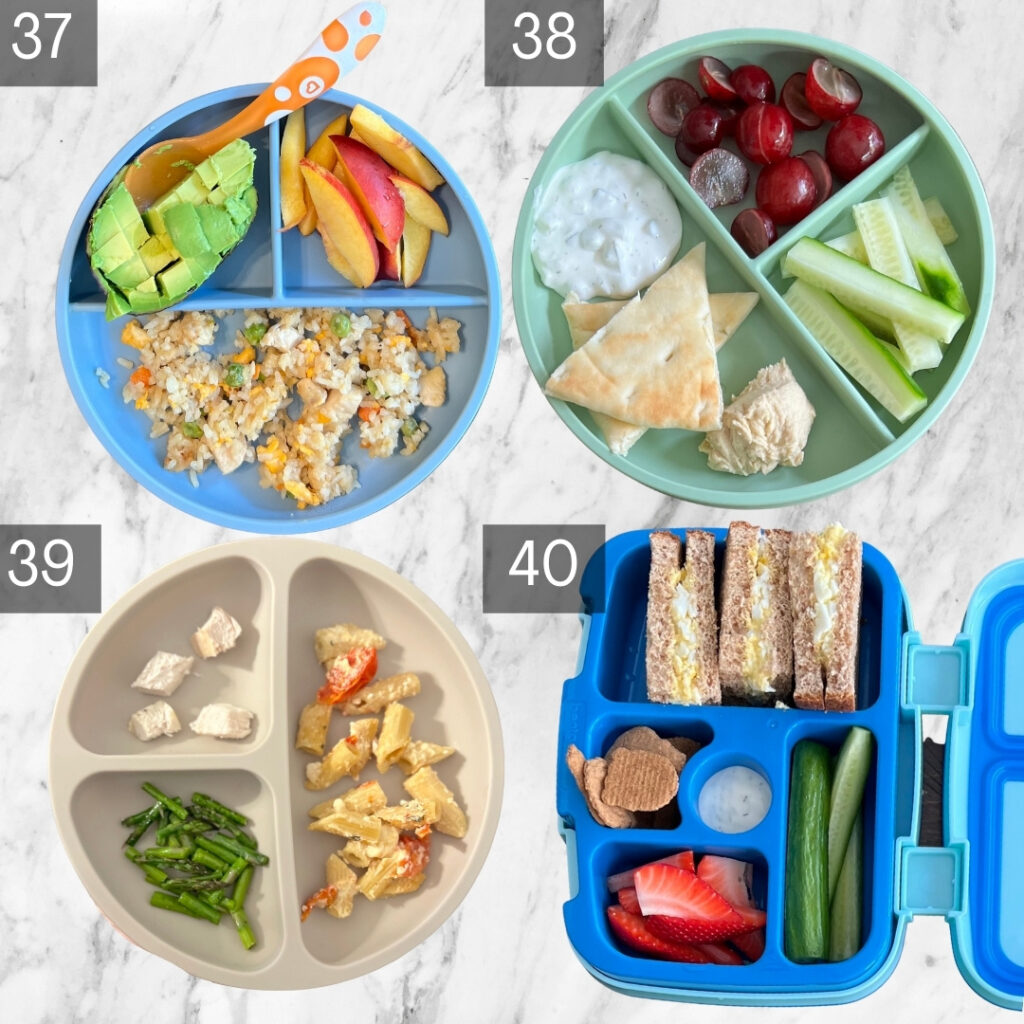 Chicken Fried Rice – chicken, fried rice, and veggies, with sides of avocado and sliced peaches.
Greek Pita Plate – pita bread with hummus and tatzitki for dipping, sides of cucumbers and grapes.
Baked Feta Pasta – pasta is another family favorite and great for toddlers (like this recipe), sides of asparagus and chicken.
Egg Salad Sandwich – my favorite toddler-friendly egg salad made into a sandwich! Sides of cucumbers with ranch for dipping, strawberries, and cinnamon bear cookies in a fun bento lunch box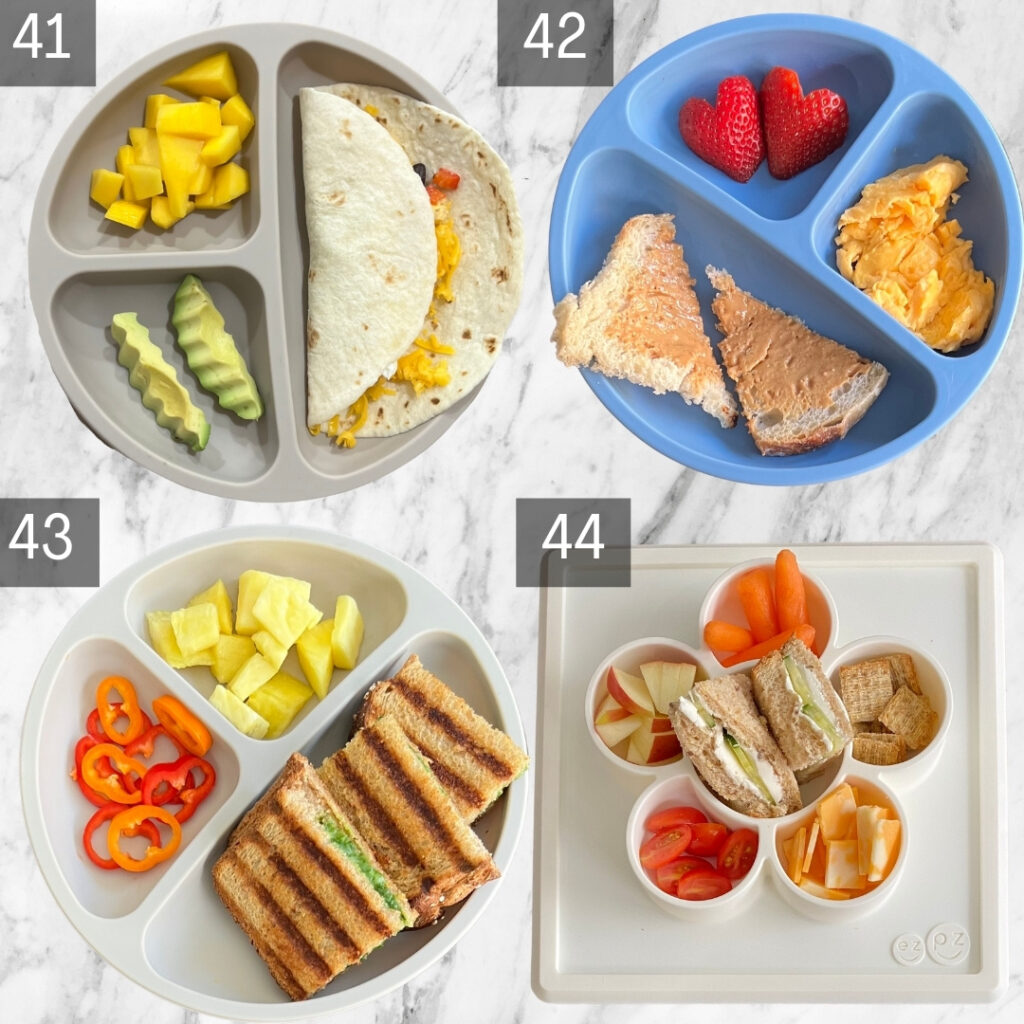 Breakfast Egg Taco – breakfast taco filled with scrambled eggs, cheese, bell pepper, and black beans. Sides of avocado and mango.
Peanut Butter Toast – sourdough or whole wheat toast with peanut butter. Sides of strawberries, and scrambled eggs.
Spinach Grilled Cheese – pureed spinach mixed with mozarella cheese for a nutrient packed grilled cheese! Sides of pineapple and mini sweet peppers.
Cucumber Sandwich – mini sandwich with cream cheese and cucumber. Sides of mini crackers, cheese, cherry tomatoes, apples, and carrots in a fun divided plate.
Turkey & Cheese Pinwheels – turkey, and cheese melted on a tortilla, then rolled up and cut into slices or "pinwheels". Sides of cherry tomatoes, and blueberries.
Annie's Os – pasta Os with red sauce and sides of sauteed apples and cucumbers with ranch for dipping.
Mini Breakfast Burritos – the cutest mini breakfast burritos that are perfectly toddler size! Mini burritos stuffed with eggs, cheese, sweet potato, and avocado with extra diced sweet potato and avocado on the side.
Avocado Toast – toast topped with avocado and a fried egg cut into strips.
You might also like these recent related posts: