Posts may contain affiliate links. Please see Disclaimer and Disclosure page for more details.


A simple and naturally sweet recipe for strawberry banana french toast sticks great for toddlers or for baby-led weaning.
French toast is decadent and delicious, but can be a little bland if you don't have syrup, honey, or sweetener to dip it in. This recipe is great for toddlers and babies because its naturally sweetened with fruit so your child won't need any extra sugar added. This French toast is so tasty and sweet, they won't miss the syrup one bit!
Toddler Breakfast Supplies
Your toddler doesn't need any special meal supplies, but especially if your toddler is picky or struggling with sitting still and eating well at meal time, having the right supplies can help! Here are some of our favorites:
Pillowfort Plates: all of the plates in our pictures are the pillowfort brand. They are cute, affordable, and durable and have lasted more than two years so far (what more could a girl want!).
Annova Toddler Silverware: we got these for Christmas last year and they have been a huge hit! I love that they are actual stainless steel silverware, but they are toddler sized! My toddlers love that they get to be 'big kids' and use metal utensils. Win-win!
Strawberry Banana French Toast Ingredients
This recipe has 5 simple ingredients:
1 ripe banana
2-3 strawberries
2 eggs
1/4 tsp cinnamon
3-4 slices of bread
You will also need the following cooking supplies:
1-2 Tbsp cooking oil (I use unrefined coconut oil)
1 small mixing bowl
A medium-large skillet (I prefer a cast iron skillet)
Tongs
Directions for Strawberry Banana French Toast Sticks
Mix: Mash ripe banana in a small mixing bowl. Dice strawberries and stir in with banana. Whisk in eggs and cinnamon.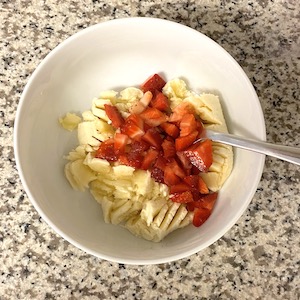 Cut: Cut up your bread into 1 inch strips. I cut them width wise so that they where not too long and wide-enough to make it easy for young toddlers to grab.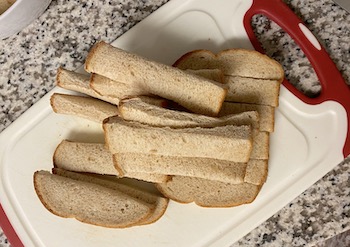 Prepare: Heat your greased pan on the stove top over medium heat. I recommend about 1 Tbsp of coconut oil and you can add more as you cook the batches of French toast sticks.
Dunk: Dunk each strip of bread into your egg mixture making sure to coat all sides. Use a fork or tongs to transfer each strip onto your greased pan.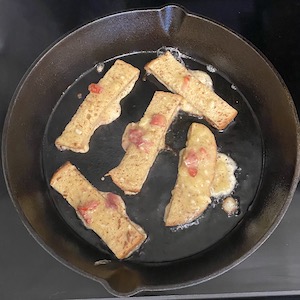 Cook: cook french toast strips about 2 minutes on first side then flip using your tongs. Cook on each remaining side for about 1 minute each side until set.
Plate: remove to a plate and cool for a few minutes before serving to your toddler.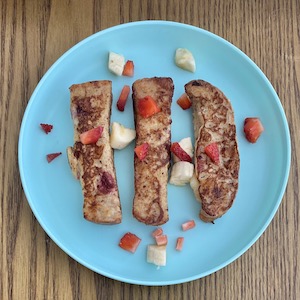 Optional: serve with more strawberries and bananas as garnish or on the side.
Let me know in the comments if your toddler would love this recipe or if you have already tried it!
Thanks for stopping by! You might also like these related posts: