Posts may contain affiliate links. Please see Disclaimer and Disclosure page for more details.


16 fun, quick, and easy toddler breakfast ideas for 2 year olds. Ideas like raspberry French toast, broccoli eggs and cheese, and stuffed French toast roll ups.
What can I make my 2 year old for breakfast? What is a good breakfast for a toddler? What are easy breakfast ideas for 2 year old toddlers?
Below are easy toddler breakfast ideas based on what my 2 year old has been eating this month. I'm a busy mom of two so all of these meals are quick and easy to make, and some of them are a little fun to keep my toddler interested in eating breakfast.
You might also like these related posts:
Favorite Feeding Supplies
Meal time can be a little less stressful if you have the right feeding supplies! These are some of our favorites:
Toddler Food Cutters: these have been such a great addition to meal time! This set comes with some large food cutters that are great for sandwiches or eggs, and smaller ones that are great for fruits, veggies, and cheese. My toddler loves when I use these to cut his avocado!
Pillowfort Plates: these are our go-to plates that you will see pictured below. They are extremely durable and have held up for more than a year in the dishwasher and microwave. They also have bowls that we use and love as well.
Dinneractive Utensil Set: these are great for picky eaters or for those days when your toddler is a struggle to get to eat. They make meal time a little more fun and are also a good shape and size for little hands and mouths.
If you want to check out some more ideas for toddler feeding supplies, check out this post: 2 Year Old Feeding Supplies
Easy Toddler Breakfast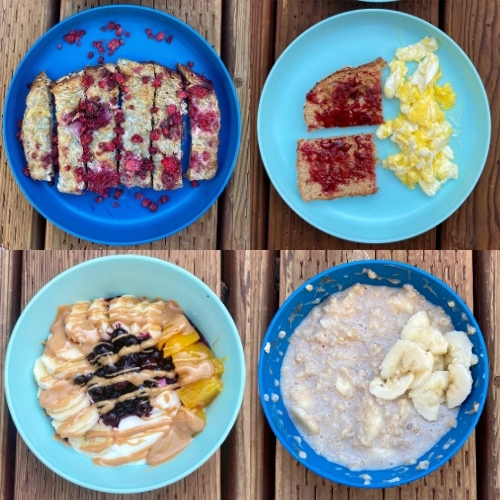 Raspberry French Toast – extremely easy to make and a favorite for both my baby and toddler. Make like normal French toast, but add in raspberries to the egg before cooking. Whisk 2 eggs and about 1/3 cup of raspberries in a medium bowl. Dunk break and cook on a greased griddle until set on each side. We love using Dave's Killer Bread in our French toast!
Scrambled Eggs with Toast – eggs scrambled and cooked in grass-fed butter. Side of Dave's Killer Bread toast topped with jelly. This is a quick and simple meal but packed with protein and added fat from the butter.
Banana Yogurt Bowl – whole milk yogurt topped with banana, blueberries, peaches, and drizzled with peanut butter. This is one of our favorite make-shift meals if we need to use up some food in the fridge.
Banana Oatmeal – forget those pre-made packets of oatmeal that can be loaded with sugar, its super easy to make your own flavored oatmeal! I normally combine 1/3 cup of oats with water (enough to cover the oats) and microwave for 1 minute. Here I stirred in a chopped banana, 1 Tbsp peanut butter, 1 Tsp honey, and a splash of milk. You can check out more of my toddler's favorite oatmeal recipes here: 8 Easy Toddler Oatmeal Recipes
Broccoli and Cheese Eggs – scrambled eggs made with broccoli and cheese mixed in. I like to cook scrambled eggs in grass-fed butter for a little extra healthy fat. Side of avocado and grapes.
Pumpkin Muffin with Cream Cheese – its finally starting to cool down and we were craving pumpkin muffins for breakfast! This is a store bought muffin, but its also easy to whip up a batch yourself in any flavor. I topped with cream cheese for extra calories and served with a side of sliced plum.
Cinnamon Rain Toast – cinnamon raisin toast topped with cream cheese (butter or peanut butter is another good spread option). Side of whole milk yogurt and grapes.
Applesauce Oat Muffins – we tried this recipe from Tastes Better From Scratch and my toddler loved them! Served with a side of diced avocado and grapes.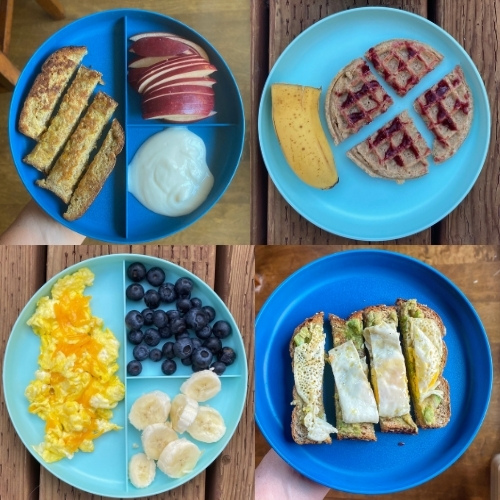 French Toast with Yogurt Dipping Sauce – French toast made a little fun by cutting it into strips and served with yogurt for dipping. My toddler loves maple syrup, but sometimes I can get away with serving a healthier dipping sauce like whole milk yogurt. Side of thinly sliced apple.
Waffle with Jelly – a frozen waffle is one of our go-to's for easy morning breakfasts. We like to choose whole grain frozen waffles or you can easily make your own and freeze them for busy mornings. Waffle is topped with jelly and a side of banana.
Scrambled Cheesy Eggs – I admittedly went a little heavy on the cheese, but my toddler didn't mind! Scrambled eggs cooked in grass-fed butter with cheese stirred in. Side of banana and blueberries.
Avocado Toast with Egg – two years old is a great time to introduce foods served in unique or different ways. Its a great way to try to make normal meals more fun and less boring and can also expose your toddler to eating more "adult-like" food. I made avocado toast and topped with an over-medium fried egg, and then cut into strips so it was a little easier to eat.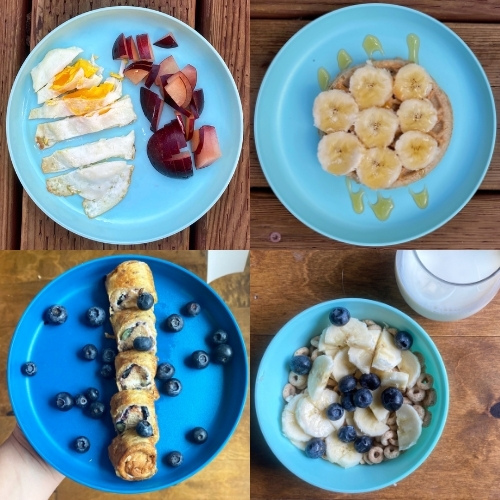 Fried Egg – my toddler wasn't interested in anything but scrambled eggs until recently. I just started serving him fried eggs and he loves to eat them! I fried this egg in grass-fed butter for extra healthy fat and then cut into strips for him to eat. Side of diced plum.
Honey & Banana Waffle – another way to make breakfast a little more fun is to serve sides as toppings! Instead of banana slices on the side, add banana slices on top of a waffle and then top with a drizzle of honey. This one would also be good with peanut butter on top of the waffle.
Stuffed French Toast Roll Up – roll out a slice of bread using a heavy glass or rolling pin, spread with cream cheese, sprinkle with chopped blueberries, tightly roll up, and dunk into whisked egg make sure that all sides are coated. Cook in a greased pan, rotating until all sides are cooked. Slice into pinwheels and serve with extra blueberries on top!
Cereal with Blueberries and Banana – cold cereal can be quick, easy, and fun when topped with fruit. I've started to let my toddler pour the milk and because of that this is one of his new favorite breakfasts!
Thanks for stopping by! You might also like these related posts: