Posts may contain affiliate links. Please see Disclaimer and Disclosure page for more details.


A list with 7 easy and awesome 2 year old lunch ideas for the week that your toddler is bound to love. A week of easy lunch ideas that my toddler actually eats!
If you are looking for toddler lunch inspiration you have come to the right place! Meal time doesn't have to be difficult or challenging. Add these lunch ideas to your shopping list and be prepared with these 7 simple toddler meal ideas.
You might also like these related posts:
Toddler Meal Time Supplies
No special meal time supplies are needed for serving your toddler lunch, but having the right gear can make meal time a little more enjoyable for all. Here are some of our favorites: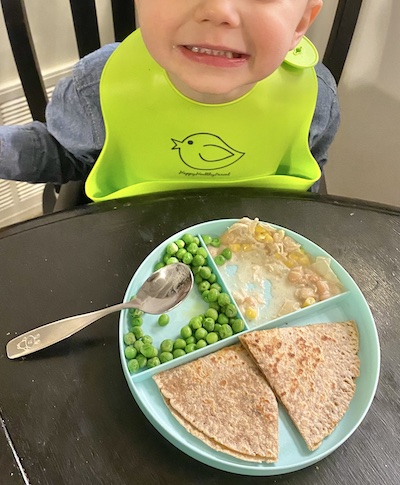 Pillowfort Toddler Plates: almost all of our meals are served on these Pillowfort Plates from Target. They are affordable, cute, and have held up great after almost 2 years of use!
Annova Toddler Silverware: we love this toddler-sized silverware set from Annova. It's great for toddlers who have moved past plastic silverwear. We use them at every meal!
Silicone Bib: a silicone bib is a must at meal time to keep your toddler and your floor clean! We love these bibs from Happy Healthy Parent; they are thicker than many other silicone bibs we have tried and lay flat instead of kinking up. (Use code JC20 for 20% off!)
---
Toddler Lunch Idea #1: Snack Plate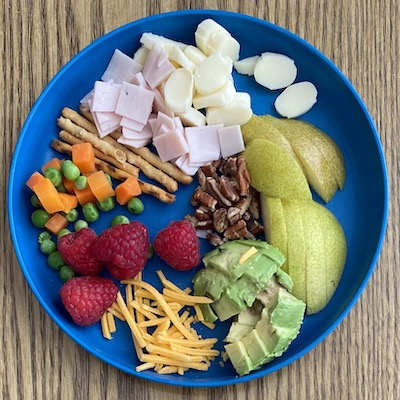 Toddler Snack Plate: make a snack plate using small portions of your toddler's favorite healthy snacks and sides. This week my toddler had: turkey, string cheese, pear, avocado, shredded cheddar cheese, raspberries, veggies, butternut squash pretzels, and chopped pecans.
A snack plate can also be a good place to try serving your toddler a new food. Serve a small portion along side other safe foods that they like. Don't pressure them to eat it and let them explore and bring the food to their mouth on their own time.
---
Toddler Lunch Idea#2: PB&J Banana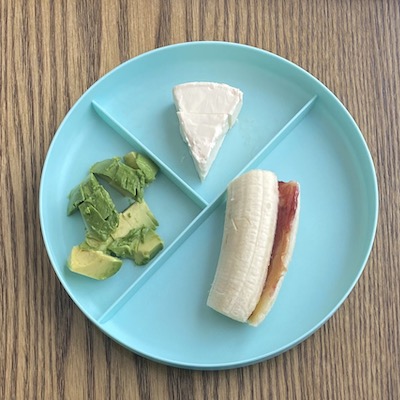 PB&J Banana: a play on a normal pb&j, this "sandwich" is made using a banana. Slice a banana long ways and spread one side with peanut butter and the other with jelly and then put together like a sandwich. For younger toddlers you can cut into slices and serve with a fork. Side of avocado and laughing cow cheese.
---
Toddler Lunch #3: Broccoli Grilled Cheese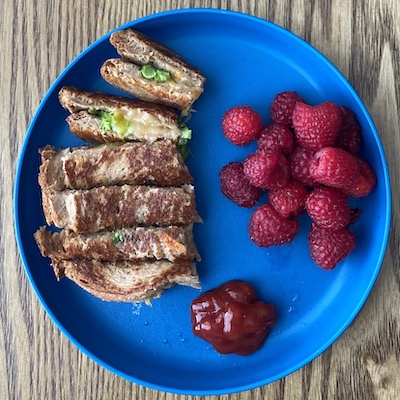 Broccoli Grilled Cheese: Grilled cheese made with chopped broccoli inside. A little ketchup for dipping and raspberries on the side.
Adding veggies to normal "toddler foods" is one of my favorite ways to add in extra nutrients in my boys' diets. I almost always throw veggies into mac & cheese, scrambled eggs, quesadillas, and now recently grilled cheese. They barely know the difference and I actually think they prefer them with veggies now.
If this is new to your toddler start with a small amount. Have them choose the veggies (peas, carrots, or broccoli are good starts) and put them in themselves so they can be a part of making the meal.
---
Toddler Meal #4: Green Chicken Salad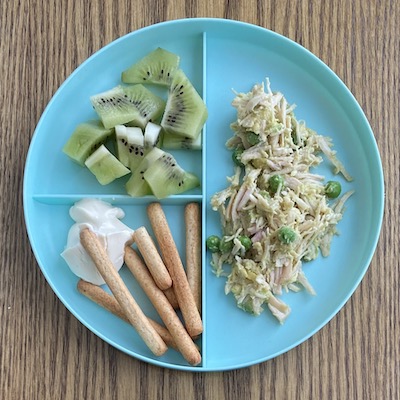 Green Chicken Salad: instead of using mayo in your chicken salad, try making it more nutritious and toddler-friendly by mixing in an avocado. I also stir in veggies like peas or cucumber for a little pop or crunch. Side of kiwi and laughing cow cheese dippers.
---
Toddler Lunch Idea #5: Spinach Egg Frittatas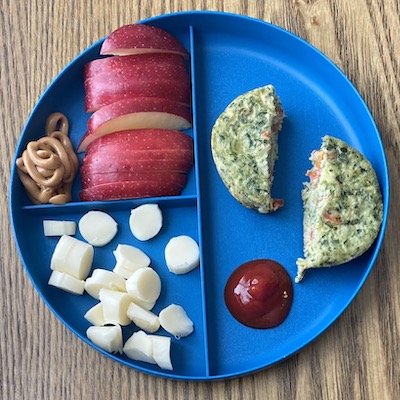 Spinach Egg Frittatas: egg muffins are so easy to make on your own, but if you're like me and want an even easier option try these frozen veggie muffins from Veggies Made Great. Side of ketchup for dipping, string cheese, an thinly sliced applies with peanut butter.
---
Toddler Meal Idea #6: Turkey & Cheese Pinwheels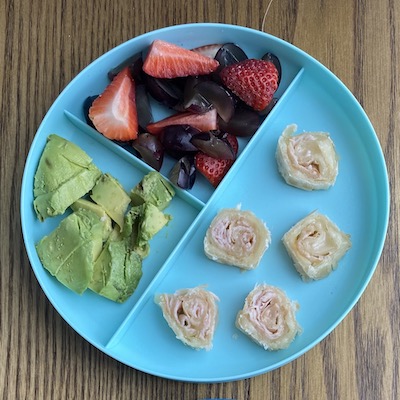 Turkey & Cheese Pinwheels: to make pinwheels, lay out a tortilla and spread with cheese, microwave or heat on the stovetop until the cheese is melted, add turkey, roll up tightly and cut into slices or 'pinwheels'. Side of avocado, strawberries, and grapes. (We LOVE this OXO Grape Cutter to quickly and easily cut grapes for toddlers)
---
Toddler Lunch Idea #7: Cheese Crisp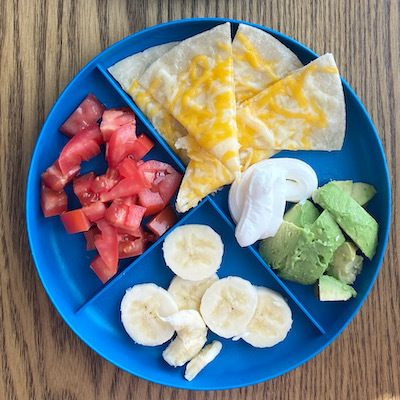 Toddler Cheese Crisp: if your toddler is used to eating quesadillas, try an open faced cheese crisp (or vice-versa). I like to serve hearty sides like avocado and sour cream for dipping. Also side of banana and tomatoes.
Thanks for stopping by! You might also like these related posts: