Posts may contain affiliate links. Please see Disclaimer and Disclosure page for more details.


A list of 12 quick and easy 5-minute toddler lunch ideas. Our favorite healthy and nutritious toddler lunch ideas that you can make in 5-minutes or less.
We've all been there! Your toddler is screaming for lunch, but you just stepped into the kitchen and don't have anything prepared. You may be tempted just to give snacks for lunch or want to run out and get take-out.
Snacks aren't very filling and takeout can be expensive. If you are looking for other quick and easy toddler lunch options, I'm here to help! I'm a mom of two boys 16 months apart and feel like I don't have much time to make their meals. As parents we are busy (its part of the job description).
I'm sharing a list of our favorite quick and easy 5-minute toddler lunch ideas. Most of these are no-cook or quick cooking options that are made with simple, but nutritious foods.
You may also like these related posts:
Tips for Quick Lunch Prep
I love making meal time prep as quick and streamline as possible. I know some parents love making all their meals from scratch, but for me that's just not reasonable (maybe one day). In the meantime, here are some of my tips for making a 5-minute toddler lunch:
Use frozen food: frozen veggies are your best friend, read labels and find options for the main course that are healthy and nutritious, also don't buy anything that takes too long to cook
Use left-overs: if we don't have left overs of the main course we often have left over veggies that I like to save and use for lunch throughout the week
Choose easy healthy sides: like fresh fruit, cheese, or avocado
Favorite Feeding Supplies
PS, before we get to the food I want to share my favorite toddler feeding supplies that make meal time just a little bit easier.
Munchkin Silverware: this is our favorite silverware set. Its super durable and has held up for more than a year or use. I really like that the fork is more of a 'spork' and is a great set for young toddlers learning to use silverware.
Sandwich & Veggie Cutters: food cutters are an easy way to make meal time fun! We love this set and use it all the time for sandwiches, fruits, and veggies.
Ingenuity Booster Seat: having your toddler eat at the table and be comfortable can make a world of a difference in ending mealtime battles. We love this booster seat! My toddler moved into it at 18 months and is still using it at 2-years-old. It is so easy to clean and fits great at our counter-height table.
Quick & Easy 5-Minute Toddler Lunch Ideas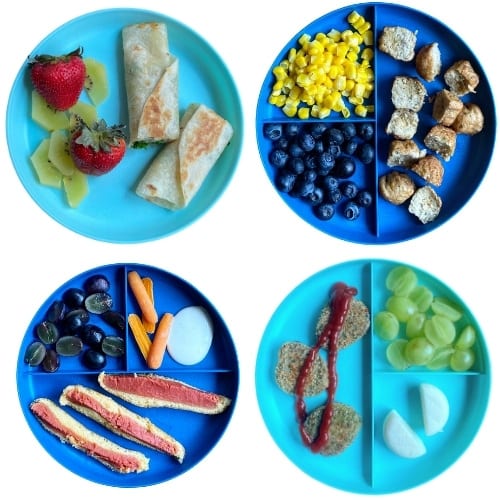 Cheese & veggie roll up: I like to use left over veggies or heat up frozen veggies for 30-60 seconds in the microwave. Heat a tortilla on a pan, sprinkle with cheese and veggies. Cook just a minute or two until crispy and roll up or fold over as a quesadilla. Side of kiwi and strawberries.
KidFresh Chicken Meatballs: healthy food in the freezer section! Cook 6 meatballs for 60 seconds in the microwave. Side of frozen corn cooked for 30-60 seconds in the microwave and fresh blueberries.
Veggie Corndog: my toddler loves these veggie corn dogs from MorningStar Farms. Cook one corn dog for 60 seconds in the microwave. I like to slice it long ways so its easier for dipping. Side of baby carrots sliced long ways and grapes.
Super Green Veggie Nuggets: these are my toddler's new favorite lunch food! These veggie nuggets are frozen and from Dr. Praeger's brand. I heat them up for 60 seconds in the microwave and then heat each side on the stove top for about 60 seconds each until crispy. Side of babybell cheese and grapes.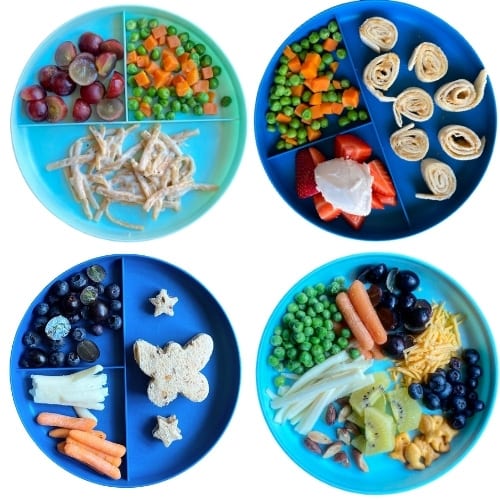 Veggie Pasta Alfredo: pasta made with veggies! We love this veggie pasta from Birds Eye Steamfresh. It heats up in the microwave in just a few minutes and is one of my toddler's favorites! Side of frozen peas and carrots heated in the microwave for 30-60 seconds and grapes.
Pinwheels: a great alternative to a sandwich or quesadilla. Lay out a tortilla and fill with your toddler's favorite spread like peanut butter and/or jelly, nut butter, hummus, or avocado. Roll up tightly and cut into pinshweels. Side of frozen peas and carrots heated in the microwave for 30-60 seconds and strawberries with canned coconut cream.
Sandwich: a classic quick and easy meal, but it doesn't have to be boring! We love these sandwich & veggie cutters to make food a little more fun and interesting. Side of left over cooked baby carrots (you could use raw or other left over veggies), whole milk string cheese, and grapes.
Snack Plate: choose your toddler's favorite nutritious snacks to make a fun snack plate or mini charcuterie board. Here we had frozen peas cooked 30-60 seconds in the microwave, baby carrots, grapes, shredded cheese, blueberries, goldfish, kiwi, chopped almonds, and kiwi. For more snack ideas check out my post: 50 Toddler Snack Tray Ideas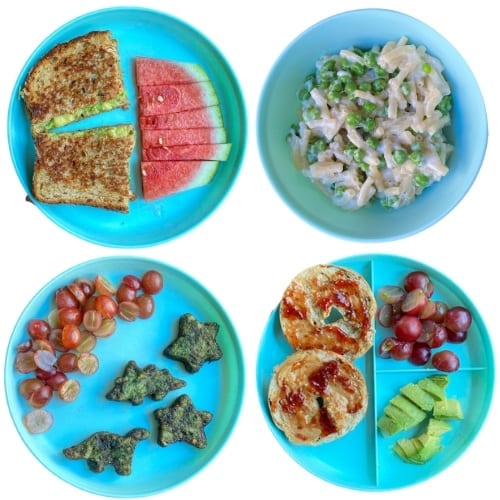 Avocado Grilled Cheese: grilled cheese is a simple week-day lunch that can be ready in minutes. We like to use Dave's Killer Bread and will often add veggies like leftover broccoli or avocado. Side of fresh watermelon.
Mac 'N Cheese: if you are short on time buy mac 'n cheese that comes in individual microwave cups. Depending on the brand, most are ready in 2-3 minutes. I also like to stir in frozen peas right after its done cooking and as they thaw, its helps to cool it down.
Spinach Littles: another favorite frozen food from Dr. Praeger's brand. These heat up in just 90-120 seconds in the microwave and they come in a few different varieties including spinach, broccoli (my toddler's favorite), and sweet potato. Side of grapes.
Mini Bagel: easy, convenient, and toddler-sized! Here he had a mini cinnamon raisin bagel topped with peanut butter and jelly and served open faced. If you want to toast your toddler's bagel that should only take a minute or two. Side of avocado and grapes.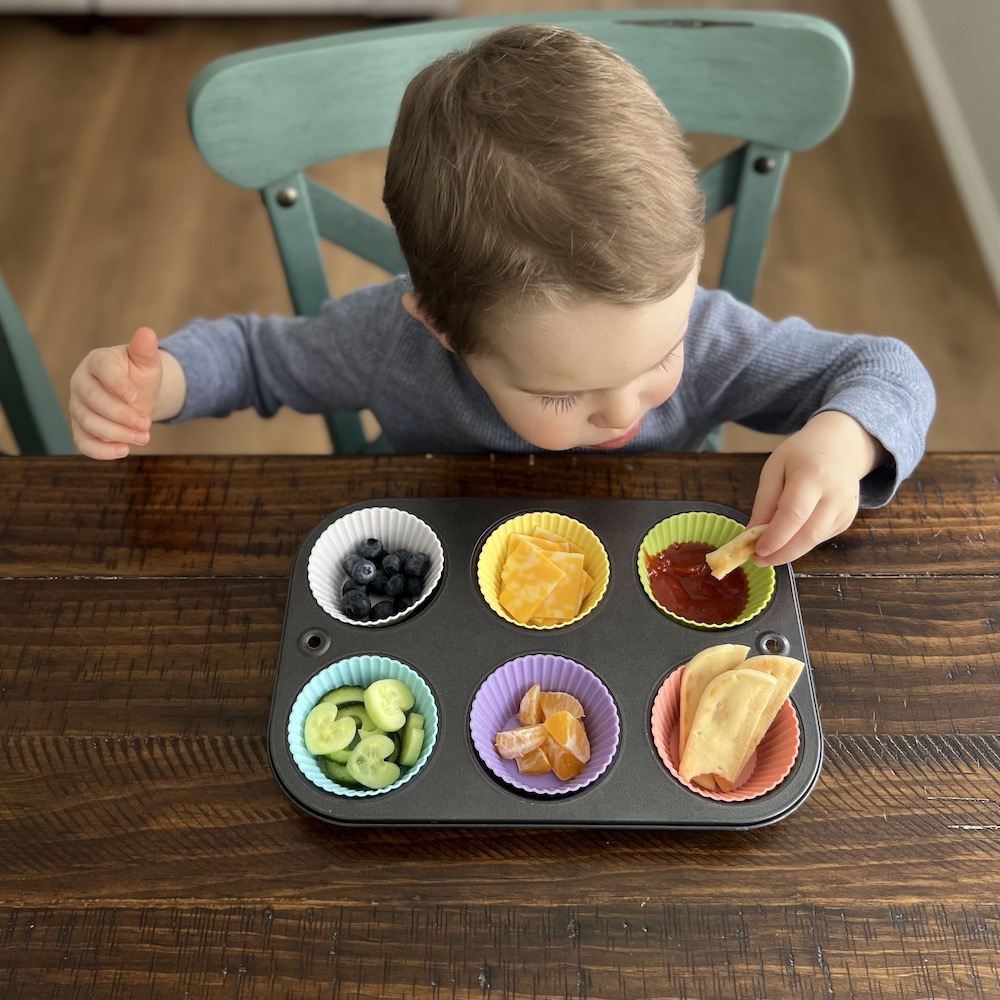 Muffin Tin Snack plate: use a muffin tin to plate all of your toddler's favorite like mini Naan pizza dippers with Naan rounds, pizza sauce, cheese, mandarin oranges, blueberries, and cucumbers.
You may also like these related posts: