Posts may contain affiliate links. Please see Disclaimer and Disclosure page for more details.


14 Easy 1 year old breakfast ideas for busy mornings. Make these hearty and healthy toddler breakfasts on a weekday or a busty weekend morning.
Your 1 year old's breakfast doesn't have to be a frozen waffle every morning of the week (no shame if it is, but know there are more options out there!). I'm a mom of two toddlers and am sharing their favorite easy breakfast ideas.
With just a few ingredients you can make easy, but healthy and nutritious breakfasts for your one, two, or three year old toddlers; most of these also work for BLW and older children too.
You might also like these related posts:
Toddler Breakfast Supplies
Although you don't need any special supplies for feeding your toddler breakfast, the right supplies can make it a whole lot easier for everyone! Here are some of my favorites:
EZPZ Mini Play Mat: this is our new favorite plate and i've started incorporating it in with breakfast! Its a flower shaped plate and perfect for snack-style meals where you serve a variety of different sides in small portions. Great for baby-led-weaning or picky eaters.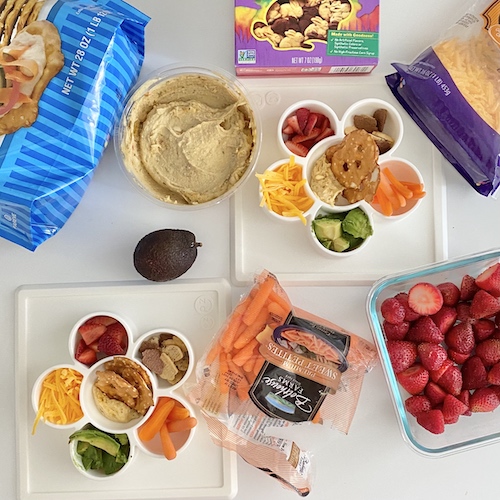 OXO Straw Cup: this is our favorite straw cup. It's durable, easy to clean, and has held up for more than a year now! For younger toddlers I prefer the smaller 6oz cup (linked), but they also make a larger straw cup if your toddler is big drinker.
---
1 Year Old Breakfast Ideas
Loaded Yogurt Bowl: no cooking and easy to throw together in just a few minutes. Start with a base of whole milk yogurt (we like vanilla greek yogurt) and add your toddler's favorite toppings. We had banana, strawberries, hemp seeds, and chia seeds.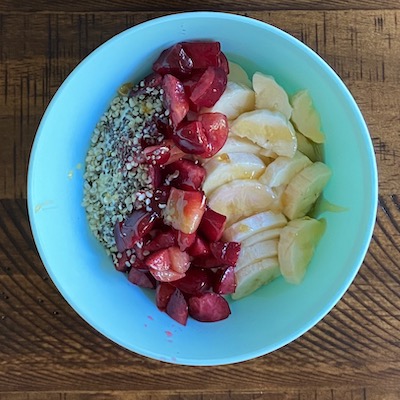 ---
Pancake Dippers: make a batch of pancakes and use them all week long, or try a frozen variety (we like KidFresh Buttermilk Pancakes made with veggies). Cut them into strips so that they can be used as a finger food! Side of pure maple syrup, avocado, blueberries (halved), whole milk string cheese, and strawberries.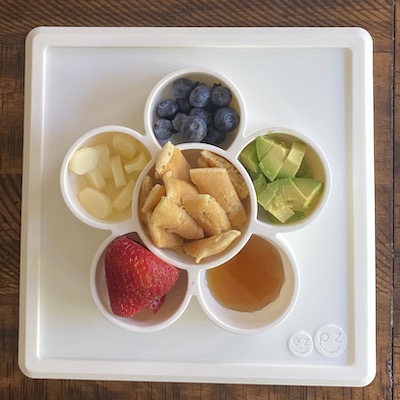 ---
Veggies Made Great Muffins: if you don't have time to homemake muffins, try Veggies Made Great blueberry oat muffins made with added veggies. Side of drinkable yogurt and strawberries.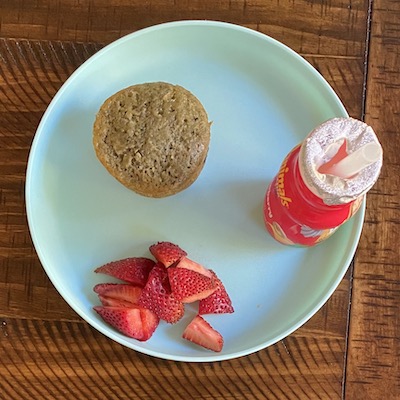 ---
Mini Breakfast Burrito: scramble eggs and throw in all your toddler's favorite toppings/sides. We had eggs with spinach, bell peppers, and cheese. Serve deconstructed or wrap into a mini burrito. Side of sour cream for dipping and bacon.
---
Cinnamon Roll Bunny: for a special treat we love to make Annie's Homegrown Cinnamon Rolls. I normally don't serve with icing for my toddlers, but made a fun breakfast bunny using a little whipped cream, strawberries, and banana.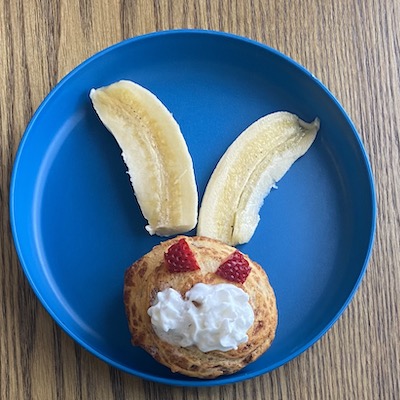 ---
Eggy Pizza: eggy pizza is a fun and simple way to mix up normal scrambled eggs for breakfast, and barely takes any longer! Scramble eggs with your toddler's favorite toppings (we had spinach and tomatoes). Before it completely sets, top with a tortilla and cook about 30 seconds. Flip the tortilla + eggs over and cook until the bottom of the tortilla is crispy then top with cheese. I drizzled ketchup on top and served with mandarin oranges.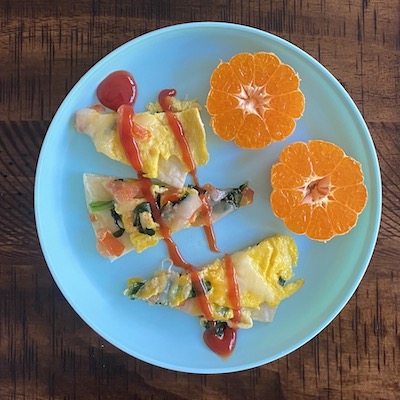 ---
Carrot Cake Oatmeal: instead of using packets of instant oatmeal, try making your own healthier varieties. Add 3-4 tbsp of instant oats to a bowl with 2 Tbsp shredded carrots and cover with water, microwave for 60 seconds. Stir in maple syrup, cinnamon, and raisins.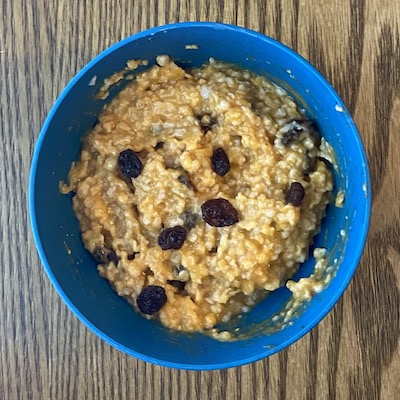 ---
Scrambled Eggs with Cheese: my boys love scrambled eggs with cheese on top! Make it a well-rounded breakfast by serving sides of fruit like blueberries and banana.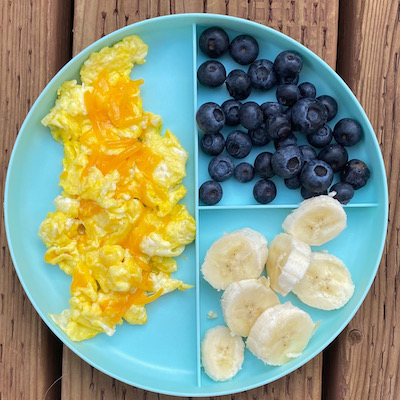 ---
Silver Dollar Pancakes: silver dollar pancakes are perfect because they are toddler-sized! Instead of syrup try organic jam (I like organic because there's no corn syrup) and yogurt for dipping.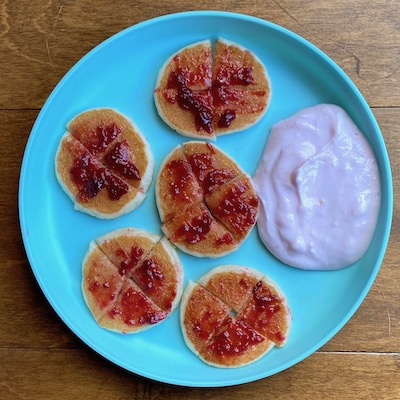 ---
Avocado Toast Strips: avocado toast is a great well-rounded breakfast for one year olds with plenty of healthy fats and whole grains (if you use whole grain toast). Cut into strips to make it easier to hold and bite. Side of banana sliced long ways.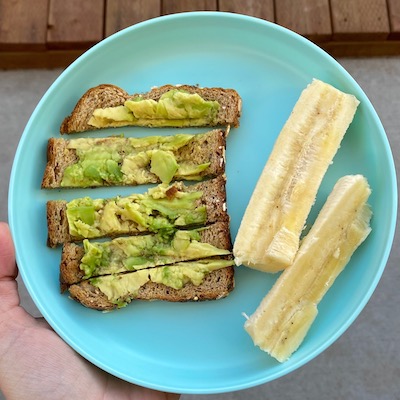 ---
Apple Cinnamon French Toast Sticks: mix up normal fruit by adding in fruit and fruit puree. This is very similar to my recipe for Blueberry French Toast, but instead I used cinnamon apple sauce in the egg batter and sprinkled a few thinly sliced applies on top. Cut into strips before dipping and cooking to make them BLW and toddler friendly.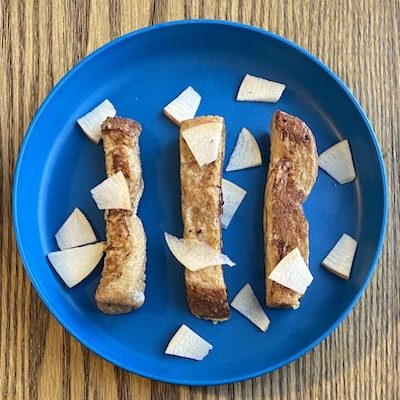 ---
Whole Milk Yogurt Pouch: on days when I don't feel like cooking, a yogurt pouch is a super quick and easy option. Pair with healthy sides like fruit (we like mandarin oranges) and whole grain cereal.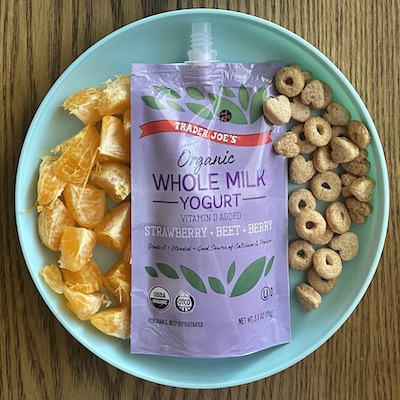 ---
Smoothie Bowl: use all your toddler's favorite fruits to make a thick smoothie and pour into a bowl; our go-to smoothie is frozen mixed berries, banana, almond butter and whole milk. Top with fun toppings like more fruit, chia seeds, and cinnamon.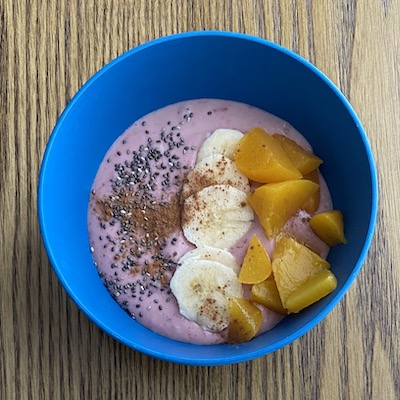 ---
Jelly Toast: I like to choose whole grain bread and top with a little bit of organic jelly (I choose organic because it means no corn syrup). Pair with a hearty side like avocado for healthy fat.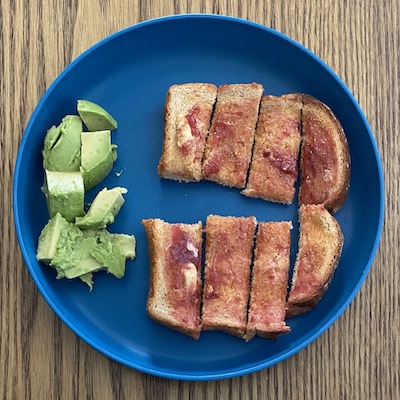 ---
Summary of 1 Year Old Breakfast Ideas
Here's another run down of 14 simple and easy toddler breakfast ideas that your toddler will love:
Loaded Yogurt Bowl
KidFresh Buttermilk Pancakes Dippers
Veggies Made Great Muffins
Mini Breakfast Burrito
Eggy Pizza
Carrot Cake Oatmeal
Scrambled Eggs with Cheese
Silver Dollar Pancakes
Avocado Toast Strips
Apple Cinnamon French Toast Sticks
Whole Milk Yogurt Pouch
Smoothie Bowl
Jelly Toast
Thanks for stopping by! You might also like these related posts:
Pin now to save for later!