Posts may contain affiliate links. Please see Disclaimer and Disclosure page for more details.


Easy toddler naan bread pizza that's also family-friendly; the perfect weekday lunch or dinner idea and great for picky eaters.
Pizza night is a favorite in our house! We have it so often that I eventually got tired of expensive take out or bland frozen options and decided to make our own.
As a mom of two toddler I don't have a ton of time, but I wanted something that was easy, yummy, and toddler friendly! And I think I found the best of both worlds with toddler Naan bread pizza.
As a bonus my toddlers LOVE to help make their own pizza (they normally share 1 Naan bread). We have this Kitchen Helper so that they can stand at the counter and easily help. (Bonus is that this particular one we have folds up for easy storage)
You might also like these related posts:
Step 1: Set out your Naan Bread
Set out your naan bread onto a large baking sheet (Airbake pans work great!). Line with parchment paper for easy clean up. I like to use Seattle Baking Company or Stonefire brand.
Preheat your oven to 425 degrees.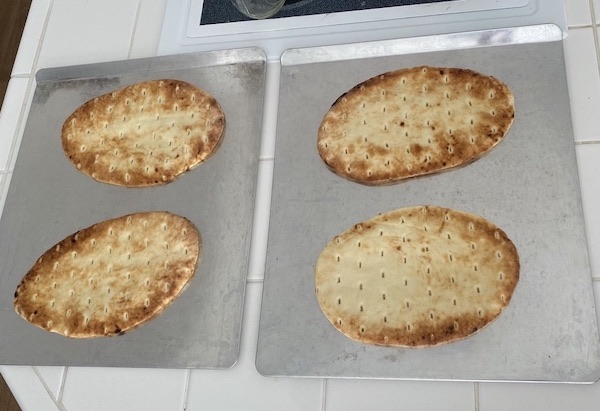 Step 2: Chop your veggies
While your oven is preheating, wash and chop up your veggies. Some of our favorites are baby spinach, roma tomato, bell pepper, pineapple, and zucchini, but use whatever your toddler likes or what you have on hand. Almost anything goes!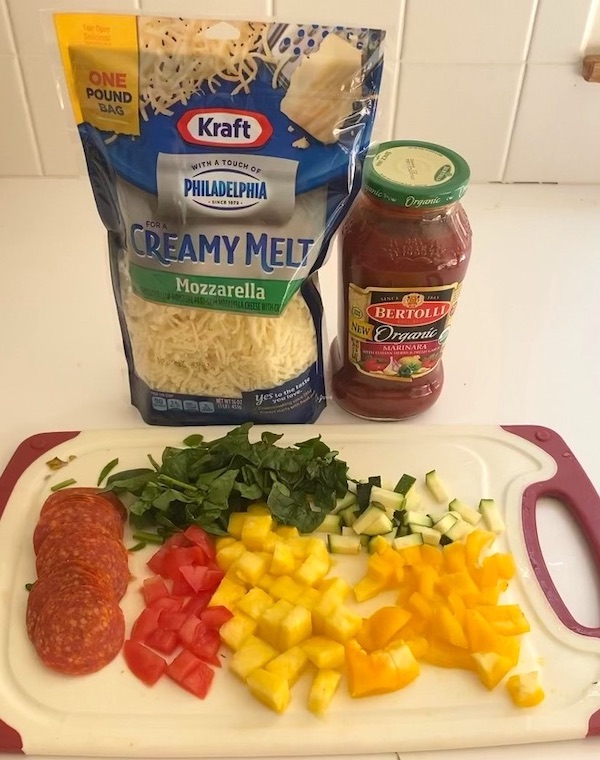 Here is a full list of topping ideas:
Tomatoes
Bell pepper
Green Chile
Baby Spinach
Basil
Pineapple
Zucchini
Black olives
Onion
Corn
Broccoli
Brussel sprouts
Artichokes
Meat like pepperoni, chicken, sausage
Step 3: Add Sauce + Cheese
Start making your pizzas by spreading 2-3 Tbsp of sauce over each naan bread leaving a thin edge for crust. Top with about 1/4 – 1/3 cup of shredded mozarella cheese.
Step 4: Add Toppings
Next have fun and add all your toddler's favorite toppings! Spread them out evenly over the naan bread.
Step 5: Bake & Serve
Bake for 12-15 minutes until warm and melted and the crust is a little crispy. Let cool for about 5 minutes before cutting and serving.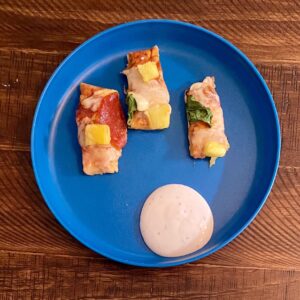 Toddler Naan Bread Pizza
Easy toddler naan bread pizza is a quick and easy family-friendly dinner option using naan bread as crust and all your toddler's favorite toppings.
Ingredients
4

pre-made Naan breads

1

can

marinara sauce

(you won't use it all)

1 1/3

cup

mozarella cheese

1

cup

baby spinach

1

bag

pepperoni

(you won't use it all)

1

roma tomato

1

cup

diced pineapple

(I prefer fresh, but canned works too)

1

bell pepper, diced

1/2

small zucchini, diced
Instructions
Preheat your oven to 425 degrees. Lay out your naan bread onto two baking sheets (line with parchment paper to make clean up easier).

Wash and dice spinach, roma tomato, pineapple, bell pepper, and zucchini.

Spoon 2-3 Tbsp of marinara sauce on to each naan bread round and spread evenly, leaving a thin layer for the crust. Top with cheese, pepperoni, and veggies.

Bake for 12-15 minutes until warm and bubbly and crust is slightly crispy.
Thanks for stopping by! You might also like these related posts: