Posts may contain affiliate links. Please see Disclaimer and Disclosure page for more details.


A breakdown of easy veggie ideas for toddlers for ideas, inspiration, and to help your toddler eat more veggies!
Looking to learn what vegetables are easy for toddlers to eat? How do I make vegetables fun for my toddler? Start here with this list of easy veggie ideas for toddlers!
Learning to like veggies can be difficult for some toddlers, and that's totally okay! Just know that consistency is key; offer your toddler veggies consistently and with no pressure. You can also try some of my tips for making toddler meals fun or some of these meal ideas to help get more veggies in your toddler's diet.
Also, don't forget that fruit is a great alternative to veggies and has many of the same vitamins and minerals. Check out these easy fruit ideas for toddlers here.
We love these silicone plates for our everyday go-to plate! They have held up so great in the dishwasher and come in so many colors!
What Vegetables Are Easy for Toddler to Eat?
Veggies can be notoriously difficult for some toddlers to eat. Raw veggies can be hard, crunchy, woody, and hard to chew. Most veggies are safe for your toddler to eat by the age of 2-3 or whenever you feel comfortable serving them (you know your child and their eating abilities best!).
When in doubt cook veggies until tender or cut them to avoid choking hazards.
Here are some of the easiest veggies for toddlers to eat:
cooked carrots
cooked broccoli
cucumbers
cooked asparagus
avocado
cooked sweet potato
more below!
How do I Make Veggies Fun for my Toddler?
Veggies might be intimidating to your toddler for many reasons. Most carbs or packaged food tends to taste the same every single time. Fresh food like fruits and veggies, on the other hand, can be more or less ripe, come in different varieties, or just vary by season or growing conditions.
Fruit has the advantage of being sweet, so many toddlers do prefer fruits over veggies. Use these tips to make veggie fun for your toddler to help them give veggies a try and enjoy eating them:
Use small food cutters to easily cut veggies into fun shapes; let your kids play with their food if they want to!
Add dips or sauces; some of our favorites are hummus, guacamole/avocado, greek yogurt, ranch, ketchup, sour cream, really anything goes! Don't be too alarmed if your kids start dipping things that don't normally go together like carrots or peas in ketchup (if it works, it works!)
Most kids love bright rainbow colored foods. Choose veggies that are their favorite color or make their plate into a rainbow using different colored fruits and veggies.
Are Frozen Veggies Good for Toddlers
Yes, absolutely! Frozen vegetables are a great nourishing option for your toddlers and the whole family.
Frozen veggies can even be more nutritious than fresh because the veggies are flash frozen at the peak of freshness. You will want to thaw/warm the veggies accordingly since hard frozen veggies can be a choking hazard.
Veggie Ideas for Toddlers
Here are some easy toddler veggie ideas to help your toddler eat more veggies! These are actual side dishes from what my toddlers have been eating.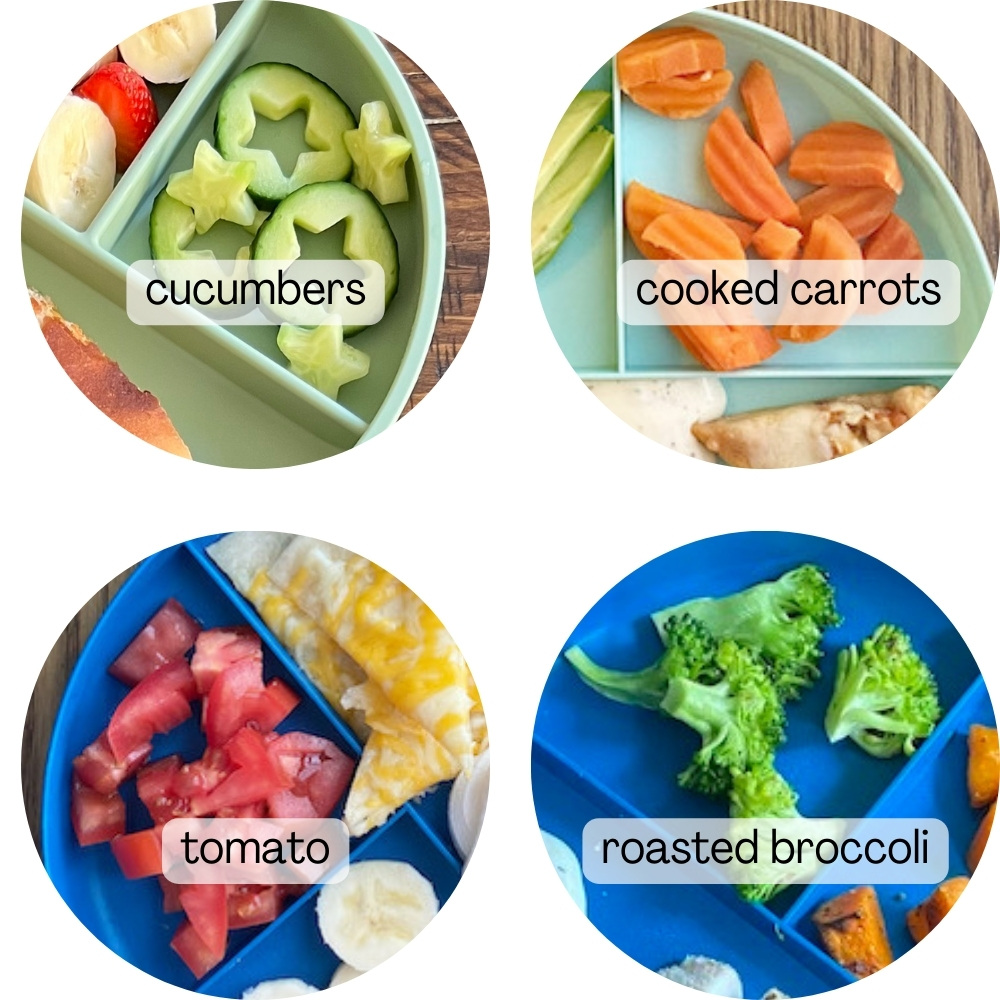 Cucumbers – my kids' personal favorite. A great veggie to serve with dips like greek yogurt, ranch, or hummus. Cut into fun shapes with small food cutters, cut into strips, rounds, remove the peel or leave it on.
Cooked carrots – you can buy frozen carrots for a quick and easy meal or steam or roast fresh carrots if you have the time.
Tomatoes – tomatoes are technically a fruit, but I include them here because to most toddlers they are more similar to a veggie. Serve them diced or included in foods like quesadillas, pasta salad, or eggs.
Roasted broccoli – broccoli is a great dinner side and can be cooked from fresh or frozen. Try different seasonings or cooking methods like steaming, roasting, or cooked in the air fryer to see what your toddler likes best.
Snap Peas – fun to pop out the peas or eat the whole thing with dip (hummus, ranch, or yogurt work great!).
Asparagus – my kids have recently been OBSESSED with asparagus. We have wild asparagus near our house and they love to pick it in the summer and fall. I like to roast asparagus with olive oil, minced garlic, salt (just a little for toddlers) and pepper.
Bell Pepper – perfect for eating with dips or cooked and added to quesadillas or eggs.
Peas – easy for kids to eat and with a bit of protein, peas are a great option for toddlers!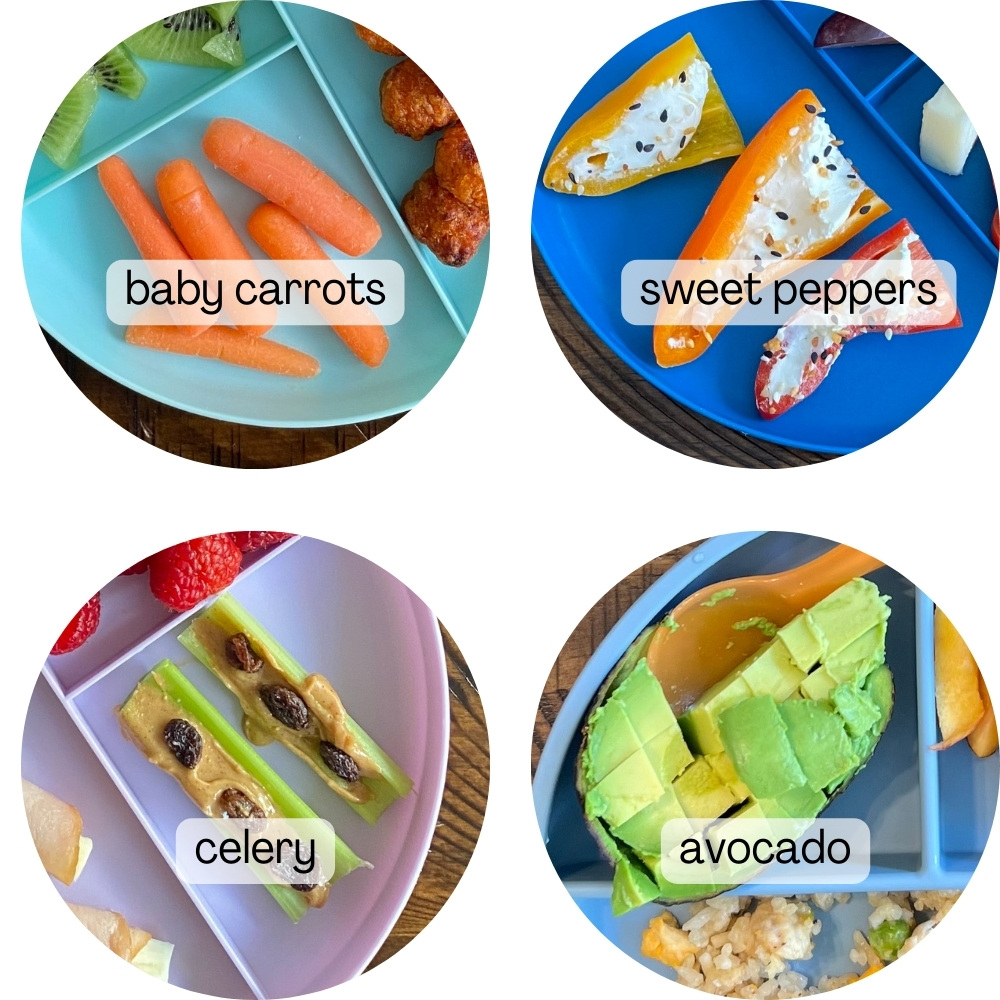 Baby Carrots – or just sliced carrot sticks are fun with dip. Cut vertically into matchsticks for young toddlers.
Sweet Peppers – my kids love mini sweet peppers stuffed with cream cheese and topped with everything seasoning!
Celery – this is best for older toddlers because it can be stringy and hard to eat. Try making your three or four year old "ants on a log" with peanut butter and raisins.
Avocado – also technically a fruit, but i'll include it here so you can hopefully check off an easy one in the veggie category. Guacamole or avocado as dip also works too!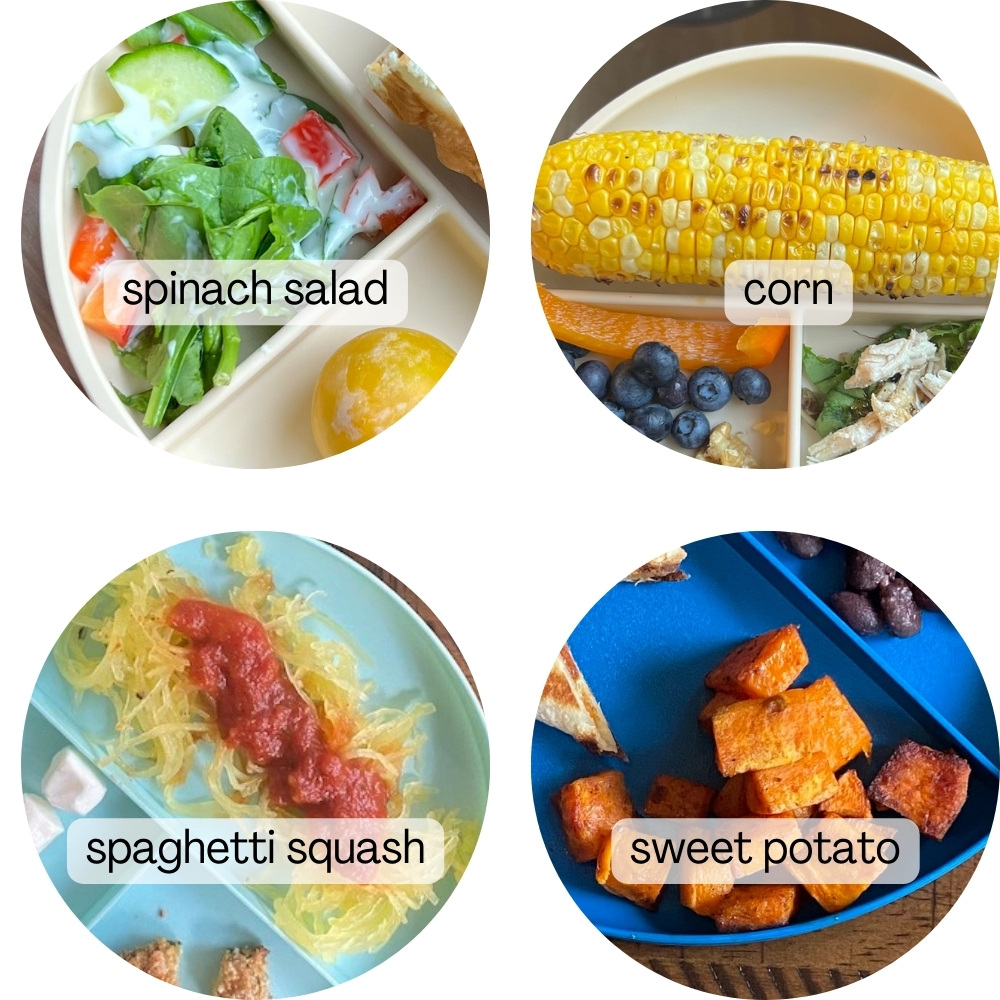 Spinach Salad – if you have a hard time getting your toddler to eat spinach, try a little salad with their favorite dressing and other veggies, cheese, ect.
Corn – corn on the cob is so fun and we love grilling it in the summer (and my kids love eating it!)
Spaghetti Squash – another fun one you might not have thought of! Try serving it as "spaghetti" with red sauce or even mix it in with pasta for some extra nutrients.
Sweet Potato – make roasted diced sweet potato, mashed sweet potato, or sweet potato fries (a great alternative to potato fries).
More Ideas (not pictured, but these are also great ideas my kids often enjoy):
Zucchini
Summer Squash
Butternut Squash
Pumpkin
Brussel Sprouts
Green Beans
Cauliflower
Thanks for stopping by! You might also like these recent related posts: