Posts may contain affiliate links. Please see Disclaimer and Disclosure page for more details.


Try these meal ideas to help your 2 year old like veggies. Veggie main dishes and side dishes that are fun and toddler friendly.
Want to help your toddler like veggies? Or looking for meal ideas to help incorporate more veggies into your toddler's diet? This post can help! I'm a mom of three sharing what my kids eat at 2 years old and how I get my toddler to like veggies.
You might also like these related posts:
Why do toddlers often refuse vegetables?
Vegetables (and fruit) can be unpredictable, and have different textures and colors compared to other food groups like carbs, which most toddlers love.
Those chicken nuggets or mac & cheese that your toddler loves tastes the same almost every time you make it. Fresh food like fruits and veggies may be less ripe (harder, crisper, less sweet, ect.) one day and more ripe (softer, mushier, more sweet, ect.) the next or depending on the season and variety. Some toddlers also tend to eat a lot of neutral color food and veggies come in bright colors like green, orange, and purple that might be more intimidating.
What do you do if your toddler doesn't like vegetables?
Offer veggies early and often. I like to introduce my kids to these foods as babies and continue offering them and serving them regularly into toddlerhood and beyond. It's never too late to start! Even if your toddler refuses to eat veggies at first, just keep offering regularly.
If your toddler doesn't like vegetables:
Serve them often so they get accustomed to seeing them
Offer them with NO PRESSURE (don't ask, help, force, or barter with your toddler to eat them).
Eat them together; they may not take a bite but if they see you eating and enjoying veggies they might give it a try (eventually)
Let them help prepare them
Offer dips and sauces
Cook them differently (you may find your toddler prefers them steamed, but not grilled or roasted, ect)
Cut veggies into fun shapes with food cutters
Offer them in fun, unique ways (meal ideas below!)
Should I force my toddler to eat vegetables?
Always discuss any serious concerns about your child's eating habits with your medical provider.
We always follow the motto "the parent decides what food is served and when, and the child decides how much to eat". Forcing your child to eat any food, particularly vegetables, may lead to power struggles, tears, and your child actually eating less vegetables than they would otherwise.
Follow the tips mentioned above and use the meal ideas below to offer veggies to your kids early and often with no pressure.
2 Year Old Meal Ideas with Veggies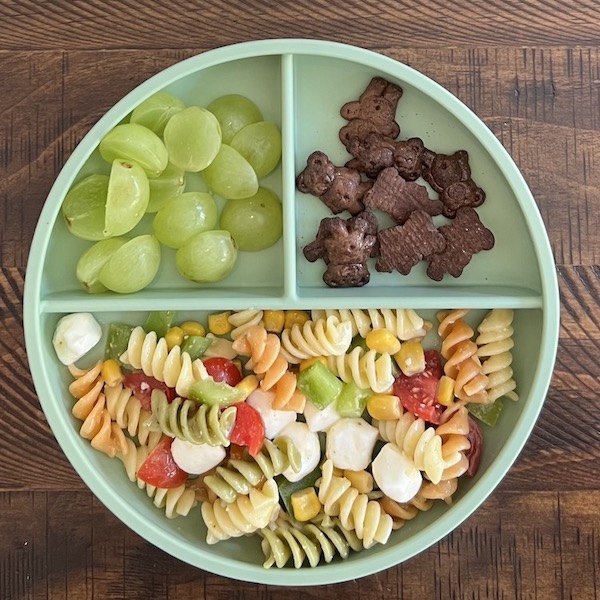 Pasta Salad (with veggies)
Pasta salad is so versatile and easy to customize for your toddler. My kids love mozarella cheese pearls and I throw in some veggies for a variety of colors: tomato, green bell pepper, and corn. Mix favorite with new veggies that your kids are still learning to like and let them help make this fun recipe! Read more > Kid-Friendly Pasta Salad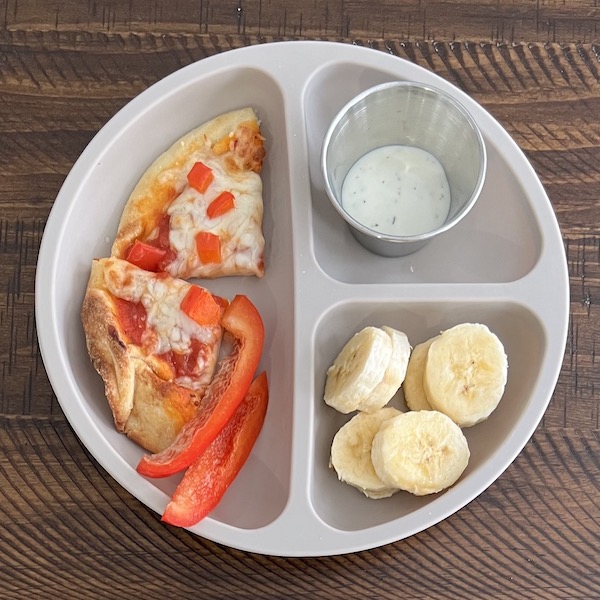 Mini Veggie Pizzas
Most kids love pizza and you can customize the sauce and toppings to what your toddler likes. This can be a great way to introduce veggies to a toddler favorite. My kids love bell pepper on pizza (and olives and pineapple too!). I also served some extra veggies on the side with ranch for dipping.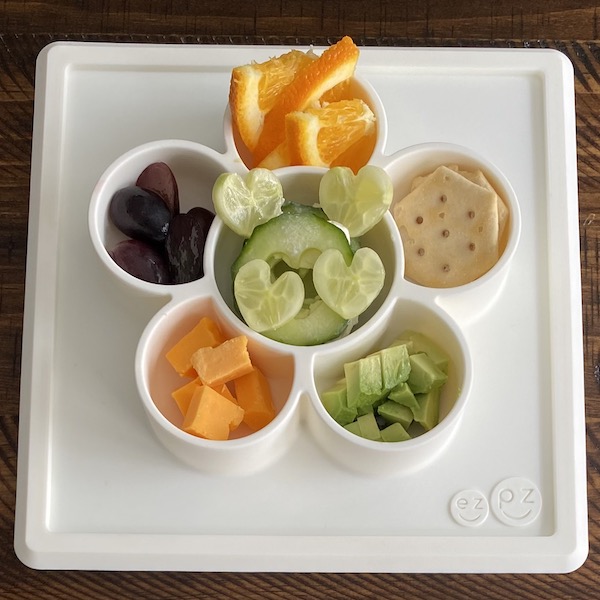 Veggie Snack Plate
Serve a fun snack style lunch featuring a veggie your toddler likes or is learning to like. My kids had cucumber with cream cheese. Other sides can be fruit, healthy fats, grains, or more veggies! Shop our favorite food cutters. Fun divided plate: EZPZ divided plate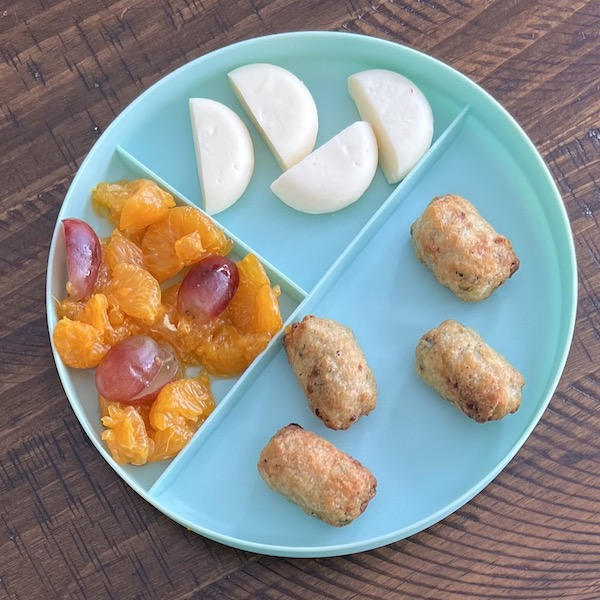 Veggie Tots
Try these instead of potato tots or french fries: cauliflower tots. You can make homemade versions or I just like to buy them frozen at the store. It's okay to serve their favorite sauce for dipping, too!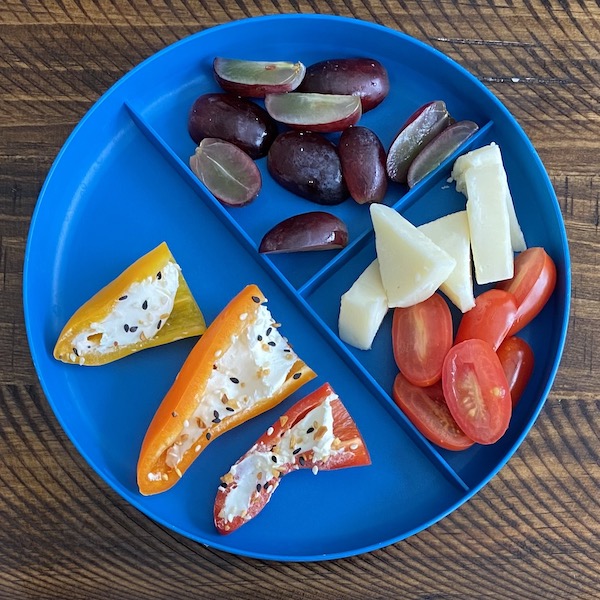 Cream Cheese Stuffed Mini Peppers
Mini sweet peppers are a cute and yummy option for toddlers! They are sweeter than normal bell peppers and are toddler-sized! These can be served with dips like hummus or ranch or stuffed with cream cheese (we like to top ours with everything seasoning). Cut in half and scoop out the seeds.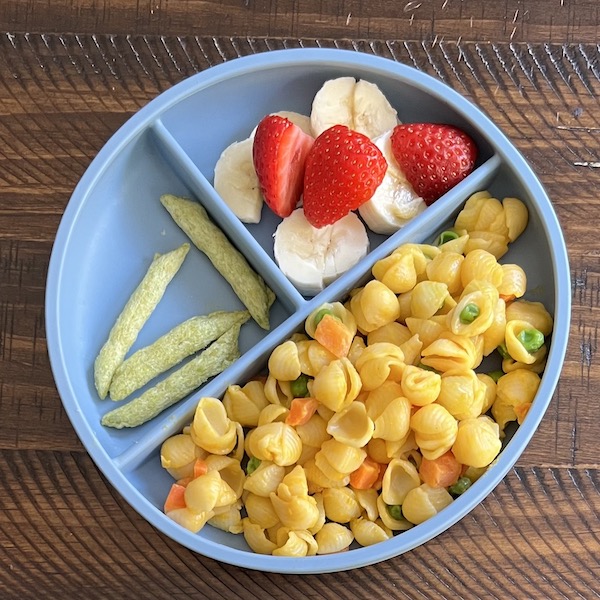 Mac & Cheese with Veggies
Make this toddler classic but stir in some veggies like peas and diced carrots. You could also stir pureed veggies into the sauce (orange veggies like sweet potato or carrots work great!). Other ideas include broccoli, cauliflower, and spinach. Read More > Toddler Mac & Cheese with Peas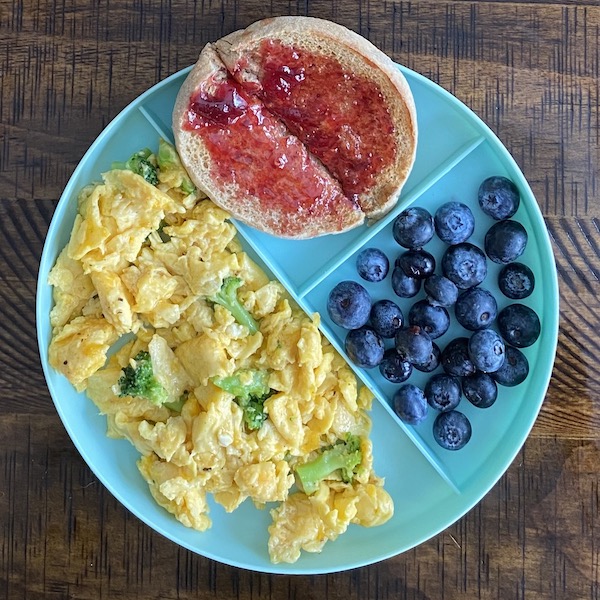 Veggie Scramble Eggs
Scrambled eggs are a great meal to add in veggies! Make a veggie scramble or put into tortillas for an egg and veggie quesadilla, taco, or mini burrito. Broccoli and cheese is a good option or other veggies like bell pepper, onion, sweet potato, or butternut squash. Read More > Toddler Breakfast Burrito with Veggies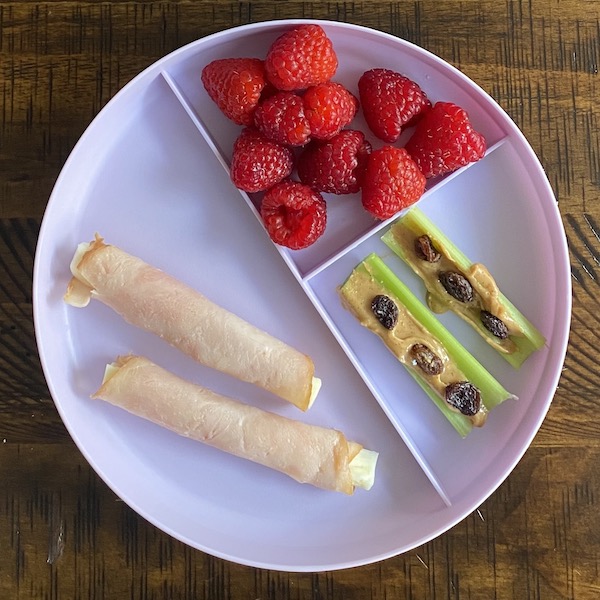 "Ants on a Log"
You might remember this cute display of celery with peanut butter and raisins from your childhood, and if you don't the "ants" are raisins and the "log" is a celery stick. Celery is a hard one to like for some, so even if your toddler just picks off the raisins or licks off the peanut butter you can count it as an exposure to celery and a win!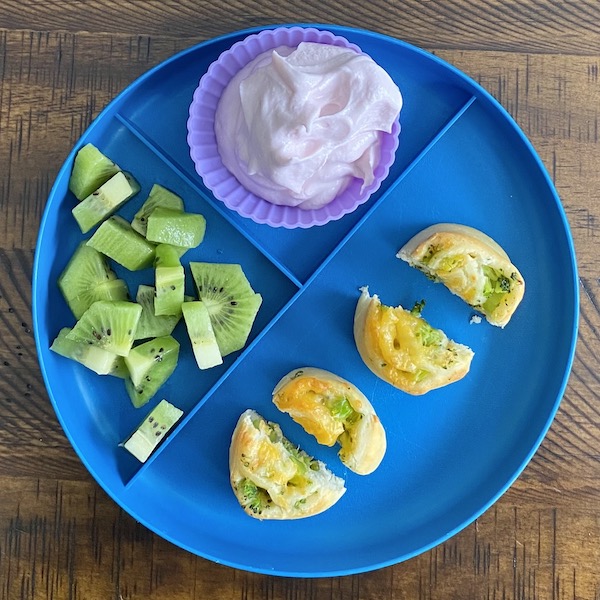 Broccoli & Cheese Pinwheels
Bake in veggies to these yummy cheesy pinwheels! You can even change or vary the amount of veggies based on how willing your toddler is to eat veggies. Broccoli is one of our favorite but spinach and cauliflower are other great options for this recipe.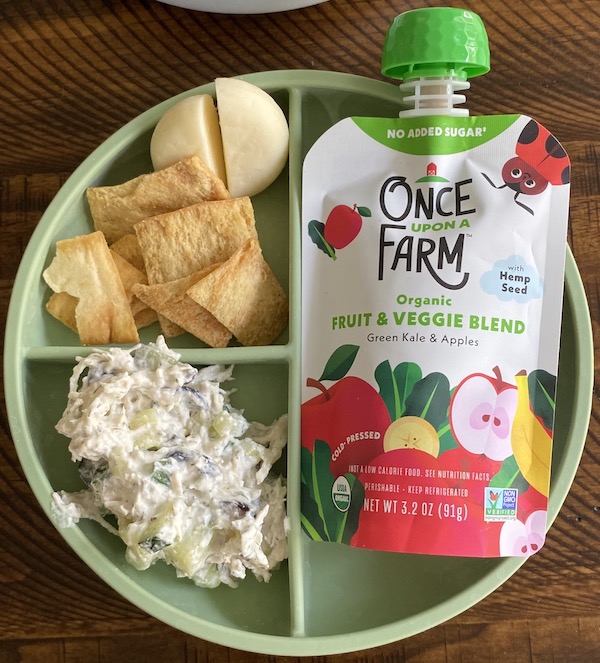 Chicken Salad + Veggie Pouch
If your toddlers like chicken salad or other creamy foods, try making some with added veggies like cucumber or celery. A pouch can be another way to introduce veggies. While it's not a good idea to rely solely on pouches for your toddler's veggie intake, good quality pouches like Once Upon a Farm that clearly have the veggies on the label can be a good starting point!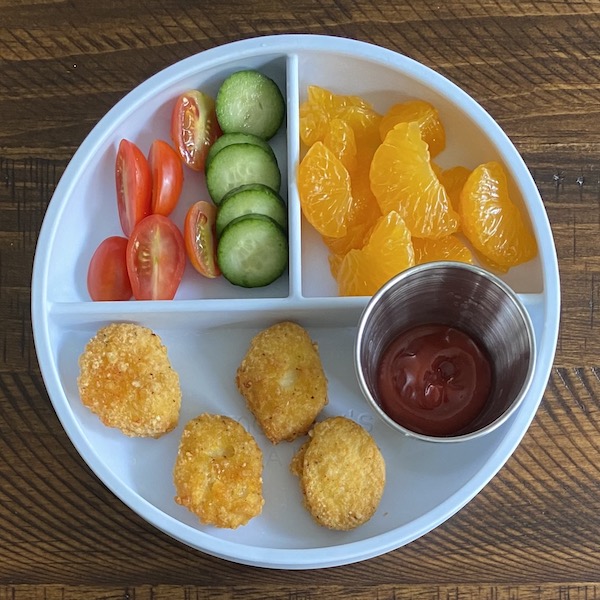 Veggies + a favorite
I always like to serve a safe food for every meal. If one of your toddler's favorite foods is chicken nuggets (these are our favorites), try serving veggies along side their favorites. I also like to serve dips and even encourage dipping veggies in it (even if veggies + ketchup sounds weird to adults, kids might love it).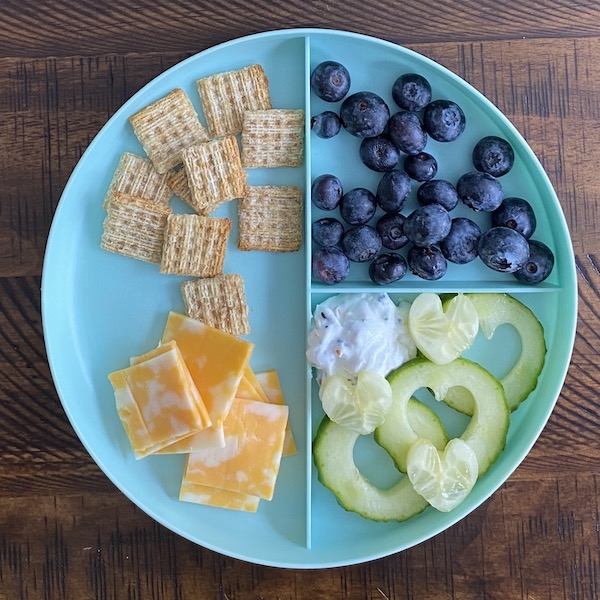 Veggies cut with food cutters
If your toddler is struggling to try and eat veggies, try making them more fun by using fun food cutters! This has worked so well for my kids when they are in a rut or start to develop picky eating tendencies. Shop our favorite food cutters.
Thanks for stopping by! You might also like these recent posts:
Pin now to save for later!