Posts may contain affiliate links. Please see Disclaimer and Disclosure page for more details.


A simple and easy egg salad recipe for toddlers that's high in protein and healthy fats (made with whole milk greek yogurt).
I love egg salad and wanted my toddlers to try it and enjoy it too! I created this egg salad recipe with toddlers and young children in mind so it's full of healthy fats, protein, and is made with just a few simple wholesome ingredients.
Whole milk greek yogurt is the key ingredient and is great for toddlers because it contains loads of healthy fat and protein, and probiotics as well! We personally love using plain Fage 5% Greek Yogurt and recommend it for this recipe. 3/4 cup of yogurt has 9g of fat, 15g of protein, and no added sugar.
You might also like these related posts:
What Ingredients are needed for Toddler-friendly Egg Salad?
I've limited this recipe to just a few wholesome ingredients: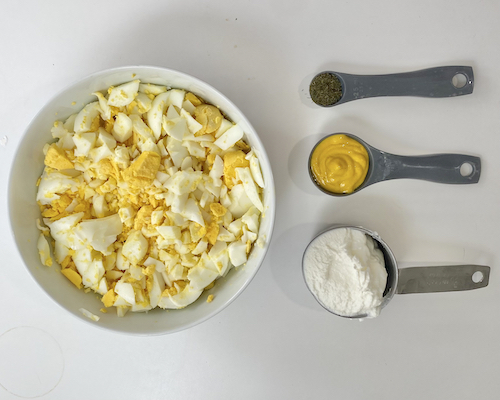 Eggs – we prefer organic free range eggs, but just about any eggs will do! We use large eggs, so if you are using Jumbo or Medium eggs you may want to adjust the other ingredients slightly to account for that.
Greek Yogurt – I love using greek yogurt instead of traditionally used mayo. It adds a thicker creamer texture and extra protein.
Mustard – I prefer plain yellow mustard, but Dijon mustard would also work, it would just change the flavor a bit.
Dried Dill – my secret ingredient for a fresh earthy taste. If your toddler will absolutely not tolerate anything green, you can omit this, but I much prefer this egg salad recipe with Dill.
How to Hard Boil Eggs
I struggled with hard boiling eggs for a long time! No matter what I did they were always so difficult to peel so I avoided it. Recently I learned some tips for making the perfect hard boiled eggs:
Use quality ingredients, we prefer using cage free organic eggs. I truly believe this has made a big difference in peeling the eggs easily!
Go straight from cooking into an ice bath in a separate bowl. I used to fill the pot with ice, but I don't think this cools them fast enough and therefore they are still difficult to peel. Use a separate bowl filled with ice and water and let your eggs sit for 5 minutes before peeling.
Try using older eggs. I have seen this tip mentioned, but I use fresher eggs all the time with no problem.
My favorite pot for hard boiled eggs: Tramontina 2 Qt Stainless Steel Sauce Pan holds 6-7 eggs perfectly!
Easy Toddler Egg Salad Recipe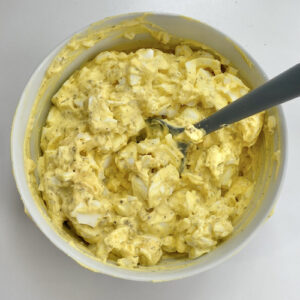 Toddler Egg Salad
Egg salad recipe for toddlers that's high in protein and healthy fats (made with whole milk greek yogurt).
Ingredients
6

eggs

1/2

cup

whole milk greek yogurt

1

Tbsp

yellow mustard

1/2

tsp

dried dill

sea salt and pepper to taste
Instructions
Place eggs in a medium pot, cover with water, bring to a boil on the stovetop.

Once boiling, cover, turn off heat, and let sit for 10 minutes.

Immediately move eggs to an ice bath, making sure eggs are completely submerged. Let sit 5 minutes and then peel your eggs.

Add peeled eggs to a medium sized bowl and mash using a fork or potato masher, leaving some small chunks (I find a best to use a knife at first to cut them up in the bowl and then mash).

Stir in greek yogurt, mustard, and dill. Mix until combined. Season with sea salt and pepper as desired (salt should be limited for toddlers, but a dash of sea salt should be fine).

For best results, chill for at least 60 minutes before serving. You can serve it without chilling but chilled is best. Serve by itself, with crackers for dipping, or as a sandwich.
Serving Egg Salad to Toddlers
My kids love this egg salad recipe served alone with a fork, with crackers or cucumbers for dipping, or best of all as an egg salad sandwich. Below is an example where I served sandwiches with sides of grapes and small baby carrots.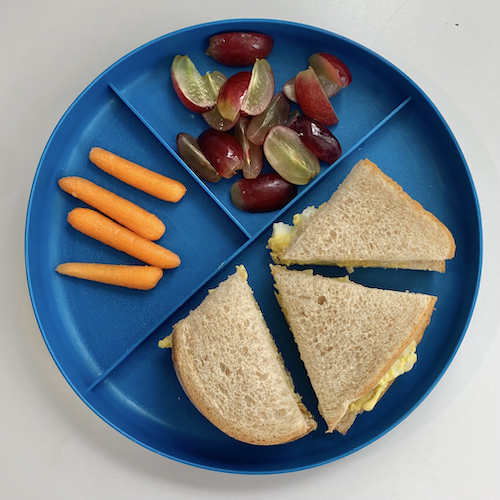 Thanks for stopping by! You might also like these recent related posts: