Posts may contain affiliate links. Please see Disclaimer and Disclosure page for more details.


An easy and nutritious recipe for toddler mac & cheese with peas made with elbow noodles, greek yogurt, cheddar cheese, and peas.
Can a 1 year old have mac & cheese? Can mac & cheese be made more nutritious? Can veggies be added to mac & cheese? The answer is yes, yes and yes!
I'm sharing our easy toddler mac & cheese recipe with peas, although you can easily substitute the peas for any veggies your child likes or you want to introduce them to. Mac & cheese made a little more nutritious using greek yogurt and veggies is perfect for toddlers, preschoolers, or the whole family. (I would even serve this for baby-led weaning).
You might also like these related posts:
Can I Use Other Veggies (Besides Peas)?
You can definitely use other veggies besides peas, or you can add more than one veggie to suite the taste of your toddler and/or family. I recommend adding veggies because its a great complement to the creamy texture of the noodles and yogurt-cheese sauce, but if you really wanted to you could leave them out entirely.
This recipe calls for 1 cup of thawed frozen peas. To substitute for another veggie, simply use 1 cup of your vegetable of choice or approximately 1 cup combined if you mix veggies. You can add more or less to your taste, but I find that 1 cup works well here.
Here are some ideas for veggie substitutes for toddler mac & cheese other than peas:
diced or shredded carrots (or pea + carrot mixture)
chopped broccoli
chopped cauliflower (or riced cauliflower)
spinach (lightly sauté before adding)
diced avocado
What Ingredients are Included in Toddler Mac & Cheese with Peas?
This recipe uses wholesome ingredients including greek yogurt for added healthy fat and creaminess plus it's a great way to add some veggies into your toddler's diet.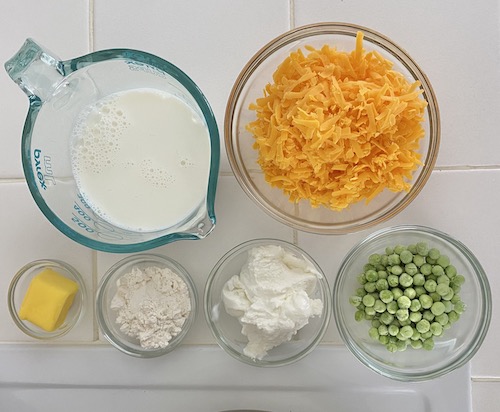 Elbow Macaroni Noodles: Banza Elbow Noodles made with chickpeas are our favorite for the added protein and fiber. You can use regular pasta too or sub other noodles without a problem.
Butter
Flour: you can sub arrowroot flour or other gluten-free flour if needed
Greek Yogurt: we love the Fage brand for taste and creaminess, but any whole milk greek yogurt will do.
Cheddar Cheese: you will want to use sharp cheddar cheese for optimal taste. I like to shred block cheese, but pre-shredded cheese will also work.
Peas: we use thawed frozen peas (it's okay if they aren't thawed all the way). You can sub canned peas, fresh peas, or other veggies if desired (see notes above).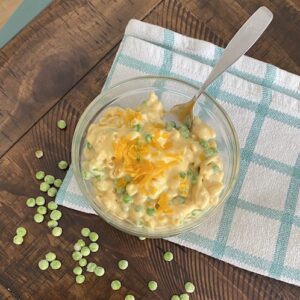 Toddler Mac & Cheese with Peas
An easy and nutritious recipe for family-friendly homemade toddler mac & cheese with peas.
Ingredients
8

oz

Elbow Macaroni

(we use Banza brand)

2

Tbsp

Butter

2

Tbsp

Flour

(or Arrowroot flour for GF)

1 1/2

cup

Whole Milk

1/2

cup

Whole Milk Greek Yogurt

(we use Fage brand)

2

cups

Shredded Sharp Cheddar Cheese

1

cup

Frozen Peas (Thawed)
Instructions
Boil noodles in large pot according to package (For Banza brand, boil for 8 minutes)

Drain pasta and set aside.

In the same pot, melt butter over medium-low heat and then whisk in flour, stirring until smooth. Cook for 1-2 minutes until bubbly.

Add milk and stir continuously until it begins to thicken (about 2-4 minutes).

Add greek yogurt and stir until smooth, then stir in cheese and stir until combined and fully melted.

Remove from heat. Add back your drained elbow macaroni noodles and stir until combined, then stir in peas. If your peas are still partially frozen, heat over low heat until peas are warm.
Favorite Toddler Feeding Supplies
You don't need any special supplies to feed your toddler, but having child-sized plates and utensils that are fun and colorful can help make the meal a little more fun and encourage your child to eat. Here are some of our favorites:
How to Serve to Toddlers
Serve this recipe alone in a bowl (like our favorite EZPZ Happy Bowl) or plate with nutritious sides like grapes & avocado (shown below).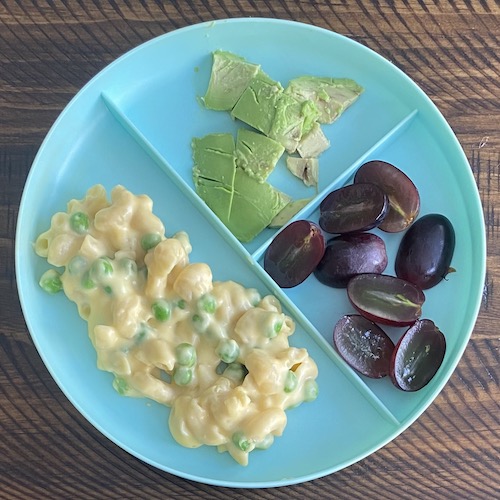 Thanks for stopping by! You might also like these related recent posts: