Posts may contain affiliate links. Please see Disclaimer and Disclosure page for more details.


A fun and easy family-friendly recipe for mini pizza bagels that is great for toddlers, preschoolers, and kids of all ages!
Wondering how to make pizza bagels? Or looking for a quick, fun, and easy toddler lunch idea or toddler-friendly pizza recipe? This post can help!
Mini pizza bagels are an easy lunch idea or dinner and can be personalized to your toddler's preferences. They can also be a fun way to get them exposed to new foods as pizza toppings. Almost anything goes and you can use left overs or any pantry or fridge staples you have left at the end of the week.
You might also like these related posts:
Tips for Making Mini Pizza Bagels
Here are some tips that i've developed to help make the best mini pizza bagels:
Lightly toast the bagel in the oven before adding your toppings. This ensures they will be crispy enough without cooking so long to burn the toppings. This also helps the bagel not get too soggy after adding your sauce.
Use tiny toppings. Since these are mini bagels, you will want to dice or chop up your toppings so that they don't take over your mini pizzas. Chop finely especially for toddlers.
Don't put on too many toppings, especially the sauce or wet toppings like pineapple or tomatoes. If you overload your bagel, it will likely turn out soggy and be difficult to pick up and eat.
Use quality ingredients. I'll share some of my personal favorites like the best-tasting tomato sauce and freshly shredded cheese.
Mini Pizza Bagel Toppings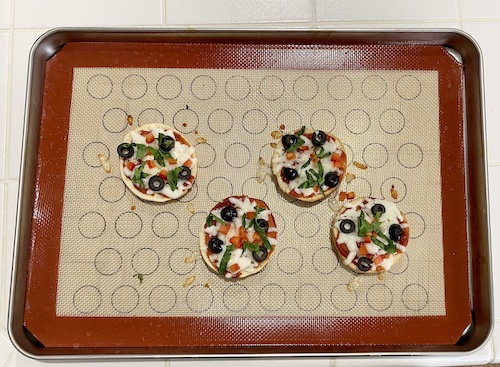 Shop Amazon >>> Cookie Sheet with Silicone Mat
Almost anything goes when adding toppings to your mini pizza bagels. I often use left over veggies or meat from throughout the week to make this meal less-wasteful and super easy. Finely dice your toppings so they cover your bagels evenly.
Use your toddler's favorite toppings or use this as a way to help expose them to new foods. If trying something new I would start very small at first and only include the new item on a corner of the bagel.
Here are some of our favorite toppings:
Diced red or green bell pepper
Spinach
Sliced olives
Pineapple
Left over shredded chicken
Finely chopped broccoli
Basil
Corn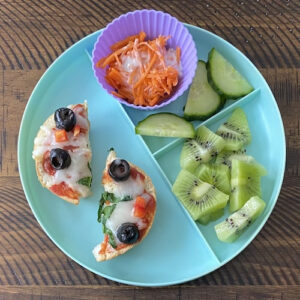 Kid-Friendly Mini Pizza Bagels
A fun and easy family-friendly recipe for mini pizza bagels that is great for toddlers, preschoolers, and kids of all ages!
Ingredients
2-4

mini pizza bagels

(1-2 per child)

1/4

cup

pizza sauce

(Muir Glen brand is our favorite)

1/3

cup

mozarella cheese

(freshly shredded)

sliced olives

baby spinach

(rolled and sliced)

red bell pepper

(finely diced)
Instructions
Preheat oven to 425 degrees F.

Slice mini bagels if needed, open, and lay out face up on a parchment-lined cookie sheet.

Cook bagels in oven for 3-4 minutes until lightly toasted.

Top each bagel with about 1 Tbsp pizza sauce and a large pinch of shredded cheese. Add olives, spinach, and red bell pepper as desired.

Cook for an additional 3-4 minutes until cheese is warm and bubbly.
Frequently Asked Questions for Mini Pizza Bagels
Can I use regular bagels? Yes! 1 regular bagel equals about 2 mini bagels in this recipe. I would recommend cutting the bagel half into quarters for toddler or preschoolers so that it's easier for them to eat. The cook time remains the same.
Can I use a different sauce besides pizza/marinara sauce? Yes, some of our family favorites are bbq sauce or olive oil. White cream sauce would also work well.
Can I make this dairy free? Yes, omit the cheese and load up on your favorite toppings or use a vegan cheese option.
Do mini pizza bagels freeze well? No, I would not recommend freezing assembled or cooked mini pizza bagels. You can freeze the ingredients separately and thaw before assembling and cooking (bagels freeze well).
Thanks for stopping by! You might also like these recent related posts: