Posts may contain affiliate links. Please see Disclaimer and Disclosure page for more details.


I'm sharing a super fun bento box lunch idea for back-to-school season or anytime: Bento Box Pizza!
Whether you are looking for a back-to-school lunch idea, a fun way to mix up your standard go-to school lunch, or even want a creative lunch at home, this post can help!
I'm Jessica – a mom of three – and lover of making my kids healthy and fun meals. I'm a buy mom just like you and don't have a ton of time, so all of my meal ideas are simple and easy, yet toddler and mom-approved! Follow along on Instagram!
You might also like these related posts:
Favorite Bento Boxes
Before we get started, I wanted to share some of our favorite toddler, preschool, and little kid bento box style lunchboxes. We love bento boxes because of all the compartments for different foods that keeps everything separate, plus the leak proof lids!
Austin Baby Company Silicone Bento Box – made of silicone and large roomy compartments! We love the adorable designs on the lids and that they are made of non-toxic silicone.
Bentgo Kids – your classic kids bento box! The box and lid are all one piece (although the inner shell is removable). These fit perfectly in most lunchboxes!
Stainless Steel Bento Box – the perfect size for littles (they also have a bigger option, too!) and with cute silicone sleeves!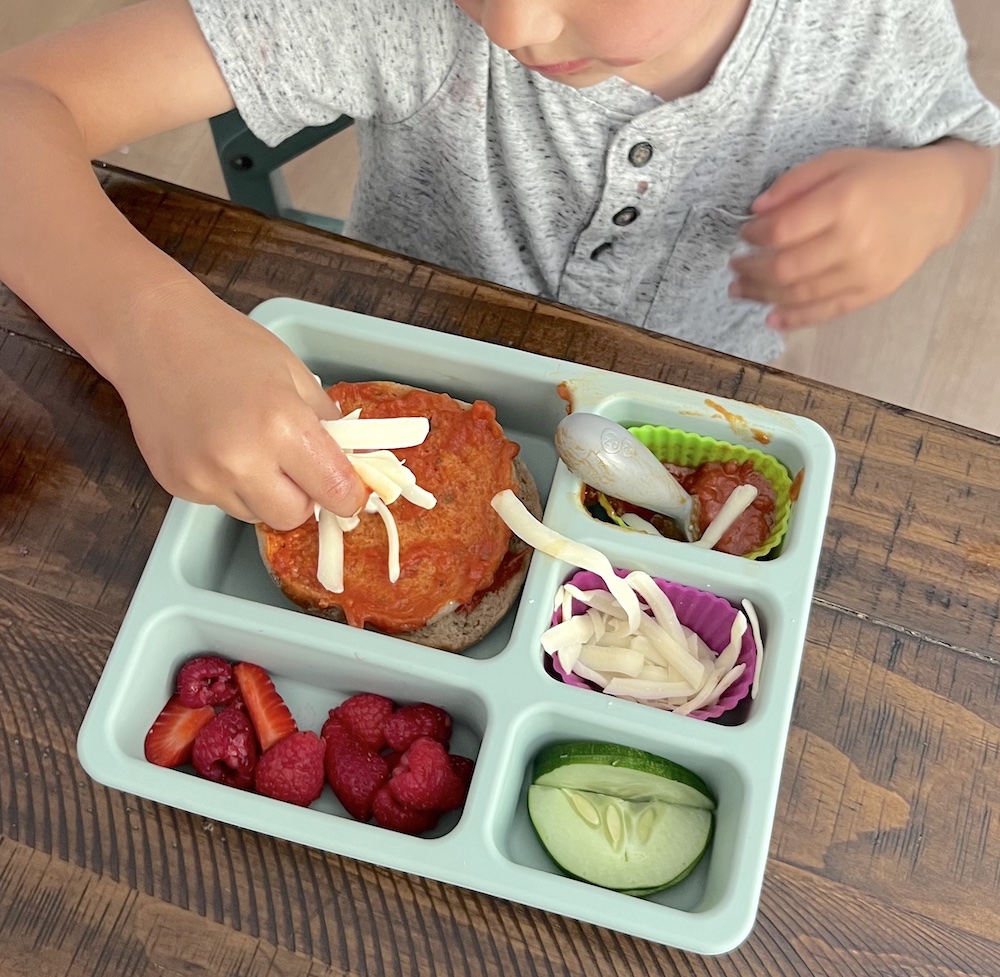 Austin Baby Company Silicone Bento Box
Shop our favorite waterproof labels from Name Bubbles (Save 20% with code PINECONES20)
What to Use as a Pizza Base for Bento Box Pizza?
We have used quite a few different options for the base of our pizza (we LOVE pizza over here)! Here are some of our favorites that fit well in a lunch box.
English muffins
Mini Bagels
Naan Rounds or Mini Naan
Pre-made personal sized pizza crusts would work, but may be too big for most lunchboxes.
How to Make Bento Box Pizza
If you have your lunchbox ready and know what type of base to you, you're ready to assemble your DIY Pizza bento box!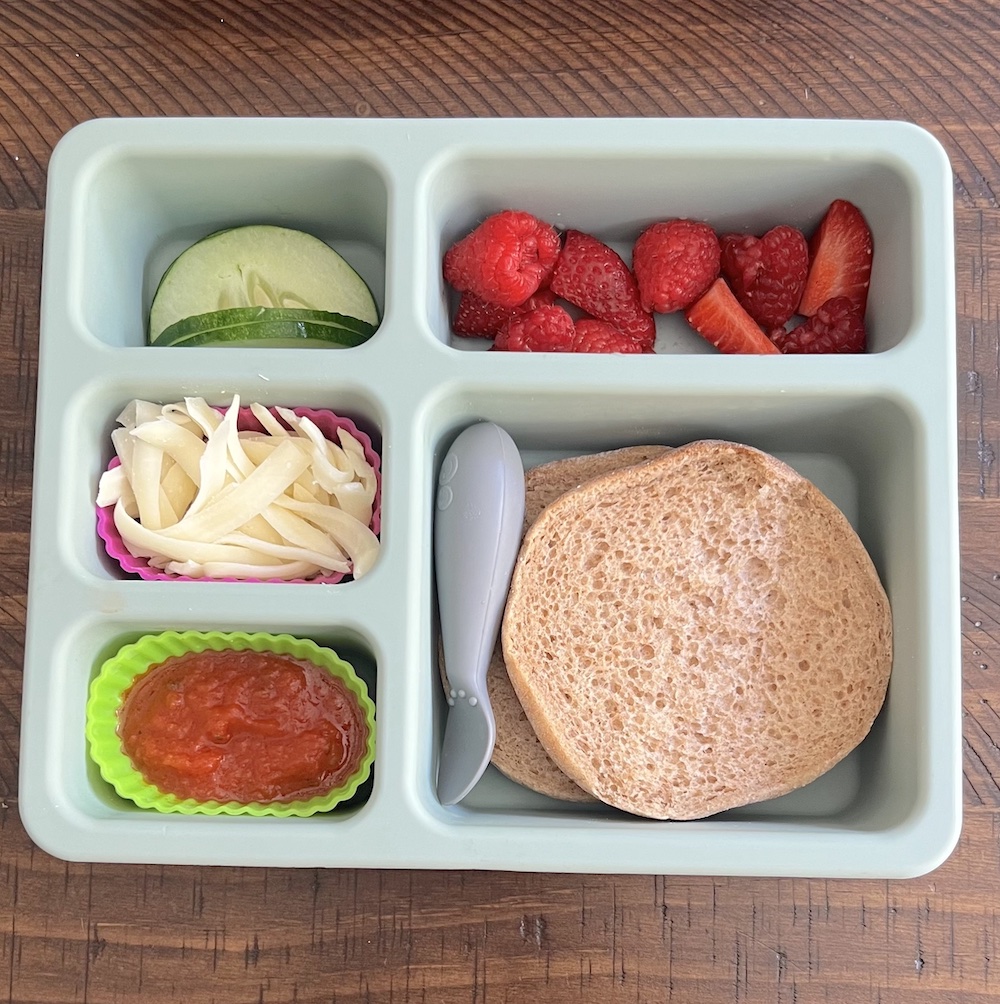 Add your pizza base to the lunchbox in the largest compartment.
Add pizza sauce to one compartment (we like Raos) – you can also use a silicone muffin tin liner to hold sauce if you aren't using a bento box or don't have a compartment the right size. Don't forget to include a little spoon like this one from EZPZ.
Add shredded mozarella cheese to another compartment ( you can also use a silicone muffin tin liner).
Fill the remaining compartments or space on your toddler's plate with pizza toppings or other sides like olives, pineapple, pepperoni, bell pepper, fruits or veggies.
I find that these are really fun for my three and five year old! My one year old won't be able to do this for a while, so I assemble it for her and melt the cheese. Always use your best judgement on what is best for your child based on their age and their abilities.
You might also like these recent related posts: