Posts may contain affiliate links. Please see Disclaimer and Disclosure page for more details.


A list of 18 summer camp lunch ideas like sandwich bites, pizza dippers, pinwheels, mini bagels, and more!
Wondering what to pack your kids for lunch this summer? How to pack a summer camp lunch box? What lunch box to use for summer camp? Start here!
I'm a mom of three and sharing summer camp lunch ideas that are perfect for little kids!
I love making lunch for my kiddos and they think it's so fun when camp season rolls around and they get to take their lunch to go in fun lunch boxes and bento boxes. If this is your first time (or even if it's not) summer camp lunches can be a little daunting, so i'm here for ideas and inspiration!
Follow along with us on Instagram for more meal ideas!
We are in this together, mamas, so I hope these meal ideas help!
You might also like these related posts: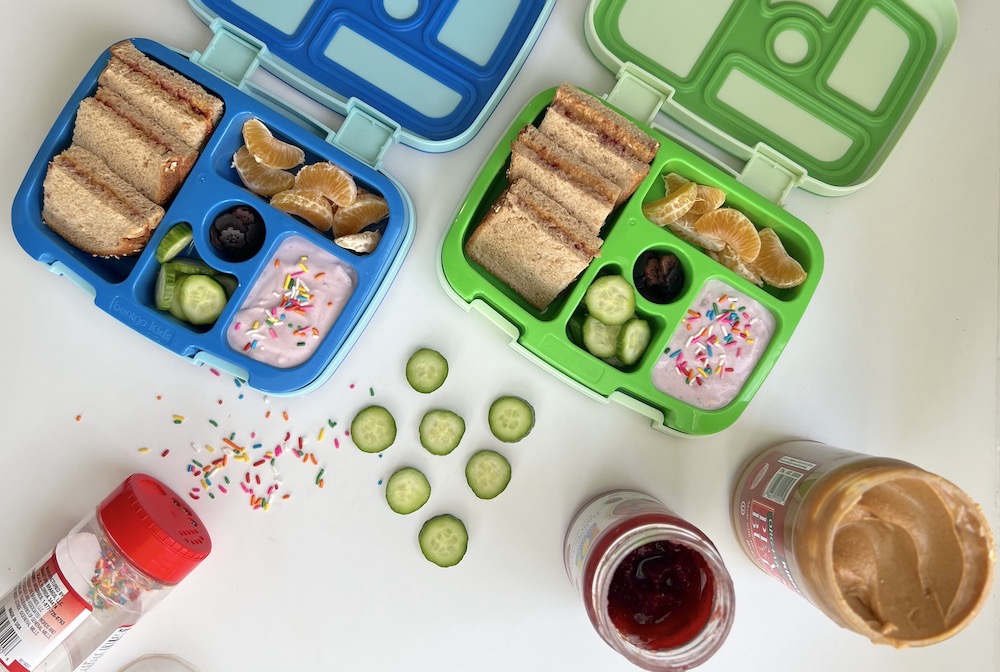 Shop our favorite waterproof labels from Name Bubbles (Save 20% with code PINECONES20)
Best Lunchboxes for Summer Camp
As a mom of three, we have tried quite a few lunch boxes over the years and these are my personal favorite summer camp lunch boxes: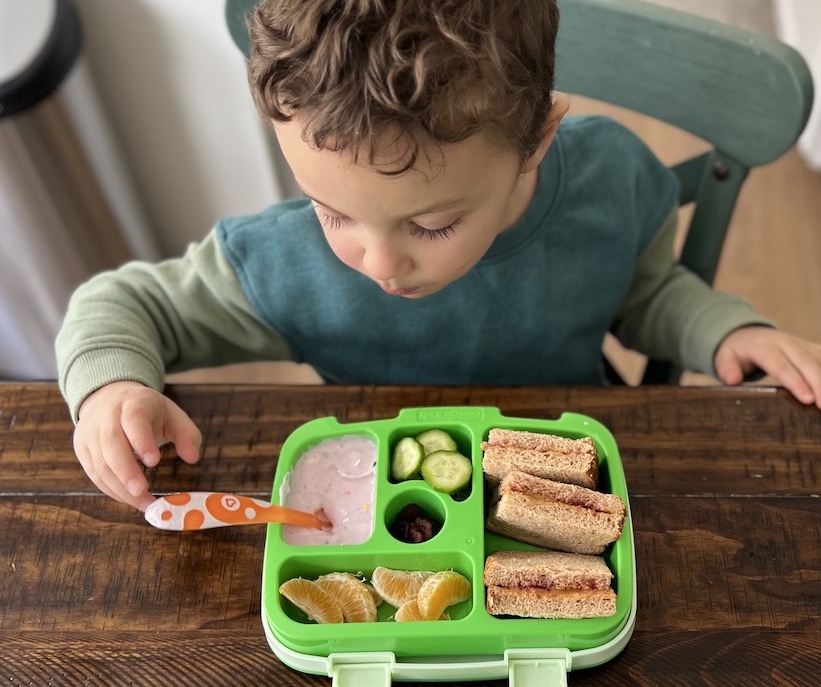 Tips for Packing Summer Camp Lunches
If you're a stay at home mom that's not used to packing lunches (this is me!) or are a working mom who's kids normally get lunch at school, lunch packing might be new to you! It can seem a little intimidating, but here are my tips for packing summer camp lunches:
Summer Camp Lunchbox Ideas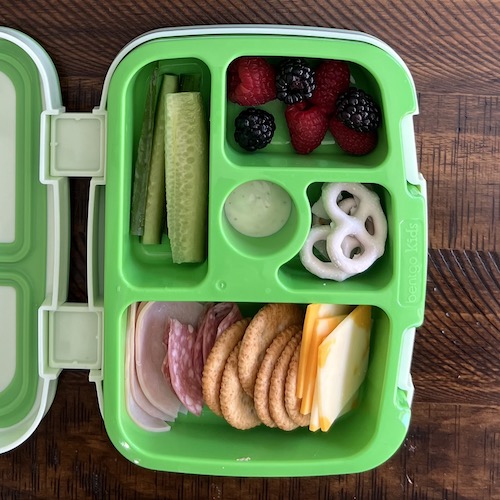 Cheese, crackers + lunchmeat (DIY Lunchable!) – one of my kid's personal favorites and also so easy. Cheese, crackers, turkey, salami that kids can stack up as they please or eat it all separate. Sides of cucumbers with ranch, fruit, and yogurt pretzels. Pictured above in the Bentgo Kids box.
Pizza Dippers – mini naan bread with sizes of pizza sauce for dipping, string cheese, and any pizza toppings your kids like! I've seen two sizes of mini naans so you could either do dippers or DIY mini pizzas depending on your child's age and abilities.
Mini Wrap – use a small tortilla to make a mini wrap! We love turkey, cheese, and hummus wraps or pb&j or other nut butter is another fun option.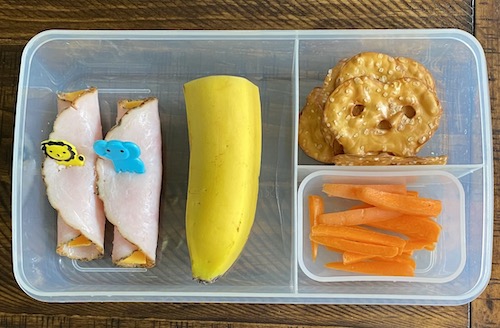 Turkey and Cheese roll ups – use string cheese, block cheese, or sliced cheese cut into strips and then wrap turkey around it for a fun and easy lunchbox idea! Side of banana, pretzel crisps, and sliced carrots. Pictured above in the Nuby Bentobox Lunchbox.
Waffle Dippers – cook or toast waffles and then cut them into strips for easy eating! Serve with yogurt or pure maple syrup for dipping, and fun breakfast sides like fruit or chicken sausage.
Pasta Salad – most little kids love pasta and this is a great way to serve pasta cold for camp lunches! Check out our favorite kid-friendly pasta salad recipe.
Shop our favorite lunchbox labels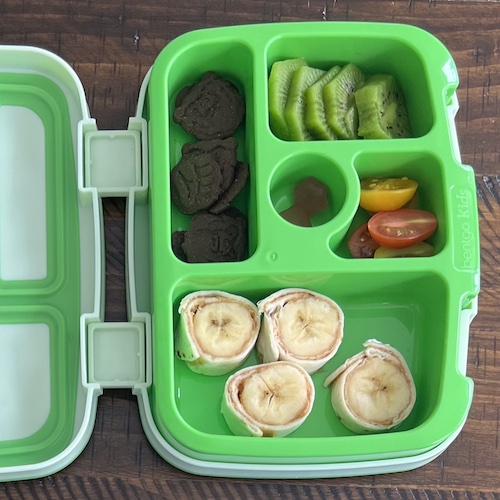 Banana "Sushi" – lay out a tortilla and spread on peanut butter, then lay a banana on top and roll up tightly, cut into slices or "sushi". Side of chocolate bear cookies, kiwi, and cherry tomatoes. Pictured above in the Bentgo Kids box.
Hummus lunchbox – serve hummus (or your child's favorite dip like ranch or guacamole) with lots of dipping options like carrot sticks, pretzel crisps, naan bread, cucumbers, and pita chips.
Mac and Cheese – my kids have no problem eating mac and cheese cold, but if you want to keep it warm, try using a kids thermos. One of my favorite tips is to serve veggies like peas, spinach, cauliflower or broccoli mixed in with mac and cheese for added nutrients! (our favorite mac and cheese recipe).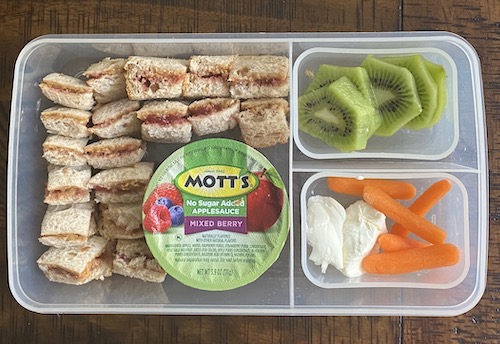 PB&J bites – one of my favorite ways to mix up pb&j is to serve it bite sized – this also helped my kids eat it easier when they were younger! Try this in a lunchbox with sides of no-sugar added applesauce, kiwi, and carrot sticks with cream cheese for dipping.
Mini Bagels – make little kid sized bagels with mini bagels! Serve with cream cheese, peanut butter (or other nut butter), pb&j, turkey and cheese, avocado or hummus for a more savory option.
Egg Salad – my kids love a good egg salad and I love all the protein to help them stay full longer! Serve with a fork, with crackers for dipping, or as a sandwich.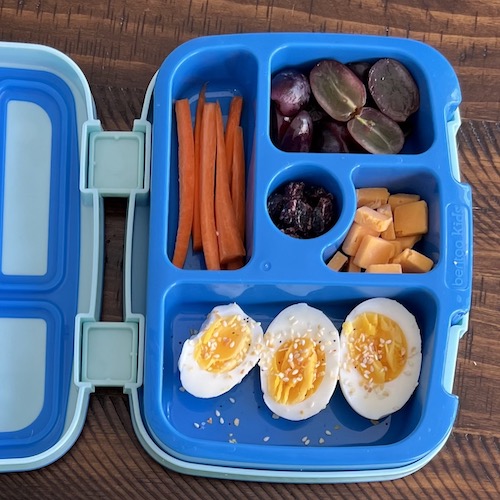 Hard Boiled Eggs – another great protein option, my kids love hard boiled eggs topped with everything seasoning. Sides of carrot sticks, grapes, cheese, and raisins.
Pinwheels – lay out a tortilla and top with shredded cheese and turkey, then heat up until melted, roll up tightly and cut into pinwheels. Fillings can vary but this is a great way to serve tortillas for little kids!
Cereal – this was one of my favorite school and camp lunches as a kid! Your child might be happily surprised to open their lunchbox and see this favorite. Send the milk separately so the cereal doesn't get soggy.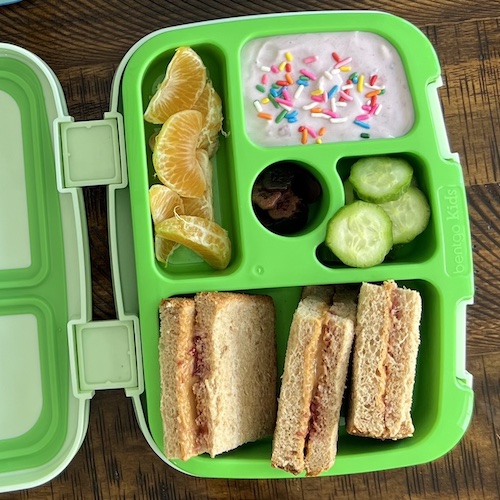 Sandwich – some of our favorite sandwiches are pb&j (or other nut butter), turkey and cheese, egg salad, turkey avocado, chicken salad, turkey hummus, and cucumber and cream cheese. Sides of mandarin oranges, cucumbers, and yogurt (if you think this is a little too messy try a yogurt tube or yogurt pouch and choose full-fat yogurt when possible). More sandwich ideas here!
Mini Breakfast burrito – keep it smaller for little kids, but wrap up a small burrito with eggs, cheese, potatoes, bell peppers, or any of their favorite toppings.
Snack Lunch – when in doubt, just serve snacks! Little kids tend to love snacks and if you keep them healthier options (think mainly veggies, fruits, healthy fats) it can totally be a complete, well-balanced meal. Here are some of our favorites!
You might also like these recent related posts: