Posts may contain affiliate links. Please see Disclaimer and Disclosure page for more details.


A list of 25 easy toddler lunch ideas for 3 year olds based on what my kids have been eating and loving for lunch!
Have you been wondering what should I feed my 3 year old for lunch? What should my 3 year old be eating? What should I make my toddler for lunch? This post can help you!
I'm a mom of three sharing real meals that my kids have been eating for lunch. These meals are from when my kids were 3 years old, but they would also be great for 2-4+ year olds or even 1 year olds if modified appropriately. You know your child and their abilities best, so always use your best judgement.
You might also like these related posts:
Best Toddler Plates
Here are some of my favorite toddler plates for making mealtime a little more fun!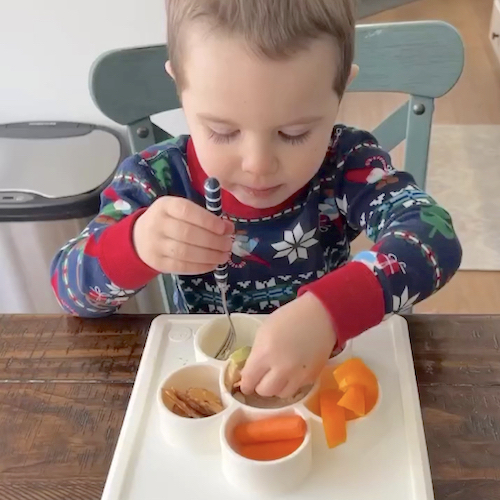 EZPZ Mini Play Mat Flower Plate (pictured above)- how cute is this plate?! We love how it has the perfect sized divided sections for toddler food portions and that it suctions to the table and is dishwasher safe.
WeeSprout Divided Plates – a perfect round divided plate that suctions to the table and is made of non-toxic silicone.
Pillowfort Plastic Plates – super affordable plates that come in a bunch of fun colors!
Fruit & Veggie Sides for Toddlers
Your toddler can eat just about everything that you can, especially fruits and veggies. Avoid hard veggies like large raw carrots (baby carrots should be okay for 3 year olds, but you know your child and their abilities best), and hard round food like full grapes. Here are some of our favorite fruits and veggies for 3 year olds:
bell pepper
baby carrots
avocado
grapes (halved)
berries
cucumber
oranges
broccoli
apple
pear
peaches
kiwi
peas
for quick and easy veggie meals we also love Little Spoon (toddler meal delivery!)
3 Year Old Lunch Ideas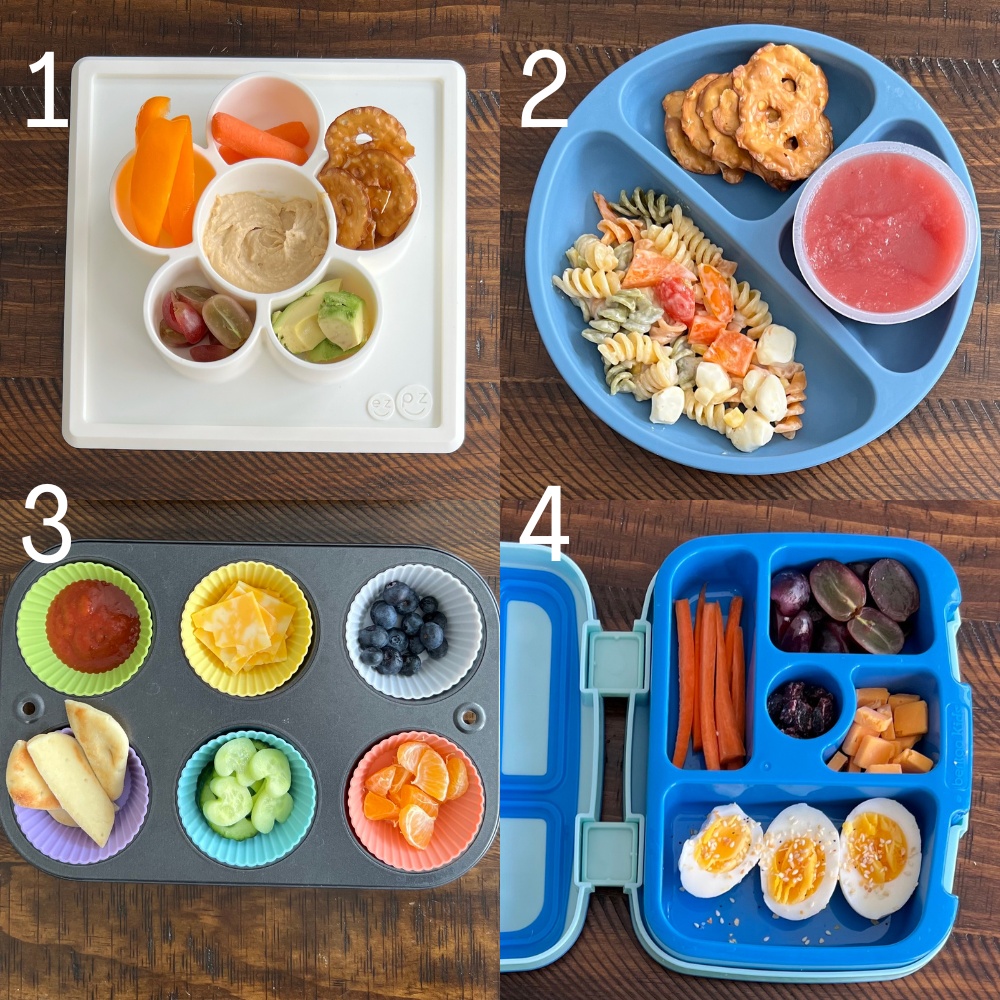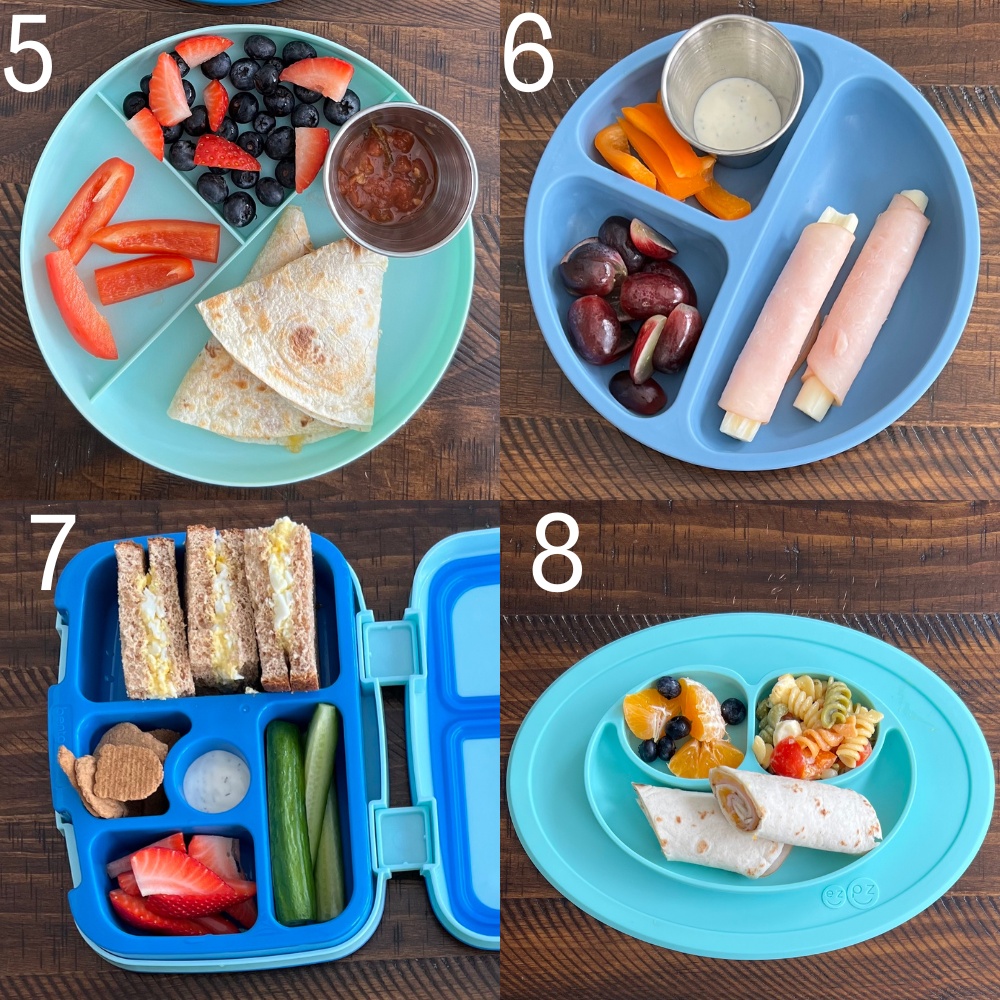 Spinach + Cheese Quesadilla – a quesadilla but with spinach! Side of salsa for dipping, bell peppers, blueberries, and strawberries.
Turkey + Cheese Roll Up – string cheese wrapped in turkey, side of bell pepper with ranch for dipping, and grapes.
Egg Salad Sandwich – our favorite egg salad recipe made into a sandwich, with sides of cucumber, strawberries, bear cookies, and ranch for dipping.
Mini Turkey & Cheese wrap – a turkey and cheese wrap but make it mini sized for toddlers, sides of pasta salad, mandarin oranges, and blueberries.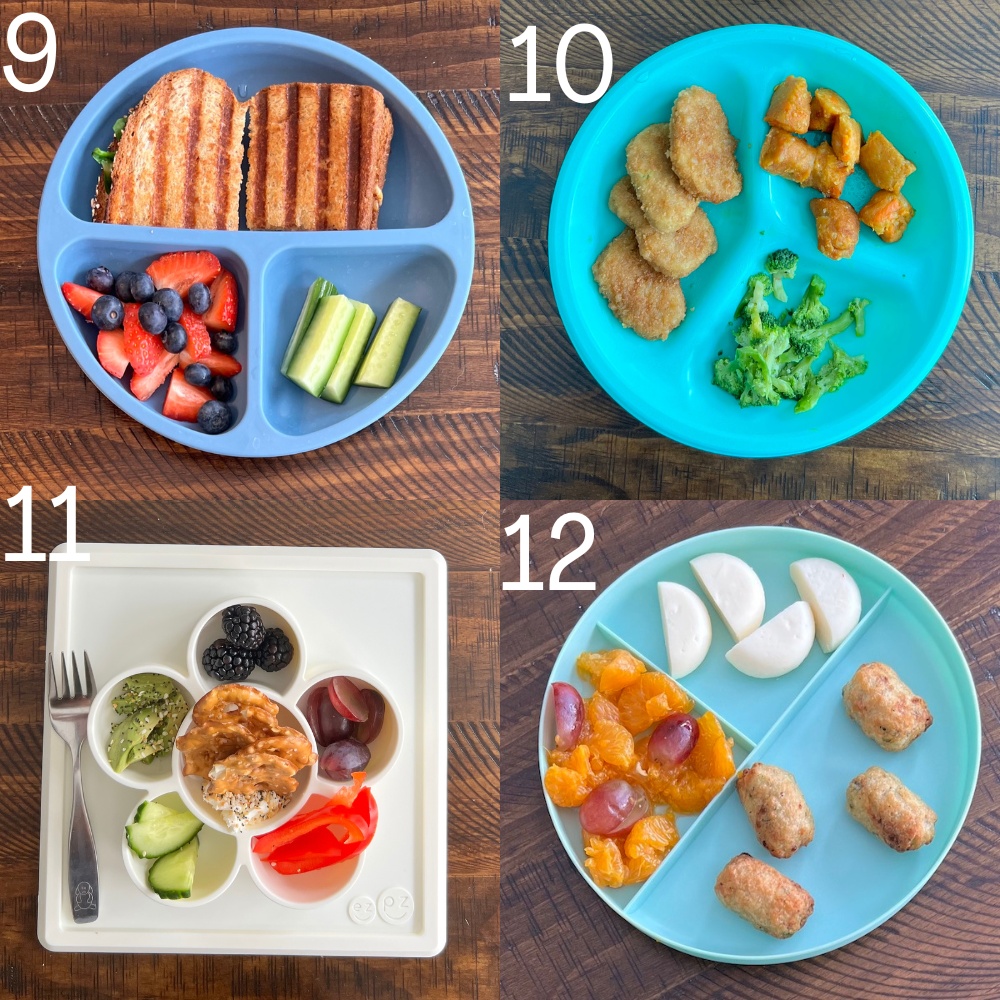 Spinach Grilled Cheese – grilled cheese but add spinach (broccoli is a good addition too!), sides of strawberries, blueberries, and cucumber.
Veggie Nuggets – nuggets are a toddler favorite and can be part of a balanced meal! Paired with sweet potato tots and broccoli (this one is from Little Spoon (meal delivery for toddlers!))
Pretzel Dippers – pretzel thins dipped in cream cheese with everything seasoning, cucumbers, avocado, blackberries, grapes, and bell pepper. (Plate is the EZPZ Mini Play Mat )
Cauliflower Tots – tots, but make them with veggies! Side of mandarin oranges, grapes, and cheese.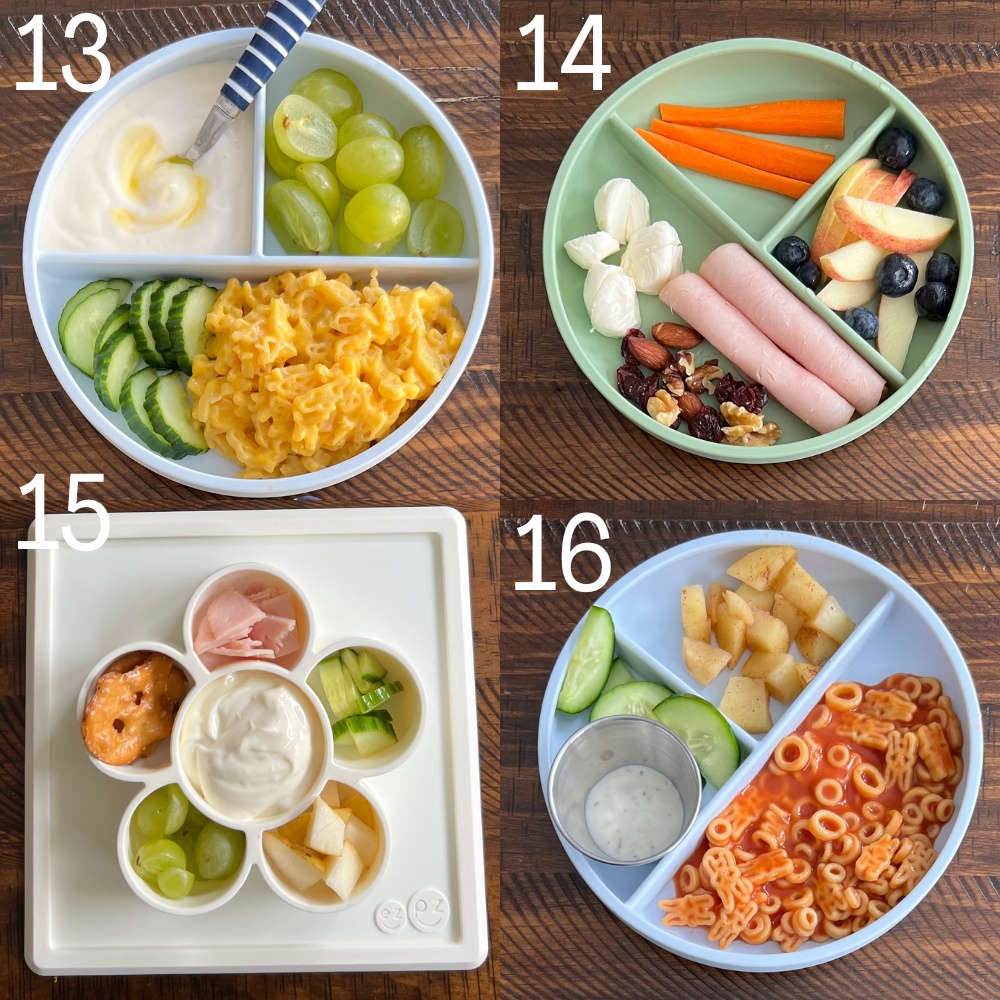 Mac & Cheese – an easy toddler meal made more nourishing with sides of cucumber, yogurt, and grapes.
Turkey & Cheese – keep it simple with turkey, mozarella cheese, trail mix, carrot sticks, apples, and blueberries.
Yogurt Snack Plate – we like to buy whole milk yogurt for added healthy fats, grapes, pretzels, turkey, cucumber, and pear.
Annie's O's – super easy to heat up for a quick and easy meal, sides of cucumbers with ranch and steamed cinnamon apples.
Turkey & Cheese Pinwheels – lay down a tortilla and place turkey & cheese on top, melt the cheese, and then roll up tightly and cut into slices or "pinwheels". Sides of hard boiled eggs, cucumbers, and pineapple.
Corn Dog – we like these ones and my kids love them dipped in ketchup. Sides of applesauce pouch and grapes.
Nuggets – nuggets can be a part of a well balanced toddler meal, served with a side of mixed berries, and cheese.
Pizza Crescent – lay out a raw crescent roll, stuff with pizza sauce and cheese, roll up and cook according to package. Sides of cucumbers with ranch and grapes.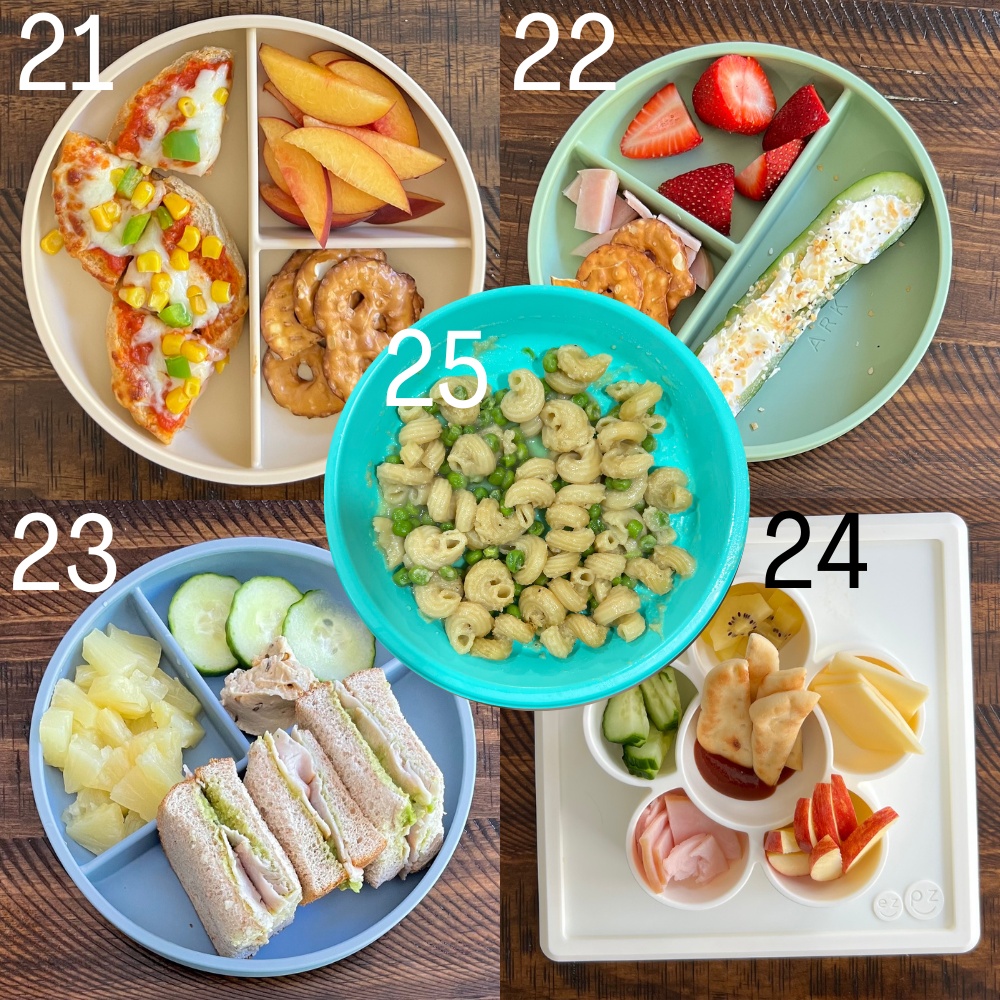 Mini Pizza – pizza made on an english muffin (similar recipe here; this is a great way to add in some extra veggies), sides of peaches, and pretzel crisps.
Mini cucumber boats – scoop out some seeds from a mini cucumber and then stuff with cream cheese (top with everything seasoning if your toddler likes that), side of turkey, pretzels, and strawberries.
Turkey Avocado Sandwich – a sandwich made on whole wheat bread with turkey and avocado. Sides of pineapple and cucumber with hummus.
Pizza Dipper Snack Plate – mini naan with bbq (or pizza sauce) for dipping, turkey, cucumber, golden kiwi, cheese, and apples.
Pasta with Peas – pasta with white sauce (or butter) and peas. (this one is from Little Spoon (meal delivery for toddlers!))
You might also like these related posts:
Pin now to save for later!