Posts may contain affiliate links. Please see Disclaimer and Disclosure page for more details.


A list of 10 no-cook toddler lunches based on what my toddlers actually eat for lunch every day! Making a healthy lunch doesn't have to be stressful or time consuming.
I'm a mom of two toddlers and some days I just don't have time to cook a hot meal when one or both are having hangry melt downs. I've learned some tricks to making quick and easy no-cook toddler lunches that are both mom and toddler-approved!
For my original post with no-cook toddler meals check out it out here:
You might also like these related lunch idea posts:
Or check out of the posts from my lunch time series: Toddler Lunch Posts
Tips for No-Cook Toddler Lunches
Here are some of my top tips for getting lunch on the table quickly and making toddler-approved no-cook lunches. Don't think too much or worry, just follow these 9 easy tips:
Use leftovers when possible
Don't underestimate the power of snack plates (with healthy options)
Include a protein (so they won't be hungry 30 mins later)
Fruits, veggies, and cheese are quick options right out of the fridge
Keep it simple; one main and two sides
Try a smoothie to get in fruits and veggies
Serve dips for raw veggies
Serve dessert with lunch (if you choose) and not as a reward
Make lunch in the morning or the night before if you are always super short on time
Here are some of my favorite plates and meal time accessories when making easy no-cook toddler lunches:
Bento Box: Nuby Hungry Kids Bento Box. We love this bento box and that it includes its own small containers with lids, and ice packs that attach inside the bento box to keep it cool until lunch.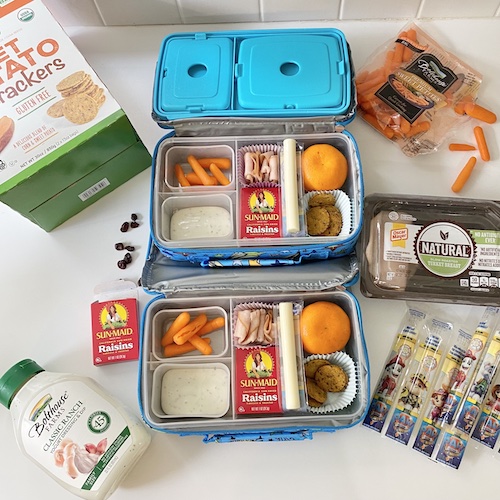 Snack Plate: EZPZ Mini Play Mat. Presentation can go a long way when it comes to getting your toddler excited about meal time. This plate has been a game changer in getting my toddlers to eat more at lunch and it also makes making snack plates quick and easy.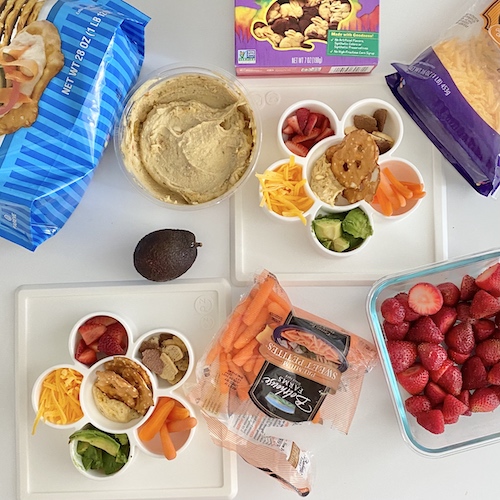 Okay, now on to the fun part… actual meal ideas!
Easy Toddler Lunch Ideas
Toddler Lunch Idea #1: Toast + Smoothie
Technically toast is cooked in the toaster, but its so quick and easy I decided to include it. There are so many fun and nutritious toppings for toast (don't be afraid to serve multiple at a time too). Here we had toast with avocado and peanut butter with banana, side of smoothie, and string cheese.
Plate: Pillowfort 7.3″ Divided Plate
Training Cup: EZTOTZ Tough To Tip Cup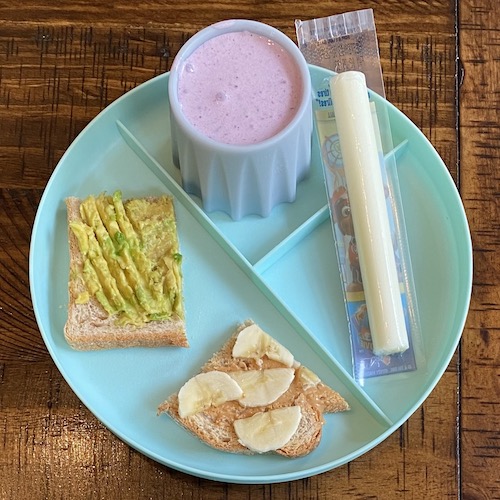 ---
Quick Toddler Lunch #2: PB&J Bites
Try making pb&j toddler-size by cutting into bite sized pieces. Side of no sugar added apple sauce, kiwi, and carrots with cream cheese for dipping.
Bento Box: Nuby Hungry Kids Bento Box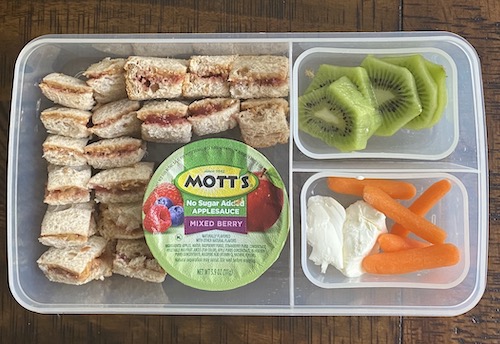 ---
No-Cook Toddler Lunch #3: Snack Plate
Grab all of your toddlers easy no-cook snacks and remember to include some fruits, veggies, and protein to make it a wholesome meal. Here we had Avocado, string cheese, grapes, shredded cereal, strawberries and Amara Organic Smoothie Melts (we love this brand because they are no sugar added!)
Snack Plate: EZPZ Mini Play Mat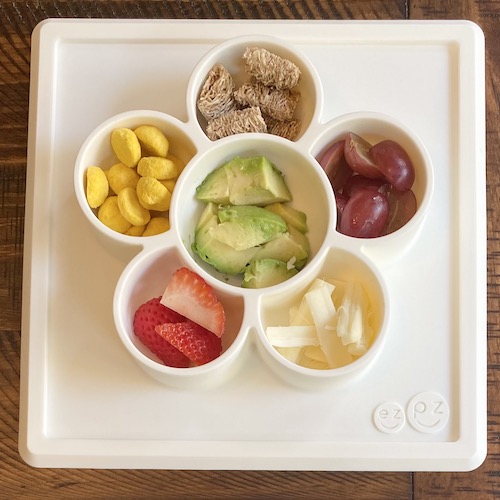 ---
Easy Toddler Snack #4: Bagel w/ Cream Cheese
Don't sleep on this easy meal idea! Try a bagel with added protein like Dave's Killer Bagels and top with cream cheese, peanut butter, avocado, or any other spreads your toddlers love. Side of applesauce and grapes (a grape cutter is a must with toddlers: OXO Grape Cutter)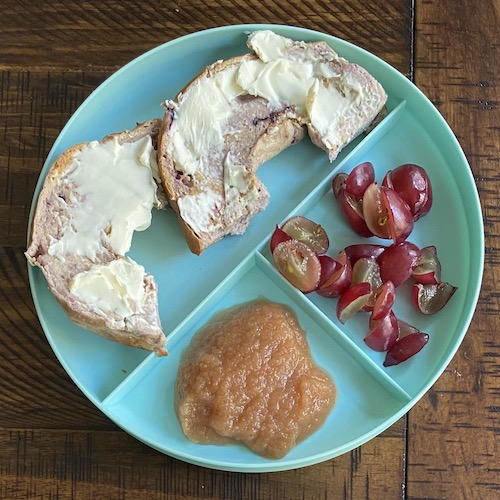 ---
No-Cook Toddler Lunch Idea #5: Banana Sushi
This is a fun and unique lunch idea your toddlers will surely love (and it can be made so quickly!). Lay out a tortilla and then spread with peanut butter & jelly, top with a banana, roll up tightly and then cut into slices or 'sushi'. Side of mandarin orange, avocado, and Annie's Homegrown Bunny Grahams.
Bento Box: Nuby Hungry Kids Bento Box
Food Cutters: (They don't make our exact set anymore but this is very similar) Sandwich & Food Cutter Set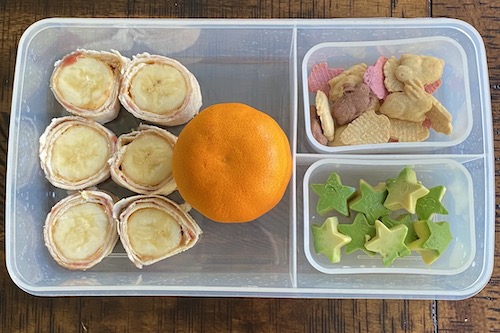 ---
Easy Toddler Meal Idea #6: Crackers & Cheese
Crackers and cheese or a 'mini lunchable' is a perfectly easy toddler meal idea. You could also include side of lunch meat for more protein. Side of bell peppers with cream cheese and EBB seasoning, plums, and blueberries.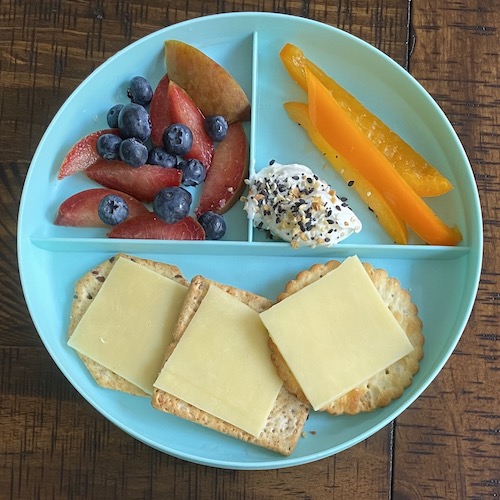 ---
No-Cook Toddler Lunch #7: Pretzels with Hummus
Try a snack plate with pretzel crisps and hummus, strawberries, shredded cheese, avocado, baby carrots (slice long ways or cook for young toddlers), and Annie's Homegrown Bunnie Grahams.
Snack Plate: EZPZ Mini Play Mat
---
Quick Toddler Meal Idea #8: PB&J Roll Up
Instead of a normal PB&J sandwich, try making a pb&j roll up. Use one piece of bread and spread with peanut butter and jelly, then roll up (you may need to use a tooth pick or a food pick to make them stay). Side of grapes, carrot chips with ranch, and sliced cheese.
Toddler Food Picks: Animal Food Picks for Kids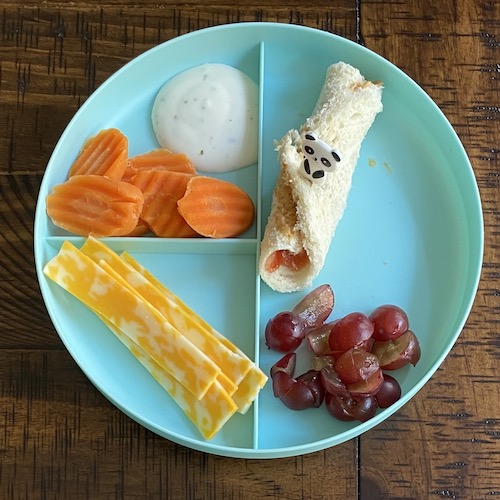 ---
No-Cook Toddler Lunch #9: Turkey & Cheese Roll Up
Use sliced cheese or part of a string cheese and roll up turkey around it to make turkey and cheese roll ups (you may need a tooth pick or food pick to hold it together). Side of banana, pretzel crisps, and sliced baby carrots.
Bento Box: Nuby Hungry Kids Bento Box
Toddler Food Picks: Animal Food Picks for Kids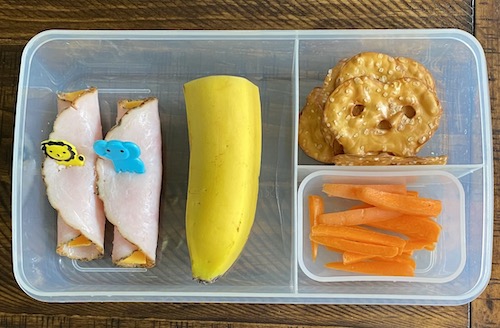 ---
Easy Toddler Lunch Idea #10: Tuna Salad
Instead of a tuna salad sandwich, try serving tuna salad as a tip with pretzels or crackers. I like to mix tuna with avocado to make it toddler-friendly! Side of carrots (slice or cook for young toddlers) and grapes.
Our favorite grape cutter: OXO Grape Cutter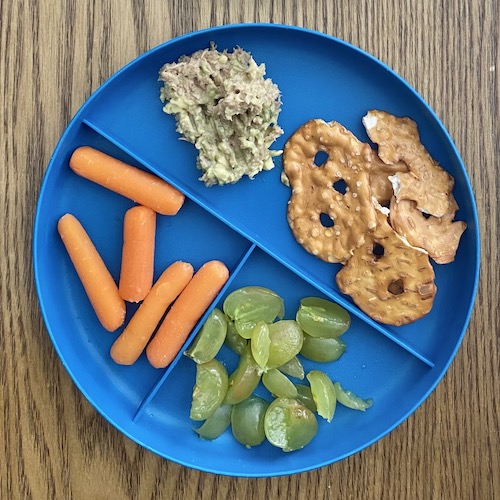 ---
Summary of No-Cook Toddler Meal Ideas
Here is breakdown of our 10 easy and quick no-cook toddler meal ideas:
Toast + Smoothie
PB&J Bites
Snack Plate
Bagel w/ Cream Cheese
Banana Sushi
Crackers & Cheese
Pretzels w/ Hummus
PB&J Roll Up
Turkey & Cheese Roll Up
Tuna Salad
Thanks for stopping by! You might also like these recent posts: