Posts may contain affiliate links. Please see Disclaimer and Disclosure page for more details.


An easy recipe for veggie-loaded broccoli and cheese pinwheels, perfect for toddlers, preschoolers, young kids, or the whole family!
Getting your kids to eat veggies can be a struggle, but making their food look a little more fun and interesting can go a long way in getting them to try and actually enjoy vegetables. These fun kid-friendly broccoli and cheese pinwheels are fun and different and may be just what your kids need!
I often serve these for lunch, but they would be great for a snack, dinner, or even an appetizer too! With just a few ingredients, these pinwheels come together quick and are a wholesome meal for the whole family.
You might also like these related recipes:
What Dough Should I Use?
I'm all about simple and easy, so I like to buy pre-made and pre-rolled dough. You can definitely make this using your own favorite pizza dough recipe (cook times may vary).
Wewalka is the dough we normally use. It's available at our local grocery store and I find the ingredients to be a bit better than some other brands. Most brands of pre-made pizza dough should work well for this recipe!
What Other Veggies Would be Good in this Recipe?
Our favorites are the classic broccoli and cheese and I think that works great for younger children. You could definitely use this recipe as inspiration and try other toppings as well. Here are some other ideas:
California veggies (cauliflower, broccoli, carrots) and cheese
Pizza veggies (olives, green peppers, onions) and mozarella cheese
Corn, red bell pepper, and cheese
Sweet potato and white cheese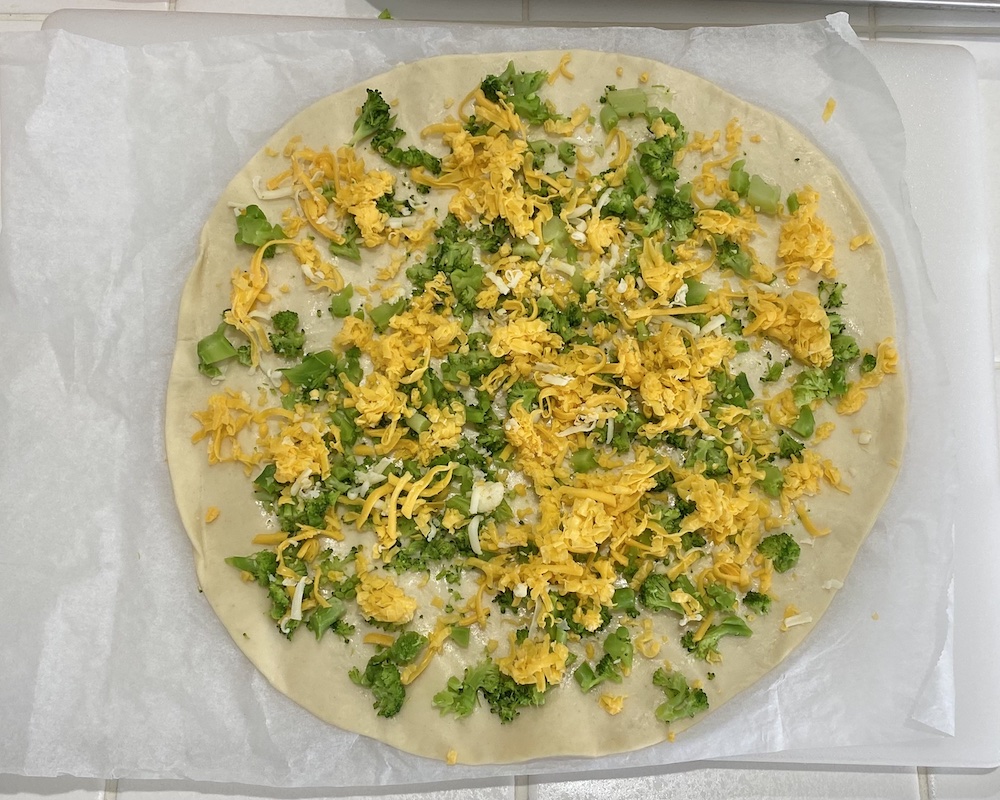 Should I use Fresh or Frozen Veggies?
I like to use frozen veggies for ease. You will want to cook them beforehand; you can microwave them with a few teaspoons of water or steam them on the stove. If you use raw veggies you would want to steam them beforehand or they will be a little less tender inside the pinwheels.
Favorite Baking Sheet: Wildone Baking Sheet with Silicone Mat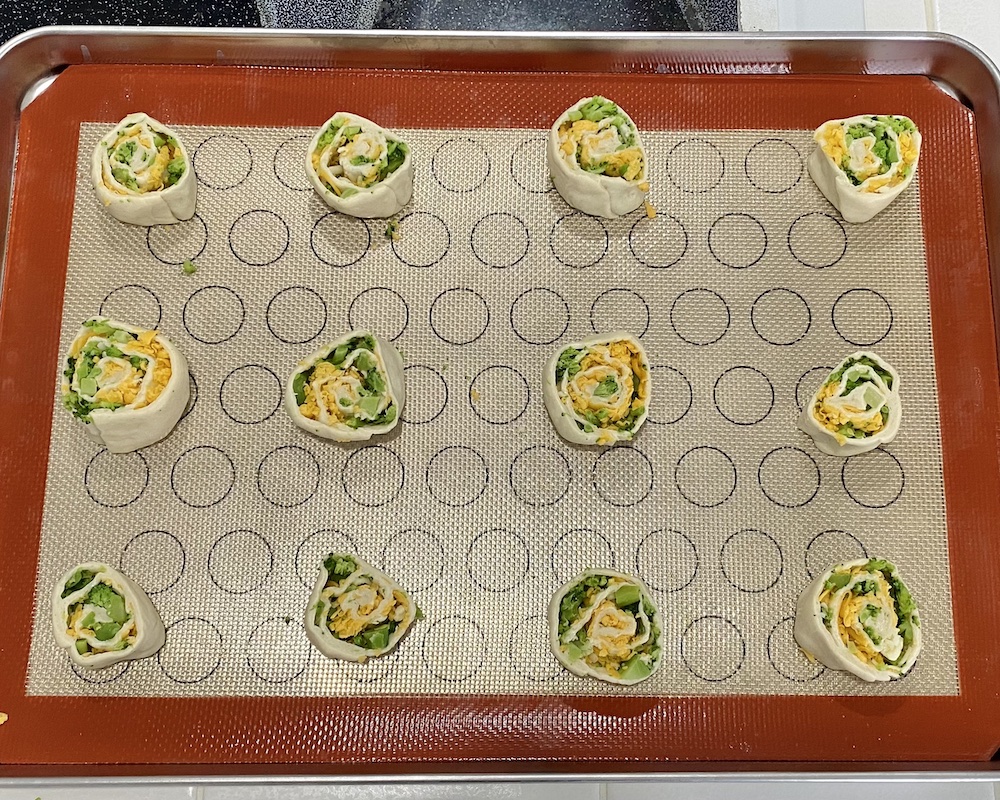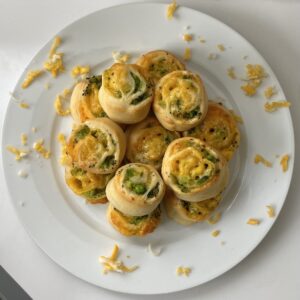 Kid-Friendly Broccoli and Cheese Pinwheels
An easy recipe for veggie-loaded broccoli and cheese pinwheels, perfect for toddlers, preschoolers, young kids, or the whole family!
Ingredients
1

10-15oz

pre-made pizza dough

1

cup

frozen broccoli florets

1

cup

shredded cheddar cheese

(medium or sharp)
Instructions
Preheat oven to 425 degrees.

Prep and cook your broccoli. Measure out 1 cup of broccoli florets. Add to a microwave safe bowl with a few teaspoons of water, cover, and cook for 2-3 minutes until tender. You can also steam them if you prefer.

Roll out your pizza dough. I like to do this directly onto a cutting board.

Evenly sprinkle the broccoli and cheese on top, being sure to get close to the edges.

Tightly roll up your pizza dough, cut into 1 inch strips. If your pizza dough is round you may need to discard the two ends if they end up very small (I normally do this).

Place rounds on a greased baking pan about 2 inches apart (or you can use a silicone liner or parchment paper).

Cook for 15 minutes or until dough is golden brown on the edges. If you are using a different brand of dough, check those cooking instructions or monitor after the 10 minute mark to ensure they don't burn.
How to Serve Broccoli and Cheese Pinwheels to Toddlers
Depending on your toddler's age you may want to cut these pinwheels in half or even into bite-sized pieces. I like to serve with sides like whole milk greek yogurt and kiwi.
Affordable Toddler Pillowfort Plates (pictured below)
Silicone Muffin Liners (pictured below)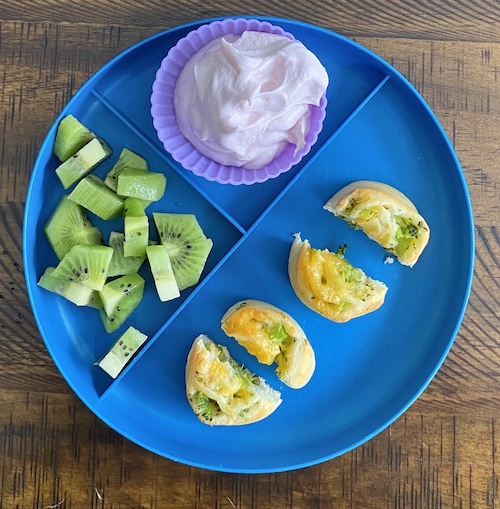 Thanks for stopping by! You might also like these recent related posts: