Posts may contain affiliate links. Please see Disclaimer and Disclosure page for more details.


A list of our favorite super easy toddler lunches with frozen food based on what my kids are loving for lunch (from a mom of two toddlers).
Frozen food is some of our favorite lunches, because they seem homemade and are fairly nutritions, but can be whipped up in just a few minutes. Although chicken nuggets and french fries are some of our favorites, too, these meals go beyond that to help expand your toddler's diet.
You might also like these related posts:
Favorite Plates for Toddlers
You don't need anything special to serve your toddlers, but having the right gear can help make it just a little bit easier and more fun (and practical)! Here are some of our favorite tried-and-true toddler plates:
Pillowfort Divided Plates – super affordable divided plate that has held up great for years!
Mini Play Mat – a super fun divided plate shaped like a flower! Great for picky eaters or snack style meals. (Use EZPZ25LOVE for 25% off $75+)
Toddler Lunches with Frozen Food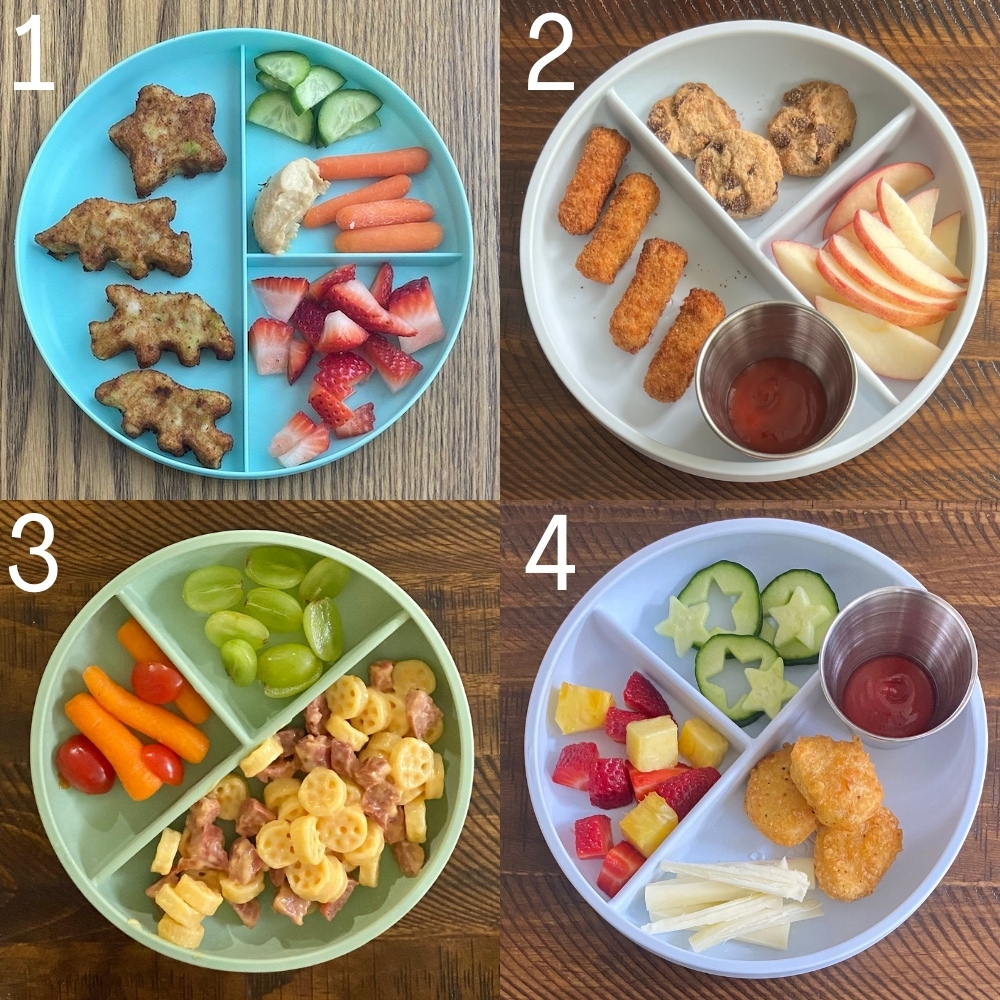 Broccoli Littles – a great healthy lunch item that also comes in fun shapes so they are toddler approved! My kids love these alone or dipped in ketchup. Sides of mini cucumber and carrots with hummus, and strawberries.
Chicken Fries – like chicken nuggets but a little more fun because they are shaped like fries. Side of ketchup for dipping, apples, and mini chocolate chip cookies.
Mac & Cheese (with hidden veggies) – like normal mac & cheese, but made with veggies! We like to stir in some hot dogs and serve with sides of baby carrots, cherry tomatoes, and grapes.
Chicken Nuggets – this is our favorite brand of chicken nuggets and our kids love them too! Served with a side of ketchup for dipping, string cheese, strawberry, mango, and cucumbers.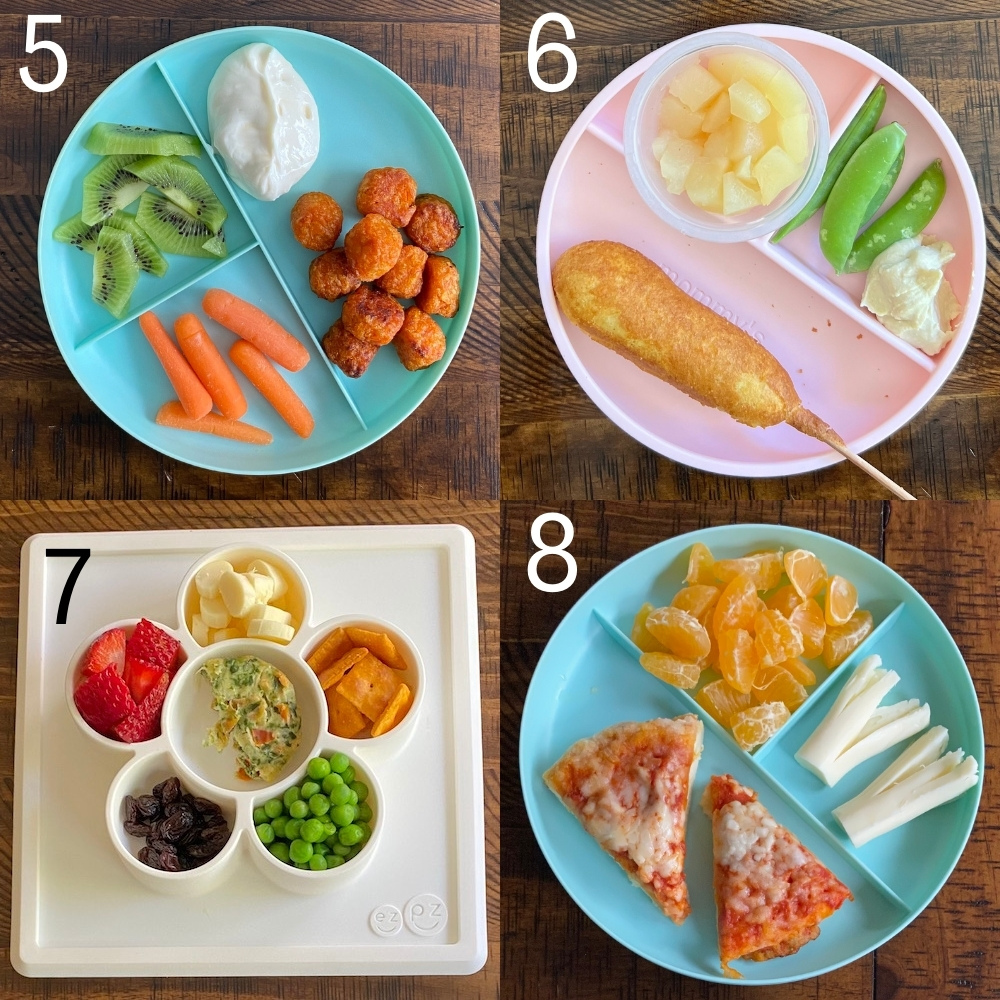 Sweet Potato Puffs – like tots, only better! Served with a side of yogurt for dipping, kiwi, and baby carrots.
Corn Dog – (be sure to cut lengthwise for young toddlers). We like this brand for the better ingredients. Side of snap peas with hummus, and a pear cup in 100% juice.
Spinach Egg White Frittata – ready in the microwave in just 60 seconds or less! Served snack plate style with sides of peas, raisins, strawberries, string cheese, and cheese crackers. (Plate is the Mini Play Mat – Use Code EZPZ25LOVE for 25% off $75+)
Cheese Pizza (with hidden Veggies) – if your kids are into pizza, this is a great quick and easy option with added veggies. Side of string cheese and mandarin oranges.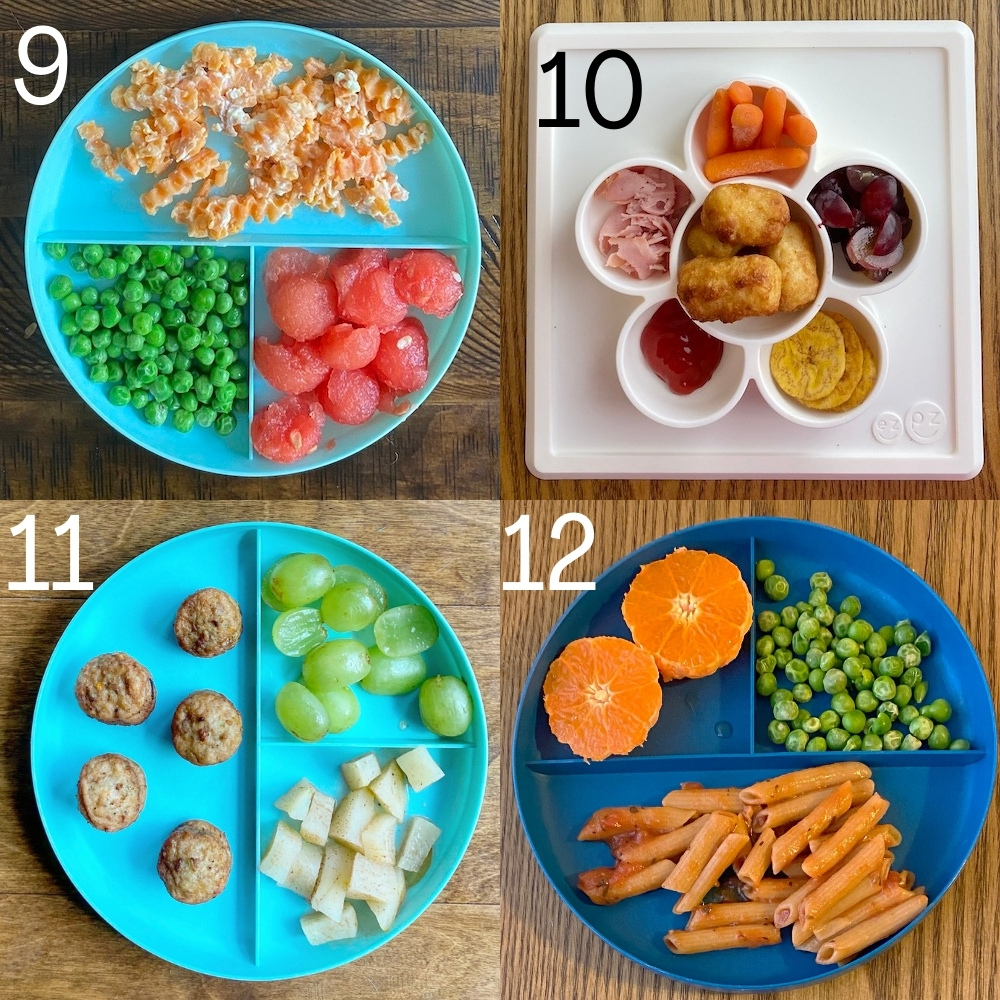 Sweet Potato Rotini – simply sweet potatoes, but made to look like pasta (your toddlers might not even know the difference!). Serve with butter or soft cheese like laughing cow cheese. Sides of watermelon and peas.
Cauliflower Tots – we love making these quickly in the air fryer! Side of ketchup for dipping, turkey, baby carrots, grapes, and banana chips.
Chicken Meatballs (with hidden veggies) – yummy meatballs made with added hidden veggies. Side of sautéed apples and grapes.
Veggie pasta – our favorite with marinara is no longer available but their cheese version is also good too! I love frozen pasta because it is so quick to make and these ones come with added veggies. Side of peas and mandarin orange.
Summary of Frozen Food Toddler Meal Ideas
Frozen food doesn't have to be boring or unhealthy! We love frozen food for a quick and easy meal idea and love to pair with nutritious sides. Here are some of our favorite main course options:
Broccoli Littles
Chicken Fries
Mac & Cheese (with hidden veggies)
Chicken Nuggets
Sweet Potato Puffs
Corn Dog
Spinach Egg White Frittatas
Pizza (with hidden veggies)
Sweet Potato Rotini
Cauliflower Tots
Chicken Meatballs (with hidden veggies)
Pasta (with hidden veggies)
Thanks for stopping by! You might also like these recent related posts: