Posts may contain affiliate links. Please see Disclaimer and Disclosure page for more details.


13 easy and kid-friendly sandwich toddler meal ideas perfect for lunch and dinner time. Toddler sandwiches from a mom of two toddlers.
There's something comforting about a yummy filling between two pieces of bread. And even toddlers seem to love it too! If your toddler is sandwich-obsessed or if you're just looking for an easy on-the-go meal idea or finger food, this post can help!
I'm sharing 13 easy sandwich toddler meal ideas based on what my toddlers have actually been eating. Easy meal ideas plus hearty sides perfect for toddlers, preschoolers, and young children (really, the whole family!).
Check out these easy sandwich toddler meal ideas below!
You might also like these related posts:
What Can Toddlers Have in Sandwiches?
For the most part, toddlers can have almost anything an adult can have to eat, and that goes for sandwiches as well. You do want to avoid choking hazards like food that is too hard, too chewy, and bites that are too big.
Some favorite toddler sandwiches are of course peanut butter (or other nut butter) & jelly, grilled cheese, or lunch meat and cheese. I'll also show you how to take these classic toddler favorites to the next level and give you even more ideas that your toddler will love!
Can an 18 Month Old Eat a Sandwich?
You know your toddler best and know their eating abilities, but in general, yes an 18 month old can eat a sandwich. Make sure to avoid choking hazards like foods that are too hard and sandwiches that are too thick/big.
Here are some ways you can modify sandwiches for young toddlers until they are comfortable eating the real thing:
serve a deconstructed sandwich (lunch meat, cheese, soft or cooked veggies, ect with bread on the side).
cut sandwiches into bite-sized pieces or strips
cut off the crust if it is too hard to eat
make sure sandwiches are thin and not too big for your toddler to take a bite from
serve the sandwich open faced (like avocado toast) or in a roll up or pinwheel
What is the Best Sandwich Bread for Toddlers?
Choose a whole grain bread for your toddler's sandwich. I like to avoid bread with excess ingredients and sugar, but also make sure it's soft enough for toddlers to easily eat and enjoy. Here are some of our favorite brands and varieties:
Sourdough could also be a great option!
Easy Sandwich Toddler Meal Ideas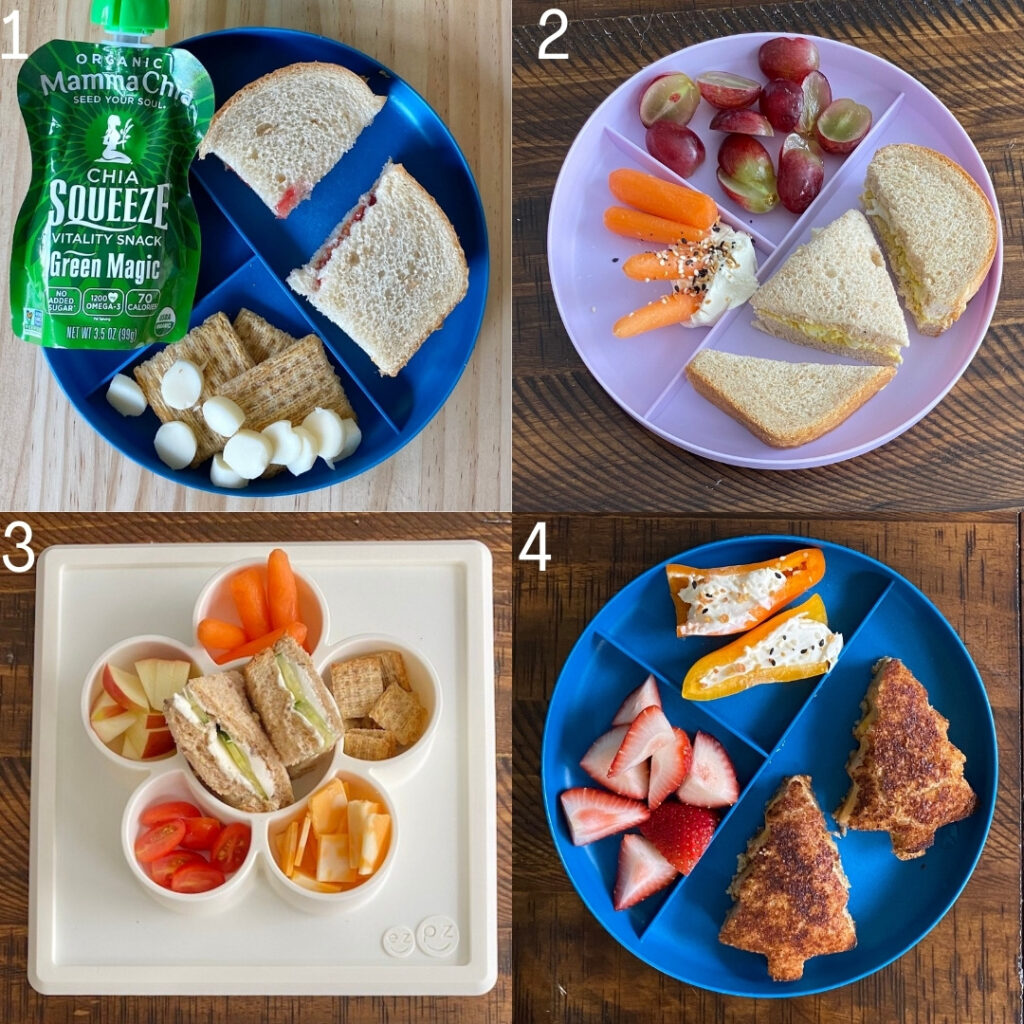 Peanut Butter & Jelly – a toddler favorite so we had to list it as #1. If your toddler is stuck in a rut with pb&j day after day, try mixing it up a little bit: serve it with almond butter, sun butter, a different flavor jelly, smashed fruit instead of jelly, or with a different bread. Sides of Mama Chia squeeze pouch, crackers, and cheese.
Egg Salad Sandwich – check out my recipe for easy, creamy toddler egg salad and put it between two pieces of bread for a yummy sandwich option. Side of baby carrots with cream cheese and grapes.
Cucumber Cream Cheese Sandwich – a fun veggie sandwich made with cream cheese and thinly sliced cucumber. Sides of crackers, cheese, tomatoes, thinly sliced apples, and baby carrots. Divided Flower Plate: EZPZ Mini Play Mat (Use code EZPZ25LOVE for 25% Off $75+)
Grilled Cheese – step up your grilled cheese by using food cutters to cut sandwiches into fun shapes (bonus: this is also an easy way to remove the crust). Side of sweet pepper with cream cheese and strawberries.
Shop our favorite affordable toddler plates > Pillowfort Divided Plate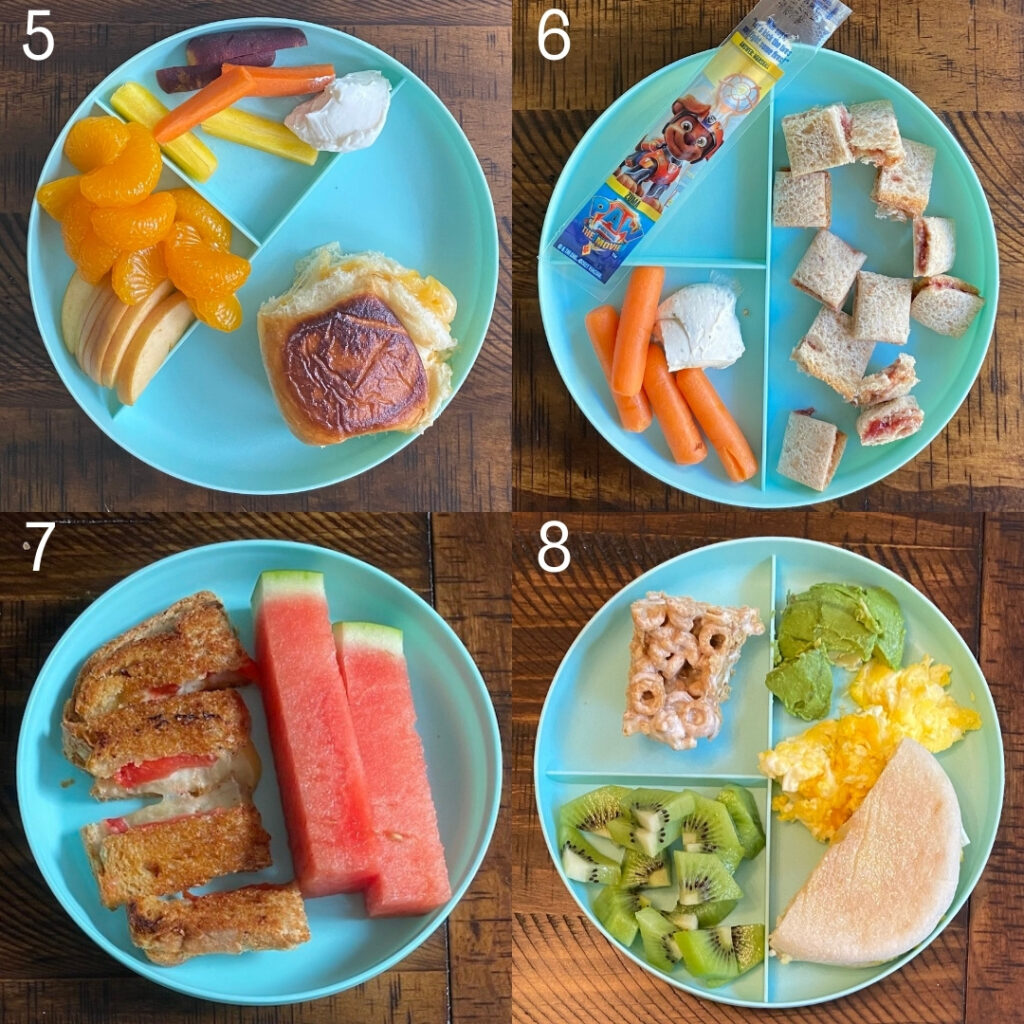 Grilled Turkey & Cheese Slider – use a roll (we love the Hawaiian style rolls) and make a sandwich with cheese and turkey, then heat on cast iron skillet with butter. Side of thinly sliced apples, mandarin oranges, and rainbow carrots with cream cheese.
PB&J Bites – while my kids were learning to like pb&j and bigger sandwiches, these PB&J bites were the perfect option! I also used to send them to daycare when my kids were little. I just learned about this bite-sized food cutter that makes these so easy to make!
Grilled Tomato & Cheese – mix up the normal grilled cheese and add a tangy tomato! My boys love this with mozarella cheese. Side of sliced watermelon.
Egg & Cheese Sandwich – make a breakfast sandwich with a fried or scrambled eggs and cheese. I like to serve on an english muffin or normal bread would work too! Side of avocado, kiwi, and cereal bar.
Related recipe: Toddler Breakfast Burrito with Veggies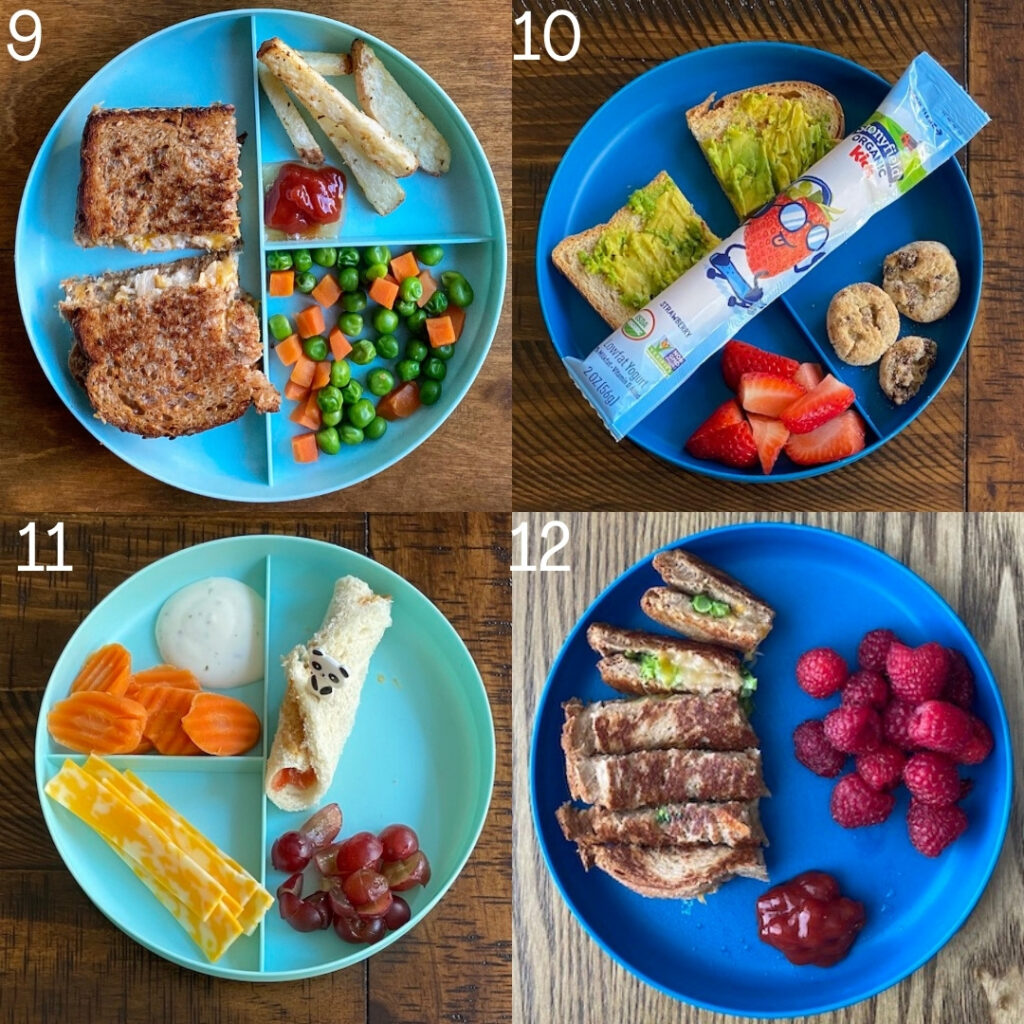 Grilled Chicken & Cheese – a great way to use up left over chicken and add some extra protein. Side of homemade fries with ketchup and peas and carrots.
Avocado Toast – not really a sandwich, but avocado toast is a great lunch option to make with bread and smushed avocado. You can also add a small amount of sea salt or everything seasoning on top if your toddlers like that (mine do!). Side of yogurt tube, strawberries, and cookie bites.
PB&J Roll Up – another fun way to mix up pb&j (or most sandwiches) is to serve it in a roll up instead of a normal sandwich. Use 1 piece of bread and cut off the crust, then add toppings and roll up tightly. I used a fun food pick to hold it together. Side of grapes, cheese, and carrots with ranch.
Grilled Broccoli & Cheese – I am notorious for adding veggies (often broccoli) to everything and grilled cheese is no exception! It's an easy way to add a veggie to this simple meal. Side of ketchup for dipping and raspberries.
Favorite silicone plates: EZPZ fun (Use code EZPZ25LOVE for 25% Off $75+)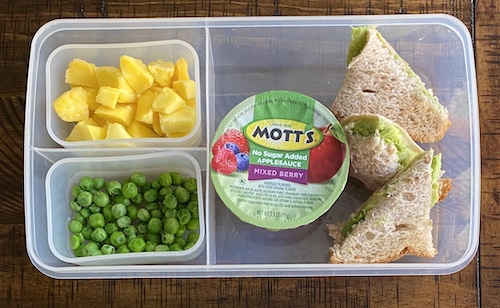 Avocado Sandwich – if your toddlers love avocado toast, try making an avocado sandwich to make it more portable (or just to mix it up). Side of applesauce, peas, and frozen mango (thawed). Lunchbox pictured is the: Nuby Insulated Bento Box
Summary Toddler Sandwich Ideas
Thanks for reading! Here is a quick breakdown of 13 easy, fun, and healthy toddler sandwich ideas for those sandwich-loving toddlers or if you are just looking for more ways to expose your toddler to new foods.
PB&J
Egg Salad Sandwich
Cucumber Cream Cheese Sandwich
Grilled Cheese
Grilled Turkey & Cheese Slider
PB&J Bites
Grilled Tomato & Mozarella
Egg & Cheese Sandwich
Grilled Chicken & Cheese
Avocado Toast
PB&J Roll Up
Grilled Broccoli & Cheese
Avocado Sandwich
Thanks for stopping by! You might also like these recent related posts: