Posts may contain affiliate links. Please see Disclaimer and Disclosure page for more details.


Our favorite toddler dinner ideas for 3 year olds from easy sheet pan meals the whole family will love to simple kid favorites like mac and cheese.
If you're looking for healthy, delicious 3 year old toddler dinner ideas that your child will love, you've come to the right place!
Eating well-balanced meals and a variety of foods is essential for kids of all ages, and it can be a challenge to get even the pickiest eaters to enjoy nutritious meals. But with some creativity and a few simple ingredients, you can make delicious dinners that your 3 year old will enjoy.
From protein-packed quesadillas and hearty pastas to kid-favorite mac n' cheese, this article will give you simple recipes guaranteed to satisfy your little one's tastebuds (approved by my two toddlers!).
If you're new here, i'm Jessica, mom of three and passionate about making fun, easy, healthy-ish meals my kids love. Stay a while and check out some of our tried-and-true favorite toddler meals or follow along on Instagram!
You might also like these related posts:
Favorite 3 Year Old Meal Supplies
Making meal time stress-free is a must for busy parents! Having special toddler-sized plates is definitely not required, but from my personal experience, having toddler plates, bowls, and utensils can help keep meal times running smoothl!
It can also be helpful to get a few dishes that are specifically designed with your toddler's size and age in mind. By getting plates and utensils that are easy for your little one to maneuver and created for their needs, you can help set your little one up for success. Here are some of our favorites: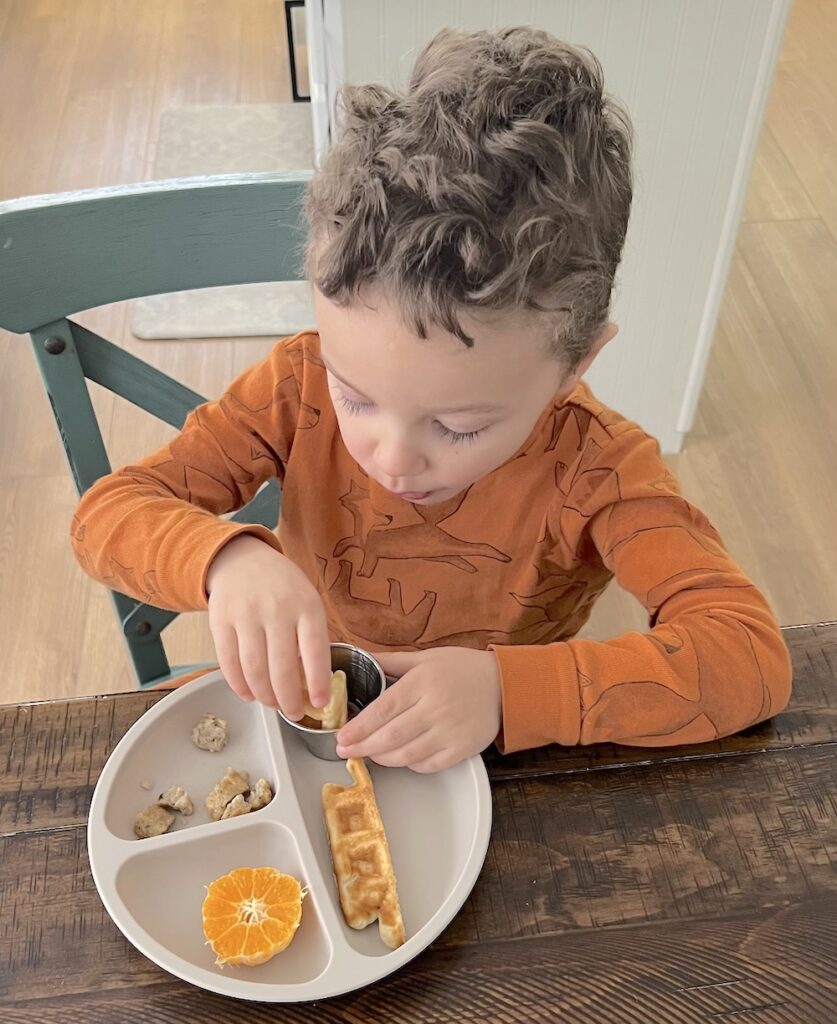 Wee Sprout Silicone Divided Plates: our recent go-to plate that's the perfect size for 3 year old! I love how these plates stack together for storage and are extremely durable and dishwasher safe.
EZPZ Flower Plate Mini Play Mat: this is a super fun plate that is great for picky eaters! My kids love to have snack style lunches and this plate is perfect for snack trays or serving smaller portions of your toddler's favorite foods.
Fun Toddler Food Picks: such a fun fork alternative! I recently got this set for my 3 and 4 year old and they have so much fun picking out their own picks and choosing their favorites.
Toddler Dinner Ideas
Family-Friendly Toddler Dinners
Most of the time all of my kids eat what we do for dinner! This is easier on everyone and is a great way to offer a variety of food instead of the "same old" toddler favorites. Here are some of our family-friendly toddler dinners perfect for the whole family: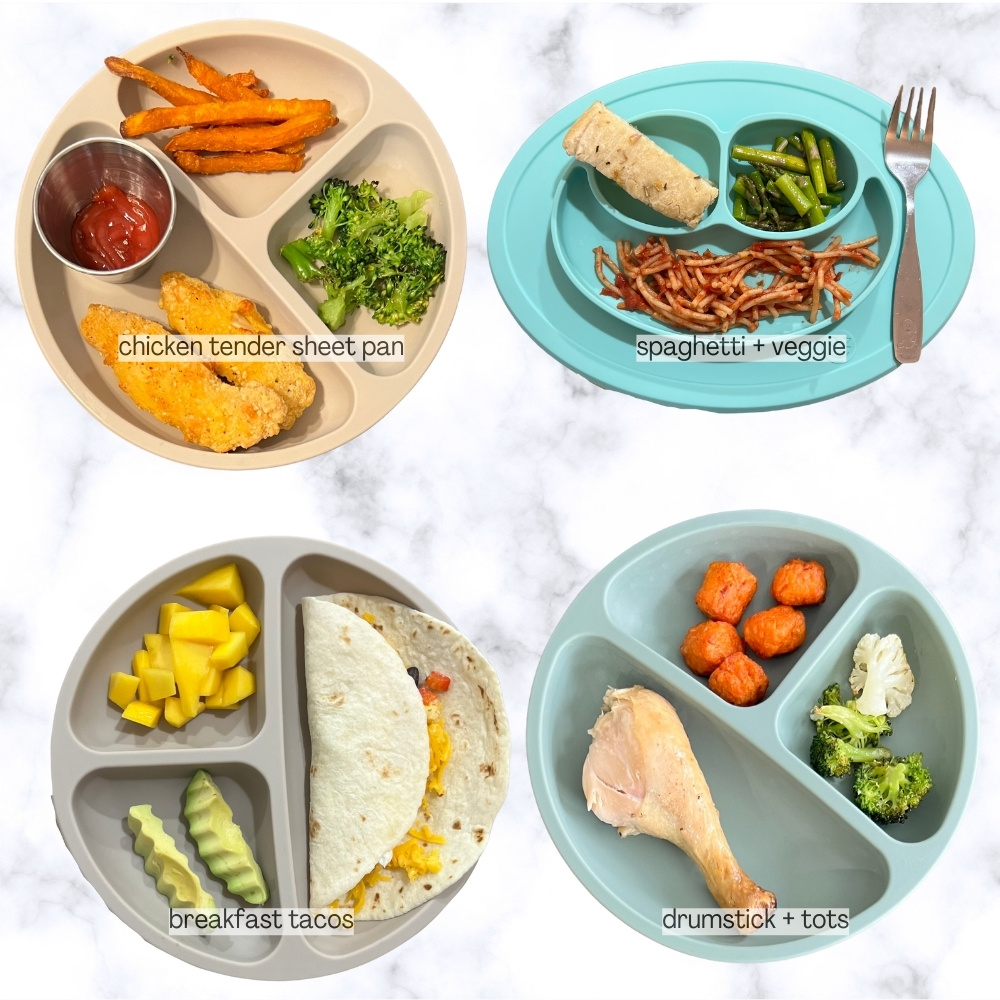 Chicken Tender Sheet Pan – cook a toddler favorite (chicken tenders) together on a sheet plan with sweet potato fries and broccoli to make it a family-friendly meal.
Spaghetti plus veggies – spaghetti and marinara sauce with garlic toast and asparagus. You could also include meatballs or chicken Parmesan!
Breakfast tacos – one of my favorite ways to use up what's left if your fridge! Throw whatever veggies you have left for the week or like in tacos in with your eggs, some of our favorites are bell pepper, spinach, and black beans. Side of mango and avocado (cut using our favorite crinkle cutter).
Drumstick & Tots – drumsticks are great for toddlers because they are super tender and a little easier for them to eat (plus they are more fun!). Side of sweet potato tots, broccoli, and cauliflower.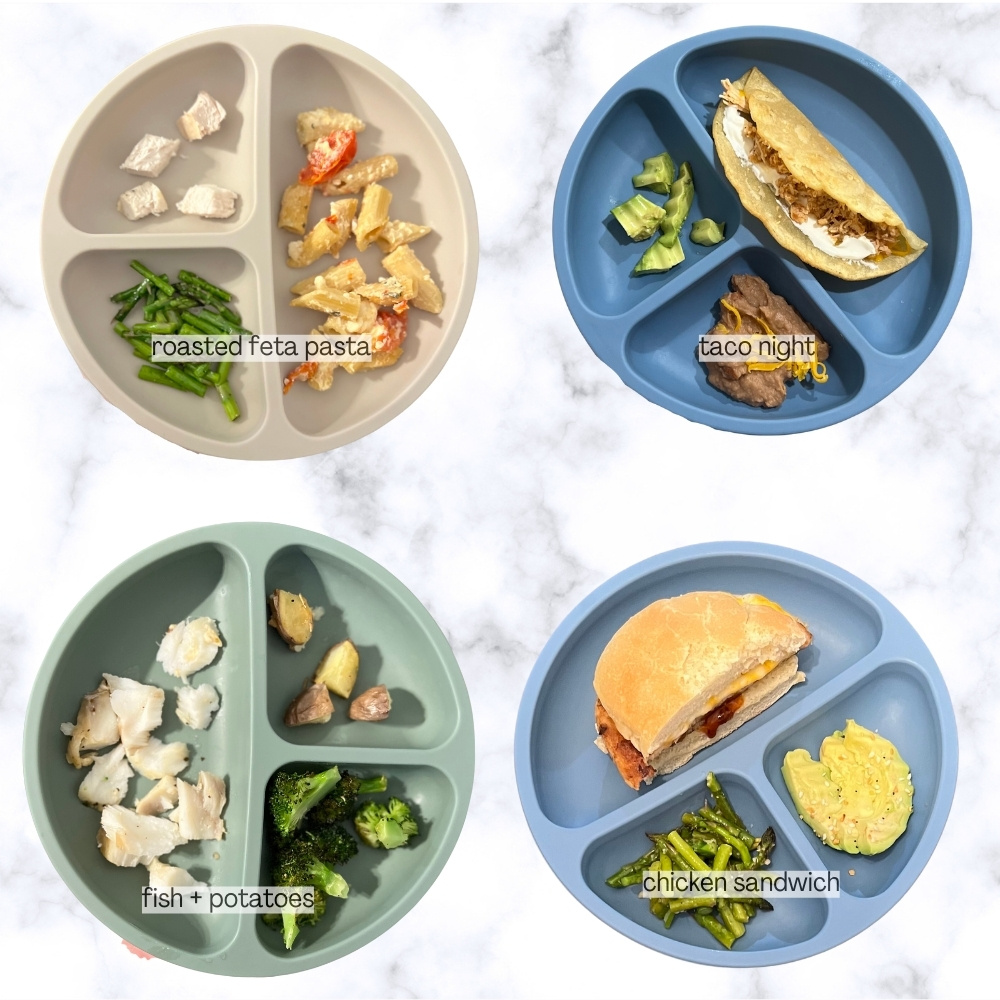 Roasted Feta Pasta – pasta mixed with roasted feta and cherry tomatoes is a perfectly easy week-day meal that the whole family will love! Side of chicken and asparagus.
Taco Night – shredded chicken taco with cheese and sour cream, sides of refried beans and avocado (cut using our favorite crinkle cutter).
Fish & Potatoes – white fish or salmon are favorites in our house served with roasted potatoes and broccoli.
Grilled Chicken Sandwich – grilled chicken sandwich or burger with sides of mashed cauliflower and asparagus.
Favorite plate: Wee Sprout Silicone Divided Plates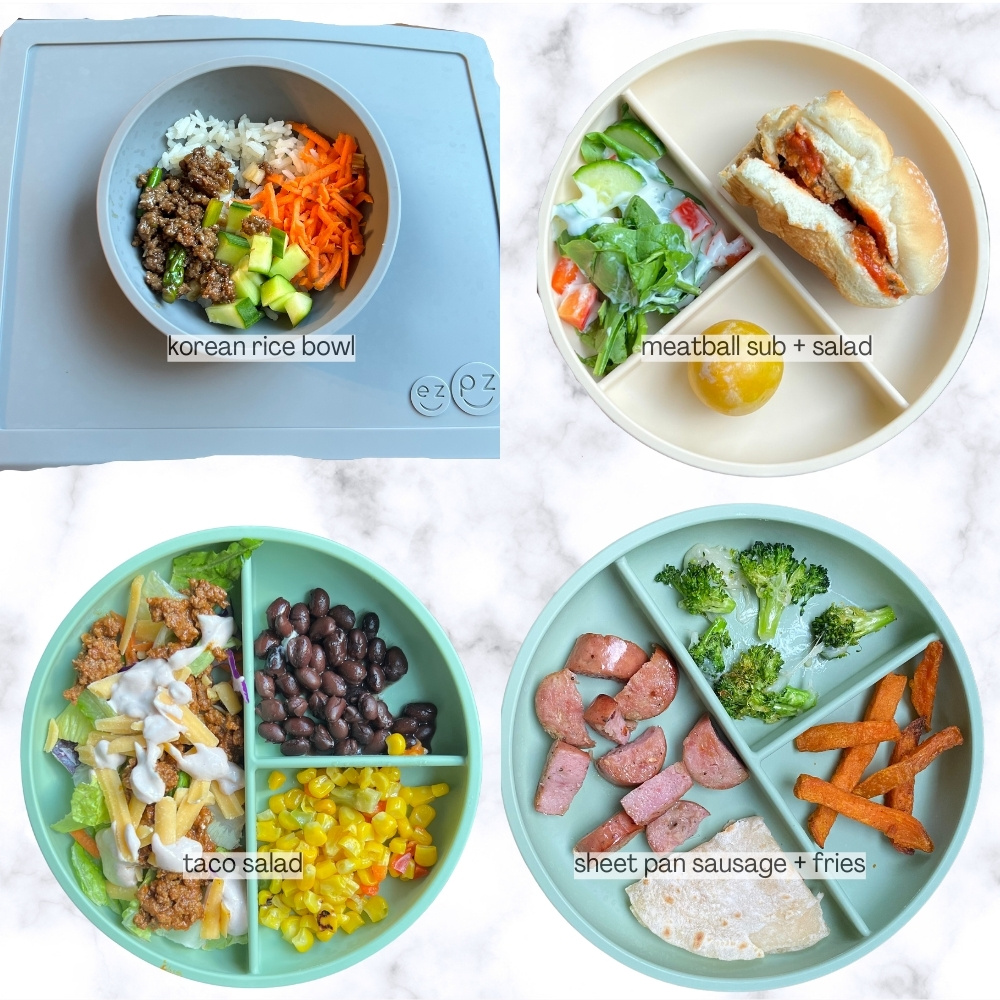 Korean Rice Bowl: ground beef with Korean BBQ sauce with rice, shredded carrots, and cucumber.
Meatball Subs: cut up meatballs (for a fast option we like Raos brand in the frozen isle) and marinara sauce in a sub roll! I've found that 3 is also a great time to introduce salads.
Taco Salad: mini taco salad with romaine, ground beef, cheese, and sour cream (you could also do a deconstructed taco and omit the lettuce). Side of black beans and corn.
Sheet Pan Sausage & Fries: another easy sheet pan dinner with chicken sausage, sweet potato fries, and broccoli with Parmesean.
Quick Toddler Dinners
While we eat together with our toddlers the majority of the time, occasionally we do need a quick toddler dinner for just the kids (or something separate for the kids). Here are some of our favorite quick toddler dinners: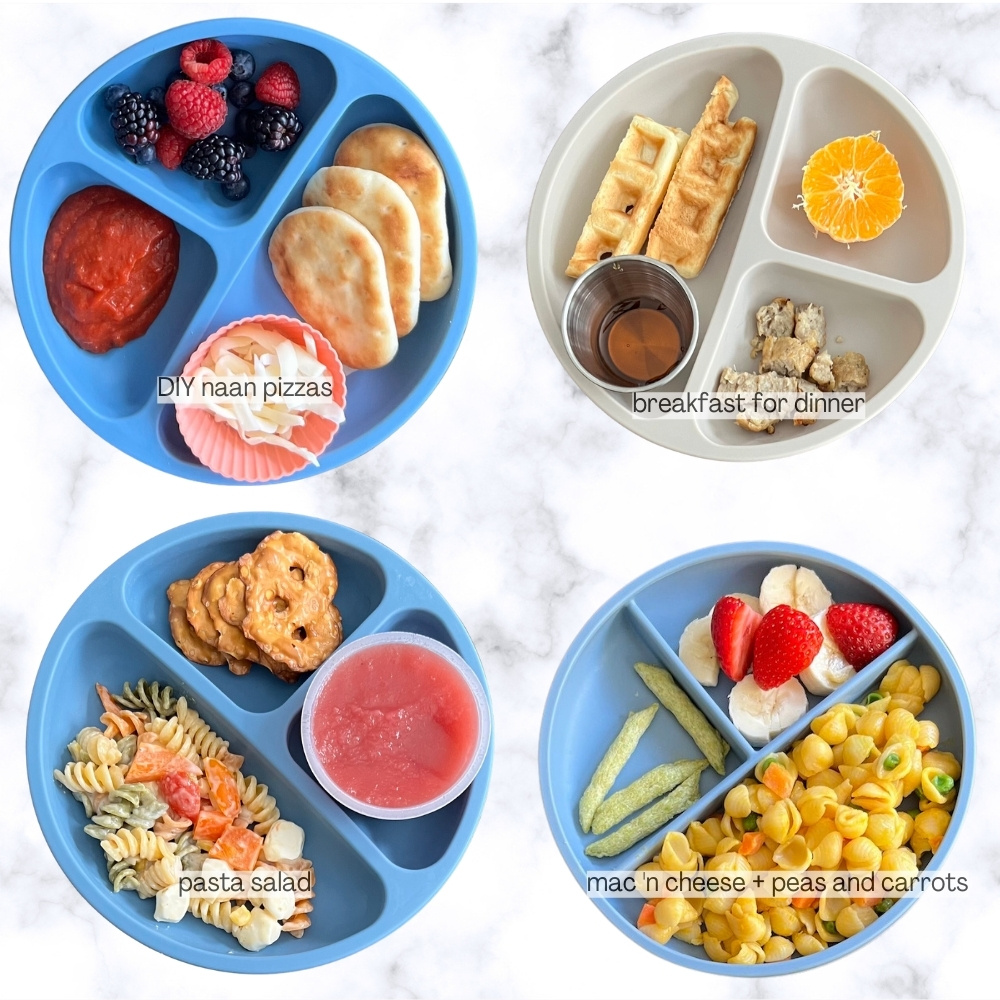 Build-your-own Mini Pizzas: my toddlers love this one because they get to make their own pizzas with mini Naan rounds + sauce and cheese with a side of mixed berries.
Breakfast for dinner: when you don't know what else to make, try breakfast for dinner! Here we had waffles, chicken sausage, and mandarin oranges, but anything goes.
Pasta Salad: a great make ahead meal (my favorite recipe here) with a side of pretzel crisps and applesauce.
Mac & Cheese: mom hack is to always serve mac & cheese with a veggie mixed in (I joke that my kids probably don't even know that mac & cheese can come without veggies). Some of our favorites are peas, carrots, broccoli, cauliflower, and spinach. Side of fruit and harvest snaps.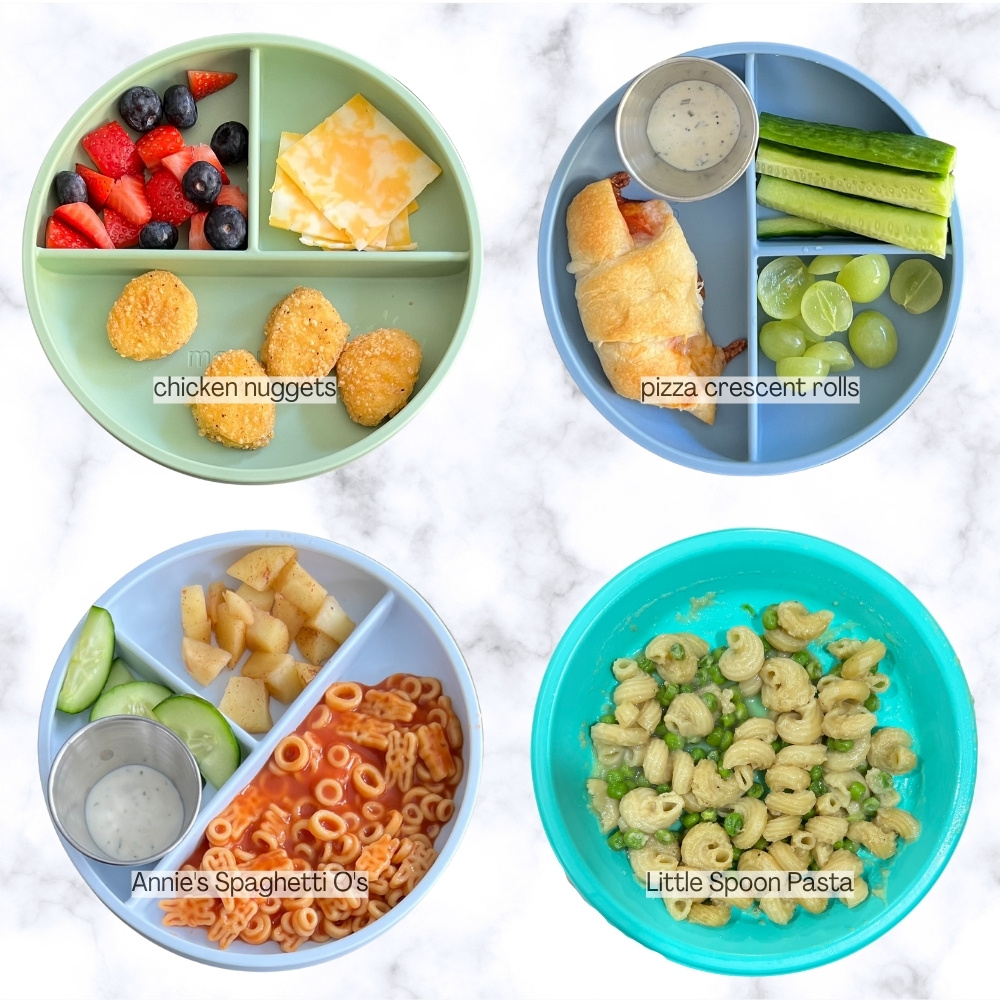 Chicken Nuggets – we love these ones and serve with hearty sides like cheese, mixed berries, or veggies.
Pizza Crescent Rolls – lay out crescent rolls and roll them up with marinara sauce and cheese (or turkey and cheese are favorites, too!), then bake as directed. Sides of cucumbers with ranch and grapes.
Annie's Spaghetti O's – another crowd pleaser and quick toddler favorite, served with cucumbers and ranch, and steamed cinnamon apples.
Little Spoon Meals – if you want some quick and easy options we love the meals from Little Spoon (frozen kid meals delivered right to your door!). Use code SPOON25 for 25% off first time orders.
You might also like these recent related posts: