Posts may contain affiliate links. Please see Disclaimer and Disclosure page for more details.


32 easy and healthy toddler dinner ideas like mini pizza bagels, deconstructed fajitas, rainbow pasta salad, and more!
Looking for toddler dinner ideas? Wondering what can I make for dinner for my 2 year old? Dinner recipes for toddlers? This post can help!
I'm a real mom of three sharing a month's worth of dinner ideas for 2 year olds based on what our family actually eats.
For the most part, our kids have always eaten what we do for dinner! There are some slight modifications for toddlers (shown below in photos), but use these meal as inspirations to raise healthy eaters of your own.
Follow along with us on Instagram for more meal ideas!
You might also like these related posts:
Best Plates for 2 Year Olds
Sometimes the right plate can help your toddler be more interested in their meal and actually eat better at dinner time! Here are some of our favorites:
EZPZ Happy Bowl (Use EZPZ25LOVE for 25% off $75+) – a shallow bowl and placemat in one! We love that they stay suctioned to the table and are dishwasher safe for easy clean up.
Pillowfort Plastic Divided Plate – super affordable go-to divided plate that comes in so many fun colors.
Silicone Divided Plates – silicone is extremely durable and we love that these plates are a little deeper to hold more food and also hold up so well in the dishwasher!
Don't forget! You can shop my toddler mealtime favorites anytime on my Amazon Shop!
Toddler Dinner Ideas Main Course Ideas
Most of the time our toddlers eat what we do for dinner so i'm sharing our family-friendly recipes and dinner ideas. Here are some of our favorite main courses for toddler dinner ideas:
Pizza bagels or english muffins
Chicken fajitas (deconstructed version)
Stir Fry
Quesadilla
Homemade burger
Turkey & Cheese Melt
Fish + Rice + Broccoli
Pizza Crescent rolls
Veggie mac & cheese
More below!
Toddler Dinner Side Ideas
Fruit: mango, mandarin oranges, berries, banana, plum, apples
,Veggies: pea snaps, bell pepper, broccoli, cucumbers, asparagus, sweet potato , avocado, carrots
Grains + more: black beans, sweet potato fries/tots, rice, sourdough toast
Favorite Toddler Dinner Ideas for 2 Year Olds
Here are 32 family-friendly toddler dinner ideas: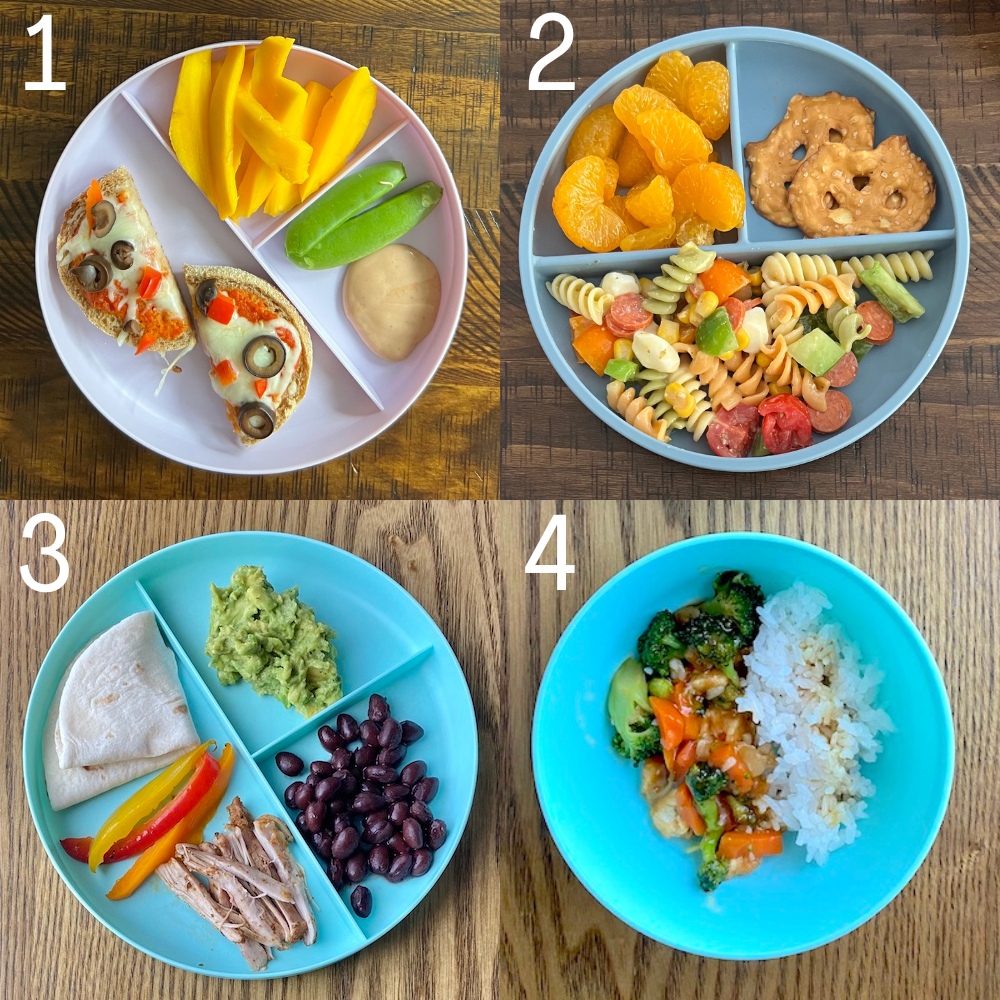 English Muffin Pizza – similar to my recipe for mini pizza bagels load these up with whatever toppings your toddler likes or use it as a way to introduce new veggies. Sides of mango and pea snaps with bbq ranch for dipping.
Pasta Salad – our favorite recipe is simply pasta, bell pepper, tomatoes, corn, mozarella pearls, dressing and this time we added pepperoni for a fun twist. Sides of pretzel crisps and mandarin oranges.
Deconstructed Chicken Fajitas – tortilla, pulled chicken, bell peppers, black beans, and guacamole for dipping. If your toddler will eat a regular taco this is also a great family meal!
Chicken Stir Fry – chicken and mixed veggies like broccoli, bell pepper, carrots, and edamame with white or brown rice.
Follow along with us on Instagram for more meal ideas!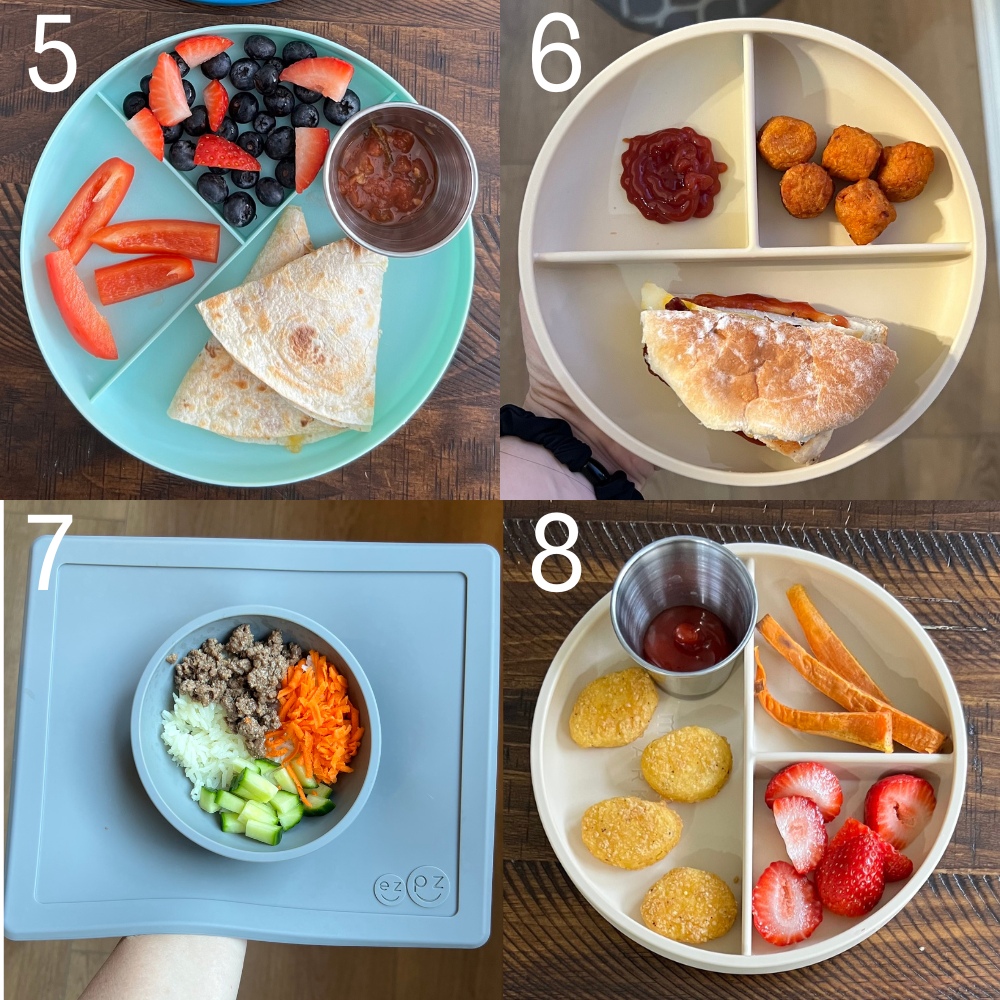 Quesadilla – a cheese quesadilla or add veggies like bell pepper or broccoli with a side of salsa for dipping, berries, and red bell pepper.
Hamburger – my kids just started eating hamburgers with the bun! This would likely be best for an older 2 year old, but you know your child best, a deconstructed version is good too! Side of sweet potato tots (these are our favorite) and ketchup for dipping.
Beef Bulgogi Bowl – ground beef cooked in bulgogi sauce (or korean bbq sauce) served with rice, cucumbers, and carrots.
Chicken Nuggets – a toddler favorite (this is our favorite brand) served with ketchup for dipping, homemade sweet potato fries, and strawberries.
Favorite toddler bowl + placemat: EZPZ Happy Bowl (Use EZPZ25LOVE for 25% off $75+)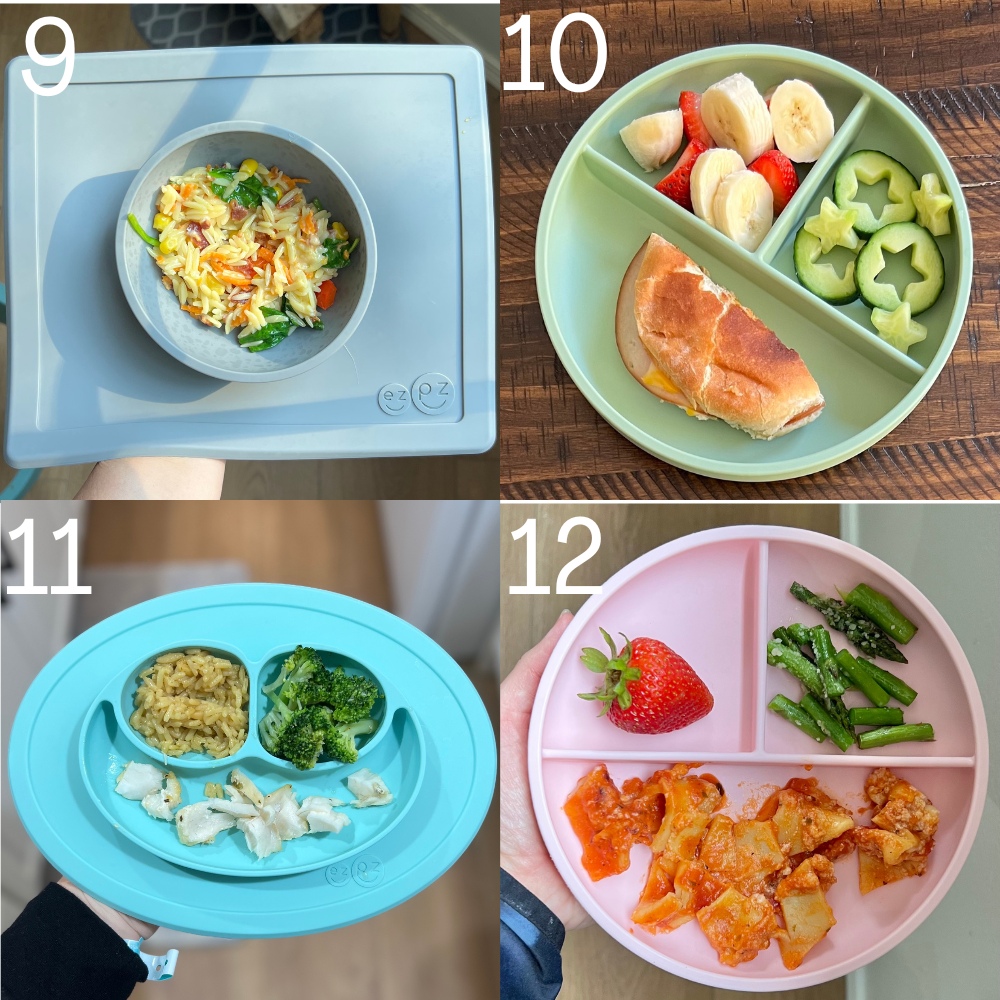 Bacon & Spinach Orzo – we love this recipe from ambitious kitchen and our toddlers love it too! It's so creamy and fun for them to eat.
Turkey & Cheese Melt – made a grilled turkey and cheese on bread or a hamburger bun for something different. Side of strawberries and bananas, and cucumbers. (we love these kid food cutters to make fun shapes out of veggies!)
Fish with rice + broccoli – salmon or white fish is a great mild option for toddlers! Serve with sides like rice and broccoli.
Lasagna – we love a good lasagna and like to serve with other toddler-friendly sides like asparagus and strawberries.
Don't forget! You can shop my toddler mealtime favorites anytime on my Amazon Shop!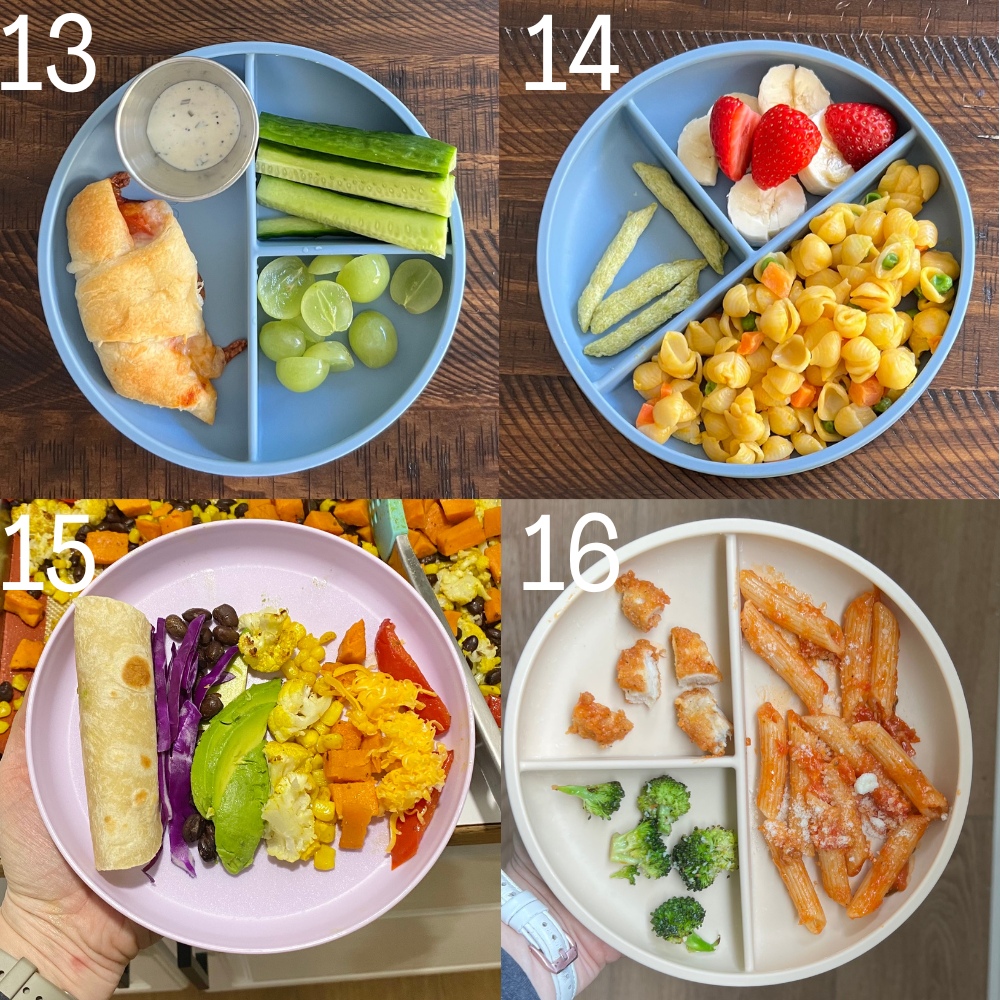 Pizza Crescent Roll – roll out crescent dough, fill with cheese and pizza sauce, roll up and cook according to packaging. Side of cucumbers and grapes.
Mac & Cheese w/ Peas and Carrots – we love this mac & cheese and always stir in veggies like peas and carrots. Side of snap pea crisps, strawberries, and bananas.
Rainbow Veggie Tacos – toddlers tend to love fun colorful foods! We love this dinner that I cook on a sheet pan with bell pepper, sweet potato, corn, cauliflower, avocado, cabbage, and cheese.
Chicken Parmesan – pasta with red sauce plus breaded chicken and broccoli (served deconstructed for easier eating).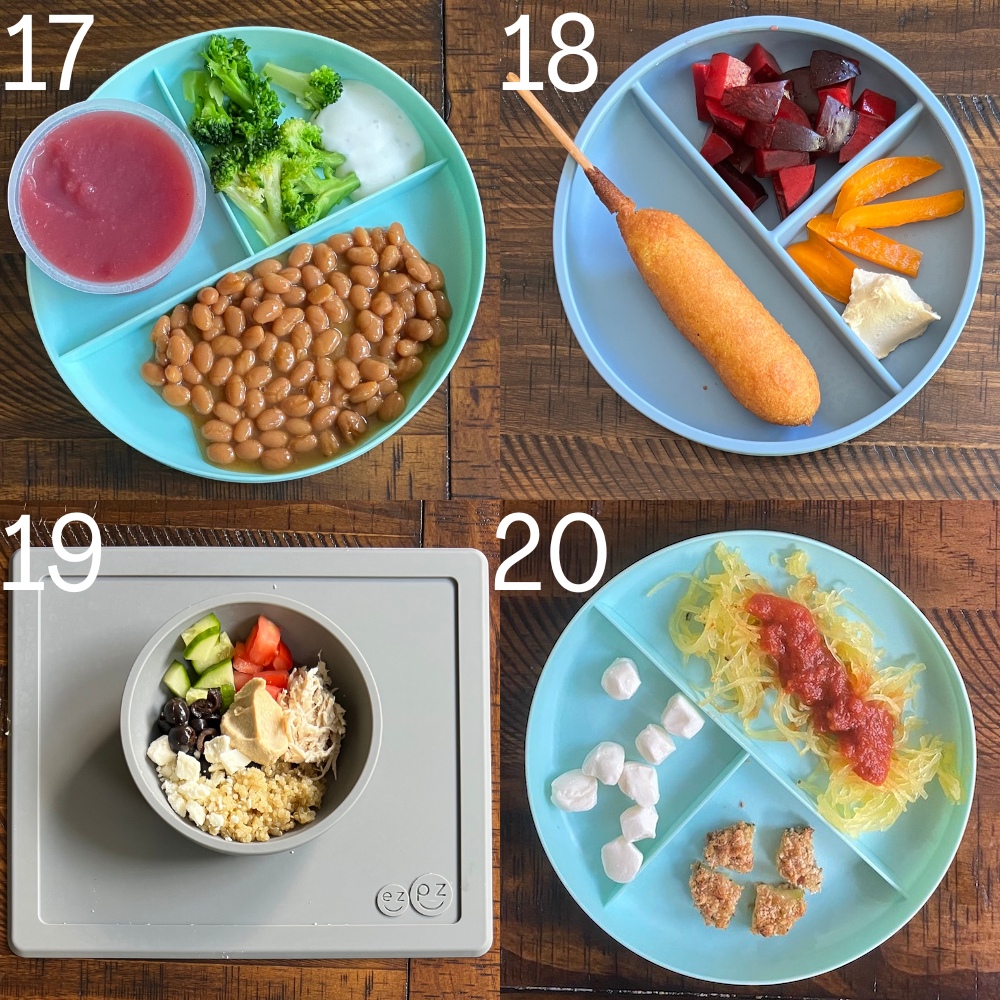 Baked Beans – Keep it simple! Baked beans are packed with protein and most toddlers love them! Sides of broccoli and applesauce.
Corn Dog – (cut lengthwise for young toddlers) we love Applegate Corn Dogs or MorningStar Farms Veggie corndogs. Side of plums and bell peppers with hummus
Deconstructed Greek Bowl – quinoa, pulled chicken, tomato, cucumber, olives, feta cheese, and hummus. You can give your toddler the choice to stir together or eat separately.
Spaghetti Squash – spaghetti squash with red sauce, mozarella pearls, and breaded zucchini slices.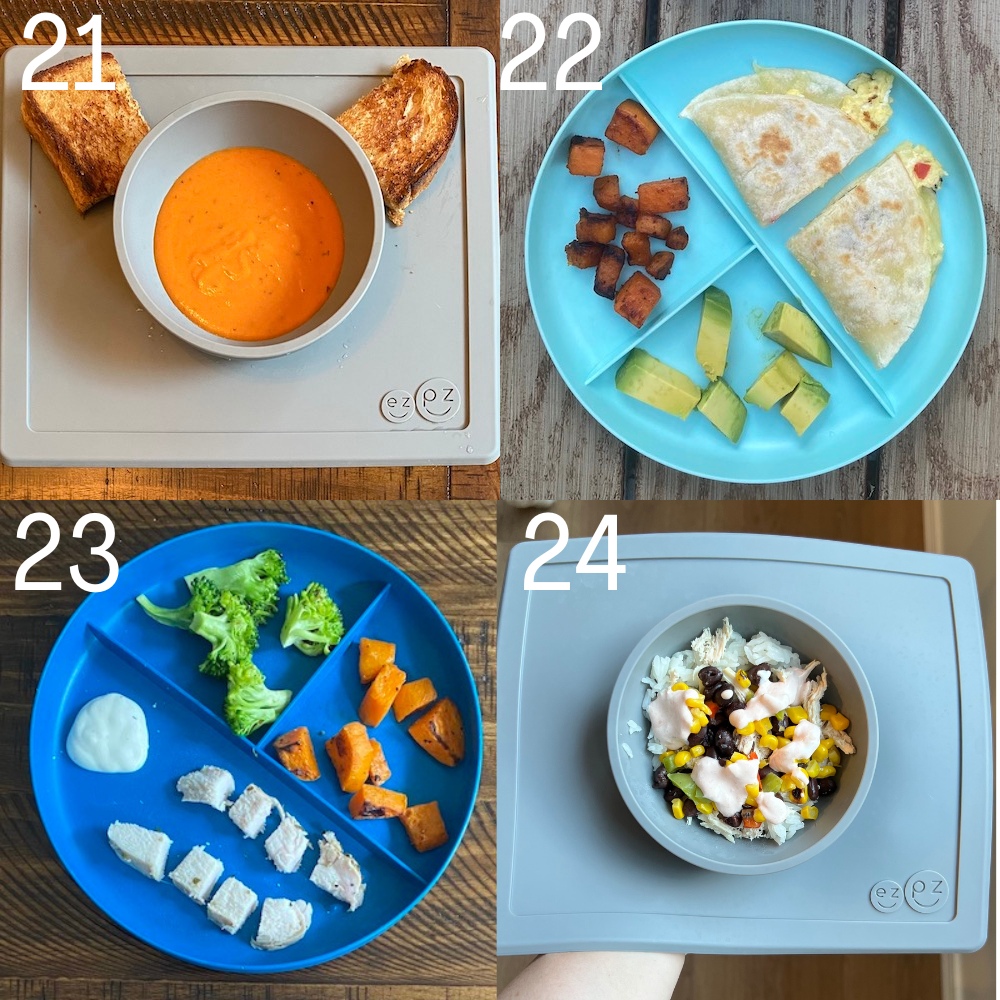 Tomato Soup + Grilled Cheese – a fun and easy option! Perfect for those cooler nights or really anytime!
Breakfast Quesadilla – a mini quesadilla stuffed with eggs, bell pepper, and cheese. Sides of sweet potatoes and avocado.
Sheet Pan Chicken – we love a good sheet pan meal! Roast chicken, diced sweet potatoes, and broccoli for a simple and nourishing dinner that is family-friendly!
Mexican Rice Bowl – white rice topped with any toppings your toddler likes! We had chicken, bell pepper, black beans, corn, and salsa ranch.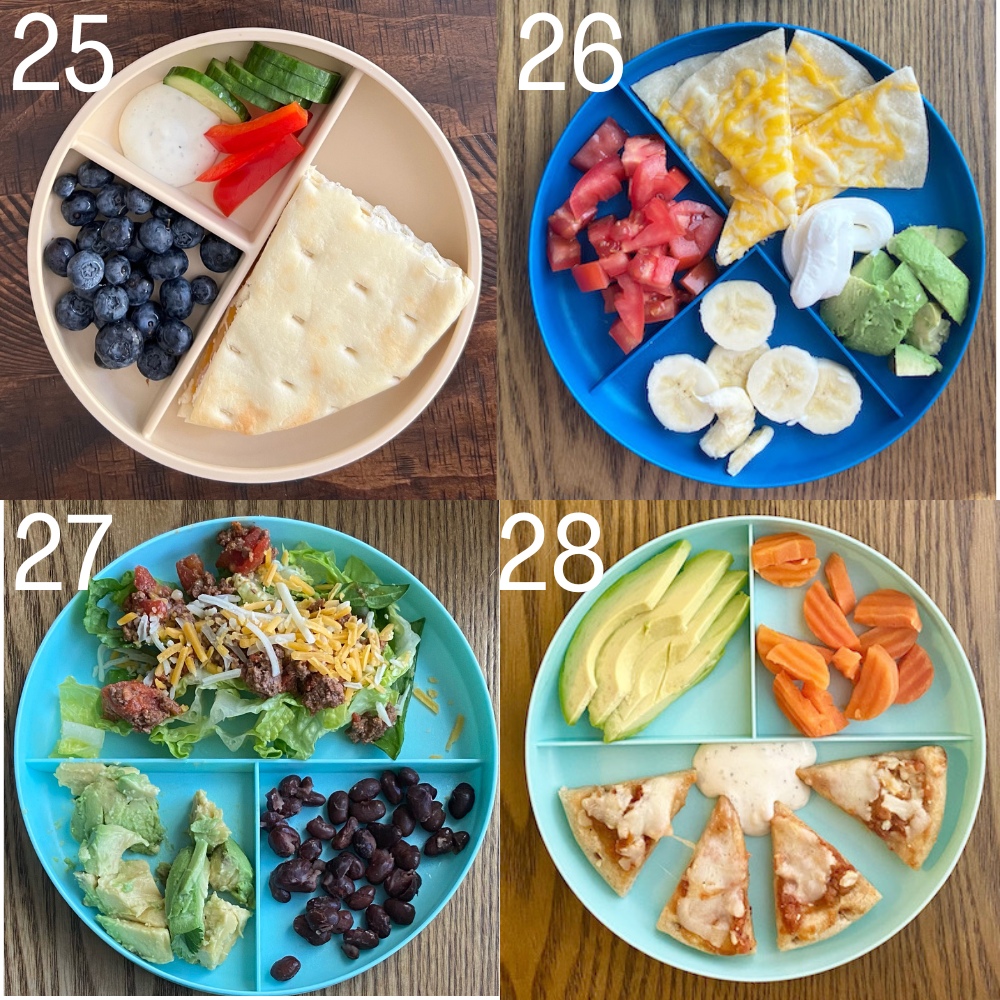 Turkey & Cheese Pita – pita bread with turkey and melted cheese. Sides of cucumber and bell pepper and ranch for dipping, and blueberries.
Cheese Crisp – if your toddler is still learning to like tacos, quesadillas, or rice bowls, try a mini cheese crisp with toppings like tomato, avocado, and sour cream on the side.
Mini Taco Salad – my kids have both liked salad right around 2 years old! If your toddler is still learning you can serve this without the lettuce. We had chili with cheese, avocado, and black beans.
KidFresh Pizza – a quick, easy, and nourishing dinner idea for your 2 year old! Served with sides of avocado and cooked carrots.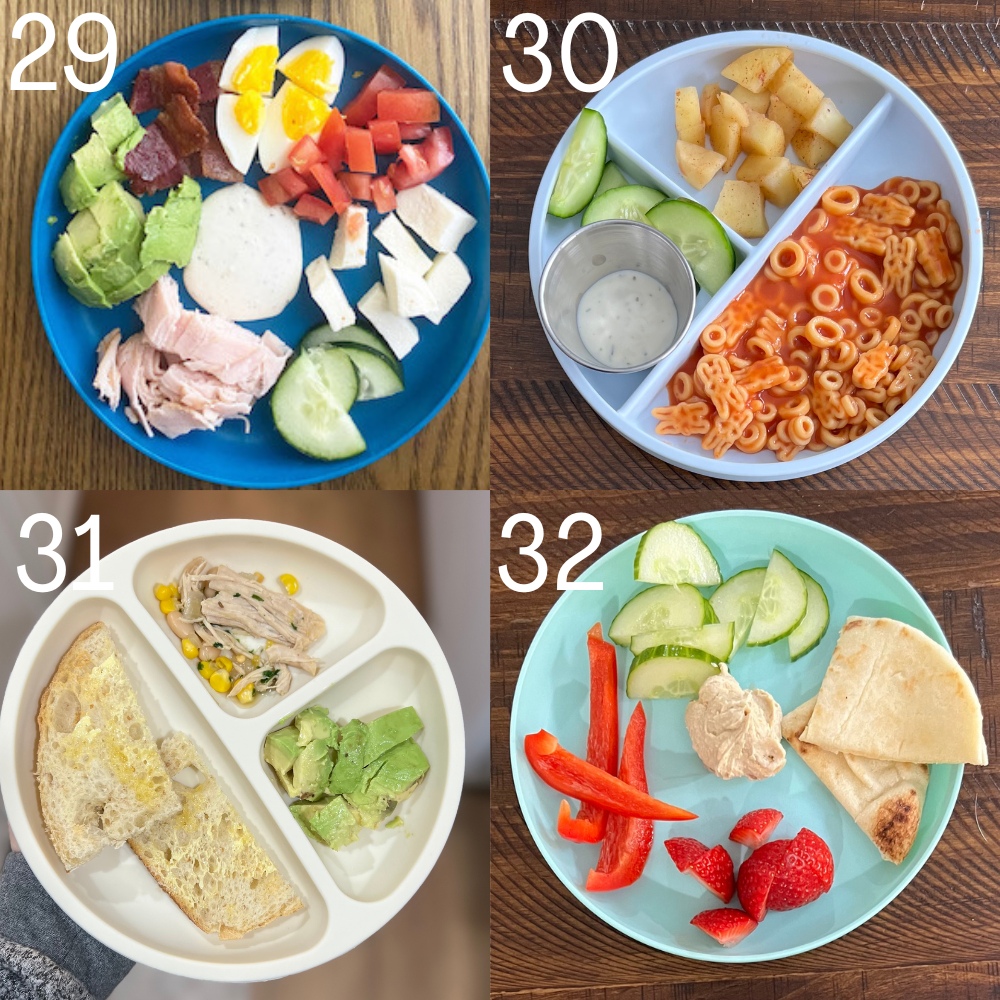 Deconstructed Cobb Salad – omit the lettuce and serve your toddler all the toppings! Turkey, cucumber, mozarella, tomato, hard-boiled eggs, bacon, avocado, and ranch dressing.
Annie's Bernie O's pasta – bunny and o shaped pasta with red sauce, sides of steamed cinnamon apples and cucumbers with ranch.
White Chili Chicken – my toddlers are still learning to like soup so I like to serve it with a hearty side of sourdough toast and avocado for added healthy fats.
Hummus Plate – deconstructed pita with pita bread, hummus, bell pepper, cucumber, and a side of strawberries.
Thanks for stopping by! You might also like these recent related posts:
Pin now to save for later!