Posts may contain affiliate links. Please see Disclaimer and Disclosure page for more details.


Dinner ideas for 18 month olds that are also family-friendly! Save time at dinner and serve your toddler modified versions of what you eat.
I very rarely (like can count on my fingers) serve my toddlers different food than what my husband and I eat for dinner. Sometimes it has to be modified quite a bit, but I'm all about saving time and effort in the kitchen, so I don't make two separate meals.
Below are 12 family-friendly toddler meals that are great dinner ideas for 18 month olds based on what my kids have eaten at this age. Use for meal time inspiration to avoid decision fatigue when it comes to feeding your toddler.
You might also like these related posts:
Toddler Feeding Supplies
Here are some of my favorite feeding supplies for the 1-2 year old age range. These supplies aren't necessary to feed your toddler but based on my experience, they can help with making your toddler more excited for meal time!
EZPZ Happy Bowl: A suction bowl and placemat in one! We love this bowl for messy foods like spaghetti, oatmeal, and yogurt (but the possibilities are endless). We love that EZPZ products are made with non-toxic silicone and are dishwasher safe. Take 25% Off Orders $75+ at EZPZ with Code EZPZ25LOVE
Pillowfort Divided Plate: our go-to plate that we use daily! These have held up so well over the years and are super affordable.
EZTOTz Silicone Mini Cup: we love these open trainer cups that are small enough for tiny hands and are also made of silicone so they won't break. They are slightly weighted at the bottom to help avoid tipping and have ridges for easy gripping. You can use these all the way down to 6 months and my 3.5 year old still uses one!
Dinner Ideas for 18 Month Olds
Toddler Dinner Idea #1: Deconstructed Fajitas
I love making sheet pan fajitas or make-your-own tacos and letting my toddlers have an easy and tasty deconstructed version. Here we had chicken thighs, bell pepper, tortilla, guacamole, and black beans.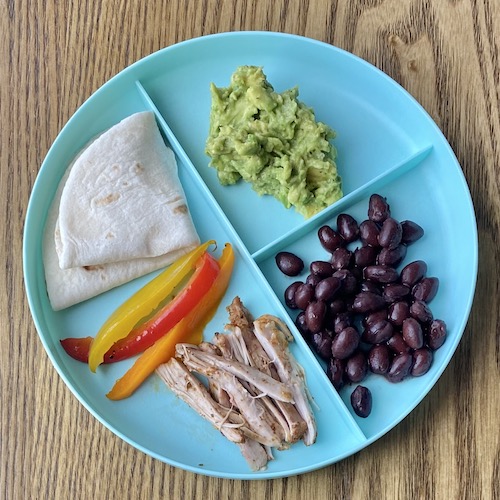 ---
Easy Toddler Dinner #2: Chicken Strips
One of our favorite easy meals is Perdue Chicken Plus Tenders (made with veggies in the crust. Side of ketchup for dipping, roasted broccoli and sweet potato fries.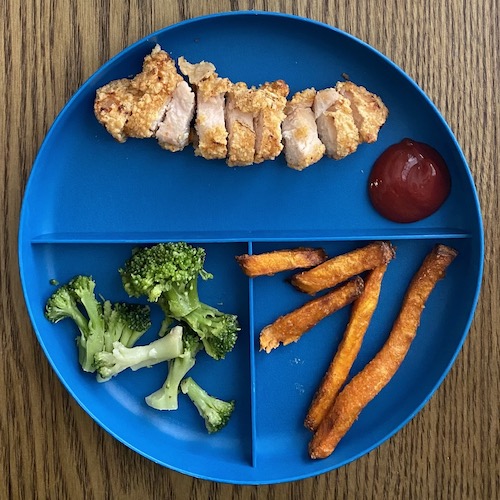 ---
Dinner Ideas for 18 Month Olds #3: Deconstructed Hamburger (Salad)
We love hamburger salad, but this would also work well as a deconstructed hamburger or cheeseburger. Hamburger cut into small bites or strips, lettuce with ranch, red onion, tomato, and avocado with everything but the bagel "EBB" seasoning.
Easy 18 Month Dinner #4: Naan Pizza
Pizza is a favorite food in our house. We do frozen pizza sometimes, but I also love to make personalized mini pizza on Naan bread (check out the recipe here: Naan Bread Toddler Pizza). Side of thinly sliced carrots with ranch for dipping.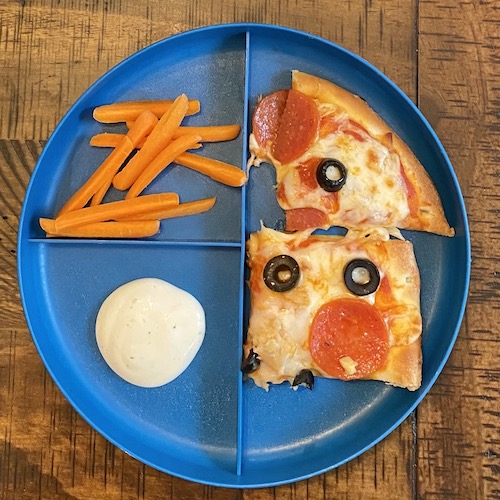 ---
Family-Friendly Toddler Meal #5: Hamburger with Grilled Corn
Your toddler may love having a meal like a "big kid" too! You can also serve this deconstructed or cut into small bites or strips if your toddler wouldn't like a full burger or if they are new to eating real foods. Sides of diced tomato, avocado, and grilled corn on the cob (the real favorite around here!).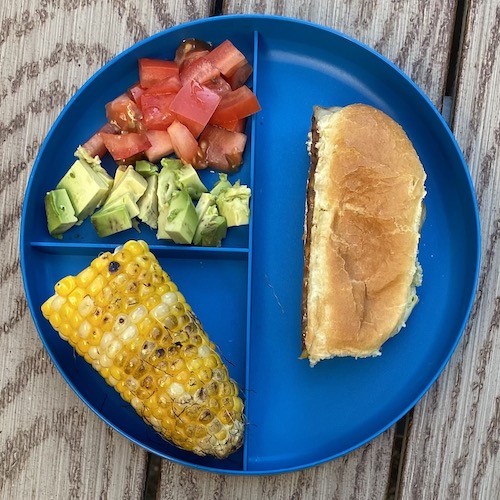 ---
18 Month Toddler Dinner #6: Deconstructed Salad
Salads with a lot of yummy nutritious toppings can be a great family-friendly meal option because they are easy to serve deconstructed. I like to give my toddlers a little taste of lettuce whenever we have salad and they have both started to like them around 2-3 years old. Here we had spinach salad with avocado, grilled corn, diced tomato, quinoa, grilled bell peppers, peas, and sunflower kernels.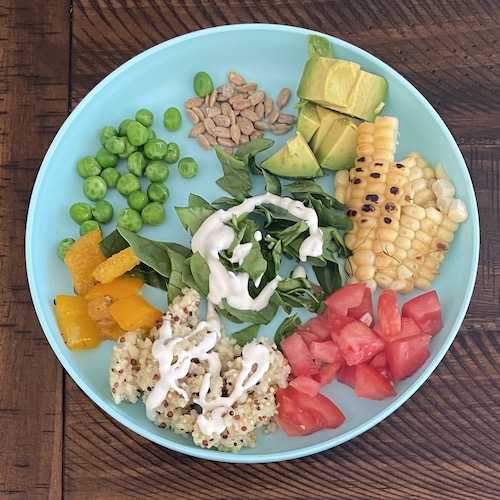 ---
Easy Toddler 18 Month Dinner #7: Deconstructed Veggie Tacos
Pinto beans with corn, rolled tortillas (or cut into strips), tomato, avocado, and sour cream or full-fat greek yogurt for dipping.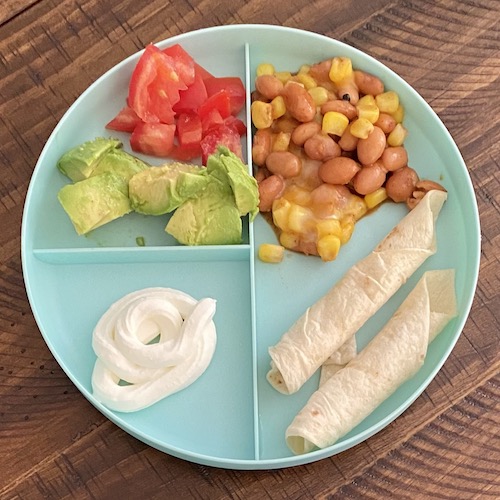 ---
Family-Friendly Toddler Dinner Idea #8: Mini Breakfast Burrito
Breakfast burritos for dinner are a favorite quick and easy dinner idea. Scramble eggs with your family's favorite veggies or whatever left overs you have that could work! We love sweet potato, bell pepper, onion, and broccoli and avocado, salsa and sour cream for dipping. You can also serve this deconstructed as an egg scramble.
Read Full Recipe Here: Toddler Breakfast Burrito with Veggies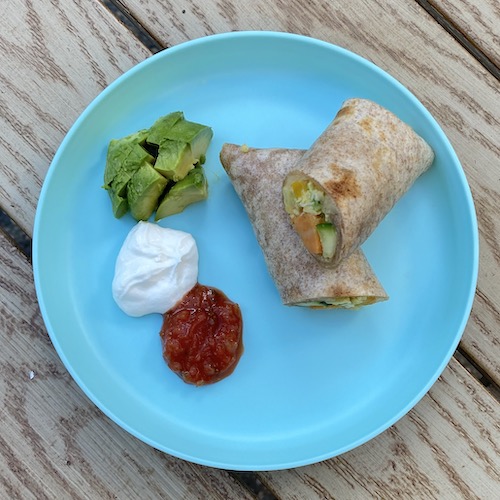 ---
Family-Friendly Toddler Dinner #9: Chicken Pot Pie Pasta
One of our favorites from The Defined Dish Cookbook: bowtie pasta with chicken, veggies, and a savory sauce. The recipe is only available in her cookbook (which I highly recommend!) or you could google search a similar recipe. My toddlers love this one and I imagine young kids would love this as well!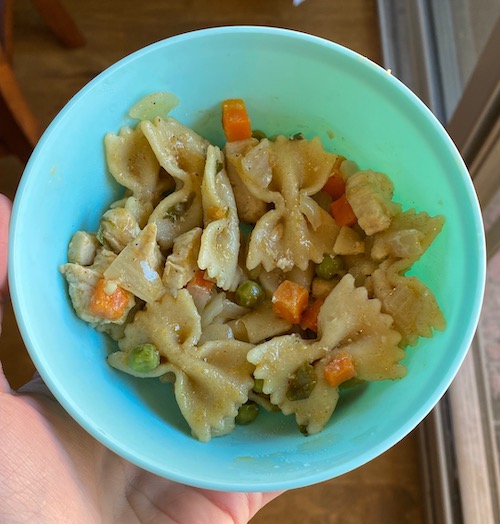 ---
Toddler Dinner #10: Pulled Chicken
Pulled chicken with black beans and corn and a side of diced avocado drizzled with EVOO. I love making pulled chicken in the crock pot or you could also bake or use a rotisserie chicken as well.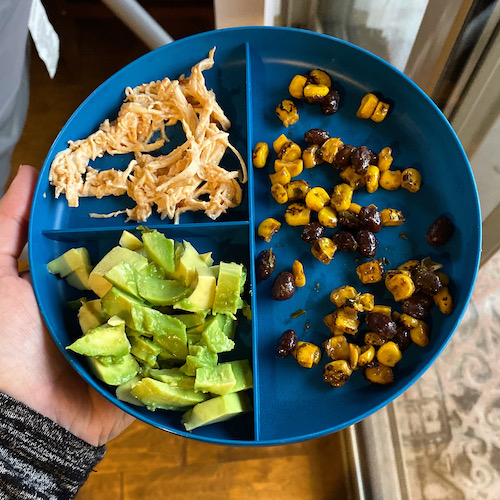 ---
Dinner Ideas for 18 Month Olds #11: Pasta Bolognese
Bolognese is a great way to add veggies to your family's meal! We love this Bolognese Recipe, but even simply mixing your favorite diced veggies with tomato sauce to make a healthy family meal. Serve with spaghetti or smaller noodles to make them easier for your toddler to eat.
Suction Bowl Pictured: EZPZ Happy Bowl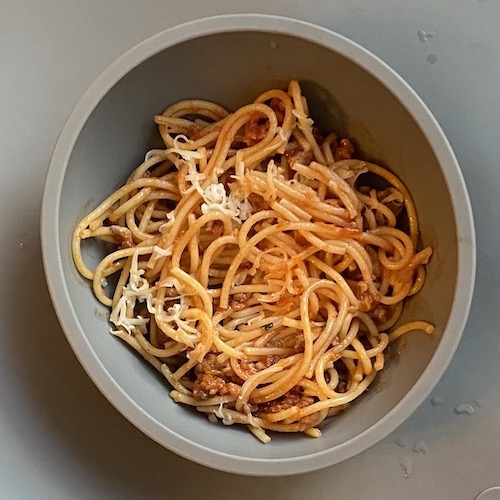 ---
Family-Friendly Toddler Dinner #12: Tomato Soup w/ Grilled Cheese
Pair tomato soup with something fun like grilled cheese dippers for dipping. I like to cut into strips for my toddlers for easy dipping and eating (also a little less messy that way).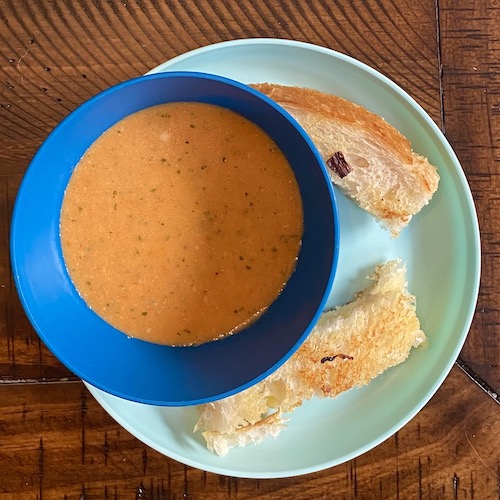 ---
Summary Dinner Ideas for 18 Month Olds
Here is a breakdown of 12 family-friendly dinner ideas for 18 month olds based on what my toddlers have been loving at this age:
Deconstructed Fajitas
Chicken Tenders
Deconstructed Hamburger Salad
Naan Pizza
Hamburger with Grilled Corn
Deconstructed Salad
Deconstructed Veggie Tacos
Mini Breakfast Burrito
Chicken Pot Pie Pasta
Pulled Chicken
Spaghetti Bolognese
Tomato Soup with Grilled Cheese
You might also like these recent posts: