Posts may contain affiliate links. Please see Disclaimer and Disclosure page for more details.


An easy and hearty recipe for carrot cake oatmeal using oats, shredded carrots, raisins, and lightly sweetened with maple syrup.
Carrot cake oatmeal is perfect for toddlers, preschoolers, kids, and adults (basically its great for everyone!). For babies you will want to modify the recipe and omit some ingredients (like sweetener and raisins), but the basic recipe is the perfect combination of sweet and savory with the carrots.
Think carrot cake in a bowl! This recipe is a play on a family favorite – carrot cake!
You might also like these related posts:
Step 1: Cook Oats with Shredded Carrots
Shred one small carrot or a few baby carrots to get approximately 1/4 cup of finely shredded carrots. Mix with 1/2 cup rolled oats and 1 cup of water. Cook for 2 minutes in the microwave. (You can substitute with quick oats or steel cut oats; cook according to your oatmeal's directions).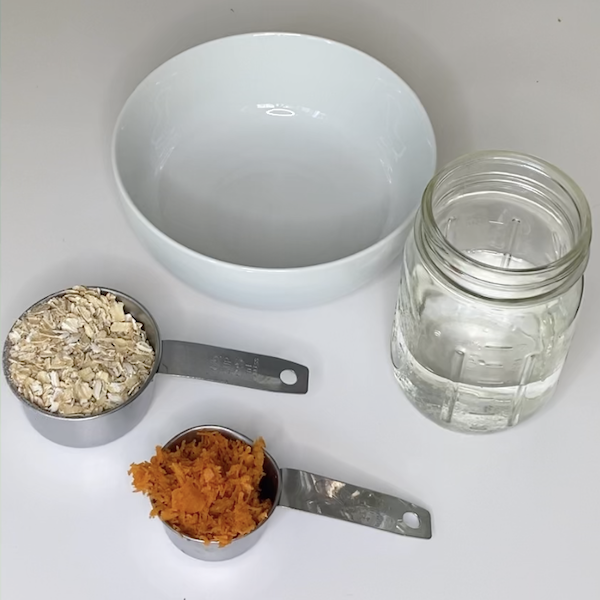 Step 2: Stir in Other Ingredients
After cooking let sit for 1-2 minutes, then stir in other ingredients including a splash of milk, 1 tsp chia seeds (optional), 1/2 tsp cinnamon, 1 Tbsp maple syrup, and 3 Tbsp raisins. Top with additional raisins if desired.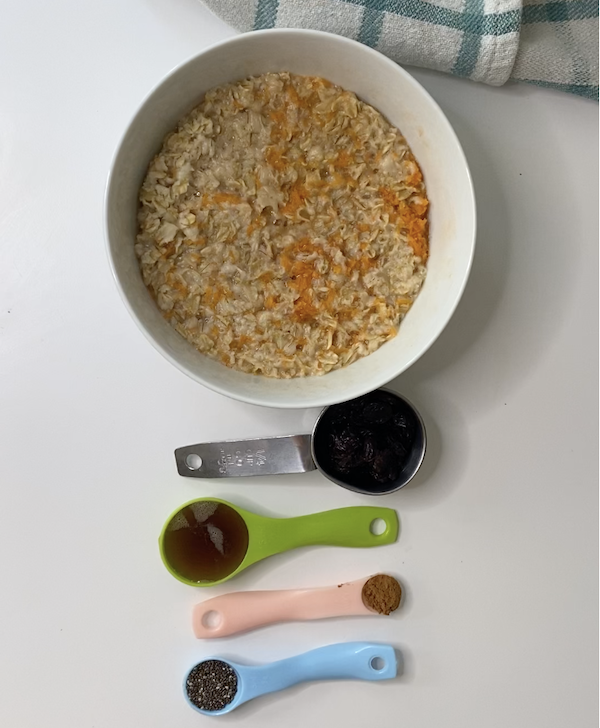 This is one of my boys' favorite breakfasts!
This recipe will make 1-2 toddler servings depending on your toddler's appetite. My boys normally split this, but occasionally they will eat it all and request more!
Related Recipe: Easy Strawberry Banana French Toast Sticks
Modifications for Babies
Oatmeal is a great food for babies! Especially ones with few teeth and who are just learning to eat solid foods. Carrot cake oatmeal is a great option for babies, but you will want to do a few modifications:
Use formula or breast milk instead of regular milk for infants under 1 year old (you could also omit the milk entirely)
Omit raisins or chop them up
Omit syrup and other sweeteners
Make sure the oatmeal isn't too thick as it could be a choking hazard
Optional Substitutions for Chia Seeds
Chia seeds are a great source of omega-3's and antioxidants. I love to stir them in to oatmeal, yogurt, and smoothies because they provided added nutritional benefits and you hardly notice them at all.
If you don't have chia seeds they can easily be omitted from this recipe, or you can try one of these substitutes:
Flax seeds or ground flax seeds
Hemp hearts
Chopped walnuts (only for older toddlers and up)
How To Serve Carrot Cake Oatmeal
How to serve: Our favorite way to serve oatmeal is in the EZPZ Happy Bowl! It makes it easier for toddlers to eat because it suctions to the table so the bowl won't slip around.
It also keeps your table and your toddler cleaner because it is a silicone placemat and bowl in one. EZPZ is our favorite because they are non-toxic and dishwasher safe.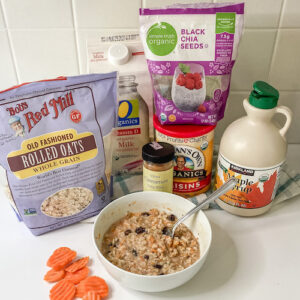 Carrot Cake Oatmea
Deliciously decadent carrot cake in a bowl! An easy and healthy recipe for carrot cake oatmeal that is great for toddlers, preschoolers, kids, and adults alike.
Ingredients
1/2

cup

rolled oats

1

cup

water

1/4

cup

carrots, finely shredded

splash milk

1/2

tsp

cinnamon

1

tsp

chia seeds

1

Tbsp

maple syrup

3

Tbsp

raisins
Instructions
Finely shred or grate 1 small carrot (or 3-4 baby carrots or carrot chips)

Stir together oatmeal, water, and shredded carrots in a microwave-safe bowl and cook for 2 minutes or as directed on your oatmeal container.

Let sit for 1-2 minutes. Then stir in milk, cinnamon, chia seeds, maple syrup, and raisins.

Top with additional raisins if desired.
Thanks for stopping by! You might also like these related posts: