Posts may contain affiliate links. Please see Disclaimer and Disclosure page for more details.


A simple and colorful recipe for avocado chicken salad that's mayo-free, dairy-free, gluten-free, nut-free, and perfect for the whole family.
Avocado chicken salad is one of our favorite easy lunch recipes that is extremely versatile: serve it alone, with crackers, with veggies, or on a sandwich. It's also one of my favorites because you can use canned chicken breast (my go-to), rotisserie chicken, leftover chicken, or you can cook and shred chicken just for this recipe.
You might also like these related posts:
Is Avocado Chicken Salad Dairy-Free?
Yes! Unless you cook your chicken in diary (mainly butter) or alter the recipe to add it, this chicken salad recipe is free from dairy, nuts, and gluten. It's also free from mayo which is one of my favorite things about it, as I don't particularly like mayonnaise.
Don't worry! Even though this recipe is dairy-free, avocado gives it tons of creaminess and holds the chicken salad together very well.
What Kind of Chicken Should I Use?
This recipe calls for one cup of cooked, shredded chicken. There are a few options for preparing your chicken for this dish:
Use canned chicken breast (my recommendation).
Use rotisserie or pre-cooked chicken from the store.
Use left-over chicken from another meal you've recently made (I would avoid too many seasonings as it could impact taste of your chicken salad).
Cook chicken salad and shred specifically for this recipe.
Telated recipe: Egg Salad Recipe for Toddlers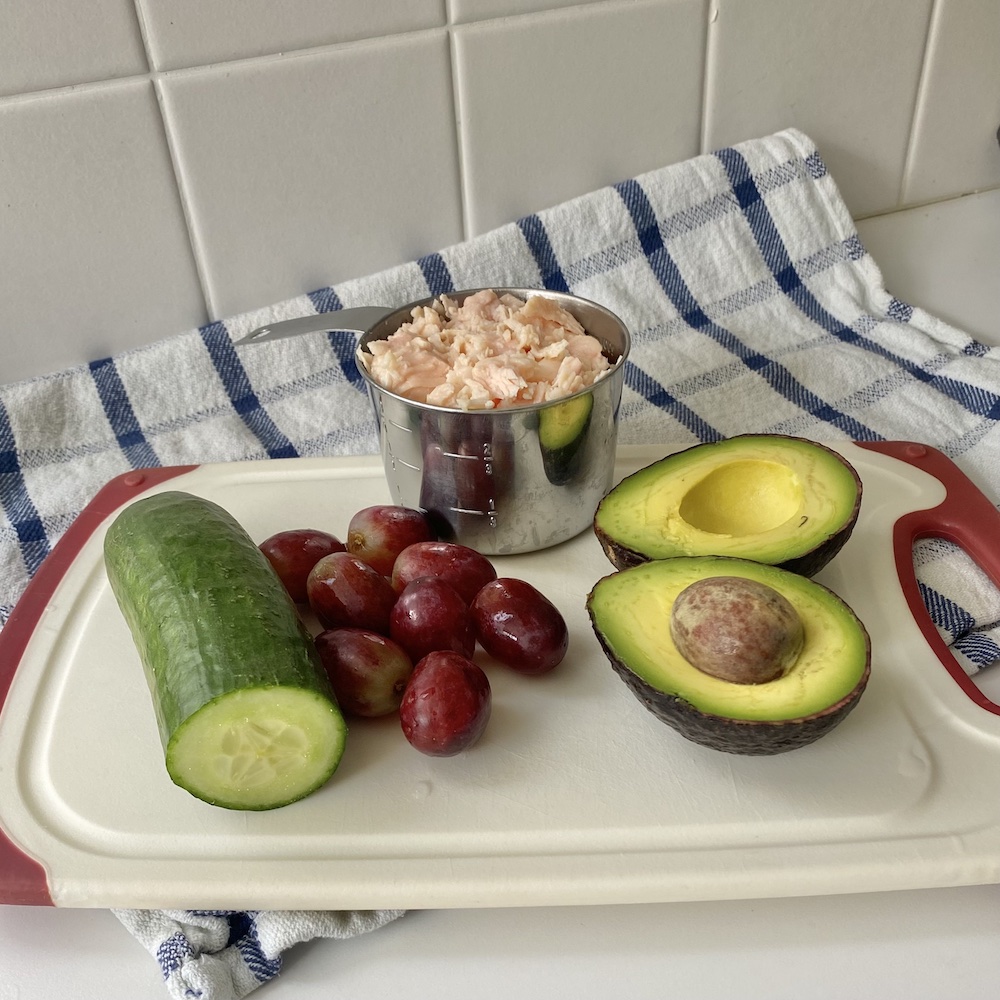 Tips for Making Avocado Chicken Salad
The good news is that avocado chicken salad is fairly easy to make! If you use pre-cooked chicken, there is no cooking involved in this recipe.
Here are a few of my tips for making the best quality chicken salad and something your whole family will thoroughly enjoy:
Chill all of your ingredients beforehand. You will want to serve this chicken salad cold, and if you chill it after combining all of your ingredients your avocado might start to get brown.
Use pre-cooked chicken or cook the chicken ahead of time to make this a quick and easy recipe (see above if you are wondering what kind of chicken to use).
Use a medium sized bowl (or bigger) when combining ingredients. Nothing's worse than having all your ingredients spill out when you are mixing.
Is Avocado Chicken Salad Good for Toddlers?
Yes! I made this recipe with toddlers in mind. For young toddlers, I would recommend serving this chicken salad alone, instead of as a sandwich or dip. But once your toddler is able to eat a sandwich (around 2-3 years old for most), you could serve it them as a sandwich as well.
Avocado chicken salad is great for the whole family and I often make a batch for my toddler, preschooler, husband, and myself for lunch.
Below I served this for my two and three year olds with crackers for dipping, and sides of string cheese and diced strawberries.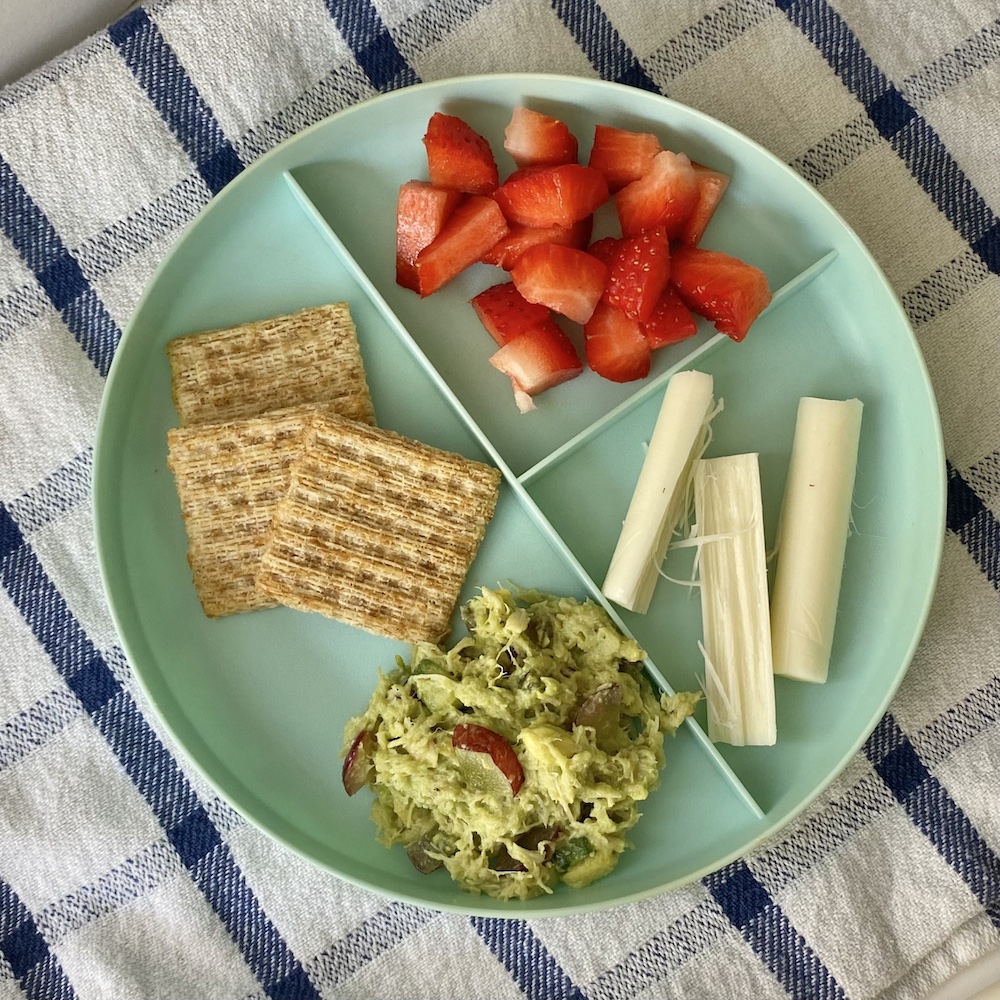 Shop our go-to toddler plate: Pillowfort Divided Toddler Plate
How to Serve Avocado Chicken Salad
Avocado chicken salad is best served cold. I recommend chilling all of your ingredients before assembling or you could make the chicken salad and cool for at least an hour afterwards. It also stores well in the fridge, although the avocado might turn slightly brown; to avoid this squeeze a small amount of lime juice on top or eat within 12 hours or so.
Here are some ideas for serving this chicken salad:
Eat is alone, with a fork
Make it into a sandwich (a grilled sandwich is also good!)
Serve it on top of crackers
Serve it as a dip for corn chips or veggies
Make mini sweet pepper or cucumber 'boats' by scooping out the insides and filling with chicken salad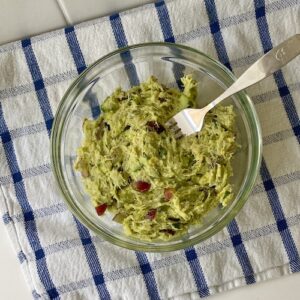 Mayo-Free Avocado Chicken Salad
A simple and colorful recipe for avocado chicken salad that's mayo-free, dairy-free, gluten-free, nut-free, and perfect for the whole family.
Ingredients
1

cup

cooked chicken, shredded

(I used canned)

1-2

small avocados

1/2

medium cucumber

1

cup

grapes

(I use red grapes)

salt and pepper to season
Instructions
For best results, use chilled ingredients. If you have not chilled them, chill chicken salad at least 1 hour before serving.

Halve avocado(s) and scoop out the insides, discarding the pit. Dice it up to make it easier to mix with the rest of the ingredients.

Finely dice cucumber and grapes.

Add the cooked, shredded chicken and avocado to a medium-sized bowl and stir with a fork until combined and creamy. Stir in the diced cucumber and grapes and stir until combined.

Season with salt and pepper to taste.

If you did not pre-chill all the ingredients, chill chicken salad for at least 1 hour before serving.

Serve alone or with crackers, tortilla chips, veggies, or on a sandwich.
Thanks for stopping by! You might also like these recent posts: