Posts may contain affiliate links. Please see Disclaimer and Disclosure page for more details.


A list of the best 12 month old meal ideas like French toast, Naan pizza, and broccoli and cheese quesadilla from a mom of three.
Are you running out of ideas to feed your 12-month-old? You're not alone. Thinking of new, fun, and interesting toddler meals can be daunting! From tasty yet nutritious meals to foods they can try feeding themselves, this article can help and offers a range of meal ideas for 12-month-olds.
I'm Jessica, a mom of three, and lover of fun, easy, and healthier toddler meal ideas. I'm sharing what my kids have actually eaten around the age of 12 months (11-13 months to be specific).
These meal ideas are great for 1 year olds, but often I make the same thing for all of my kids so they can totally work for older toddlers, preschoolers, and little kids as well.
Stay awhile and check out hundreds of easy meal ideas from breakfast and snacks to lunch and dinner!
Read more: Meal Ideas for 1 Year Olds
Follow along with us on Instagram for more meal ideas!
1 Old Meal Gear
Before we get into meal ideas, what is the best meal gear for toddlers, specifically one year olds? Here are some of my tried and true favorites: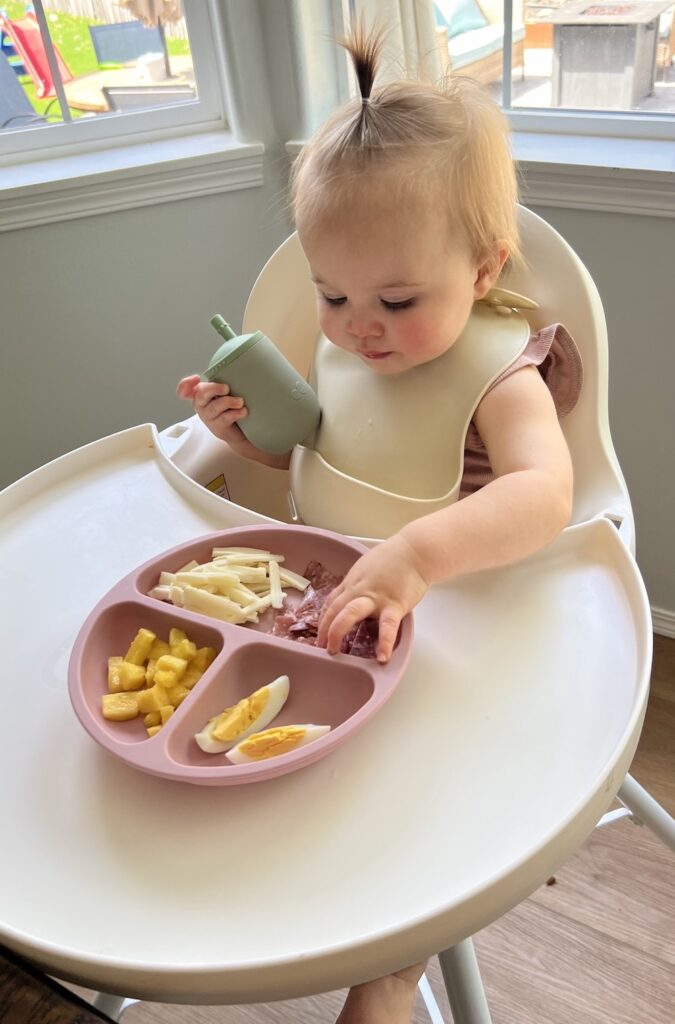 Boon High Chair – I have used a few different high chairs with my kids and this is my personal favorite! It comes with a seat pad, but if you remove it the entire seat and tray are easy to clean and can be put in the dishwasher for easy cleaning. I also love this one can be counter height (our kitchen table is counter height).
Silicone Suction Plates – these are our ultimate favorite! They are silicone (so non-toxic and BPA-free) and also suction so well to the tray or table.
EZPZ Silicone Training Cup – we love this cup and find that it's the perfect size for a one year old! The sensory bumps on the straw help to teach your little one to suck and drink from a straw and the lid can also be taken off to make this the best open cup too!
Silicone Bib – because let's get real, one year olds are messy!
Visit our Amazon Shop to see all of our favorite baby & toddler feeding products (updated regularly!)
12 Month Old Main Course Ideas
Below I share full plate meal ideas, but here are some ideas for main courses. I am not perfect, but do try to serve nutritious, filling, and healthyish main courses for all of my kids! We prioritize organic food and are 99% dye free.
French toast
Toast (peanut butter, cream cheese and jelly, avocado, hummus)
Scrambled eggs (with cheese or bonus if you add a veggie like broccoli, spinach, zucchini)
Blueberry veggie muffin (like Veggies Made Great)
Pancakes or waffles
Whole milk yogurt or smoothie bowl
Oatmeal
Pizza (cut into strips or bites)
Sandwich (grilled cheese, pb&j or other nut butter)
Mac 'N Cheese (try to add a veggie like peas, carrots, or broccoli)
Pasta (pasta salad, pasta with red sauce, white sauce, or pesto)
Tuna or Chicken Salad (or egg salad too!)
Taco Night (deconstructed fajitas, deconstructed taco, rice bowl or quesadilla)
Deconstructed burger
Fish
12 Month Old Side Ideas
Sides for 12 months olds are almost endless! As long as the side is soft enough or cut appropriately to not be a choking hazard, your one year old can have almost any fruit, veggie, dairy product or grain. Here are some of our favorites:
Fruit (berries, oranges, banana, mango, ripe pears, sautéed apples, kiwi, grapes quartered – use our favorite grape cutter!)
Veggies (cucumber, bell pepper, sweet potato, peas, cooked carrots, broccoli, zucchini, tomato)
Dairy/Healthy Fat (whole milk yogurt, string cheese, shredded cheese, avocado, hummus)
Grains (crackers, rice, quinoa, beans)
One Year Old Meal Ideas
Below are 32 plates of what I actually served my one year old (between approximately 11-13 months). As always, you know your child and their abilities best so make your best judgement on what foods to serve them.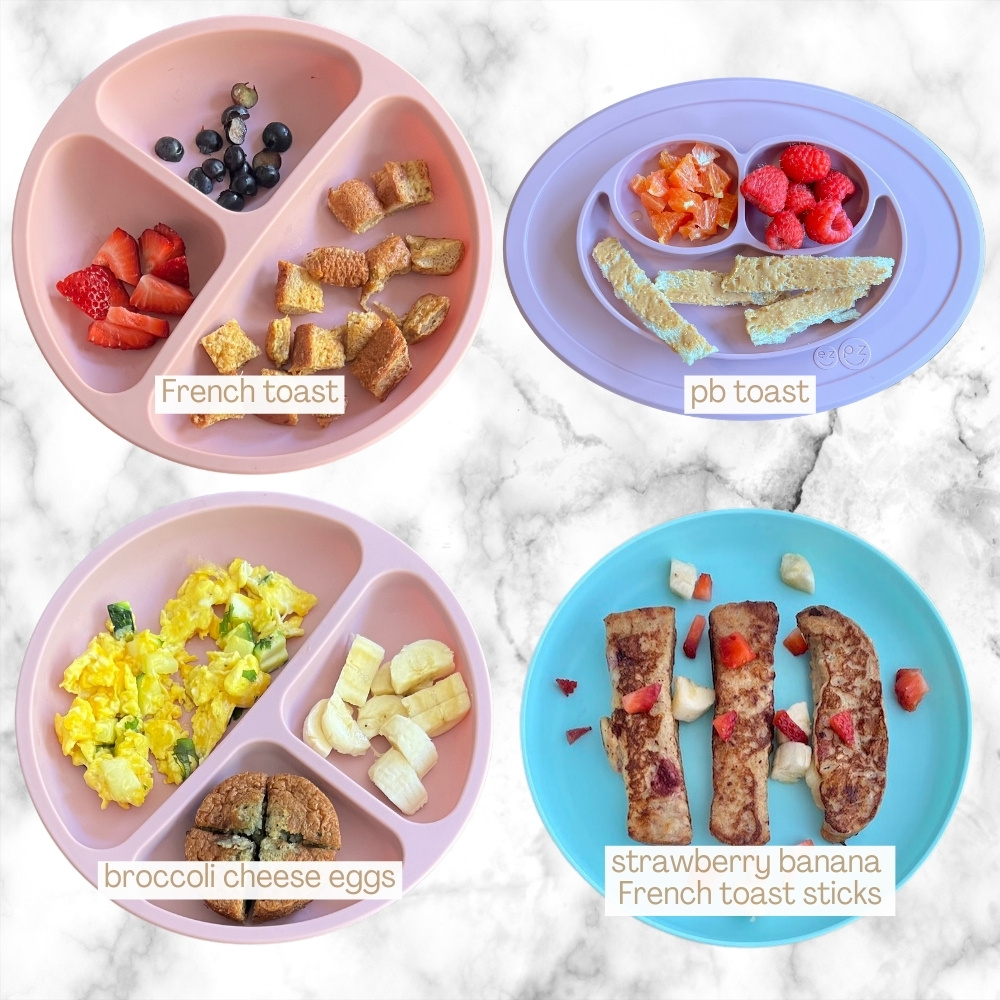 French Toast – classic French toast made with eggs, bread, and a splash of milk or cream! This is a favorite for my kids as young toddlers because it's easy for them to eat and has protein from the egg. At 12 months I like to avoid any sweeteners, but a tiny drizzle of pure maple syrup or jelly is okay too! Side of blueberries and strawberries.
Peanut Butter Toast – you can also sub any other nut butter or sunflower butter! I like to cut into strips for easy grabbing. Side of raspberries and blood orange.
Broccoli Cheese Eggs – scrambled eggs are a great way to add in some extra veggies! Broccoli, zucchini, and spinach are some of our favorite options.
Strawberry Banana French toast – one of my favorite recipes and great for toddlers because it's naturally sweetened!
Shop our favorite suction plate!
Follow along with us on Instagram for more meal ideas!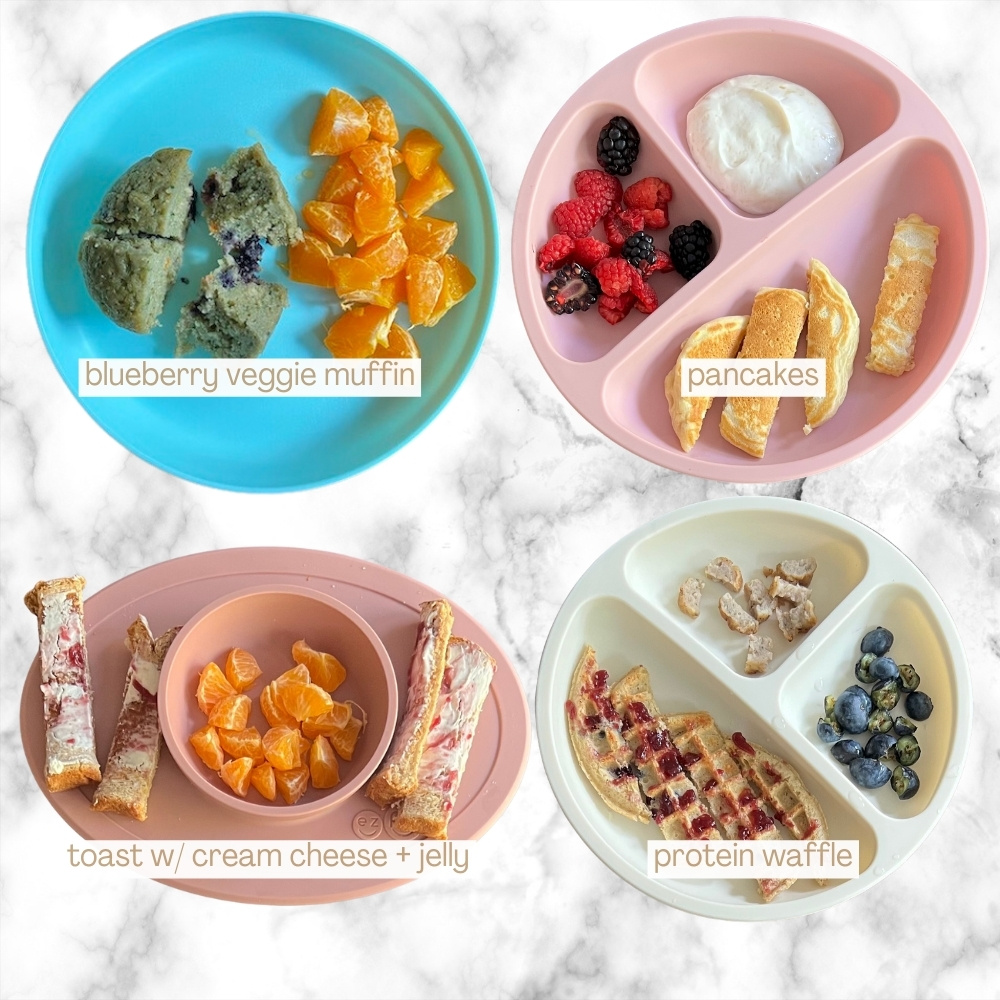 Blueberry Veggie Muffin – muffins are another great way to add in some extra veggies (think carrots or zucchini). We love these muffins from Veggies Made Great with a side of mandarin orange.
Pancakes – cut pancakes into strips or you can cut them bite-sized and practice with a training for (like this one we have and love). Skip the syrup if you can and try whole milk yogurt for dipping and fruit
Toast w/Cream Cheese and Jelly – try to add a higher protein or higher fat spread to toast like cream cheese or peanut butter to keep your toddler more filled and also great for brain development.
Protein Waffle – sometimes we homemake waffles and sometimes we buy them from the store! If we buy waffles I like to grab something with some added protein like these and serve with hearty sides like chicken sausage and blueberries.
Oatmeal Bites – a great easy breakfast idea from Dr. Praeger's with sides of whole milk yogurt and raspberries.
Avocado Toast – another family favorite cut into strips for a one year old with sides of scrambled eggs, banana and blueberries.
Yogurt Parfait Bowl – whole milk yogurt topped with chia seeds, blueberries, and diced strawberries.
Oatmeal – we love oatmeal mixed with all different toppings and it's also a great breakfast idea for young toddlers. We normally make our own or have been loving Amara organic oatmeal (use PANDP15 to save 15% sitewide).
Visit our Amazon Shop to see all of our favorite baby & toddler feeding products (updated regularly!)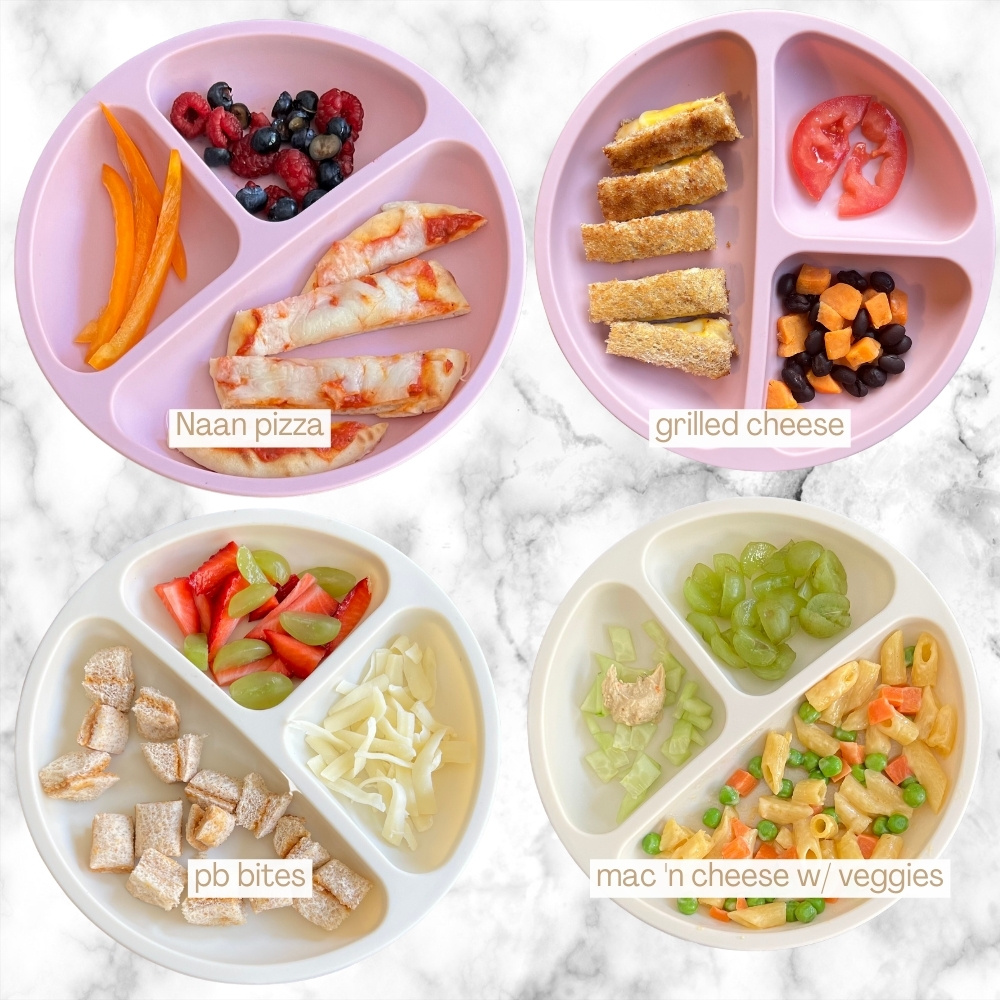 Naan Pizza – mini pizzas made with naan bread, marinara, and cheese. We love to add toppings too for more veggie exposure! Side of bell pepper, raspberries, and blueberries.
Grilled Cheese – a toddler favorite that is also great for 12 month olds. You can cut into strips or bite sized at this age. Tip – we also sometimes add veggies like broccoli or spinach! Side of tomato, sweet potatoes, and black beans.
PB Sandwich bites – 12 months old is a great age to start sandwiches! Toast bread lightly for younger babies, cut into strips, or small bites once you reach the toddler stage. Side of string cheese, grapes, and strawberries (try our favorite bite-sized sandwich cutter!)
Mac & Cheese – mom tip – always add veggies to mac and cheese! They will be covered in cheesy goodness and if you start off this way you kids might not ever know mac and cheese comes without veggies (I honestly wonder if mine know!). Side of cucumbers, hummus, and grapes cut with our favorite grape cutter.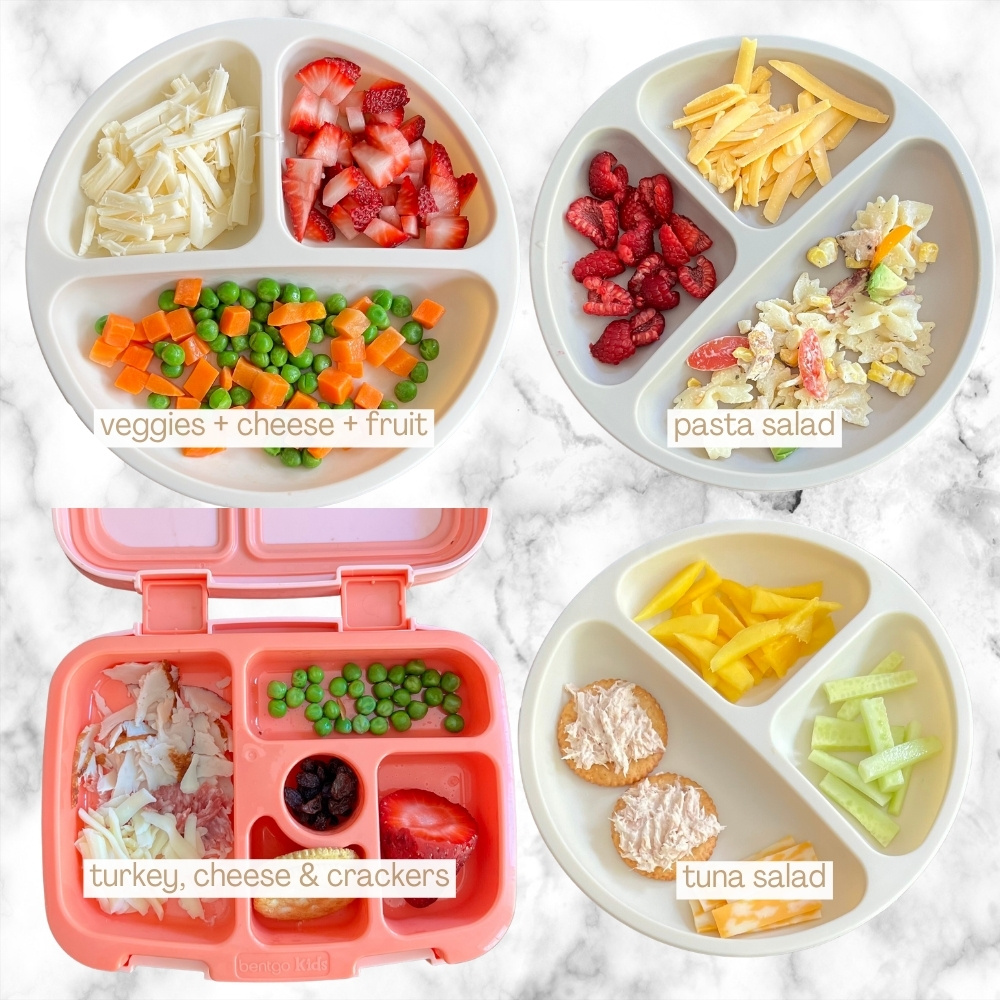 Veggies + Cheese + Fruit – don't sleep on this simple combo! When I need a meal on the table fast I often turn to cheese and fruit and often thaw some frozen veggies to add too.
Pasta Salad – two of my favorite recipes are my toddler-friendly pasta salad and this chicken bacon ranch pasta salad recipe and they are great for 12 month old's too (you may need to remove or thinly slice some ingredients like larger diced bell pepper to make it safe for this age group). Side of raspberries and shredded cheese.
Turkey + Cheese – another super easy combo that is one of our family go-to's. I served it in a bento box to mix it up and make lunch time more fun. Sides of pease, strawberries, crackers, and raisins.
Tuna Salad – I make a quick and easy tuna salad with tuna, mayo, greek yogurt, salt and pepper! My 12 month old loved it served on crackers with sides of cheese, cucumber, and mango.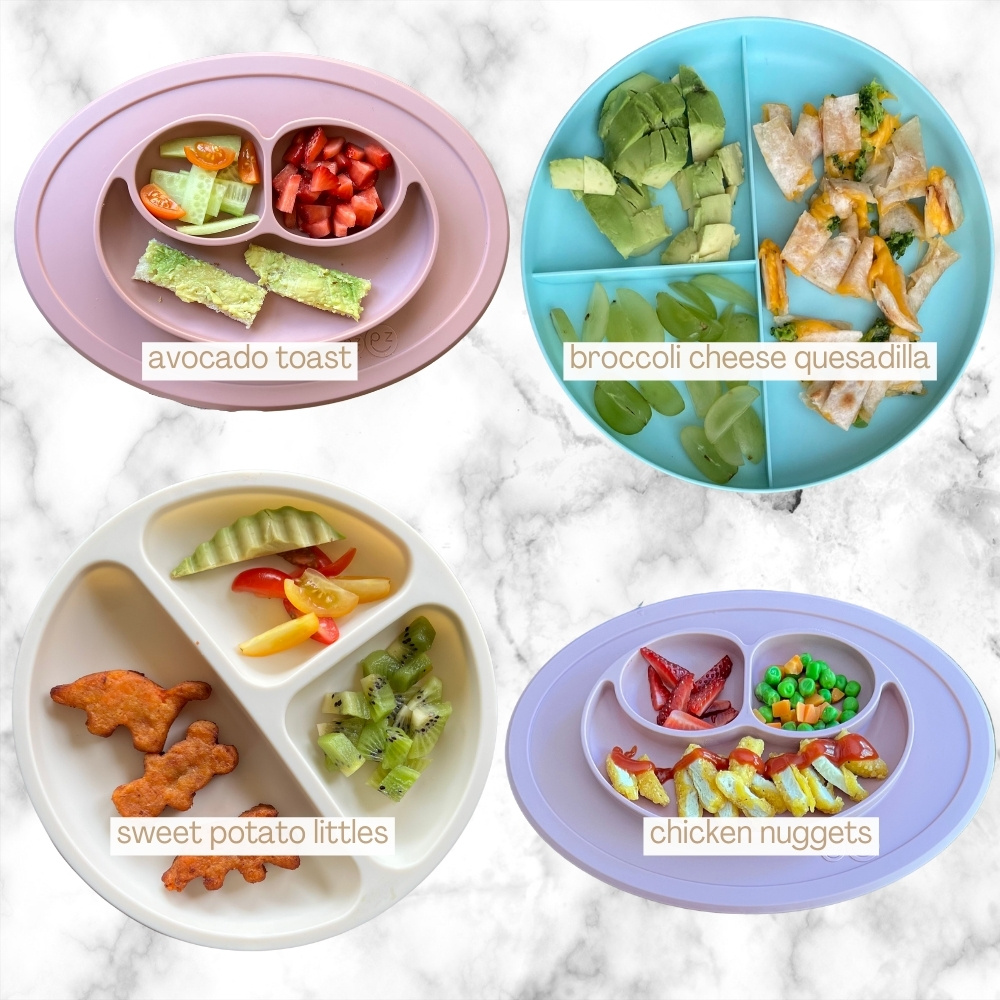 Avocado toast – another quick and nutritious lunch! Lightly toasted and cut into strips. Side of tomato, cucumber, and strawberries.
Broccoli cheese quesadilla – quesadilla strips are another great option for this age range and make them a little more nutritious by adding chopped broccoli or spinach. Side of quartered grapes and avocado.
Sweet Potato Littles – a quick frozen option from Dr. Praeger's and a favorite around here! Side of tomatoes, kiwi and avocado (cut with a crinkle cutter).
Chicken Nuggets – we like the ones from Applegate and make sure they are on the softer side for this age range. Topped with a little ketchup, with sides of peas, carrots, and grapes (our favorite grape cutter).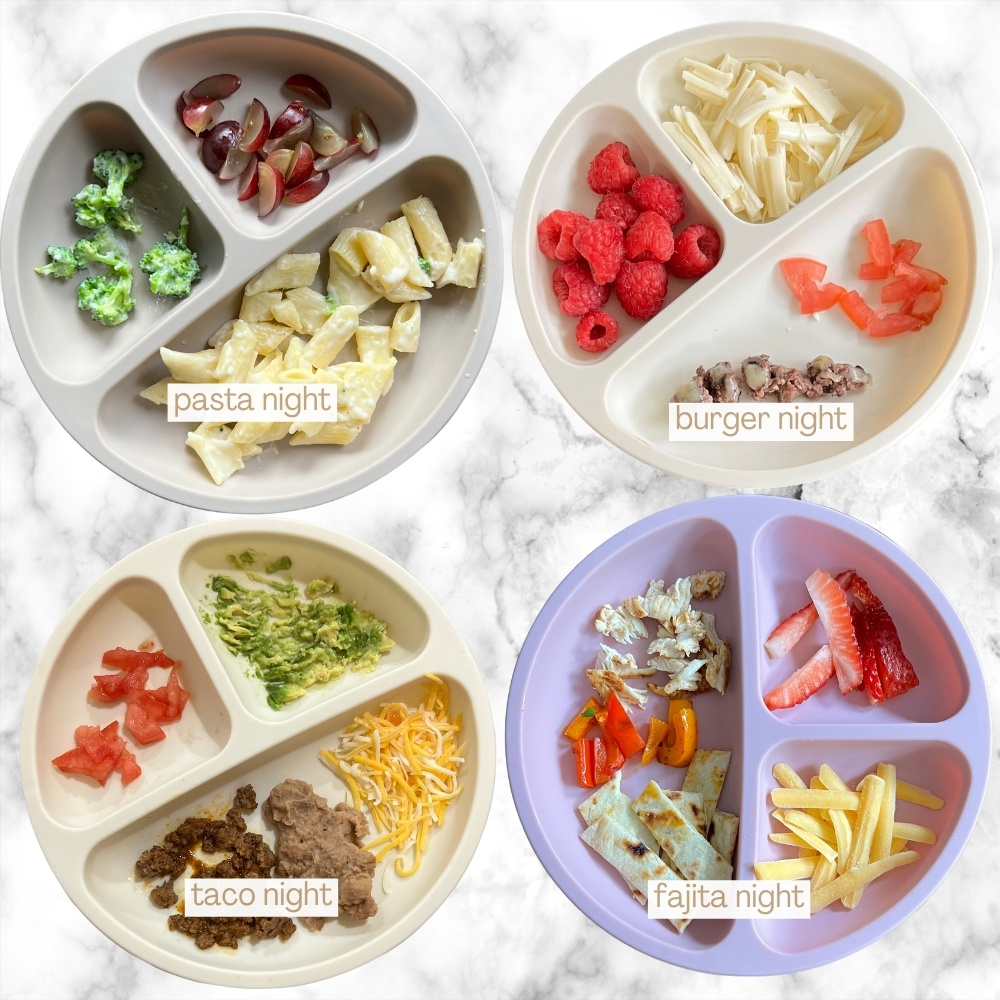 Pasta night – pasta is a great food for babies and young toddlers because it's fairly easy for them to eat! We love pasta with added protein like chickpea pasta. Serve with butter, olive oil, marinara, white sauce, pesto, and more! Side of broccoli and grapes.
Burger night – if your family loves burger night, try serving a deconstructed burger to your toddler with all of the toppings on the side.
Taco night – like burgers, deconstructed tacos are another family favorite around here! Serve all the toppings separately like ground beef, beans, cheese, tomato, and avocado.
Fajita night – elevate your taco night with pulled chicken and cooked bell pepper! Toasted tortilla strips, cheese, and strawberries on the side.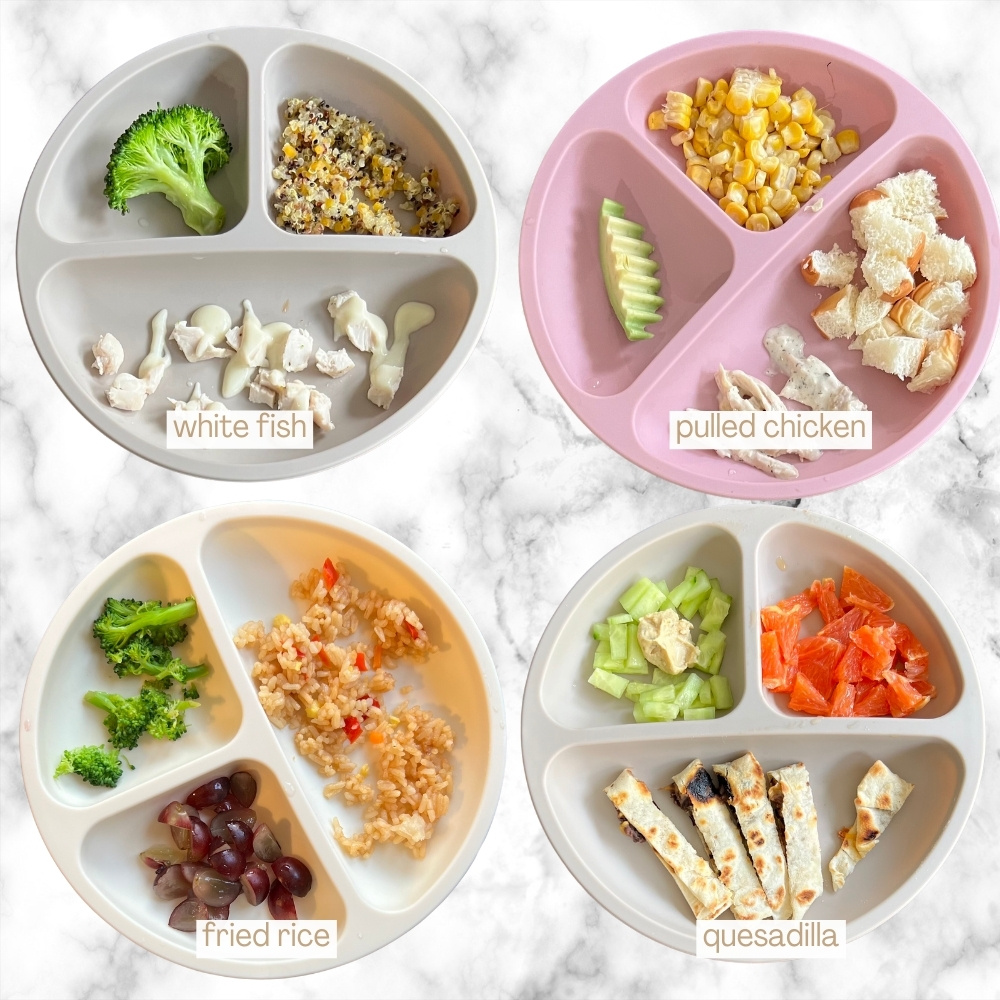 Fish – fish is another awesome meal ideas for babies and young toddlers because it's so flaky and easy to eat! Almost anything goes (be cautious with high-mercury fish if you eat it more than once a week or so), side of quinoa and broccoli.
Pulled chicken – we love to make pulled chicken in the slow cooker cooked with cream cheese and ranch seasoning! Served with a roll, grilled corn, and avocado (cut with a crinkle cutter).
Fried rice – as long as the chicken and veggies are soft and cut up small enough, fried rice is a great option for 12 months. Side of broccoli and grapes.
Quesadilla – ground beef and cheese quesadilla strips with side of cucumbers with hummus and blood orange.
You might also like these related posts: