Posts may contain affiliate links. Please see Disclaimer and Disclosure page for more details.


A compilation of 17 toddler lunches for 2 year olds based on what my kids have been eating and loving recently.
Tired of rotating through the same few toddler lunches? Want to try and get your toddler or preschooler to try new things? This post can help!
I'm a mom of three and am sharing my favorite lunch ideas for 2 year olds. These lunch ideas are quick, easy, and made for busy moms who still want their kids to try new foods and
You might also like these related posts:
Toddler Meal Supplies
Here are some of our favorite toddler meal supplies for our two year old.
EZPZ Mini Mat – a fun divided plate made of non-toxic silicone! We love that they suction to the table and are the perfect size for lunch or snacks.
WeeSprout Divided Plate – a great every day divided plate great from 1-4+ years! We love these plates and use them every day.
Elk & Friends Glass Toddler Cups – we love these cups and love that they are made of glass but still super toddler and kid friendly. We have had them for more than a year and have never had one crack or break.
Toddler Lunch Ideas for 2 year olds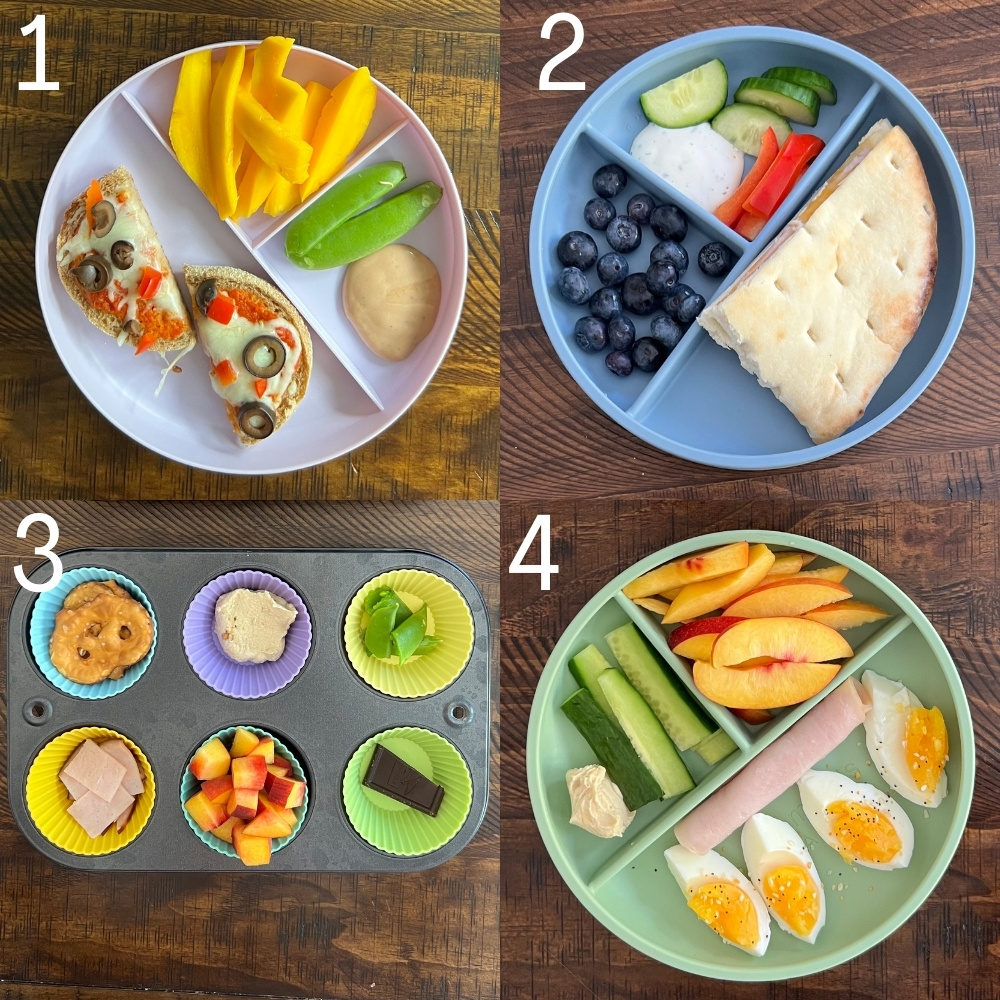 English Muffin Pizza – make mini personal pizzas with your toddler's favorite toppings. My kids love black olives and bell peppers. Side of snap peas with hummus and mango. Related recipe >> Kid-Friendly Mini Pizza Bagels
Ham & Cheese Pita – instead of sandwich bread, make your toddler's favorite on pita bread (my kids like it warmed up). Side of blueberries, and veggies with ranch.
Muffin Tin Snack Tray – try this fun and easy to way to serve lunch! Some of our favorites are turkey, peaches, pretzel crisps, snap peas with hummus, and dark chocolate.
Hard Boiled Eggs – a great source of protein and this might be something your kids don't have too often (mine don't). We serve it with everything bagel seasoning on top. Side of turkey, cucumbers with hummus, and peaches.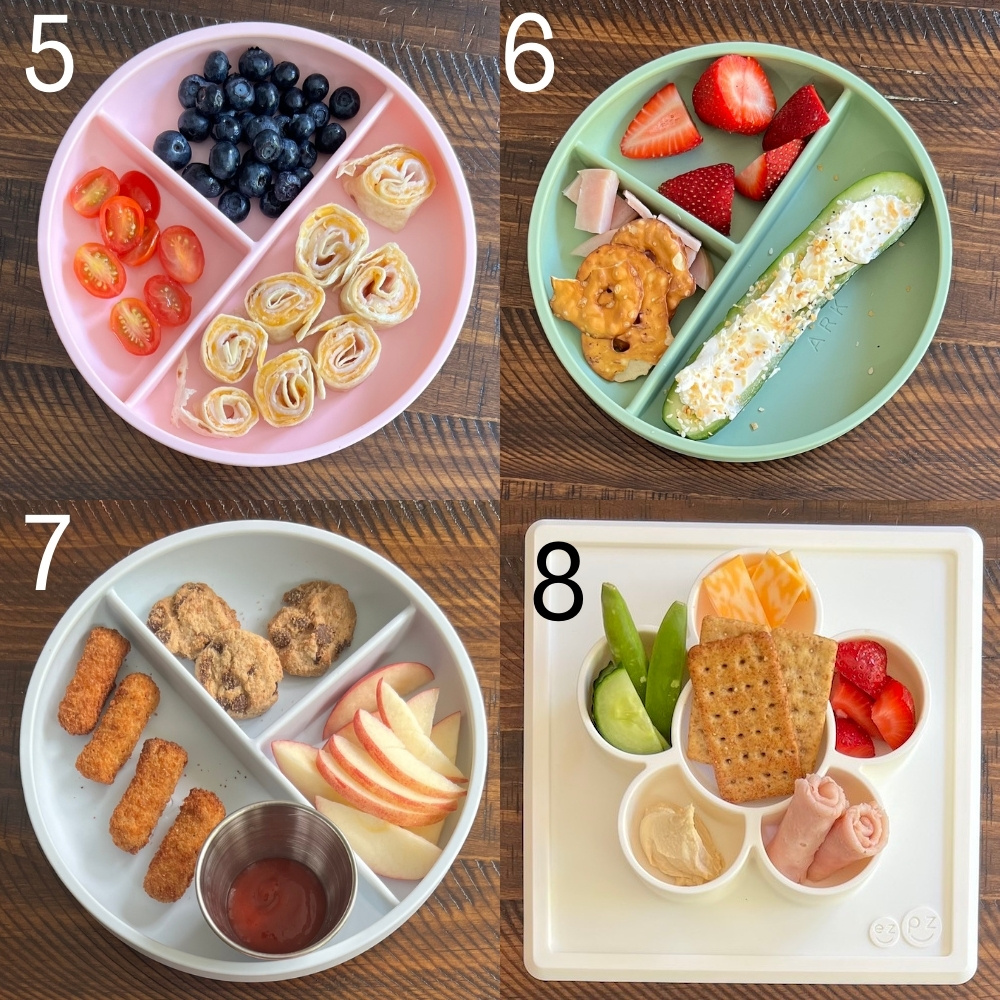 Cheese & Turkey Pinwheels – leave it as a wrap or cut into slices or pinwheels that are easier for toddlers to eat! Served with sides of cherry tomatoes and blueberries.
Cucumber boats – I put a little flag or "sail" on these once and my kids never let me forget it! Use a mini cucumber and scoop out the seeds then top with cream cheese and everything seasoning. Sides of pretzel crisps, turkey, and strawberries.
Chicken Fries – we found these in the freezer section and my kids thought they were so fun! Sides of thinly sliced apples and cookies.
Crackers & Cheese Snack Plate – a fun way to serve crackers & cheese snack style. Crackers, cheese, turkey, strawberries, and veggies with hummus for dipping. Fun Divided Plate: EZPZ Mini Mat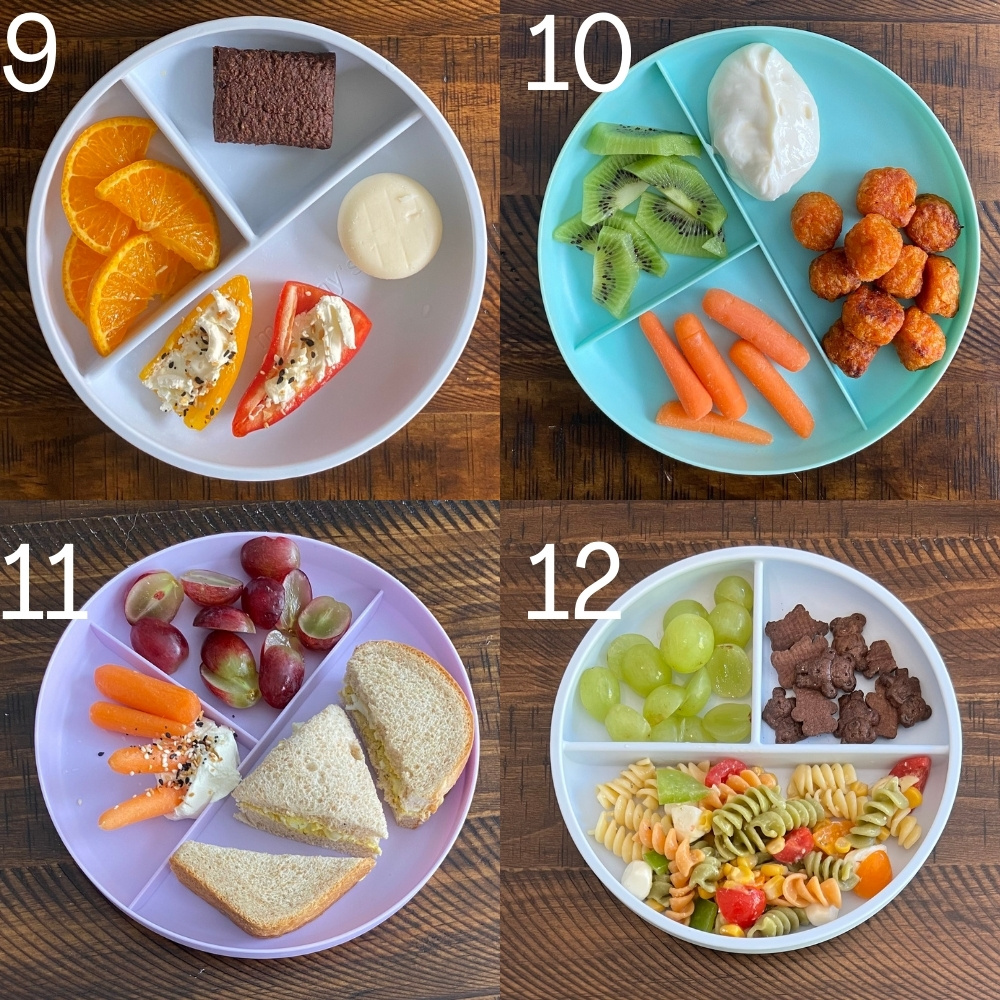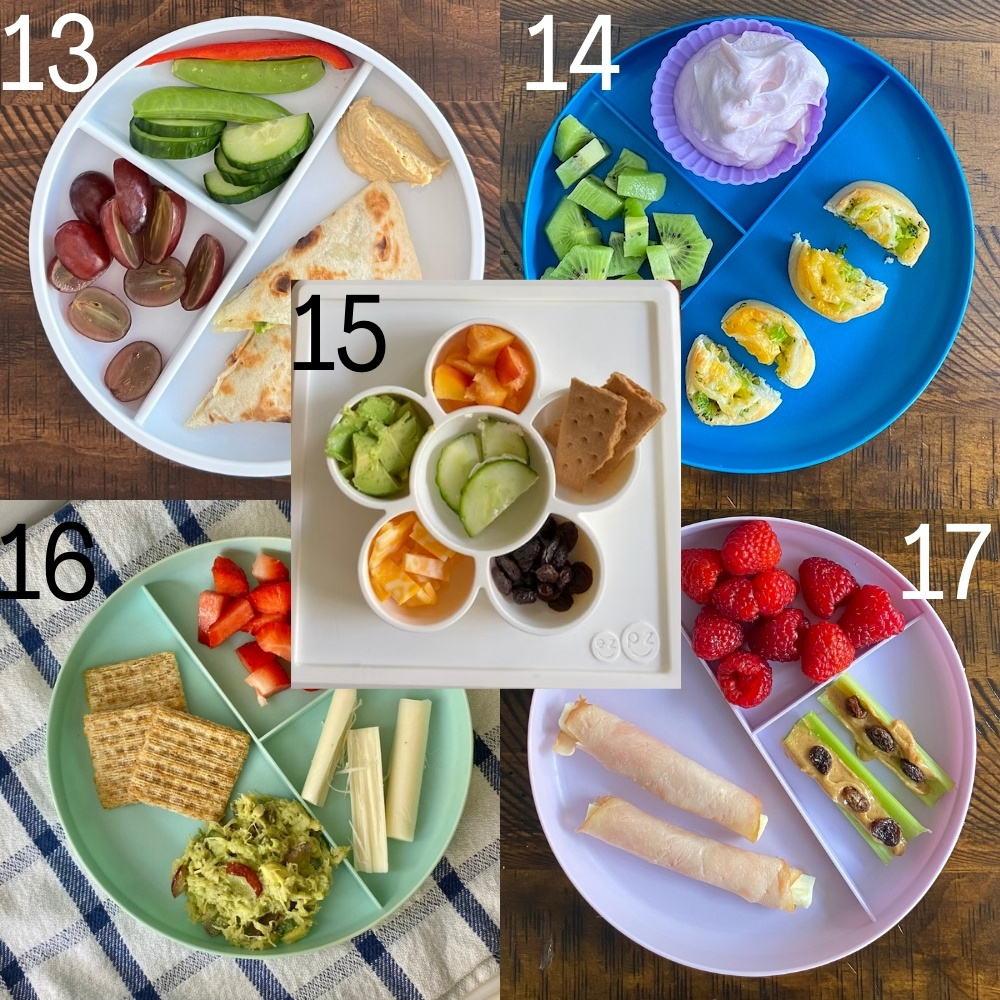 Spinach & Cheese Quesadilla – tortilla filled with cheese and spinach, sides of veggies with hummus for dipping and grapes.
Broccoli & Cheese Pinwheels – (check out this easy recipe here) with sides of yogurt and kiwi.
Cucumbers & Cream Cheese – a fun snack plate with cucumber and cream cheese sandwiches, peaches, graham crackers, black beans, cheese, and avocado. Fun Divided Plate: EZPZ divided plate
Turkey Cheese Roll Ups – rip string cheese into sections and then roll up with turkey or other lunch meat, sides of celery with peanut butter and raisins, and raspberries.
Thanks for stopping by! You might also like these recent related posts:
Pin now to save for later!